At Wilderness, we're always looking for new ways to make your holiday a dream come true. That's why we've created the 'My dream Wilderness vacation" map.See a snippet of the map below: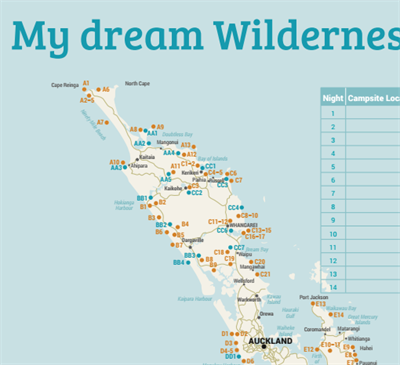 The A3 sized fold out map is available free of charge when you pick up your motorhome. It's not intended to be a navigational tool so you won't be able to find the exact location of each camping spot or point of interest. Rather, its purpose is to help you plan your route to get the most out of your New Zealand road trip.
All the WilderNesst freedom camping spots and NZFrenzy locations are marked so it's a good visual way to see where all the gems in each of those guides are located. Plus there's a section for recording where you stayed each night and the highlights of your tour.
Even better, you can mark your route on the map and take it home as a momento of your New Zealand tour as many of our hirers are starting to do.
>>PS: The map is also available electronically as a PDF, as one of the documents you can download from the 'My Booking' page link you are emailed once your booking with Wilderness Motorhomes is confirmed.