April is a very special month in New Zealand as it marks ANZAC Day, when New Zealanders take time to remember those who have given their lives in service and to honour returned servicemen and women. Nearly every town or settlement in New Zealand features a memorial honouring those killed in war, and it is usually at these sites that locals will gather on April 25 each year for ANZAC Day. Visitors are always very welcome to join these services. Most people will wear red poppies as a symbol of remembrance, and you will see these for sale if you're travelling New Zealand in a motorhome over this time. The services can get very busy so it pays to arrive early, or park nearby overnight in your motorhome to get a head start on the crowds. There may be road closures in the larger cities so look out for signage indicating any restricted areas.
April 25 is the anniversary of the 1915 landing of Australian and New Zealand soldiers on the Gallipoli Peninsula in Turkey, where they fought against the Ottoman Empire in the First World War. Nearly 3,000 New Zealanders and 8,500 Australians lost their lives in the Gallipoli campaign. The soldiers were known as the ANZACs, which stands for Australian and New Zealand Army Corps.
While the campaign was unsuccessful, it is now recognised as a time when a national consciousness for New Zealand and Australia began to emerge. For both relatively young nations, sending troops to the other side of the world to fight for the British Empire created a feeling of being distinct in our own right. For this reason, ANZAC Day has become one of the most important dates on the New Zealand calendar and is associated with a strong feeling of national pride.
Throughout the month of April there are special exhibitions at the country's museums, and then services and commemorations are held nationwide on April 25, with most businesses remaining closed until 1pm. You may also see ANZAC biscuits for sale in local shops and cafes. Using rolled oats, golden syrup and sometimes coconut too, these biscuits were sent to soldiers abroad during World War I as they kept well for long periods of time. They're a popular local treat year-round, but are more commonly available in April.
ANZAC Day was first marked in 1916 and has experienced a resurgence of interest in recent years, particularly from younger New Zealanders, many of whom will attend services displaying medals awarded to their relatives in various campaigns. It is a very special part of New Zealand's history and well worth being a part of, if you have the opportunity.
Below are some of the major commemorations (dawn services or special activity programmes) taking place around the country on ANZAC Day this year.
FAR NORTH
Whangaroa ANZAC Dawn Service
From 5am
A marae-based public dawn service at Otangaroa Marae (599 Otangaroa Rd)
WHANGAREI
Parade and Dawn Service
From 5.45am at the Cenotaph in Laurie Hall Park, Rathbone Street
AUCKLAND
Dawn Service
From 6am at Auckland War Memorial Museum in Auckland Domain, Parnell
The country's largest memorial service. The Museum is offering a special programme of events throughout ANZAC Day, with free entry for all visitors on the day.
HAMILTON
Dawn Service
From 6am at the Cenotaph in Memorial Park on Memorial Drive, Hamilton
Waikato Museum
Walks, tours, music performances and gallery activities throughout the day.
ROTORUA
Dawn Service
From 5.45am at Ohinemutu Maori Village, Tunohopu St, Rotorua
ANZAC Day Parade and Civic Memorial Service
Parade at 9am from Memorial Drive, with Civic Memorial Service from 9.30am at Southern Trust Sportsdrome on Queen's Drive in Government Gardens
Rotorua District Field of Remembrance
All day at Government Gardens, 9 Queens Drive
The Rotorua District Field of Remembrance was installed to mark the 103rd anniversary of the Gallipoli landings by ANZAC troops in 1915. Each of the named crosses represents a soldier from the Rotorua District, who lost their life whilst serving during World War One. The crosses will remain in place until Sunday April 29 and visitors are welcome to walk amongst them and place personal tributes.
TAURANGA
Civic Memorial Service
From 9am at Memorial Park on Devonport Road, Tauranga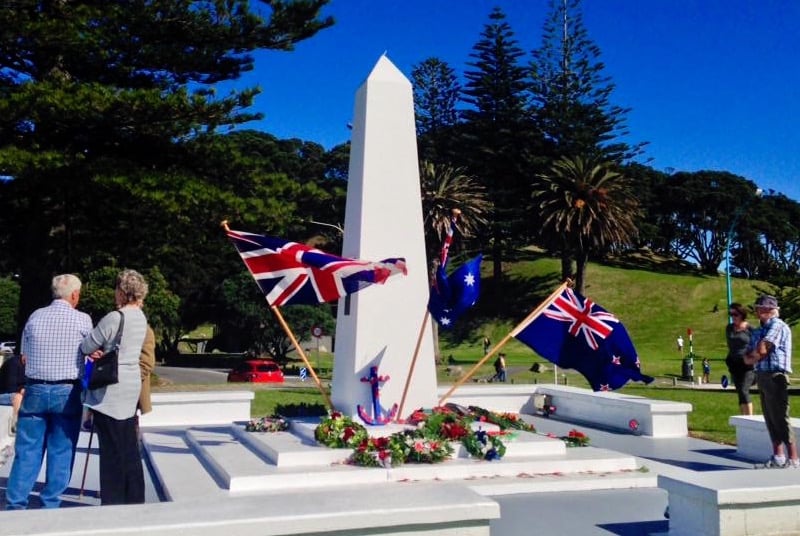 PALMERSTON NORTH
Dawn Service
From 6am at The Square, Palmerston North
Civic Service
9am at The Square, Palmerston North
A community-led service, followed by a Mayoral morning tea. All welcome.
WELLINGTON
Dawn Service at Pukeahu National War Memorial Park
From 6am at Buckle Street (CBD)
11am – National Commemoration
5pm – Last Post
Wellington Citizens' Wreath-Laying Service
From 9am at Cenotaph Precinct on the corner of Lambton Quay and Bowen Street (CBD)
ANZAC Day at Old St Paul's
From 10am-12pm at 34 Mulgrave St, Thorndon
A guided tour of Old St Paul's WWI brass memorials. Honour the past and hear about the 14 men who lost their lives during WWI and are remembered at Old St Paul's.
Ataturk Memorial Service
From 2.30pm at Ataturk Memorial, Tarakena Bay, Strathmore
With views of Wellington Harbour, this historical site features WWII fortifications.
MARLBOROUGH
Dawn Service in Picton
From 6am at the Picton War Memorial on London Quay
ANZAC Day Service in Blenheim
From 11am in Seymour Square, 92 High St
KAIKOURA
Dawn Service
From 6am at Kaikoura Memorial Hall, 32 Esplanade in Kaikoura
CHRISTCHURCH
Dawn Parade and Service
From 6.30am in Cranmer Square (CBD)
Citizen's Service
From 11am in the Transitional Cathedral (Cardboard Cathedral) at 234 Hereford Street
ANZAC Day Commemoration Service
From 12pm-12.45pm at the Air Force Museum of New Zealand, 45 Harvard Avenue in Wigram
DUNEDIN
Dawn Service
From 6am at the Cenotaph in Queens Garden (CBD)
Followed by a free morning tea at Toitu Otago Settlers Museum.
QUEENSTOWN
Dawn Service
From 6.45am at the Memorial Gates, Queenstown lakefront
ARROWTOWN
Service and wreath laying
From 10.30am at the Athenaeum Hall, 33 Buckingham Street
INVERCARGILL
Dawn Service
From 7am at the Cenotaph, Dee Street