UK TV Presenter Miranda Krestovnikoff spent 6 weeks travelling New Zealand with her family in an Escape 4 camper. Along the way she and her family soaked up the NZ land and seascapes and discovered NZ's unique wildlife.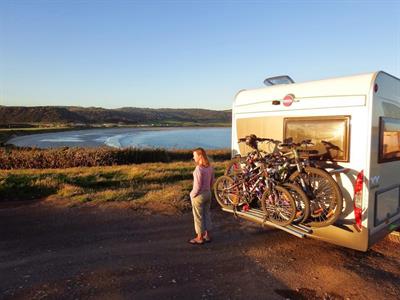 A highlight of Miranda's family camper van adventure was diving the Poor Knights which she recounts here….
"You're all booked in"
"Great - Oh... and what about the children?"
"Don't worry we'll sort something out..."
That was the brief conversation I had with
Dive! Tutukaka
. And I thought nothing more of it until we arrived the night before to meet the dive crew and say hi. Normally when we go diving, there's a kids club or a creche which we reluctantly book the kids into while my husband and I enjoy an exhilarating day out on the boat and under the waves. On our return, we try not to wax lyrical about the amazing time we've had, whilst the kids have been sitting around colouring or making cupcakes. They feel a bit left out.
This set up was completely different.
"So... What exactly do you do with the kids?"
"Oh - they come out on the boat with the divers, too."
I turned around to see two ecstatic small faces...
"...and there's paddle boarding, snorkeling and kayaking, too."
Things just couldn't get any better!
The following morning, bright and early we were greeted by a sea of sun-kissed, smiling faces - the shop was buzzing as happy punters were kitted up, dive bags loaded and everyone checked in. My children (6 and 9) were positively bouncing - their very first time on a dive boat.
First up was the mandatory "welcome on board our boat" spiel. This is always the rather dull part where you are told the location of the lifejackets, lifeboats, first aid etc. No-one really listens but it's compulsory practice. Again, this was refreshingly different. Our guide for the day had obviously not long left his career in stand-up comedy as he had us creased up laughing at the various ways we could use our sick bags, fall down the ladder and put on our lifejackets the wrong way around. He certainly had our attention.
Next we had a role call - another essential procedure before diving. But this one doubled up as selecting our lunch options. Each person's name was called and instead of replying "I'm here" you had to answer with what you wanted for lunch - in as funny voice as you could. The kids played along and made us all laugh - it was a great ice breaker and set the tone for the rest of the day. Serious diving, with a sense of fun!
And then we were off. Calm seas, a cool breeze and a clear skies made for an easy journey out the the famous Poor Knights islands.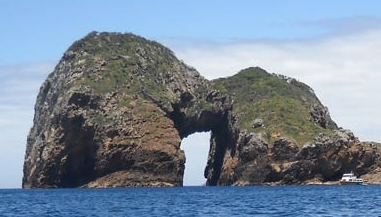 Described by Jacques Cousteau as one of the top ten dive destinations in the world, it was a must on out list of things to do in New Zealand. The islands are awash with stunning dive sites, and so far, we had only snorkeled on our NZ trip. We had definitely saved the best for last. Our final few days were spent exploring the crystal clear waters of these stunning, protected islands.
With the islands in view, we headed up to the top deck for an informative talk from our guide - firstly some history of the islands and then a thorough dive brief. Captain Cook had merely labelled these islands "The Poor Knights" on his log, with no explanation as to why, so there is a great deal of speculation surrounding the name. Some say it's to do with an old fashioned pudding they used to eat, others say it's because they look like a knight lying down with his shield on his chest. Either way, it didn't matter - our eyes were on the water and the huge numbers of fish that seemed to be gathering around our boat.
Looking overboard as we were preparing for our first dive, we could see the water boiling with hundreds of blue mao mao The kids were getting ready for a snorkel and were really excited at the prospect of so much in the water to see. As a family, we are a little way off all four of us being able to dive together, as my youngest is too little to do a dive qualification, so this was the next best thing - the children enjoying being in the water, duck diving and snorkeling, with us scuba diving below them. This way they can see the ease with which we can dive and feel one step closer to being a real grown-up scuba diver. It was an invaluable experience for them both. The diving was superb - more fish that I have seen in one place for a very long time, many different species of nudibranchs, sting rays, and beautiful coral and sponge formations.
Between dives we floated inside Rico Rico cave - the biggest sea cave in the world at
134m long and 84 m wide. We played around with the acoustics, carefully co-ordinated by our guide, as we shouted and stamped out feet in unison to make the longest echo we could. Apparently a ship's horn echo can last for up to 36 seconds - such are the unique acoustics of this magical cave.
Our second dive was no less memorable than the first - more World-class diving and more fun for the kids on the surface watching our progress below. This time they saw the sting rays as well - that was the icing on the cake! Back to base and our cheery crew bade us farewell - recommending a local beach as a stop off for the night.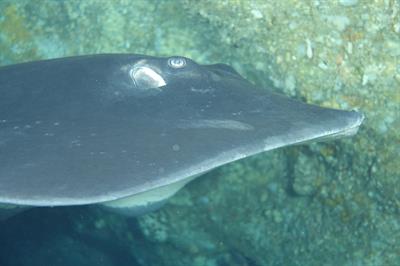 Having our
motorhome
meant complete freedom at the end of the day. Hot showers and hot chocolate were on tap as we overlooked Woolley's Bay gently illuminated by the setting sun. As the day-trippers left, we were the only ones on the beach. It couldn't have been more perfect. Fresh fish on the BBQ and a glass of chilled Sauvignon blanc, we slept soundly, eagerly anticipating the underwater adventures that would come the following day.