Two weeks ago our team of five 'Fab Physios' took on the Hubbards Head2Heads challenge: a 125km walk from Orura bay to Huia over 24hours with each team member having approximately 25kms to complete.
This year there were 11 teams who entered, each raising over $1,000 with all the money going to various charities and schools in low decile areas in South Auckland.
This was the Fab Physios' second walk and we had learnt a lot from last year. Though the walk itself is challenging, the bigger challenge in 2013 was driving each other to and from start points, leaving us with little time to recover, which was not conducive to a real team spirit. This year, we wanted to experience the fun and camaraderie of the event and looked desperately for a solution to this transportation stress.
Wilderness Motorhomes stepped up with an amazingly generous offer: they donated a Freestyle 2 camper van for the whole weekend!!! We couldn't believe their kindness!
So, on Saturday 8th November we drove with pride out to the start line. At 10am, Emma started the first leg in Orura bay. 20km of hilly terrain and amazing views - she made it look easy!!! Second leg was Donna, who finished at Spookers after 31km of walking - an amazing achievement. Then it was my turn, starting at Spookers at 8pm I would finish in Manurewa library at 1am. It was lovely to walk at night time and there was the added bonus of many firework displays lighting up the Auckland skyline. Walking at night time was a surreal experience but I loved it. At the end of my leg I was pleased to hand over to Laura and I made sure there was a stop off at MacDonalds for a celebratory hunger buster meal!!! Laura had the night shift from 1am to 6am – she was happy with the cheeseburger surprise at the 4kms made possible by our Freestyle2. At 6am Suzie started on the last leg to bring us home. Hers was a particularly challenging leg, not only because of the hilly terrain that West Auckland has to offer, but also due to her sleep deprivation from very enthusiastic cheerleading of us all! At 10am, Suzie crossed the finish line at the beautiful Huia beach and there was a very large team hug.

Having the Freestyle 2 was such a luxury. We would drive ahead of the walker, park up, put the kettle on and ensure we had some treats ready for them. We could also nap comfortably when needed. This ability to rest and relax allowed us to make sure that we were fully prepared for our leg and after we were done we had a comfortable bed and shower – blissful! On top of all of that, our access to a toilet made many of the other teams jealous!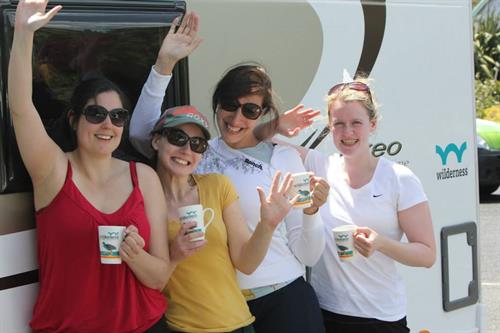 Not only did we have the luxury, but it was also great to be able to cheer our walkers on and provide inspirational words of wisdom and music. It allowed us to have the full event experience and true team spirit, which added so much more.
Thank you so much Wilderness - we are so grateful for your generosity, support and approachability. Your staff were so easy to work with and the Motorhome itself was incredible. Bring on 2015!