Mathias Hildman has a bit of a love affair with New Zealand – the visitor from Germany has just set out on his fifth trip around the country and is travelling in the brand new Vista 2 from Wilderness Motorhomes, making him the first person to experience the compact vehicle on New Zealand roads.
The Vista 2 joined the Wilderness Motorhomes fleet in October this year and Mathias is spending six weeks in it, exploring more of the North and South Islands. "There are still places I've never been to. I'm going to decide [where to go] on a day-to-day basis depending on the weather and where I feel like travelling."
Mathias first travelled with Wilderness three years ago, on his fourth visit to New Zealand, after a recommendation from a colleague. He and his girlfriend rented an Escape 4 and loved their home on the road. "It was the first time we'd had such a nice motorhome," says Mathias. "We noticed it was from Germany too!"
Mathias chose the Vista 2 for this trip because of its compact size, which is ideal for couples or solo travellers. At just 6.5m long it is easy to drive and to park, but still features a comfortable bed (that can be configured as two singles or a large double), a dinette, gas hob, fridge, and combined bathroom and shower.
In the Vista 2, Mathias can also make the most of the views, as the double back doors can open right up, while the large sliding door on the side can open for scenic views from the dinette.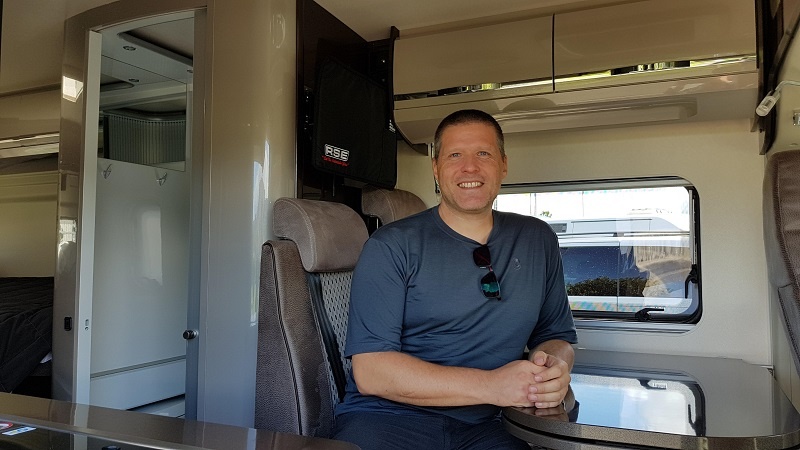 His favourite spots include Rotorua and Dunedin and he always makes time for a visit to Te Papa (Museum of New Zealand) in Wellington to see its constantly changing exhibitions. He enjoys hiking and has already done two of New Zealand's Great Walks with the Tongariro Crossing and Abel Tasman Coast Track.
This is the first time that Mathias has visited New Zealand in spring, and he's looking forward to seeing how different the landscape looks this time of year. His previous trips have been in autumn (March to May), when he found spots such as Arrowtown in the South Island were spectacular.
Mathias says it is New Zealand's unique experiences that keep him coming back – especially the fact that the sea, the bush or mountains are all just a short drive from wherever you might be. "New Zealand has it all. You have all of Europe in one country: the fjords of Norway, the Alps, the geothermal activity, the bush, the sea."