Instead the temptations include huhu grub beetles (taste just like peanut butter), mountain oysters (don't ask!), seaweed soup (tell yourself its health food) and possum pie (without the fur).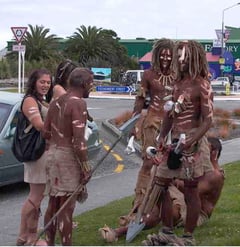 No, this festival is not for the faint-hearted, but don't be frightened! There are foods you will jump the queue for, such as pistachio nut ice cream and crayfish kebabs.
Of course no visit to the West Coast is complete without tasting the iconic whitebait fritters, which look like mini omelettes. Do as the West Coaster does and slap the fritter between two slices of bread. The purists might even add a squeeze of lemon.
The Wildfoods Festival was the brainchild of a local lady who wanted to celebrate the release of her gorse flower wine. The first festival attracted 1,800 people and is now capped at 15,000 - not bad for a little town of 3,300 residents.
'Wild' doesn't mean unruly. Although the whole town is in party mode there is a strong police presence enforcing an alcohol ban on the town's streets. It is a premier event, so they cannot afford to have their reputation tarnished.
Apart from local businesses and individuals show-casing their fare, roving entertainers interact with the crowd. A central stage features a continuous programme of performers such as reggae, folk, disco, rock and blues bands, individual artists and Kapa Haka groups until late at night.
Festival goers are expected to dress up (or down) for the occasion. Expect the weird and the wacky. Competition is fierce for the 'top costume' prize of an overseas holiday.
The tickets for the 2014 Wildfoods Festival will be on sale in December this year. As it is the big 25th Anniversary, you can register as a subscriber on www.wildfoods.co.nz. Gate sales are unlikely.
You will be able to park your Wilderness motorhome at the Hokitika Holiday Park and walk the few blocks to Cass Square, where the festival is held. Stay a while and explore the town. Hokitika boasts world-renowned pounamu (greenstone) carvers, glass blowers, painters and sculptors. Take a look at the kiwi that won't be at the festival. This one prefers the quiet of its nocturnal house in The National Kiwi Centre in the heart of town. You won't be able to drag yourself away from this little town.