Norwegian extreme sports photographer and film-maker Petter Foshaug toured New Zealand recently and trialled the Breeze 2 motorhome on his last week in the country.Here is what he had to say about this two berth motorhome.
Day 1
We picked up this amazing camper from Wilderness motorhomes, it was really a step up from the usual other motorhome rentals. You can really feel the luxury when you're driving! I just put on Cruise control and drove down to Raglan, to catch some waves. We arrived later that afternoon, and the waves were pumping! After a good surf session, I got a phone from the helpful staff at Wilderness HQ, just checking in if I had everything I needed and if all was OK with the motorhome. How can this day get any better ;)
Day 2
We camped on a freedom camping spot in Raglan, no problem when you have a camper like this, it comes with a hotwater shower! We woke up to a beautiful sunrise, and headed straight into the water and caught some waves. Before we left Raglan, we had to taste their famous coffee, a flat white.We checked out the amazing Bridal Veil Falls near Raglan - definitely a must do!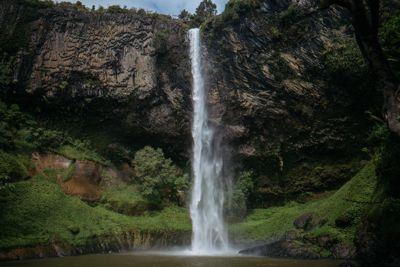 Day 3
Today we started to drive north again, a natural stop over on this journey is Port Waikato. Here we enjoyed a good lunch in the Van, chicken pasta - cooked ourself on gas. We checked out the black sand dunes and headed for the Coromandel Peninsula. We didn't start driving until very late, so we had to stop at the first town here – Thames. Again we were lucky and got space at a freedom camping site. Right at the beachfront, on a big beautiful grassy area.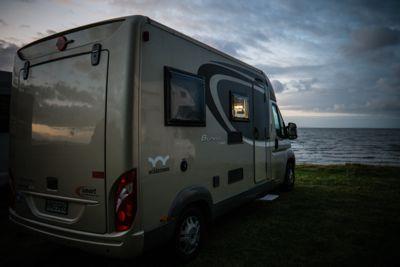 Day 4
Today we drove to Coromandel Town, so many nice places on the way. This road really caught our interest, and we had to stop every 15 mins to take another ever more epic photo. Too bad we are running out of time, leaving new Zealand in only a few days, wish we came to this spot earlier. Hot Water Beach was amazing, incredible how the beach actually is hot! I did not believe my own eyes! Some spots was actually to hot to stand on, and you had to cool down with the "normal" salt water. After this we went to the Cathedral Cove, this was also really nice! The "Cathedral" between the two beaches was incredible. We spent a lot of our day here, the temperature in the air was warm enough that we could work on our tan and swim. After we both got sunburned we headed to Coromandel Town for a dinner. Decided to spend the night here as we enjoyed to this cosy little town.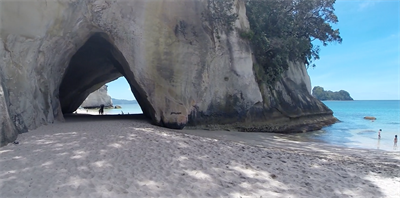 Day 5
Today we had a transport day back to Auckland, stopped on every second gas station to buy either coffee or icecream. Don't want this vacation to end. This country is truly amazing, even though we have been here for five weeks, we were still not able to see everything. Next time we come back, Bay of Islands is on the top of the list! One spot we wanted to see, but ran out of time! Thanks for everything New Zealand, for all your good hospitality, smiles, "flat whites" and "fish of the days".
Thanks again to Wilderness motorhomes for their superior service, and great motor homes. The best we encountered on our NZ trip.
-Petter and Stian