Join the Red Sea when it washes over 7 cities in New Zealand and round out the rugby excitement with the holiday of a lifetime.On their first NZ tour since 2005, the Lions will play ten matches over five weeks, including three against the All Blacks.
Kick-off begins 3 June 2017 in the North Island's most northerly city, Whangarei, and the tour visits six other cities before the final test in Auckland in early July.
Here are a few tips from Wilderness team to help loyal supporters make the most of the 2017 Lions Tour:
Book your Wilderness campervan early
Grab a WilderNessts exclusive camping directory to find great campsites near the venues, including hidden gems for freedom camping
Rest up before hitting the road and familiarise yourself with NZ rules and regulations
Get fuel and supplies in the bigger centres where it's cheaper
Add a bicycle – aside from NZ's great cycleways, a bike is handy for accessing local amenities
Celebrate responsibly – NZ has strict drink driving rules with a low alcohol limit
Planning a Holiday/Tour Combo
Sticking with the Lions' full schedule or the matches of your choice will still give you time for lots of extras – forward planning will help make the most of your non-rugby hours. Here are just a few suggestions.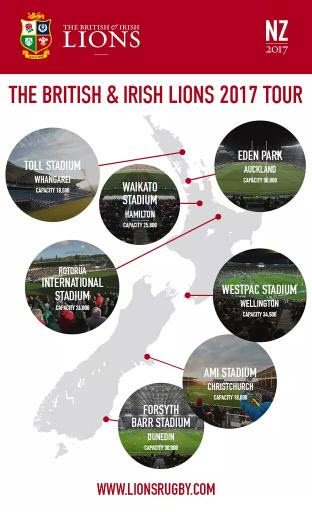 Game 1 – 3 June 2017, Whangarei
Consider heading North early enough to visit the Bay of Islands, birthplace of New Zealand and famed for big game fishing, as well as sailing and dolphin tours.
The city itself has a quaint quayside and an easy must-do walk through forest canopy to Whangarei Falls, right within city limits. If you're a keen diver, one of the world's top sites is close by at the Poor Knight's Marine Reserve.
Game 2 – 7 June 2017, Auckland
Oh, the dilemma – to spend more time in the North – or return to Auckland's many attractions via the West through the majestic, ancient Kauri forests.
In Auckland, explore the waterfront's Wynyard Quarter, Silo Park and the Maritime Museum, try a wine tour, or get above it all at the Sky Tower.
Tip: There's a holiday park right next to the city's wild west coast black-sand beaches.
Game 3 – 10 June 2017, Christchurch
There's plenty to do in and around Christchurch, from the International Antarctic Centre to punting on the picturesque Avon River, to fishing or galleries. It's an inviting place to use a Wilderness bike and you'll find options like the city's Hagley Park (and Botanic Gardens) in our handy guide to Short Easy Bike Rides.
Tip: Be warned that parking isn't great at the AMI stadium; we suggest staying at the nearby Amber Holiday Park
Game 4 – 13 June 2017, Dunedin
Whether it's due to the Scottish heritage and reputation for thrift, we can't say - but Dunedin is a city that really welcomes freedom camping. The fully covered Forsyth Barr Stadium is a local jewel and a renowned rugby host, with the Speights Ale house only a short walk from the stadium, perfect for post-game analysis.
Dunedin's colourful heritage is explained at the Otago Settler's Museum and the region is packed with amazing wildlife spotting. Take a guided tour to see albatrosses, the rare yellow-eyed penguin and fur seals.
Tip: Dunedin can be cold; our Wilderness motorhomes are all fully insulated and equipped with heaters.
Game 5 – 17 June 2017, Rotorua
The home of Maori culture and a thermal wonderland, you're spoiled for choice in Rotorua. It's also the North Island's adrenalin capital, offering zip-lining, luging, off-roading and other adventures. Not to mention trout fishing, golf, cycling (choose a leisurely ride or test your skills in the captivating Redwood Forest). Take in a traditional Maori feast. Marvel at the geysers and boiling mud – relax in a thermal hot pool.
Tip: The WilderNessts guide will help you find natural wonders and campsites not far from the main roads.
Game 6 – 20 June 2017, Hamilton
Hamilton is close to the world-famous Waitomo Caves, including Blackwater Rafting for the adventurous. Movie fans can detour to Hobbiton and drop by the Green Dragon Inn. Internationally award-winning Hamilton Garden has five gardens and 21 themed collections over 50 hectares. A river city, Hamilton boasts a great network of riverside walks and cycle trails.
Game 7 – 24 June 2017, Auckland
By now, the whole country will be well caught up in rugby fever with thousands of Lions fans packing the city – your cosy motorhome is a haven from the queues. This may even be the ideal time for a day away on nearby Waiheke Island, just a short ferry ride from downtown Auckland, brimming with cafes, restaurants and wineries.
Tip: To reduce city driving and parking, reserve a spot for your Wilderness motorhome at the Takapuna Beach Holiday Park on the city's North Shore, ideally located close to all amenities. Take the bus over the Harbour Bridge to the railway station, then a train to the rugby stadium at Eden Park.
Games 8 & 9 – 27 June & 1 July 2017, Wellington
Make time to live your own rugby legend just two hours North of Wellington at the NZ Rugby Museum in the city of Palmerston North. See rugby treasures and test yourself against the best in the have-a-go area.
Wellington has been called the 'coolest little capital in the world' and we couldn't agree more. It's loaded with culture, food, and action and boasts a beautiful harbour setting. Don't miss 'our place', Te Papa, the national museum right on the waterfront that's fun and interactive and where else can you see a giant squid?
Wellington's a café capital but there's also rare birds, a planetarium, cable cars, movie magic, trendy shopping and the list goes on.
Game 10 – 8 July 2017, Auckland
Back to Auckland for the final test, and another page of rugby history.
The British and Irish Lions 2017 tour is an epic event with a bonus snapshot of New Zealand, where there's so much to see and do.
Add a Wilderness motorhome and enrich the memories of your own epic tour adventure.