My husband and I recently hired a Wilderness motorhome Escape 4 and I was so impressed, I wanted to share my experience with others.
Now, I am by no means a motoring expert. I am writing this purely from my experience as a passenger and holiday-maker.
Years ago, when the kids were little, we hired a budget campervan - and I swore I would never do it again. That thing rattled and it was so uncomfortable when driving, it was really better described as a milk truck.
However, with a wedding in beautiful Pauanui (Coromandel) as our destination, and budget not such an issue, we thought we'd try again – this time in a bit more comfort.
And we weren't disappointed. Every part of our journey was a pleasure – from being greeted by the friendly, knowledgeable Wilderness staff, to easy on-road handling, a restful night's sleep and everything in between - what a stand-out experience!
In this blog I thought I'd break down the things that impressed me most. (I know I was looking for this type of information when I was researching my options. I hope this helps you with your research too).
The Wonderful Wilderness Team
I've never met a bunch of happier, friendly staff! Kerstin greeted us warmly then proceeded to show us around the motorhome. No stone was left unturned as she carefully described the driving instructions, then walked us around the van for the pre-trip vehicle inspection. The inspection and preparation for departure took about an hour (tip: allow time for this) but it was worth it. We left the yard carefully, feeling confident about the journey ahead.
On our return, Fernando strode excitedly out to the motorhome, and welcomed us back. He was genuinely interested in our trip and even offered to help unpack the van for us. No cleaning was required (we could even leave our rubbish aboard) – all we had to do was take our things and walk back to our car. Easy.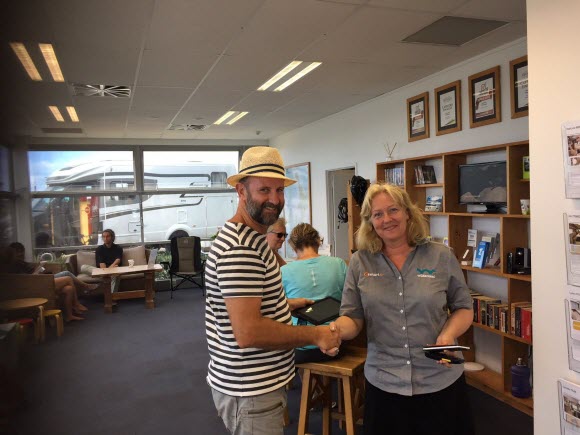 Driving the Vehicle
Not being a driving expert, I only have my last 'milk truck' experience to compare – and the two experiences couldn't be further apart. Sitting in the passenger seat was a delight. Perched high above the road, the view was amazing. Both the driver and passenger seats were leather, contoured and adjustable, which for me was such a bonus (I suffer from back issues, so being able sit comfortably for long durations is usually an issue – but not this time!)
Our vehicle had the option of automatic or manual transmission (we chose automatic) and handled the winding, hilly roads of the Coromandel beautifully. We did pull to the left in passing lanes to let cars pass, but there was plenty of power in the engine to keep to the speed limit on open roads.
Big rear-vision mirrors and a parking camera (yes, a parking camera!) made parking and maneuvering the vehicle easy.
Getting to Know the Camping Side of the Vehicle
The fun part - getting to know the camping side of the vehicle and figuring out how to use everything.
Firstly, what an impressive set up. A full size, modern fridge with separate freezer. A griller. An electric cook-top stove. A really decent sized bathroom – complete with separate shower and toilet (with a genius door configuration). Heaps of storage. And the ceiling of the cab dropped down to reveal a second double bed that you would never know was there. The kids were able to climb up, sleep and still move around under the bed in the evening.
I likened the interior of the vehicle to a cross between a Boeing airplane and boat. Everything closed with a good 'clunk' (like an overhead locker on a plane) and there were nooks and crannies cleverly tucked away for storage (in my daughters words: "It's a road-boat mum!")
But the best part? The instruction manual. This may sound crazy, however I am not usually an instruction-manual-kind-of-a-girl. Yet amenities as impressive as this did require a bit of educating to figure out. And that manual was probably the best instruction manual ever written. Plain english, well written, with illustrations – it was actually an enjoyable read.
'Living' in the Vehicle
Switching between daytime and nighttime configurations was a breeze – literally just the push of a button and we had a second double bed. The beds came pre-made with good linen, great pillows and very comfortable mattresses.
The front seats swivelled to enable a spacious dining configuration of two chairs (the front seats) and two bench seats (the back seat and one side seat). Great for meals, a game of cards and for relaxing while watching the world go by out the window.
Everything we needed to be comfortable was included in the motorhome. Soft fluffy towels, a tea towel (very important), extra blankets and linen. Even handy cloths to wipe down the kitchen and bathroom surfaces was provided.
We literally just needed to bring consumables - food (and very importantly) dishwashing liquid.
And, to the kids delight, the motorhome came equipped with onboard WiFi, plenty of device charging outlets and a good stereo system. There was also a pull out LCD screen, which we didn't use, but I'm sure others would put this to good use.
Freedom Camping vs Booking into a Site
We were fortunate to experience both styles of camping on our trip. Freedom camping in NZ has really come such a long way since our last experience. With dedicated parks for registered self contained vehicles (which all Wilderness motorhomes are), you are lucky to stay in some of the most coveted locations in the world.
Our first night freedom camping was fantastic. Although hubby was reluctant for us to use 'the facilities', with three females on board he was quickly outnumbered. The toilet was easy to use, didn't smell and had the advantage of being able to stay dry due to a clever dividing door off the shower. Later when we returned the campervan, the process of emptying waste was also much easier than we expected. Very clean and simple.
Water heating and lights all ran off gas for freedom camping (which, thanks to the handy instruction manual, we were able to figure out).
The best part about freedom camping was the view. Sure, where we chose to park just happened to be at a popular early-morning spot for surfers …but that was part of it. Hearing the cars arrive, the quiet banter of the surfers getting ready, then silence as the surfers jogged down the beach and hit the waves was really cool. And, with a view right out our bedroom window, we could watch the surfers carving up the waves as the sun rose behind them.
The next night we parked on a powered site at the venue for the wedding which brought us out. Again, it was an easy set up. And with mains power on our side, we were able to make toast, and even use our hair dryer and straighteners to get ready for the wedding. (You can't do that on a boat!).
Would I do it again? Yes!
What a difference a quality vehicle makes to the New Zealand motorhoming experience. I have no hesitation doing this again with Wilderness – in fact, the experience was so good, I'd even consider ditching my 9-5 life at some point in the future so I can take to the road in a (quality) motorhome for good. Bring it on!