Travelling New Zealand has always been a wild dream of ours. Last year we made plans to get ourselves there for a vacation we would never forget.
We spent 8 days in our Escape 2 traveling the South Island from Christchurch to Milford sound and back again.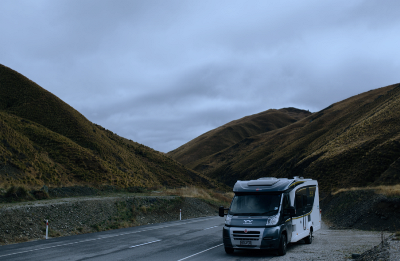 Wilderness kindly gave us two books that became our everyday companions on our trip, New Zealand FreNZy by Scott Cook and The Wildernesst Camping Directory. Both gave us great ideas for places to see and freedom camp, and both are extremely detailed and fantastic tools for those travelling the country.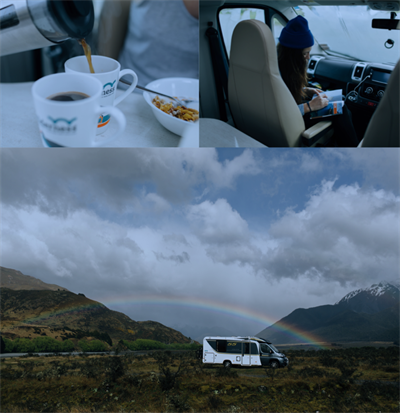 Caleb and I had some ideas of places we wanted to end up, but no agenda of when we would arrive there. This made for the best kind of adventure, we drove a lot and stopped OFTEN. We would pick a destination to camp and take all day to get there. We saw so many incredible things and loved every moment of it.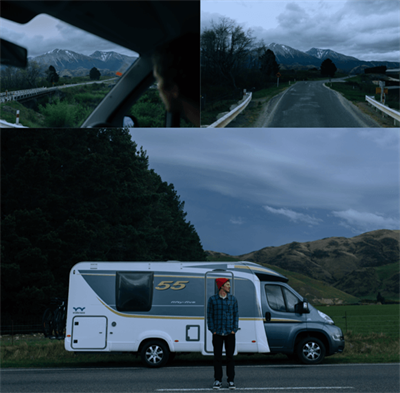 Travelling in a camper van for us is a lot different from the travelling we are used to. We typically camp and hike which means we pack light and we only bring what we can carry. The van offered us the exact opposite, its a bring whatever you want, relax, no worries kind of travel. We definitely enjoyed the luxuries of cooking/showering/sleeping/lounging wherever we wanted to. We might have a hard time going back to camping!
Here's what we got up to:
Day 1:
We flew into Christchurch and spent a little time at Wilderness getting to know our Van and how she worked. We left with little light to spare, made a quick trip to the shops for food and supplies and headed straight for Arthurs pass. Our destination for the night was one of the places we found in the camping guide book (We went to bed in rainy darkness but woke up to a gorgeous rainbow and sites that exceeded our expectations.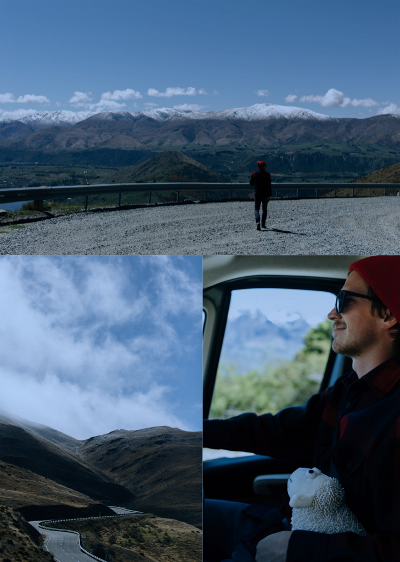 Day 2:
We drove of miles through the winding mountains and terrain that made me feel as if I were driving through Middle Earth. The Rain continued but we were warm and comfortable in our Escape 2. We stopped that night to camp in another spot found in the camping guide (DD2). Here we were greeted with a hazy beach and some very funny neighbors. An interesting place to camp but it was free!!!
Day 3:
We woke up extra early today around 7:30 knowing we had a long day ahead of us. Our destination was a little spot outside of Albert Town, again a spot we had found in the Camper Guide (FF2). We drove though Josef Glacier and had one of the funnier experiences you have with a camper van, the ever so fun "dumping" we cleaned the tanks and filled up with fresh water for the next few days. We stopped a lot, the landscape went from mountains and the forest to beachy almost Northern California feel. Our spot this night was probably one of our favorites. Trucked under the trees alongside the river we were the only people in site. We got the bikes down for a little ride around the area and discovered some mountain biking trails just across the river!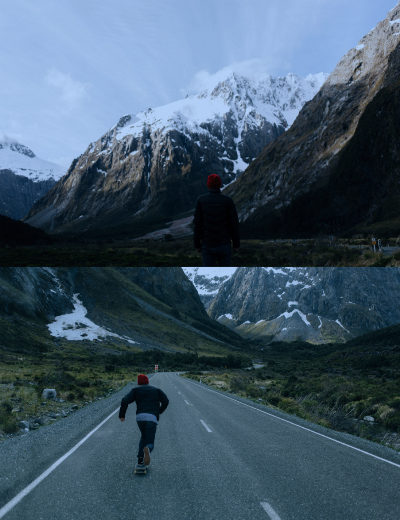 Day 4:
We woke up to clear sky and an incredible day ahead. We made the drive into Queenstown, along the way stopping to take in some of the most beautiful views yet. We spent a little time in town and biked around a bit. We drove up to the Remarkable's Ski area to get a better view and my goodness it was worth it. We then made the push to Milford Sound. We knew going into our trip that Milford Sound was on the top of our "must see" list but what we didn't know was that the drive was actually far more rewarding then seeing the sound itself.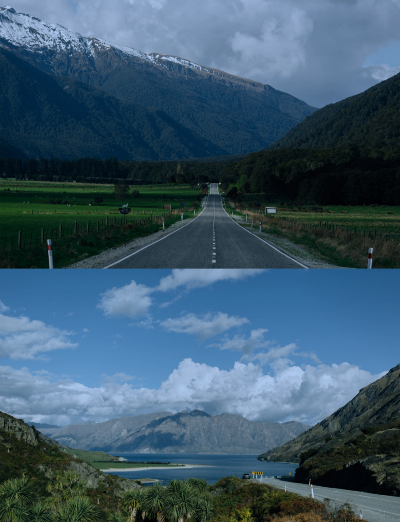 We got to the sound in the evening as everything was quieting down for the day. A storm was coming in and we were freezing! We actually decided to drive back out to a spot we had seen a long the road to camp for the night. This was one of our favorite days spent in New Zealand.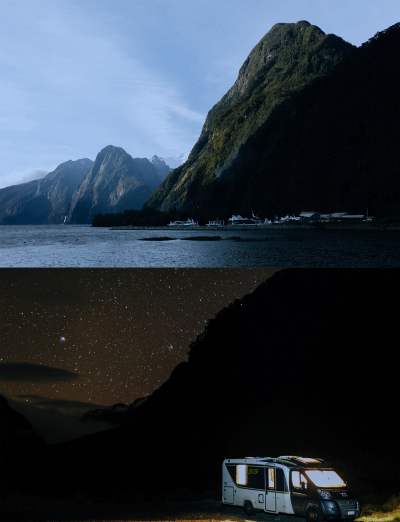 Day 5:
Rain, Rain and more Rain today. We spent the morning enjoying the camper, made breakfast and look a little time to tidy up. We made the decision not to go back into the sound since the rain would stop us from doing most of the things we had planned to. The drive in and out was worth the trek. We drove across the island toward Dunedin stopping in Anau for lunch a long the way. Caleb and I both enjoy meat pies so we frequented small bakeries and shops for them. We found an awesome Holiday park in Waikouati not far from the beach. We spent the evening riding bikes along the beach and exploring the area. We did a lot more driving then stopping this day and took some time off from the cameras.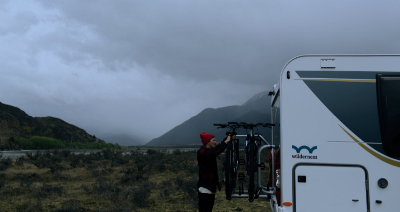 Day 6:
We had bluer skies and nicer weather this day. We spent most of this day driving and stopping along the coast being touristy and enjoying the East Coast. We stopped at Shag Point in hopes of seeing some the seals and possibly a penguin (fingers crossed). The water is such a gorgeous teal color, we would have gone for a swim if it wasn't so cold! We made a quick detour at the Moeraki Boulders just to see what they were all about, exactly what we thought, awesome round boulders submerged in the ocean with tourists crawling all over them. We grabbed a picture and were back on the road toward Lake Tekapo in no time. We got in a little later then we would have liked to but made it up the road to Mt. John Observatory just as they were closing. We jumped out and grabbed a few pictures before heading to our spot for the night, another from the book a spot between Lake Alexandria and Lake Tekapo. We loved this spot!!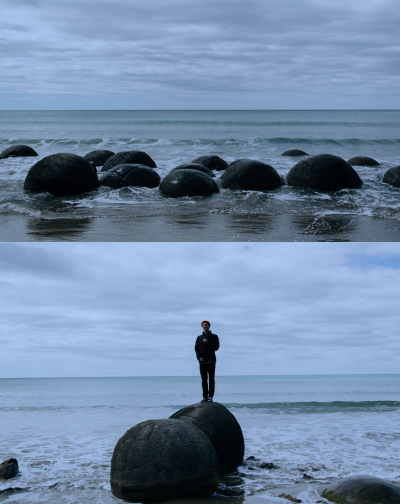 Day 7:
Slept in! We made our way back up to Mt. John Observatory to spend a little more time and experience it in the day time. We had some coffees at the Astro Cafe before heading into town. While looking for things to do we saw a man offering Segway tours in the park...We have always wanted to try them so we spent about 15 minutes learning how to ride them and cruising around the park (another highlight of our vacation). We spent the entire day in Lake Tekapo, we kayaked on the lake, soaked in the scenic hot pools and enjoyed a nice dinner in town. We thought we would stay another night here but randomly decided at about 7pm to head out. We drove 2 hours to Mt. Hutt and proceeded up the mountain. Now, this wasn't our brightest decision so late at night on a very foggy evening but what we woke up to was absolutely worth every mile and every hour of driving.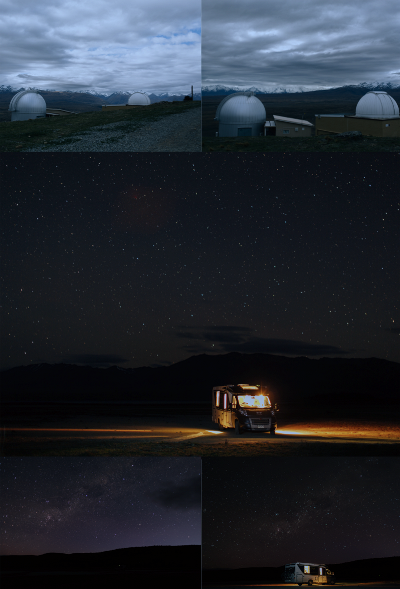 Day 8:
We took in the views from Mt. Hutt and spent some time catching up on some work. On the way down the mountain we were tipped off by a mountain biker that the mountain was intact full of mountain biking trails. So we parked the van and spent some time on the trials. This being our last day we headed back toward home base. We spent the evening in Akaroa cleaning the van and getting our last fix of New Zealand.
We had the trip of a lifetime and hope to someday return. We learned so much about the camper lifestyle and we are hooked. Wilderness was so helpful and generous though out our entire trip, we couldn't have been more please with the ease of it all.
New Zealand is built for campers, we were able to see so much and stop when we needed to without worrying about where we would stay, we had our home with us! If you plan to travel to New Zealand we would highly highly recommend renting a camper van from Wilderness!