Stock up with a few days supplies before exploring the MacKenzie country. It is not that you won't be able to get supplies further inland, but prices will be a little on the expensive side.
To get to Lake Tekapo from Christchurch you drive through Geraldine (a magic little town); Fairlie (the gateway to the MacKenzie Country) and through Burkes Pass (worth stopping for the views).
If you are anything like us you will have planned on spending overnight at Lake Tekapo, only to find you actually stay for three days! The first question you will ask is why are the waters of the lake a turquoise colour? The lake is fed by large river systems that are fed by glaciers. As the water flows through the glacial valleys it grinds up rock on its way to make 'glacial flour'. This flour is suspended in the water giving the lake this magnificent colour.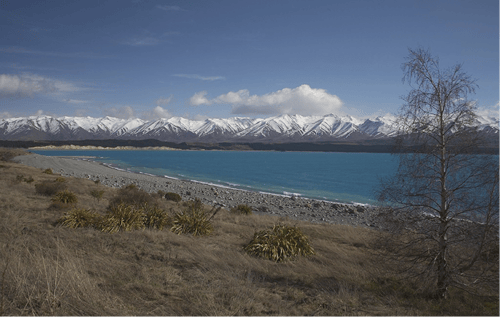 Interestingly, the MacKenzie Country is named after a Scotsman (no kidding) who was a shepherd and sheep thief back in the 1850s! He used to herd his stolen flocks through country most people thought would be impassable. Poor James MacKenzie was not held in as much esteem as his sheep dog Friday. Make it your mission to spot the sheepdog statue on the lakefront. It is indeed a monument to the working dog, for their hard work over such rugged land.
In keeping with the sheep farming theme is the Church of the Good Shepherd, handy to the sheepdog statue. This little church was built in 1935 as a place of worship for the pioneer families of the MacKenzie Country. The spiritual presence and peaceful ambience of this church will take your breath away as you stand in reverent silence and take in the view beyond the altar.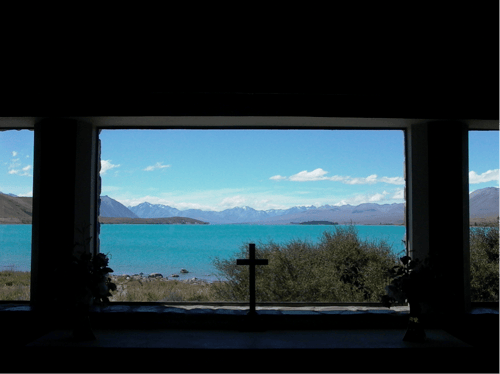 Couples from all over the world, line up to have their wedding ceremony at this little church. It would take a very stunning bride to out-capture the view!
The activities are endless in this area. If an air safari is outside your budget, the 'Earth & Sky' astronomy observatory on the summit of Mount John is a fascinating option. We decided to forego a dip in the Tekapo hot springs for a hike over the golden tussock foothills, only to find the hot spring dip afterwards was necessary for the leg muscles to return to normal!