Travelling in a motorhome is a lot of fun and one of the best ways to see New Zealand. That said, there are a few often forgotten truths we think you should consider.
You will be in each other's space
No matter the size of the motorhome you choose to hire, it's going to be smaller than your other home, therefore, you will be in each other's space. Take it as a learning experience – after sharing space and equipment in tight living quarters, sharing the apartment when you get home will be bliss.
It also helps when you remember the reason you decided to tour in a motorhome together. It's a great way to see the hidden gems of this incredible country right at your doorstep.
Tip: Once you've set up camp, take a walk to become comfortable with your surroundings. This will also give you a breath of fresh air and a fresh perspective of your surroundings and the opportunity to meet new people on your walk.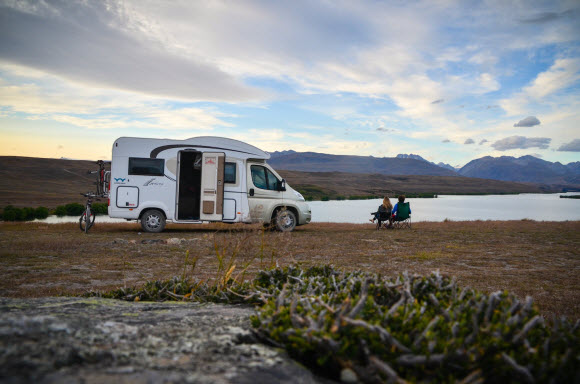 You'll be experiencing a new way to be 'on the road'
Driving a motorhome rental can be daunting at first if you haven't experienced driving vehicles larger than your car before.
However, this is no cause for worry. All of our Wilderness Motorhomes are easy to manage and have extras like the reversing camera to make sure you feel safe, secure and confident on your travels.
Tip one: There's no need to rush your first 100 kilometres. If you feel like you're holding up traffic as you become familiar with your motorhome rental, simply pull over at the next rest stop to let traffic pass and have a breather.
Tip two: Try to make sure you're with another person who is comfortable driving the motorhome to give yourself a break, even for a short period of time. New Zealand may look small, but driving for a large number of hours on your own is difficult in any country.
You're mobile, so are your belongings
Things will move around in the motorhome when you drive, so be sure to secure anything that may move during the journey before setting off. This includes loose food in the fridge. Food items like jars can shift during the drive and can greet you with a nasty surprise the next time you open the door.
Wilderness Motorhomes have creative storage solutions for your kitchen equipment. Along with secure cup holders, our motorhomes have non-slip mats in the kitchen cupboards and drawers to prevent the plates, pots and pans from rattling around when you're on the road.
Have fun with it
Don't stress! The best approach when travelling in your motorhome is to prepare what you can and then let go of the rest. You'll be surprised and delighted when you let go of the rigid planning and follow where your new home on wheels takes you.
If you have any questions that we haven't already answered on our blog, contact us for a personal chat with someone from the Wilderness team.