The problem with the South Island is just about every place is 'idyllic'. We know of some people who intending to circumnavigate the South Island and spent their entire 4-week holiday in Marlborough alone.
More about that in another blog! They are the same people who said their motorhome had a problem because it kept stopping for photograph opportunities!
There is no better place to stop for lunch than this.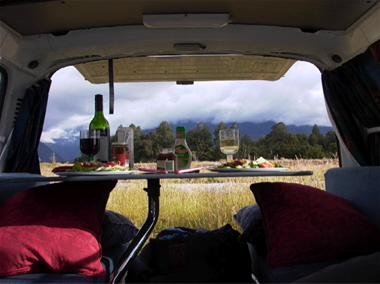 Where is it do we hear you say? Who cares! It is a view of the Southern Alps with the clouds playing around the peaks. More important is the feeling of liberty and exhilaration when you experience the wide open spaces and clean air. The only sound is from the local birds calling to each other about a weird-looking house-on-wheels parked on their patch.
And so, after the menu of your choice for lunch and perhaps a short walk (or nap), whatever you feel like it is time to treat yourself to another vista. Around the corner and guess what? Another stunning view!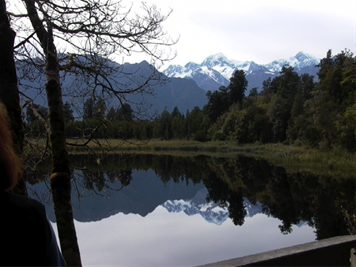 This time we will own up and tell you it is Lake Matheson, famous for its mirror views of Mount Cook. Here nature has combined the exact ingredients to provide dark brown waters to create the ideal reflective surface. Don't be concerned about the colour of the water. It is caused by the natural leaching of organic minerals from the surrounding flora and fauna. Look hard and you will find long finned native eels thriving in the darkness of the lake.
It is tempting to linger away a few peaceful hours watching the changing light over the lake or walking around it on the track that takes an hour or so. Then, by late afternoon you suddenly realise you are nowhere near your planned stopover for the night and you have achieved only 50km all day!