Meandering up the Coromandel Peninsula is great at any time, but during spring there is a certain magic about this part of New Zealand.
It is punctuated by the new 'greens' of the countryside, the deciduous trees coming alive, and the sun adding a sparkle to the sea. When exploring the peninsula in your Wilderness motorhome, you will want to take your time. Not only do the roads wind over the hills and through lush native forest but the turnoffs to the various bays are all worth investigating. Sometimes you will have the whole beach to yourself, in fact you will believe you have actually discovered it!
Another one of the area's best kept secrets of Spring on the peninsula is the iconic Whitianga Scallop Festival on the weekend of 14 September, 2013. This is actually one of New Zealand's most popular seafood events.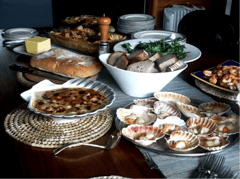 There are over sixty cuisine stands as well as a wide range of performers providing a true gourmet picnic atmosphere. Crowds of happy revellers crunch and nibble their way through a feast of delicacies in the open air on the waterfront.
A sneaky look at this year's programme features several cooking demonstrations, some by celebrity chefs; dress-up competitions (look out for the mermaids!); music by The Great Brain Robbers, Franko Heke and The Vegas Brown Band; a fresh fish auction; and heaps of snap prizes for various WOW packages.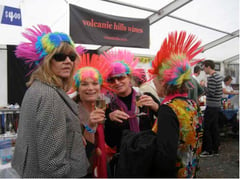 Just to get you in the mood, try making your own "Quick Shucks" next time you have bought or dived for fresh scallops and want exciting new camp-kitchen hors-d'oeuvres!. All you need is the barbecue grill pre-heated. Season the scallops with barbecue salt, ground pepper [or perhaps some Moroccan spice]. Have shot glasses filled with chilled chardonnay handy. Quickly sizzle the scallops on the barbecue plate until just cooked. Drop one hot scallop into each shot of chardonnay. Savour the moment for two seconds, then devour! Viola......
Tickets for the Whitianga Scallop Festival sell out quickly so be sure to get yours soon.