Our commitment to the environment dates back to the founding of our company in 2004. This commitment has been an integral part of how we do business ever since.
We were thrilled when New Zealand tourism quality agency Qualmark recently acknowledged our Christchurch base by awarding us Enviro Gold status. Qualmark assessor and Tourism Business Advisor Ron Russell said "It was great to see that you have not only maintained your efforts, but also added a number of initiatives and projects to your environmental stance". Our Auckland base achieved Enviro Gold several years ago.
Wilderness Motorhomes leads the industry with our fleet of low emission vehicles. Our internal policies and processes and our whole team commitment to these speak volumes about what we stand for.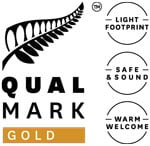 We have a commitment to leave our land in better shape than we found it. Each year we give back to the community. In 2014, we were one of the major sponsors of the High-Five O Challenge that raised almost $500,000 for the Mental Health Foundation. We have supported numerous other smaller events that contribute to local charities and will continue to do so in the future.
Minimising the impact of motorhome rental on the pristine New Zealand environment is central to our business. We're thrilled that Qualmark have recognised our level of commitment to the environment and community as very few motorhome companies manage to achieve this.