Meghan Maloney, a New Zealand photographer based in Cambridge, toured the Northland in a Wilderness motorhome with her family, creating some special memories that will last a lifetime.
I have my youngest son to thank for this trip. One day out of the blue he asked if we could go on a campervan trip, and as I'd been dreaming of exploring Northland it was a win-win. It was a no brainer for us to travel in the autumn since it's still warm enough to swim in the sea but there's less people travelling so you're more likely to have the amazing views all to yourself!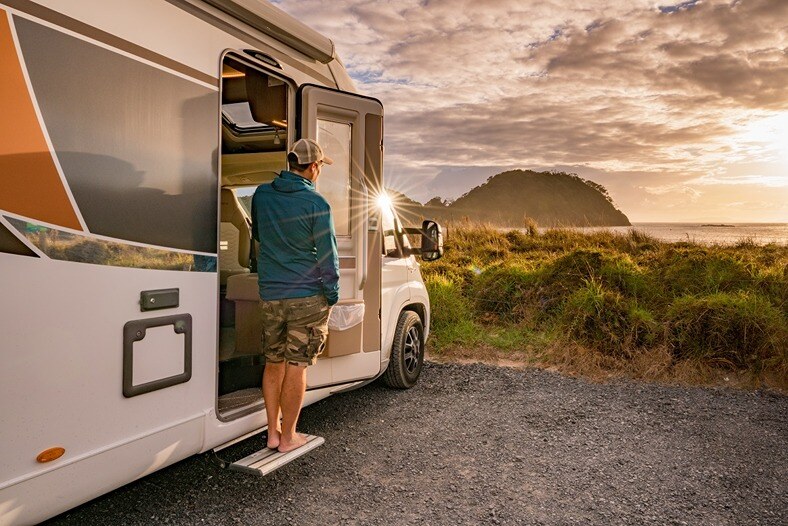 Greeting the Day at Matapouri Bay
As a landscape photographer, it's my goal to capture every sunrise and every sunset while travelling but how realistic is it to keep that kind of schedule with a family in tow? It's honestly easy in a motorhome - some morning I just snuck out of the motorhome and left everyone to snooze blissfully, and in other locations like Cape Reinga the nearest campsite is only a 5 minute drive away so we were really close by.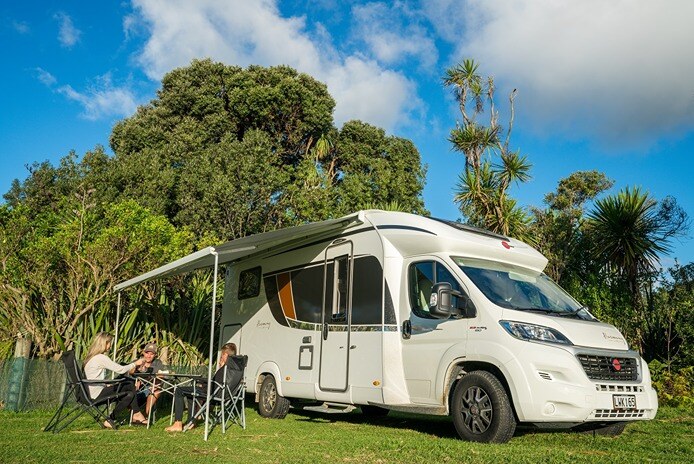 Relaxing at Matai Bay
We travelled in style in the Wilderness Alpine 4 motorhome which we loved because of the two single beds set up in the back as well as the drop-down bed over the living area. The kids could chill out in the back whenever they wanted but still enjoyed the novelty of sleeping in the drop-down bed at night, and with the huge garage area underneath there was ample storage for all our gear.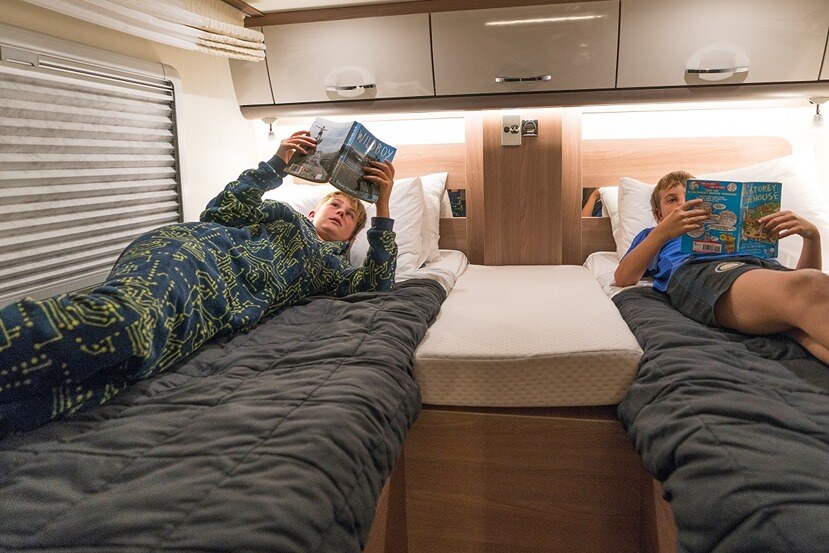 Relaxing in the Alpine 4
Northland is well known for its beautiful beaches and it was hard deciding where to stay each night as one beautiful bay rolled into the next. We spent a lot of time in the outdoors during our trip again proving autumn is the perfect season to travel since the weather is settled and warm but not so hot that you can't bear to think about heading off on a 2 hour hike without breaking into a sweat.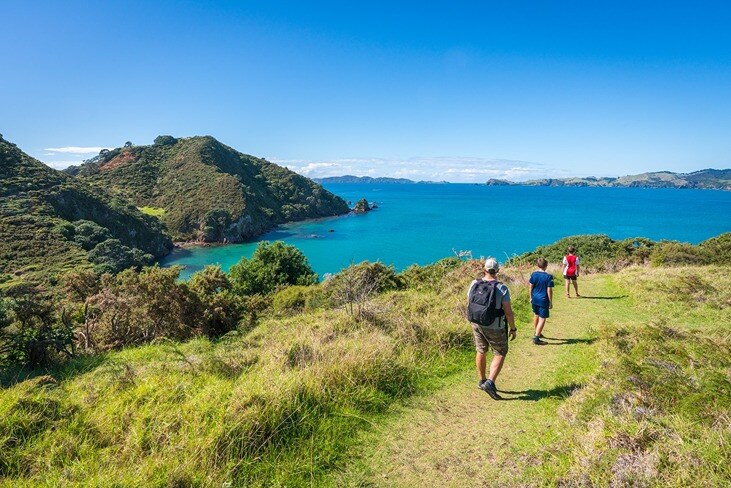 Hiking Mahinepua Penninsula
If there's one thing we learned from our time up north, it's that we barely scratched the surface of all the amazing beaches, lush forests and impressive waterfalls that make up the Far North. If we'd been keeping a tally of amazing experiences on the trip, here's how it would have played out: 14 beaches, 5 waterfalls, 3 big hikes, a kauri forest, a giant sand dune, a lighthouse, a ferry crossing, a famous fish n chips lunch, a cave, and 8 sunrises and sunsets captured on camera - phew!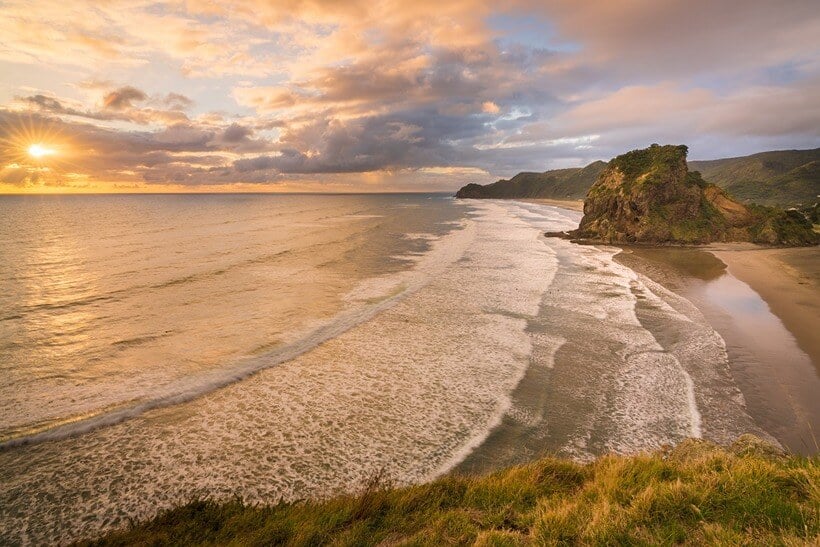 Piha Golden Sunset
From that list, it's almost impossible to pick our 'top moments' but let's see if we can narrow it down:
1. Waking up in Matapouri Bay
One of my lasting memories will be the amazing sunrise in Matapouri Bay on Easter Sunday. The light was so soft and golden and the beach serenely quiet. Not a bad place to sip our daily coffee and go on an Easter egg hunt around the motorhome - which by the way had so many great hiding spots we were still finding eggs days later!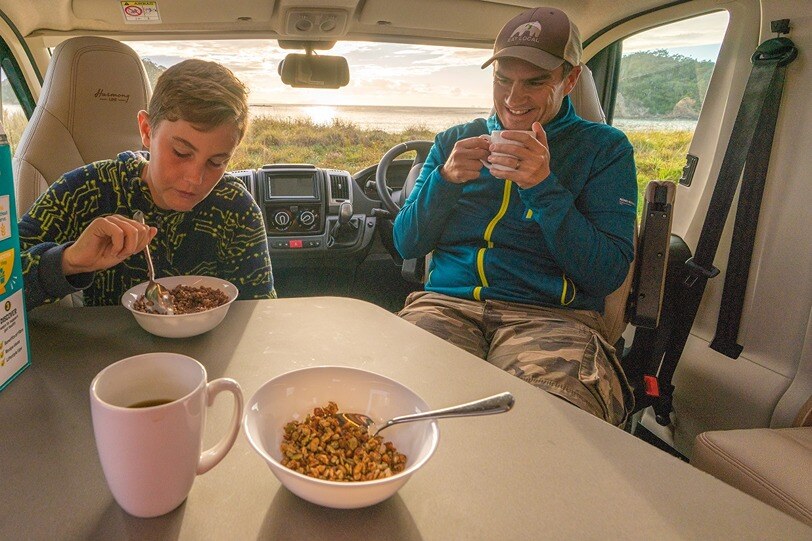 Breakfast at Matapouri Bay
2. Climbing St Paul's Rock
The view over Whangaroa Harbour is breathtaking from St Paul's Rock. It's only a short, sharp hike to the top and if you're comfortable with a little scrambling near the very top you'll agree that this view is worth it. We were surrounded by a few thunder showers which made for some awesome cloud formations and the view down the harbour and out to sea was nothing short of spectacular.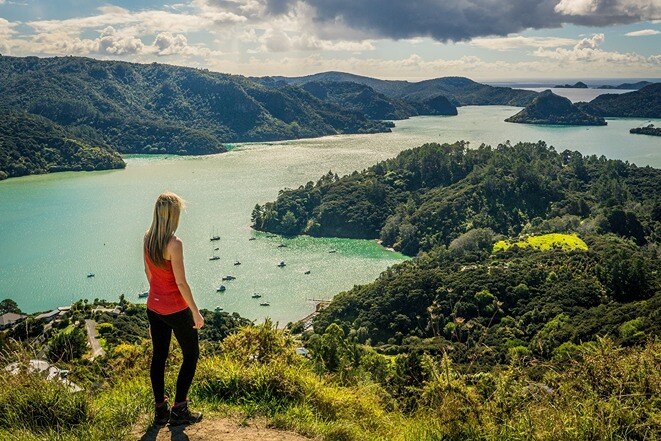 View from St Pauls Rock
3. Sandboarding the Te Paki Sand Dunes
This is was definitely one of the most fun family activities on the trip, and the landscape here is incredible - who knew we had desert-like conditions in NZ?! We rented boards and spent a good hour zooming down the steep dunes, gradually getting up confidence to go faster and faster each time. We wish we could have stayed longer!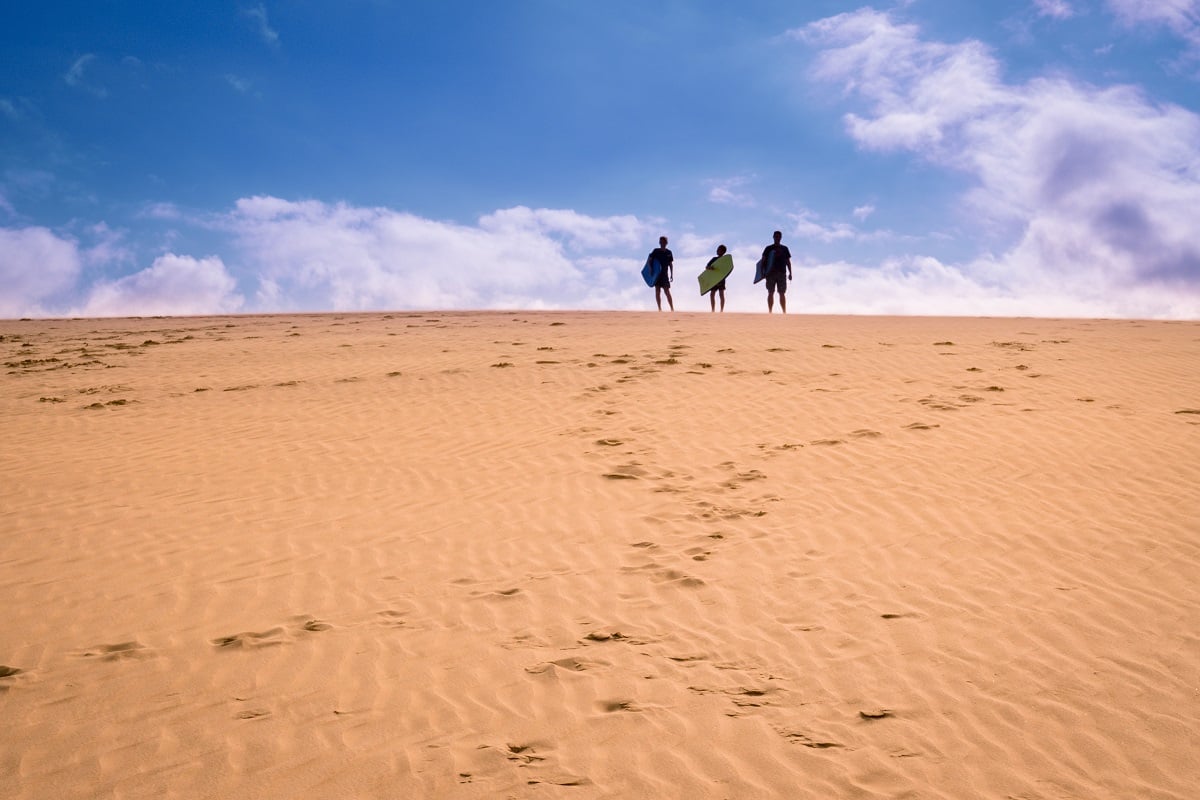 Boarding Te Paki Dunes
4. The water in Matai Bay
When I researched 'best beaches in Northland', Matai Bay was a name that kept coming up so I knew we had to put it on the list. The DOC campsite here is right by the beach and the colour of the water and the curve of the bay just has to be seen to be believed. It was great to fly the drone here to get an aerial view of the amazing water while the boys indulged in an early morning swim.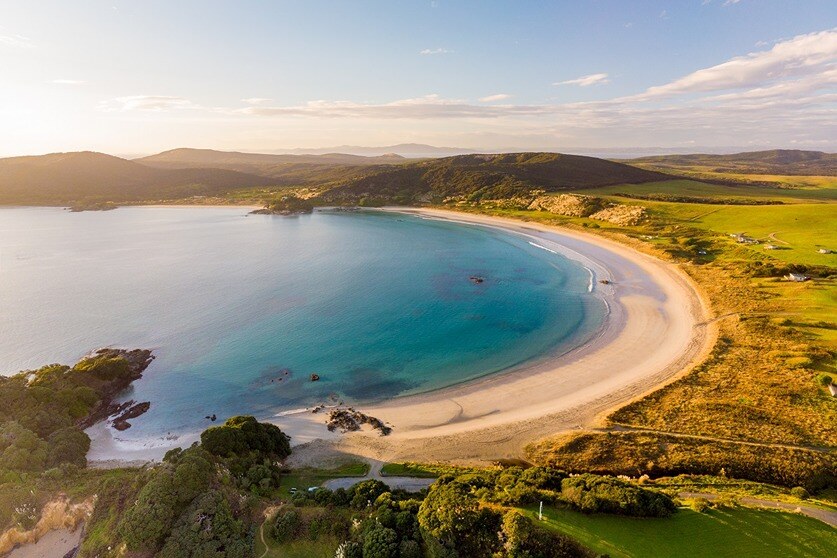 Aerial View of Matai Bay
5. The views from Cape Reinga
I'm not sure what we expected from Cape Reinga but it really exceeded our expectations. It's a wild and barren sort of place where the Tasman Sea and Pacific Oceans meet. We were fortunate to experience it in both in golden late afternoon light and then in moody purple hues the following morning for sunrise. As one of the most significant locations in Maori heritage it's known to be a very spiritual place and we certainly felt that way visiting there too.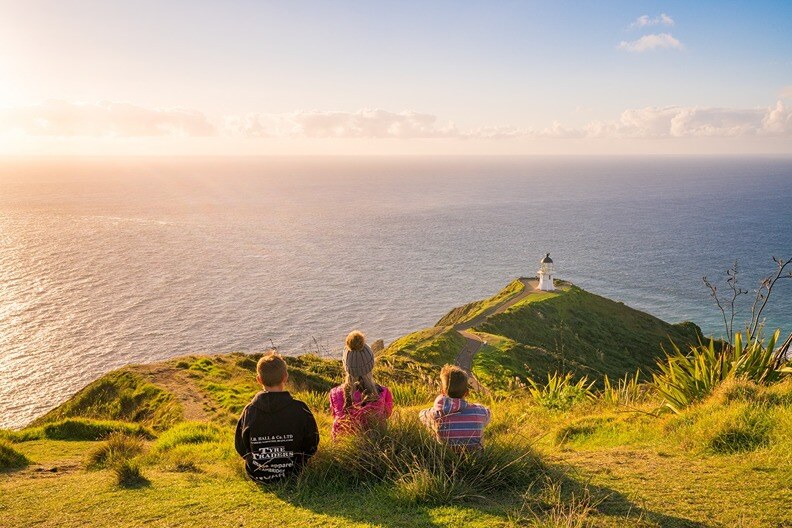 Golden afternoon at Cape Reinga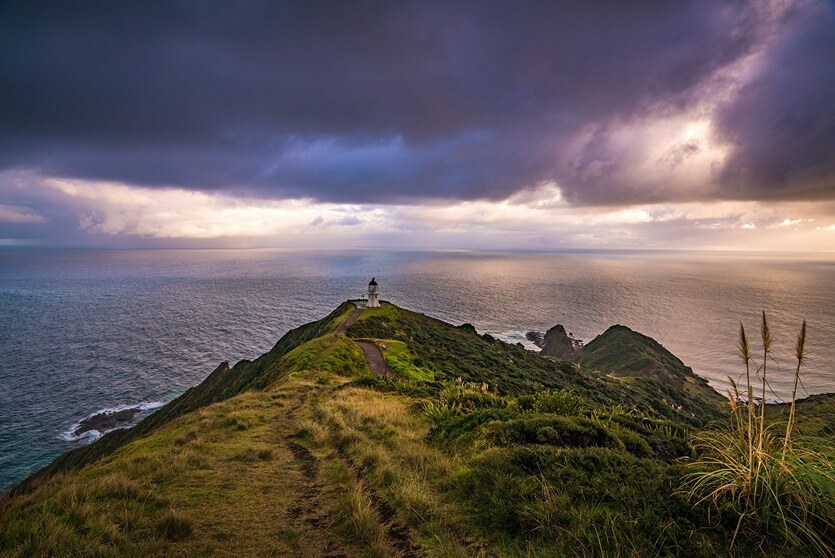 Moody morning Cape Reinga
It's safe to say none of us were ready to say goodbye to our wonderful motorhome as it was the best kind of family trip you could imagine - just the right mix of sun and beach, lush waterfalls and tropical rainforest together with time just to relax in our home on the road.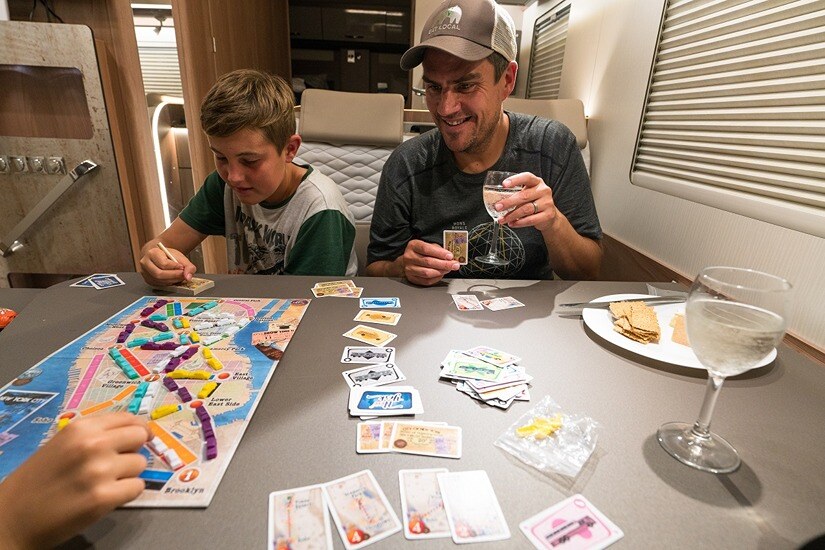 Family life in the Alpine 4
For more inspiration, read our extensive article on exploring the far north or Meghan's full blog post on their Northland adventure. If you're more adventurous, check out our North Island bike trails itinerary.