Our Environment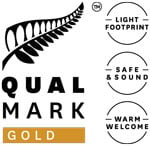 It's no secret, the success of New Zealand tourism lies in the beauty of our landscapes. We are committed to doing what we can to keep it that way. It's that commitment to responsible and sustainable tourism that earned us the Qualmark Enviro Gold Award, the highest environmental award available to a tourism business, and put us in the company of an elite few motorhome rental operators. In order to achieve the Qualmark Enviro Gold Award, we had to back our commitment to environmental and social responsibility with action in areas such as energy efficiency, waste management, conservation, and community activities.
Million Metres Streams Project
Let's face it, most forms of modern travel have a negative impact on the environment and motorhome travel is no exception. So we've teamed up with a local non-profit organisation to do something positive for our environment. The Million Metres Streams Project was set up to restore the health of New Zealand waterways by planting trees along the banks of the streams (riparian planting). Riparian planting is vital to the health of our freshwater ecosystems.
Our hirers are invited to contribute to the Million Metres Streams Project. These contributions help fund the trees planted by volunteer community groups alongside waterways across New Zealand. Wilderness will match every NZ$1 contributed by our hirers to the Million Metres Streams Project.
Our most recent donation to the Million Metres contributed to the Hoteo 1 project. The Hoteo River catchment drains into the Kaipara – the second-largest harbour in the world. We, along with our Wilderness explorers, helped take action to protect and sustain these vital resources and beautiful landscape.
If you are about to embark on your New Zealand adventure, you can help offset the carbon emissions by contributing to the MMS programme. Read more about our carbon offset programme.
The Wilderness Environmental Care Code (ECC)
OUR commitment to the environment means little without YOUR support. That's why we have developed the Wilderness Environmental Care Code. It outlines the actions we are taking to minimise our impact on the environment and provides a guide for our customers to do their part as well. It's a two way partnership between you the Traveller and us the Operator.
Your Part
Dispose of waste responsibly
Only use approved dump stations for disposing of grey water and toilet waste. You can find a list of dump stations on the Campable app or in your campervan touring atlas. Remove all rubbish when you leave a camp site. Place in litter bins and paper, glass, cans, and plastic in recycling bins where provided.
Camp only where permitted
Observe local camping rules. Check our guide to Wild Camping before planning your overnight stay.
Take extreme care with fire
Always observe and obey fire restrictions. When cooking outdoors, only use a barbeque or built-in fireplace provided.
Protect plants and animals
New Zealand is home to countless unique, rare, and endangered species. When bush walking, always keep to the track. Follow instructions if you are asked to clean your footwear, fishing or other gear to reduce the spread of plant and animal diseases. Don't destroy trees for firewood.
Plant more trees
You can offset the carbon emitted on your New Zealand road trip by contributing to our Carbon Offset Programme. Our partner organisation will plant trees which will absorb carbon reducing the impact your trip has on our environment.
Our Part
Provide low emission vehicles
All our motorhomes meet Euro V or VI emission standards, the highest in the automotive industry.
Provide certified self-contained Motorhomes
All our motorhomes are fitted with wastewater tanks and either a fixed or portable toilet allowing you to dispose of unsanitary waste products correctly. They also comply with New Zealand's strict self-containment standards (NZS 5465:200).
Maintain our motorhomes
All vehicles are maintained to the highest standard and tuned correctly to minimise harmful emissions.
Clean and green base operations
Our base operations are also carried out efficiently and with minimal waste. For example, we use energy efficient equipment and power saving techniques to reduce our power demand, recycle all recyclable materials, and use environmentally friendly cleaning products to reduce the impact on the environment.