With outstanding scenery, the home of world class directors, and a top film production company, New Zealand is a dream come true for all types of movie fanatics.What better way to get up close and personal with what put New Zealand on the international film map than in your camper?
Read on to get the run sheet of how you can transport yourself to the forest scenes of Pete's Dragon in Rotorua, the samurai village of the Last Samurai in Taranaki, and a piece of Narnia at Cathedral Cove.
Pete's Dragon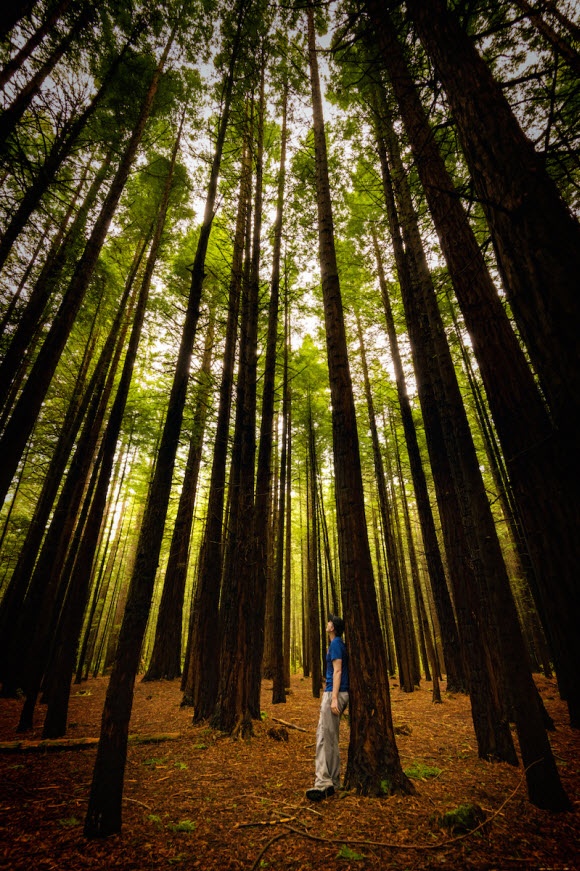 Rotorua
The forest scenes from Disney's Pete's Dragon were shot in Rotorua's Whakarewarewa Forest, the region's home to soaring Californian Coast Redwoods, which made it the perfect double for America.
This majestic forest – all 5,600 hectares of it – is a popular destination for hikers and mountain bikers alike. The track network winds through lush exotic and native forest, with spectacular panoramic views over the lakes and thermal wonders of Rotorua. This invigorating journey through the area's greatest treasures makes for a uniquely Kiwi experience not to be missed, and with the Redwoods Treewalk high above the ground, you could almost be perched upon your own dragon taking in the beautiful views below.
Bay of Plenty
McLaren Falls Park was used for a scene early in the movie where Pete encounters a bear on the river's edge. This location is quintessential New Zealand when it comes to flaura and fauna, with one of the best botanical collections of trees in the North Island. One of the highlights of the park is the Waterfall Track where you can see glow worms after dusk.
The park is a ten minute drive out of Tauranga in the Bay of Plenty region, one of New Zealand's sunniest regions which boasts many outdoor activities and scenic attractions.
Tapanui
The small town of Tapanui was transformed into the town of Millhaven to film the remake of the Disney movie Pete's Dragon. Many of the businesses in Tapanui had make-overs for the filming, some of them appearing to have entirely new identities or functions, while others had only minor changes made to them. Filming also took place at the nearby Blue Mountain Lumber Mill, which had been closed for a few years.
Located in West Otago, only half an hour drive to Dunedin, Tapanui is ideally situated for taking day trips to the southern scenic attractions including the Catlins, Fiordland, the Lakes District and Central Otago.
The Chronicles of Narnia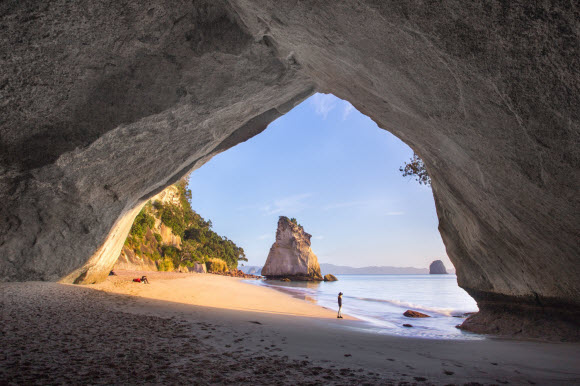 Coromandel Peninsula
Cathedral Cove on the eastern shore of the peninsula, and only accessible by a walking track or boat, is where the Pevensie siblings took their first steps back into Narnia and discover the ruins of Cair Paravel. The moment you step off the walking track and through the cove's arch you'll have to pinch yourself to realise it's not an on-screen fantasy, but so beautifully real.
The region sits on a narrow stretch of pōhutukawa-lined coves, white sand beaches and lush rainforested hills, and offers a blend of nature and recreation experiences, from water sports, walking tracks and a thriving artistic community. Your appetite will be satiated too, with an abundant amount of fresh seafood including oysters, mussels and scallops that are grown and harvested sustainably offshore.
Flock Hill
The great battle for Narnia took place high in the Southern Alps of the South Island, in an area of dramatic rock formations and valleys known as Flock Hill.
Flock Hill is 90 minutes from Christchurch on the Arthur's Pass Highway to Greymouth and offers a welcome stop on one of NZ's most scenic stretches of road. If you're staying in the area in your motorhome for a night or two, the adventurous at heart will enjoy the variety of abseiling, rock climbing and canyoning that's on offer. There are several tramping tracks around, and in winter, you can go skiing or snowboarding at the nearby Broken River, Craigieburn, Mt Cheeseman, Porter Heights and Temple Basin ski fields.
Elephant Rocks
The ancient Elephant Rocks that sprout from the grassy hills in the Waitaki District of the South Island provided the right dose of drama for Aslan's Camp. Millions of years ago this whole area was underwater. Over time, the whales and other marine life that sank into the soft sand gradually rose to the surface. The result is an intriguing area of fossils and dramatic limestone outcrops like those seen in Narnia.
Elephant Rocks can be found near Duntroon, a 40-minute drive from Oamaru on State Highway 83. The parking area is just a little space at the side of the road to pull over on, with only a sign and fence-crossing to distinguish it from any other sheep paddock. Because it's off the beaten track, you'll likely only share your movie moment with a few sheep and no one else.
The Last Samurai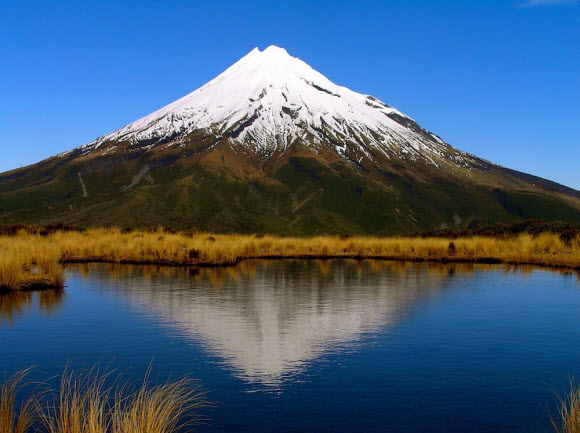 © Visit Taranaki
Uruti Valley
The hillsides of the Uruti Valley became the home for Japanese rural life in the 1860s, and Mount Taranaki New Zealand's most-climbed mountain, turned on an award-winning performance as Mount Fujiyama.
While the film centered on Japanese culture, Taranaki has its own unique cultural focus. With eight Maori tribes living in the region, you can find several experiences on offer that blend adventure with traditional practices. You can paddle a 12-metre Waka (Maori canoe), then ride a Suzuki quad bike through native bush. Another popular tour explores tracks on the slopes of Mount Taranaki, taking you to secret locations known only to Maori. The trip ends with a downhill cycle through bush and farmland.
Lake Mangamahoe
The film's infamous horse and battle scenes took place at Lake Mangamahoe – a lake surrounded by dense forest, with several walking tracks to lookouts over the city.
From here you can drive along Surf Highway 45, a route that takes in 105 kilometres of world-class surf breaks along the coast. You can fish off Port Taranaki or for fly fishing enthusiasts, the rivers and lakes of Taranaki are home to rainbow and brown trout.
King Kong
Wellington
The scenes for the remake of this film classic by our much-loved Father of Film, Peter Jackson centres around his hometown, Wellington. 1930s New York came alive in Wellington's Hutt Valley as Jackson created a depression-era version of the Big Apple in the industrial area of Seaview.
Filming for King Kong's home, Skull Island, took place at Lyall Bay, complemented by a second large-scale version that was built above the Massey Memorial near Shelly Bay. Both bays are worth a visit to experience the allure of this coastline for creatives and travellers alike.
As you venture across the Cook Strait between the North and South Islands, you can stage your own remake of the steamer Venture's travels, with the strait's rugged scenic beauty as your mesmerising film set.
Our beloved capital city has been nicknamed Wellywood for its filming locations like the above and for being the home of Weta – a special effects and props manufacturer that has its name in films like Avatar and The Ghost in the Shell, not to mention The Hobbit series. Weta offers public tours for a truly immersive film-making experience to round off your movie miles.
There you have it, a selection of our favourite "on-location" experiences. If you have any other movies you'd like us to list, leave a comment below or get in touch to speak to one of our team members about booking your campervan hire NZ holiday today.