Bikes
From NZ$20/day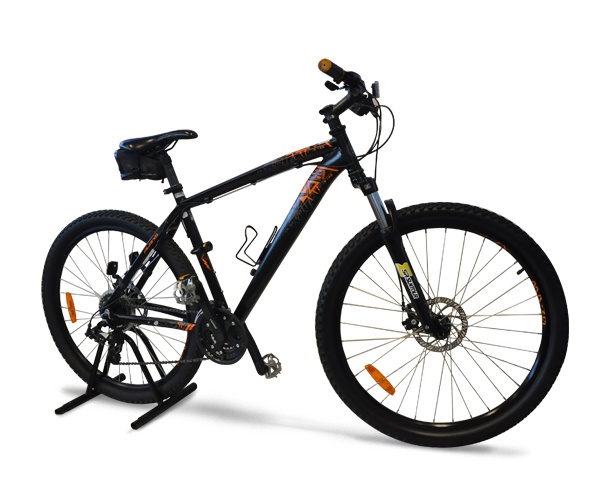 Why not take advantage of the multitude of cycle trails you will meet on your road trip by taking bikes with you? Your campervan will get you to the cycle trail in comfort, then you can swap your four wheels for two while you explore a slice of the wilderness not accessible to campervans. You can even explore towns and villages along the way without having to worry about parking.
"The Avanti mountain bikes we hired from Wilderness were exactly what we were looking for. They were at home on sedate lakeside paths and single track and even the little bit of downhill that I couldn't resist. They did me a favour too by introducing my partner Liz to mountain biking with a comfortable and sure footed ride that gave her confidence which means we will be doing much more off-roading in the future."

Craig and Liz, Melbourne, Australia
All Wilderness bikes are top quality hardtail mountain bikes with flat pedals. These are the most versatile bikes available and are suitable for all types of mountain riding to a relaxed cruise on local paths and all levels of riders.
Bike Sizes
Our bikes come in either small, medium or large frame size for adults. Check the table below to figure out which is best suited to your height. We also have children's bikes.
| | Frame Size | Rider Height (Minimum) | Rider Height (Maximum) |
| --- | --- | --- | --- |
| Small | 15" | 4' 10" (1.47m) | 5' 3" (1.60m) |
| Medium | 17" | 5' 2" (1.57m) | 5' 8" (1.77m) |
| Large | 19" | 5' 7" (1.73m) | 6' 4" (1.93m) |
| | Wheel Size | Rider Height (Minimum) | Rider Height (Maximum) |
| --- | --- | --- | --- |
| Child | 20" | 3' 8" (1.14m) | 4' 5" (1.32m) |
To see the complete specs for all our bikes, download our Bike Specifications Guide PDF.
Prices
BIKES
| | Price per Day | Max Price |
| --- | --- | --- |
| Bike (Large, Medium or Small) | NZ$25 | NZ$750 |
| Bike Child | NZ$20 | NZ$600 |
WHAT'S INCLUDED
When you hire a Wilderness bike, you also get a bike rack, bike lock, bike pump, seat bag containing repair kit with spare tube, and tyre levers, bottle cage, plus our free phone help line.
EXTRAS
| | | NZ$ | |
| --- | --- | --- | --- |
| Helmet - regular | | 25 | per hire |
| Helmet - child's | | 25 | per hire |
| Bike Rack | if bikes not hired | 150 | per hire |
| Bike Child Seat | | 50 | per hire |
| Liability reduction | standard excess $400 | 2.50 | per day |
BIKE CHILD SEAT
Carry your child comfortably and safely on a child's bike seat. Our seats come with a 5-point safety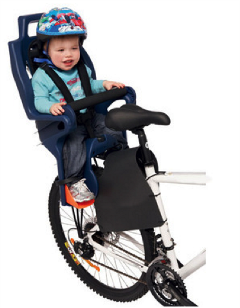 harness and conform to Australian safety standard AS/NZS 4827:1995. Child bike seat
*Child not included
BIKE HELMETS
All bike riders are required by New Zealand law to wear a helmet at all times while riding. You can either bring your own helmet with you or rent one of ours for NZ$25 per helmet.
BIKE SECURITY
You are responsible for keeping your rental bike secure for the duration of your hire. A bike lock is included in your Wilderness bike hire. We recommend that you keep the bike locked to the bike rack when it is not in use.
LIABILITY
A bond of NZ$400 applies to bike hires. The hirer is responsible for repair or replacement costs in cases of damage or loss of the bike and its accessories. This includes but is not limited to scratches to bike frames, buckled wheels, and missing parts and accessories. You can reduce the amount you need to contribute if the bike or its parts and accessories are damaged or not returned by taking our liability reduction insurance for just NZ$2.50 per day. Liability reduction insurance reduces your liability to zero.
Where to Ride your Bike
To find out about New Zealand's Cycle Trails network, classic rides, and mountain biking destinations, check out our Biking in New Zealand guide.
How to Book
You can add a Wilderness bike to your motorhome rental when you make your booking or you can add a bike at any time on My Booking page. Bikes are subject to availability so we recommend you reserve yours prior to your arrival. We operate our own fleet of rental bikes which means whenever we are open the Wilderness Bike Hub is open. You can pick up your rental bike from us at the same time you pick up your motorhome so delays are minimal. One of our team will fit the bike rack. Wilderness Motorhomes' standard terms and conditions apply to bicycle rentals.