Want to add a little adrenalin to your New Zealand motorhome holiday? Kiwis are known for their love of adventure and there's a wide variety of activities around the country that are guaranteed to get your heart pumping. Thousands of people leap, fly and speed their way through New Zealand's gorgeous scenery every year – so rest assured, you're in safe hands! We've rounded up ten great adventure activities (from gentle to go-hard) to try while you're exploring New Zealand.


1. Bungy jumping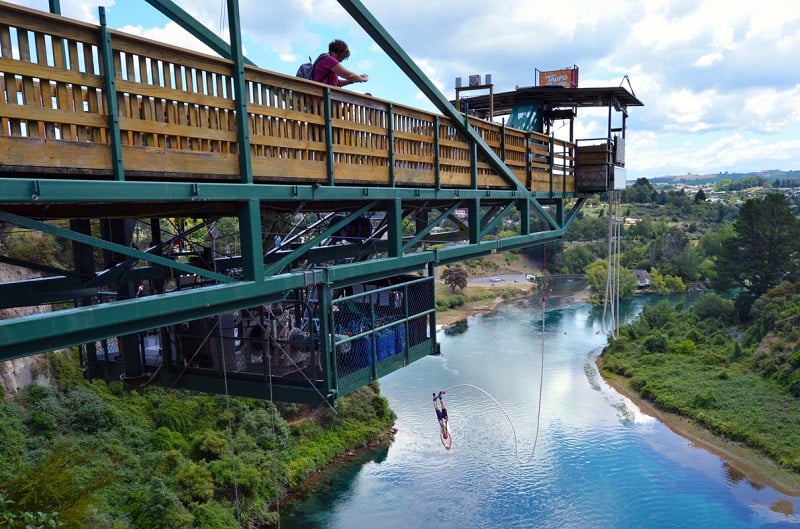 New Zealand is regarded as the home of bungy jumping (even though it wasn't invented here) as the AJ Hackett jump site at Kawarau Gorge near Queenstown was the world's first commercial bungy jump operation and still attracts thousands of jumpers every year. If you aren't bound for Queenstown, then there is also an AJ Hackett bungy jump off Auckland's Harbour Bridge, or you can experience this activity in other cities such as Taupo and Rotorua with different providers.
2. Dolphin encounter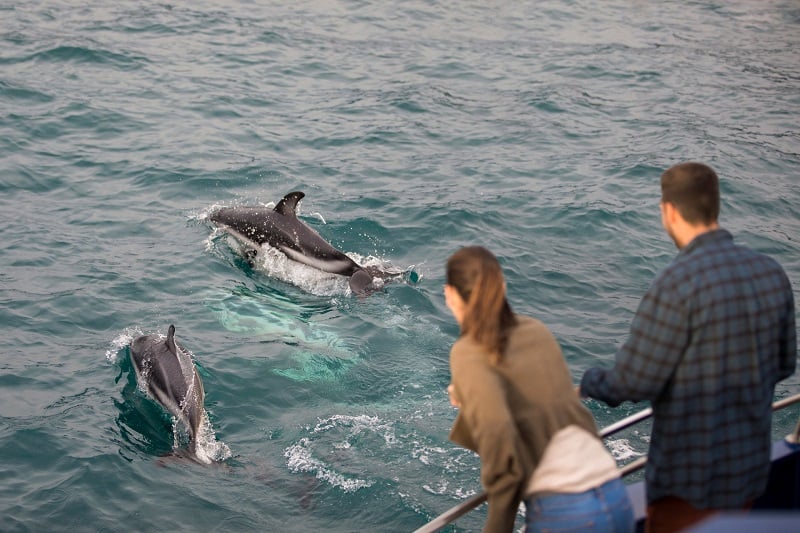 Dolphin watching is wonderful – but how about going next-level and getting into the water alongside them? There is a range of dolphin swim experiences around New Zealand (Bay of Islands, Tauranga, Marlborough Sounds, Kaikoura and Akaroa) offering the chance to get close to dolphins in the wild around New Zealand. All operators follow guidelines from the Department of Conservation, so swimming only takes place when it doesn't disturb the dolphins' natural behaviour.
3. Glacier walks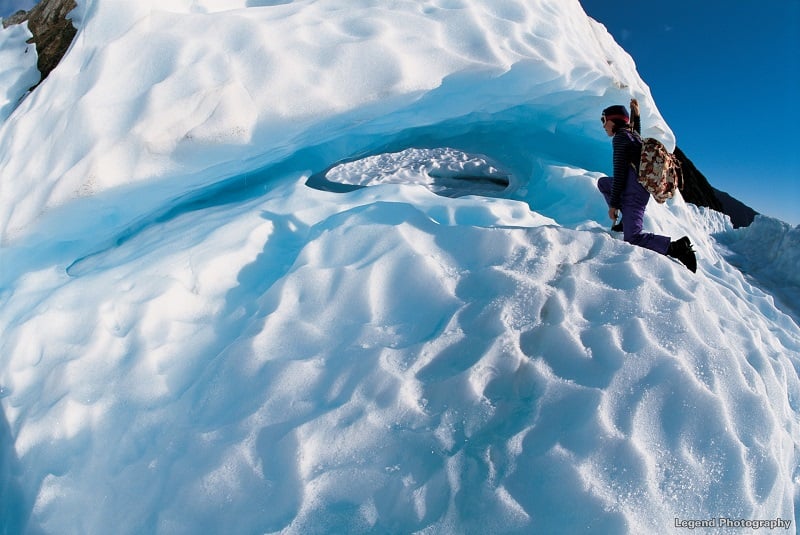 The awe-inspiring majesty of glaciers has to be seen to be believed and New Zealand is home to two of the most accessible glaciers in the world: Franz Josef Glacier and Fox Glacier, both in the Southern Alps on the west coast of the South Island. There is a range of options for visiting each of them, from heli-trips up to the ice to guided walks or even ice climbs.
4. Helicopter rides
Get high above it all and enjoy sweeping views of New Zealand in a helicopter. There are many helicopter companies around the country offering a wide range of tours – from a 20 minute trip above Auckland's glittering harbour and city skyline through to tours of Milford Sound, Fox Glacier, or New Zealand's only active marine volcano White Island in the Bay of Plenty.
(Tip: If you're a rugby fan then you might want to try a flight with Christchurch Helicopters, where former All Black captain Richie McCaw is an owner/pilot.)
5. Jetboating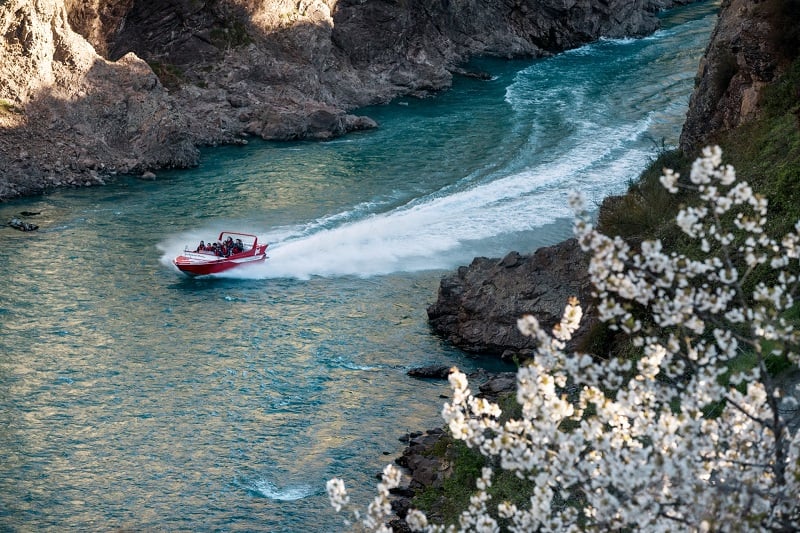 It's fast and fun and a real adrenalin rush – all while sitting down! There are jetboating options all around New Zealand. In the North Island you can experience it on Auckland's harbour, at the spectacular Huka Falls in the Waikato, and in the Bay of Plenty. The South Island is home to the most famous jet boat trip in New Zealand: the Shotover Jet in Queenstown, although you can try it at Hanmer Springs, the Dart River in Mt Aspiring National Park, on the famous Waimakariri River just out of Christchurch, in Wanaka and in Fiordland.
6. Lion Encounter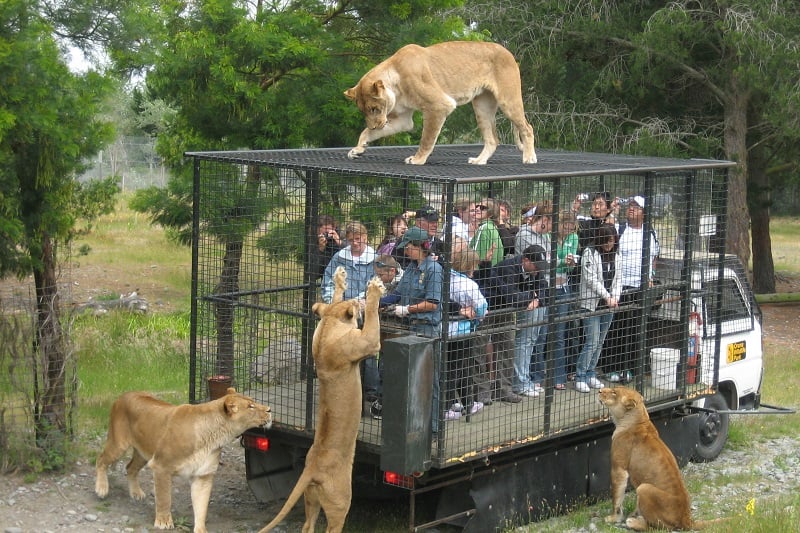 This is an adventure with a difference. Orana Wildlife Park is New Zealand's only open-range zoo and is in Christchurch (just 10 minutes from Wilderness Motorhomes' Christchurch base). As well as being a home for New Zealand's native kiwi, it also offers an amazing Lion Encounter. Visitors ride inside a secure cage on a specially modified vehicle through the Lion Reserve with the keepers as they feed the animals. The lions will often climb onto the roof of the cage, so it's a unique chance to see these incredible animals up close in an experience you won't forget!
7. Lugeing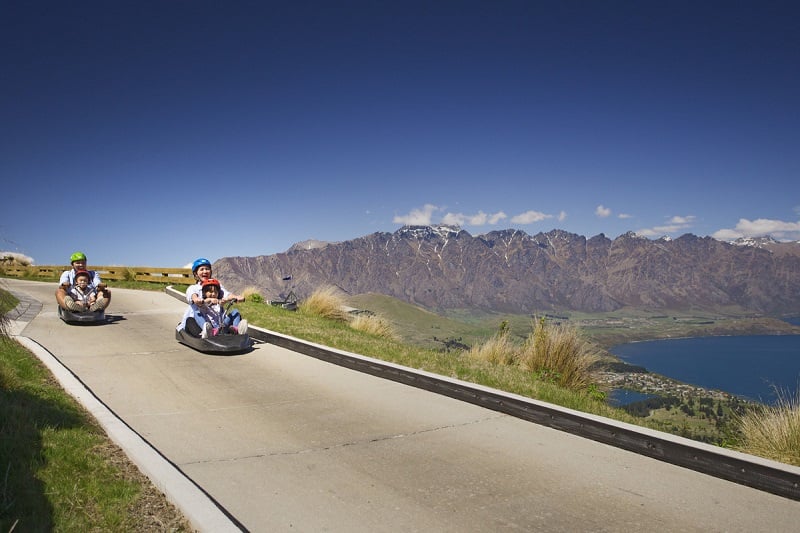 Lugeing (light tobogganing) is fun for all ages and there are tracks in Rotorua and Queenstown that offer spectacular views on the way down. You can choose how slow or fast you want to go – so it suits beginners and speed demons! Even small children can ride tandem with an adult, so it's fun for the whole family. Check out Skyline for information on the Rotorua and Queenstown sites.
8. Skydiving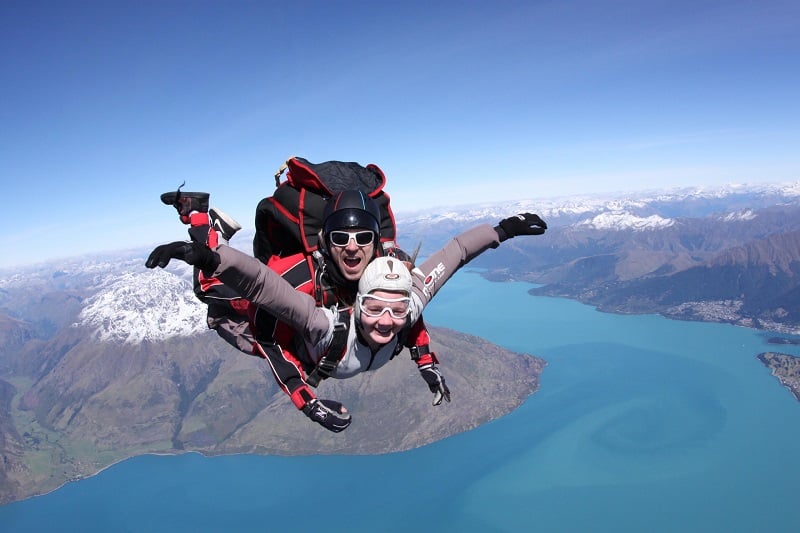 See even more of New Zealand with a skydive! Popular sites for skydives around New Zealand include Auckland, Lake Taupo, Queenstown and Wanaka. There is a wide range of companies offering skydive experiences so Google 'skydive New Zealand' to find the location you want and to read their reviews.
9. Sky Tower Walk/Jump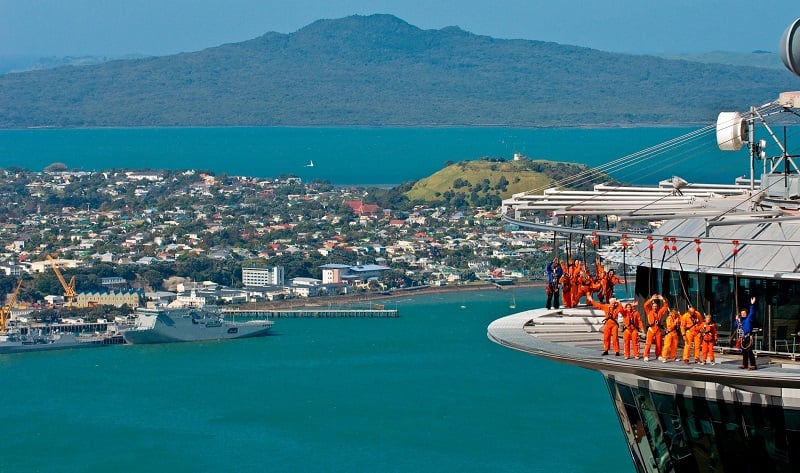 At 328 metres high, the Sky Tower has become the iconic symbol of Auckland and dominates the city's skyline. You can visit the interior observation deck for incredible 360° views, but why not see the view from outside? The Sky Jump lets you jump off the side of the Sky Tower in a 192m controlled descent in which you can reach speeds of up to 85km per hour. Or try the Sky Walk on the 1.2m wide platform surrounding the outside of the Sky Tower (with a full body harness and overhead safety lines).
10. Ziplining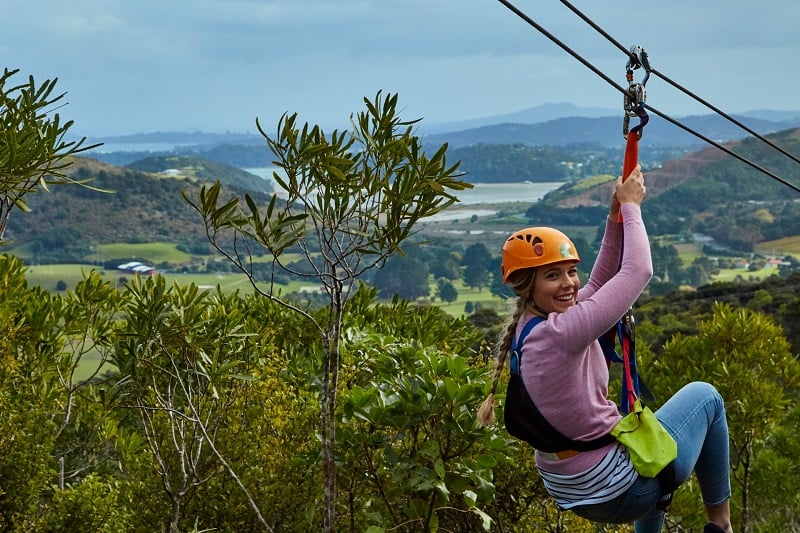 A zipline trip combines adventure with great scenery. Fun fact: in New Zealand, a zipline is also known as a 'flying fox' and Kiwi kids grow up playing on small versions in local playgrounds and at schools. In recent years, much larger commercial ziplines have sprung up and offer a unique way to see some of the country's beautiful landscapes. EcoZip Adventures on Waiheke Island (a 30 minute ferry ride from downtown Auckland or an hour with your motorhome on the vehicle ferry) provides stunning views across the island's vineyards and out to Auckland's Waitemata Harbour while you zipline. Or try Canopy Tours in Rotorua for an eco-experience high above ancient native forest. Further south, there is New Zealand's longest and highest zipline tour at Christchurch Adventure Park (150m high and more than 1.1km long) and Ziptrek Ecotours in Queenstown.