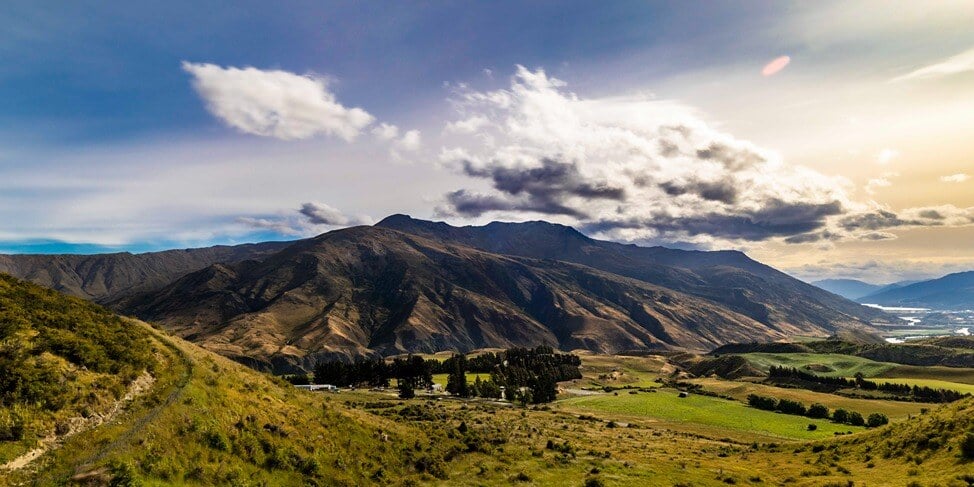 There's no question that Queenstown is a spectacular place to visit at any time of the year, with things to do and see no matter the season - all set in a majestic alpine backdrop. And from thrill seekers to nature lovers, everyone's favourite vacation pastimes are covered in this holiday hotspot.

But because there are so many options when it comes to accommodation, activities and locations of interest, it can be a little overwhelming trying to work out what will be the best choice for you and your travelling companions. So, because we know a thing or two about Queenstown, we're here to share some of our insider knowledge that we have collected over the years.

Whether you need to know about campsites in Queenstown, the most popular parks to choose from, what facilities are available, where to check out some spectacular views and how to find an alfresco dining spot, it's all covered below.
If you're short on time, you can click a link below to jump to the section relevant to you right now:
Accommodation Options in Queenstown
Getting away for a well earned holiday is always a good idea, but one of the first things that you need to sort out is accommodation that is suitable for everyone. Yes, there are a range of hotels, motels, backpackers and holiday homes for rent, but if you're coming for more of an outdoor experience, you can't go past the variety of camping options on offer in Queenstown.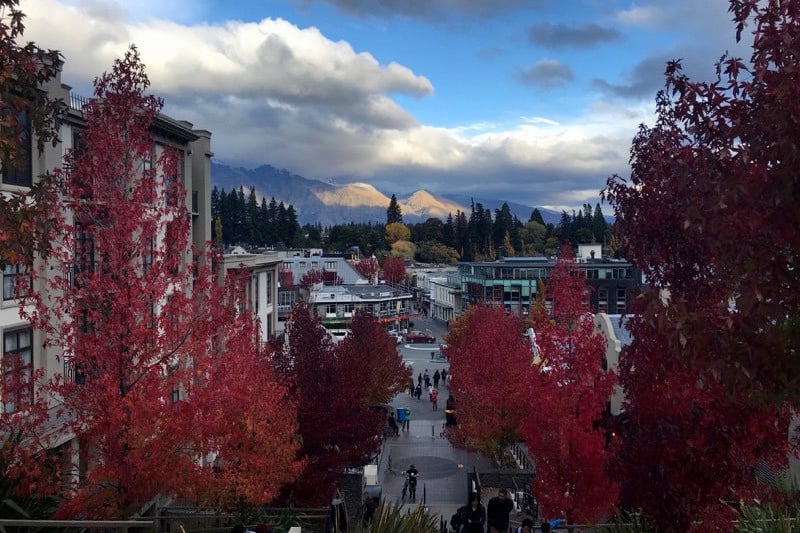 There are plenty of places to pitch a tent or park the campervan, which makes setting up for a real Kiwi camping experience pretty easy. Holiday parks and campsites are located all around the region, so the choice is yours if you want to be close to town, or a bit further out.
More than one million visitors stop by Queenstown every year and it's not hard to see why. Most of the holiday parks in the main centres are very well-equipped with everything you need to enjoy your stay, like laundry facilities, hot showers, Wi-Fi, communal kitchens and TV rooms, plus playgrounds for the kids. If you're travelling by campervan, you can book a powered or non-powered site.

It's also worth noting that while some Queenstown campsites offer a home away from home, others (like those run by the Department of Conservation/DOC) provide more of a nature escape - perfect for those who want to get off the grid for a few days. You'll usually need a self-contained camper in order to stay in these locations.

If you plan to try your hand at freedom camping, be aware that there may not be any facilities at the campsite, particularly if you decide to head somewhere quite remote. That's why you need to be fully prepared with provisions, fresh water, power and a self-contained toilet. Cellphone reception may also be limited in some locations. But as long as you're ready for adventure, freedom camping can be a lot of fun!
Can you Park up a Campervan at all Queenstown Campgrounds?
While most Queenstown campgrounds can accommodate campervans and motorhomes, it is definitely worth checking with them directly especially during the peak season. The maximum number that can be parked on site will vary between campsites and holiday parks and, in such a popular holiday destination, they can get booked up quickly. The DOC campgrounds are sometimes first-in first-served so you made need to get there early during busy periods.

A couple of pointers for those behind the wheel of a campervan or motorhome:
Always be aware of where you park, ensuring it allows you enough space to get out again in the morning. Reversing can be a bit tricky if you have set yourself up with a few obstacles in the way - like picnic tables, rubbish bins and other campers!



Plan ahead so you know what kind of roads you may be travelling on. The Queenstown region is home to quite a few gravel roads, and while they may be easy enough to drive down, going back up a steep hill can be a different story. Most campgrounds will have this information on their website - or if not, just give them a quick ring. It's worth having that peace of mind to know that your camper will be able to make it in and then out again too.



Freedom Camping in Queenstown
Freedom camping is an option if you're travelling around the Queenstown region - although it's very limited. If you find a place where freedom camping is permitted, you can experience some unique and remote locations off the beaten track.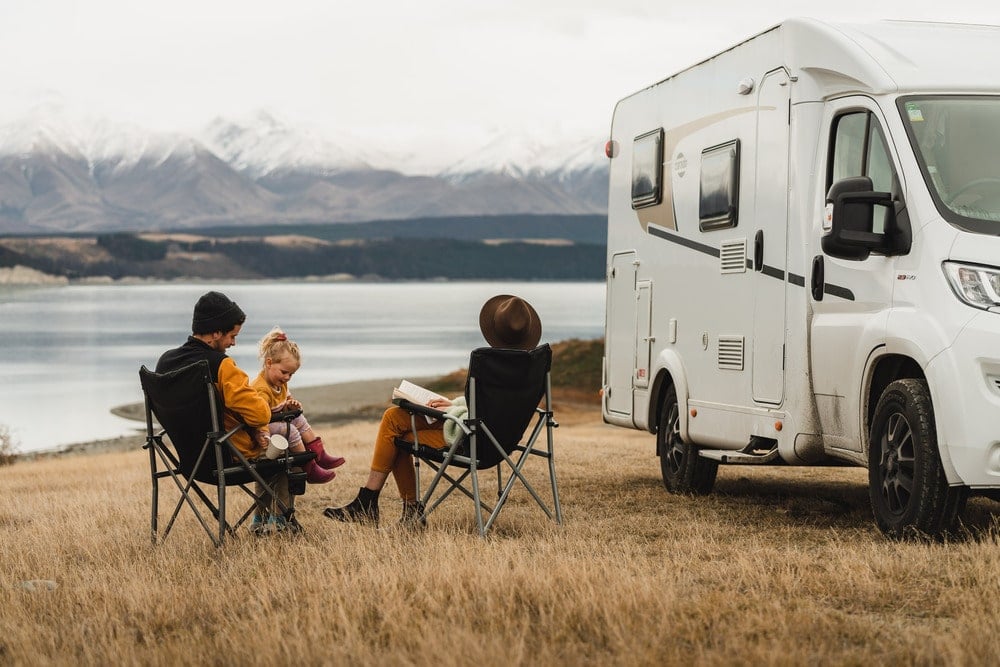 Of course there are a few rules around this - one being that you need to be in a campervan that is fully self-contained for up to three days, including fresh water, power and toilet/waste storage facilities. The other stipulation is that you actually can't just set up camp anywhere, so if you are interested in freedom camping, it is important to familiarise yourself with the locations you are allowed to stay. Check out our handy blog for everything you need to know about freedom camping in New Zealand.
Top Holiday Parks and Campgrounds in Queenstown
The holiday parks in Queenstown are all about creating a fuss-free experience while you're on your campervan trip. They are well-equipped with the facilities you need so that you can relax at the end of a busy day and enjoy some downtime in their picturesque locations. Here's a few of the more well-known campsites and holiday parks in the Queenstown Lakes District:



The Queenstown Lakeview Holiday Park is the town's most centrally located holiday park and has been in the area since 1862! Of course, it has gone through quite a few upgrades since then. It now offers visitors a range of modern convenient facilities including a playground and an extensive camping space for tents and campervans.



The Pleasant Flat Campsite in Mt Aspiring National Park is a DOC campsite offering 22 non-powered sites with the bush on your doorstep. Mt Hooker overlooks the campground and the Haast River is nearby so if you consider yourself a bit of a fish wrangler you could catch yourself a meal! Bookings are required.



The Sylvan campsite is DOC campground with 36 non-powered sites. It's near the Dart river, about an hour's drive north west of Queenstown. Use the campsite as a base to explore the Routeburn Great Walk or walk to Lake Sylvan. Bookings are not required.



For those wanting to explore a little further afield from Queenstown, head two hours north to the Cameron Flat campsite near the Makarora River to a DOC campground 30 non-powered sites. From here, you can indulge in some tramping, hunting or fishing. Make sure you check out the nearby Blue Pools and Fantail Falls. Bookings are required.

You're in for a treat when you stay at Mrs Woolly's campground in the picturesque village town of Glenorchy. Located next to the local general store, it's just a short walk to the lakefront. And while it's only open during the warmer months of the year, it's certainly well worth the visit. Bookings are essential too as there are only five powered sites for campervans.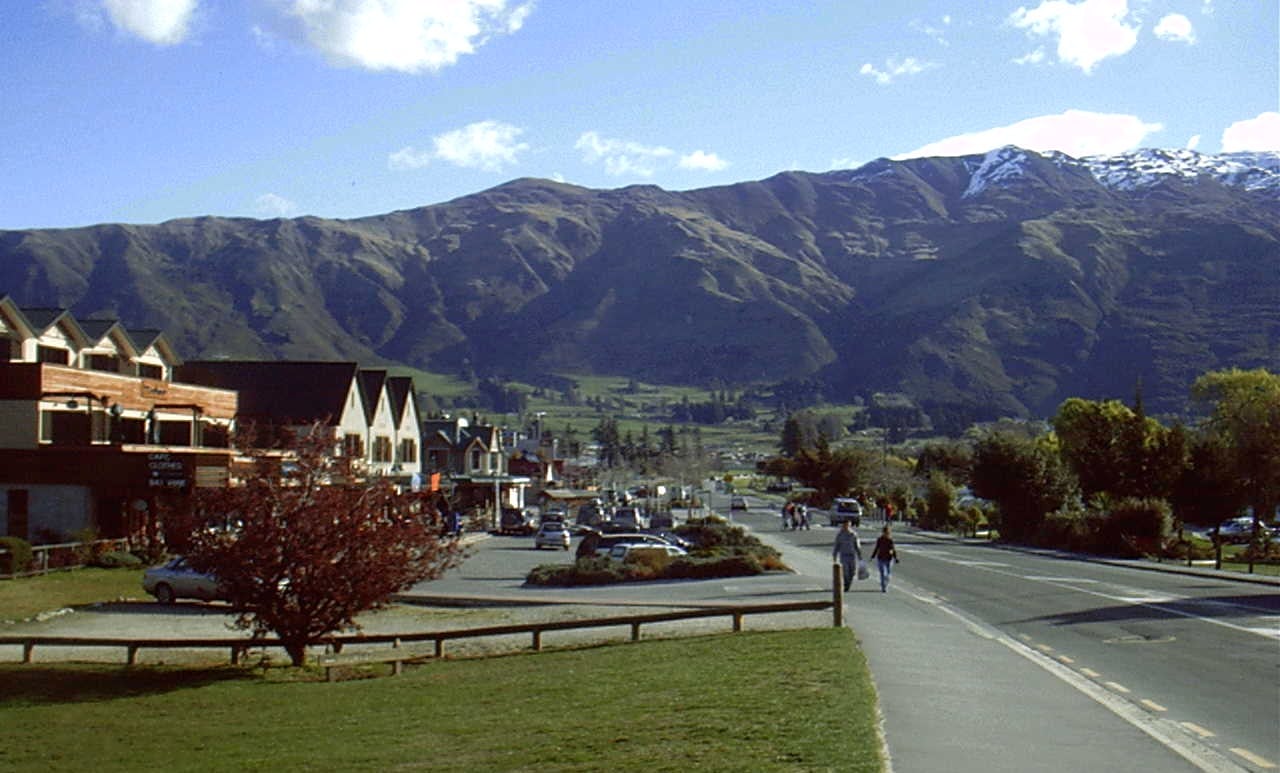 The Arrowtown Holiday Park is centrally located in Arrowtown with modern facilities and room for a range of campervans. It's also a good place to set up camp if you're thinking about hitting the slopes at Cardona. During summer, it is a perfect base for exploring everything else the area has to offer. Don't forget to try your luck at panning for gold in the Arrow river!

West of Queenstown is Deer Flat Campsite in the heart of the Fiordland National Park and on the edge of the Eglinton river. Bookings are required as it is a very small campground - with only three non-powered spaces. If you're in the area, don't forget to visit the Mirror Lakes!

Just down the road from Deer Flat Campsite is Henry Creek Campsite, set on Lake Te Anau. It's quite a big DOC campground, with 50 non-powered sites to set up for a night or two (or more), and is only 20 minutes north of Te Anau where you can stock up with all the essentials. Bookings are required here too.

This freedom camping site is located about halfway between Queenstown and Glenorchy and offers a glorious front-row view of Lake Wakatipu. You can stay here for up to four nights in a self-contained campervan. Sorry, no toilet facilities here.

Fancy waking the sounds of people screaming as they bungy jump off a bridge? Then perhaps the Kawarau Bridge car park should be on your list of places to stop for a night or two. It's just 10 minutes drive from Arrowtown and on the doorstep of the Gibbston Valley, renowned for its wineries.
It's not called the Lakes District for nothing. If you're looking for some of the best lakeside scenery around, you've come to the right place.

There's something just so peaceful about camping next to a lake, with an early morning dip perhaps the most refreshing way to start the day. Some lakes are also ideal for enjoying a few water activities, like fishing or boating.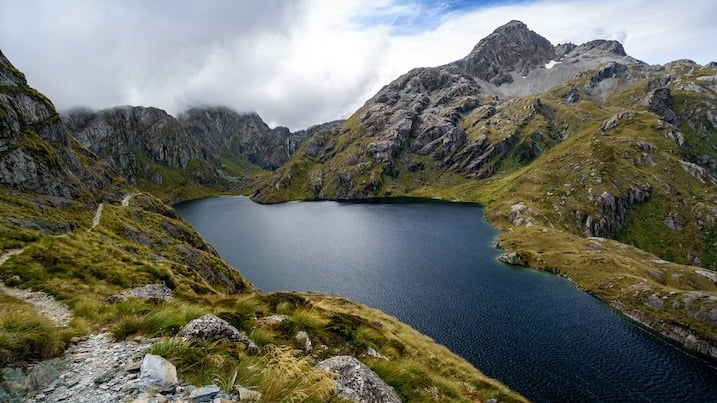 And if you want to camp next to a lake in Queenstown, you'll be spoilt for choice. There are many DOC campgrounds located on their foreshores. Some DOC campgrounds charge a fee and some also require booking, so make sure you check that out before you hit the road.

Lake Wakatipu is probably the region's most well known lake as Queenstown sits at the very heart of its freshwater foreshores. At 80km from top to bottom, it also lays claim to New Zealand's longest lake. There are plenty of ways to explore the lake, from a leisurely cruise on the TSS Earnslaw, to a thrilling jet boat ride. You can also take it at your own pace by hiring a paddle board or kayak.


The 12 Mile Delta camping ground is only 10 kilometers from Queenstown and offers spectacular views over Lake Wakatipu and the mountains beyond. Its secluded setting and natural surroundings give 12 Mile Delta Camping Ground a feeling of remoteness and tranquility that is second to none.

Want some other lakes to tick off your list? Lake Hayes is just over the hill from Queenstown and boasts a trail that you can walk, run or cycle. Moke Lake also has a relatively easy and scenic loop track, with boating, swimming and fishing also permitted.

Lake Hawea is a great day trip out from Queenstown (or a place to stay the night). While the usual water activities are on offer here, it is also a favoured spot for windsurfing, paragliding and kite surfing.

The Camp, formerly The Lake Hawea Holiday Park, is beautifully basic and authentic campsite - which is why it has been a popular destination for campers, tourists and adventurers since 1971. The Camp has a wide range of accommodation options, good facilities and plenty of activities to suit couples, families or groups.

As the largest lake in the South Island, Lake Te Anau is also worth a visit. Whether you're in the water, on it, or camping next to it - the scenery is spectacular. Te Anau Lakeview Holiday Park is located on the southern shore of Lake Te Anau, just 1.5km from the Te Anau town Centre and offers powered and non-powered sites.


Camping Adventure Activities in Queenstown
Here's where the real fun begins - planning your holiday itinerary and all the exciting activities you can do in Queenstown.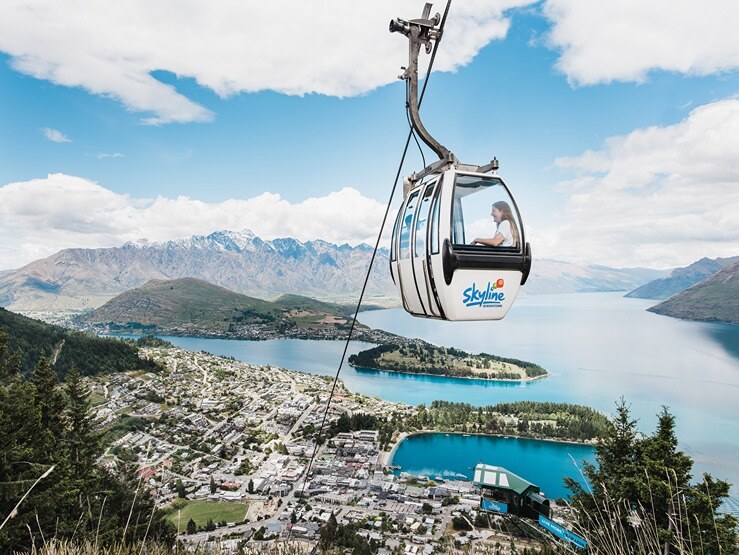 If you stay at the Lakeview Holiday Park, you're right in the centre of town and able to walk to a number of attractions like the Skyline gondola that, as the Southern Hemisphere's steepest cable car, is an adventure in itself. Once you're at the top, there are so many thrilling things to do, like the luge, the AJ Hackett Ledge Bungy and Swing, or even paragliding!

By staying at the Queenstown Top 10 Holiday Park in Arthurs Point, you'll be close to the Shotover River where you can go whitewater rafting or ride the Shotover Jet - or do both!





If you're looking for one or two winery tours to partake in, consider basing yourself in Arrowtown for a couple of days. You can stay at the Arrowtown Holiday Park and enjoy close proximity to the renowned Gibbston Valley where you can sample wines made from the glorious grapes grown there.
Most privately run campgrounds in Queenstown have at least some BBQ facilities for you to have an outdoor cook up. The more well-equipped ones provide communal indoor kitchens as well, so you can cook a meal and do the washing up.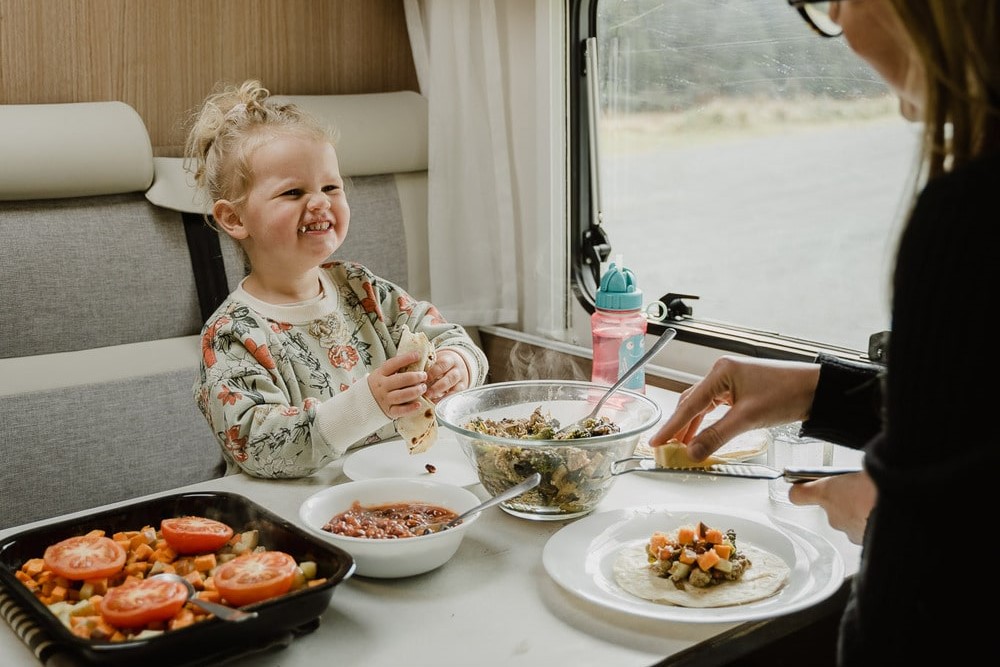 If you're looking for something quite unique, check out the awesome outdoor dining areas at the Creeksyde Holiday Park. They have used heritage and upcycled materials to create some fabulous BBQ spaces with a difference - including an undercover thatched pavilion and a themed tapas BBQ, all free of charge for campers staying there.

The Camp at Lake Hawea actually boasts its own food truck offering breakfast four mornings a week and dinner too!

There are also a number of farmers markets located around the region so it is worth checking whether your campground is located near any of them. You can wander down and grab some fresh local produce for cooking in the camper or get something delicious and ready-to-eat from a food truck.

The Central Otago Farmers Market in Old Cromwell, held from late October to late April, is the perfect opportunity to enjoy a wander through the gorgeous scenery of this heritage town set next to Lake Dunstan.

When you feel like a night off cooking, the only issue you'll have is trying to make a choice of where to dine! Of course, you can't mention Queenstown and food in the same sentence without going past the world famous Fergburger. We'll let you decide whether the burgers deserve their reputation.

If you're keen to try some delicious Indian street food, make sure you book into Taj Indian Kitchen. Or if you're after an authentic Japanese experience, Tatsumi is rated the fourth most popular restaurant in Queenstown on TripAdvisor.

Whether it's day or night, having a meal outside alfresco style is highly recommended. Smithy's Smoke House at Millbrook Resort in Arrowtown is a charming spot where you can warm yourself by the open fires and take in the stars on a clear night while having a meal.

Or if you're after something a little bit unique, Perky's Floating Bar on Queenstown's waterfront (the only floating bar in New Zealand in fact) is a very popular place for a drink.


And, while it isn't technically alfresco, the floor to ceiling windows in the Skyline's Stratosfare Restaurant and Bar at the top of the gondola will have you feeling on top of the world with its absolutely mesmerising views.


Check Out Our Queenstown Itineraries

So, are you sold on hitting the road in Queenstown? There's just no question it is one of New Zealand's most beautiful regions to explore, and because there are just so many choices of where to stay and what to see, we've put together a range of South Island itineraries - all ready for you to pick one (or two?), book your camper and go!