Australian bloggers and serial travellers Alex and James Lock took a tour around the South Island in Wilderness campervan and share their 3-week itinerary.
New Zealand is the perfect Country to experience van life. The diversity across such a small island is extraordinary, and we are so excited to share our Wilderness road trip with you!
This was our second time to visit New Zealand with Wilderness, as our first experience across the North Island was so much fun, we couldn't wait to get back on the road down South!
Christchurch > Lake Pukaki – Day 1-2
Total Driving time: 3.5 hours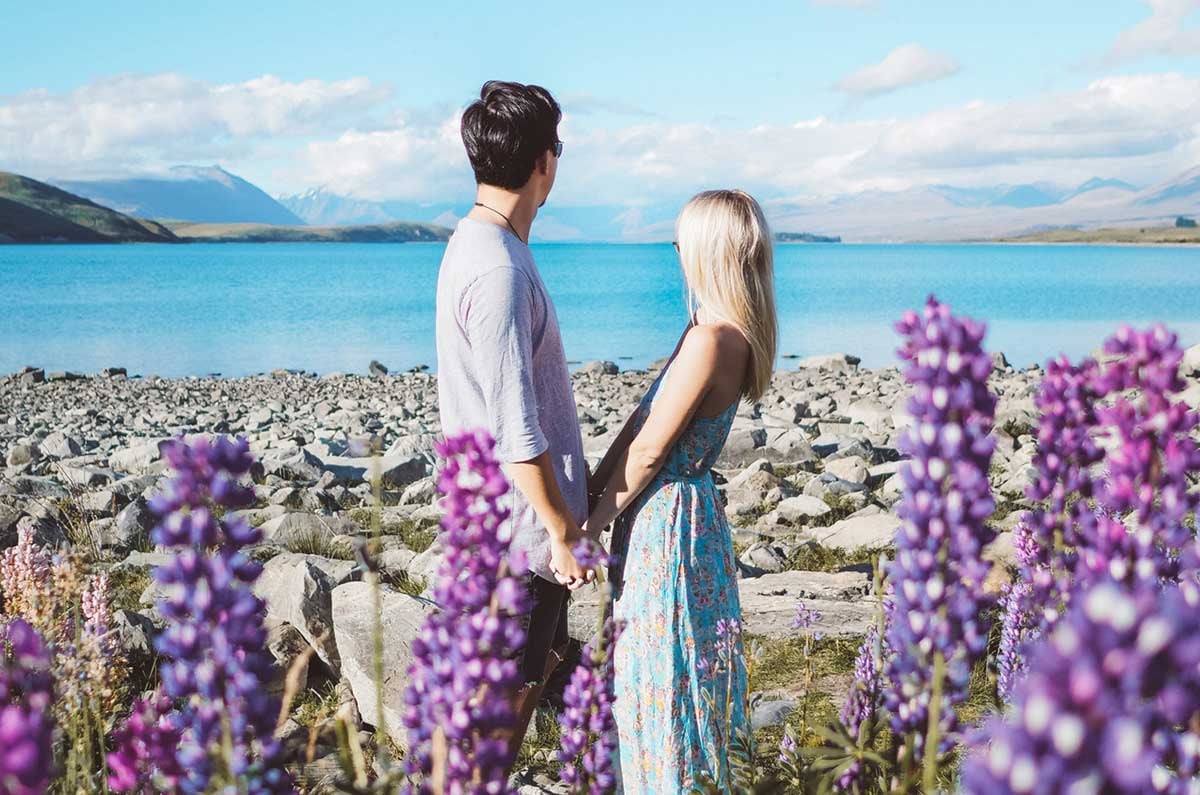 First stop - picking up the motorhome! Head south to Tekapo, home to the bluest lakes you will see across New Zealand. If you are visiting between Nov – Jan you may be lucky enough to see the lupins in bloom – a natural wonder in itself. Lake Pukaki is 30 minutes South of Tekapo, spend the evening here and wake up to stunning lake views.

Lake Pukaki > Mount Cook – Day 2-4
Total Driving time: 45 mins
Aoraki/Mount Cook National Park is a short drive from Lake Pukaki. There are many hiking options that start here, we recommend the Hooker Valley Track which is 3-4 hours return.
The road up to Mount Cook is stunning, with the powder blue lake on the right and mountains straight ahead.
Mount Cook > Omarama – Day 4-5
Total Driving time: 1 hour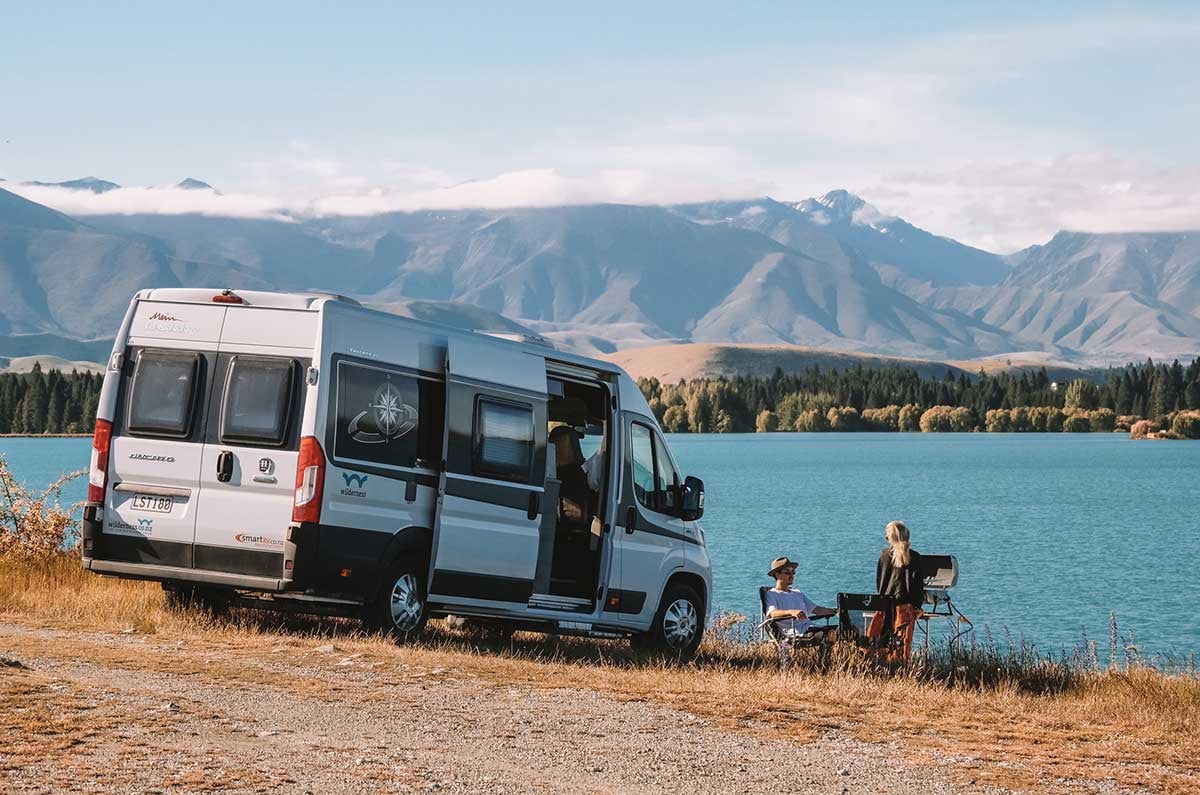 On the way South to Omarama stop at the scenic Lake Ruataniwha for a lunch break. Look out for Omarama hot pools - it was one of our favourite experiences of our trip.

Omarama > Glenorchy – Day 5-6
Total driving time: 3 hours
Along State Highway 8 through to Glenorchy you will drive through Lindis Pass, it is one of the most unique landscapes across New Zealand so have the camera ready here.
We recommend a walk through Arrowtown for lunch and a stop at one of the picturesque local pubs.
If you reach Glenorchy-Queenstown road a few hours before sunset, there are sign-posted walks along this way including Moke lake and Bob's Cove track.
Glenorchy > Queenstown – Day 6-9
Total driving time: 45 mins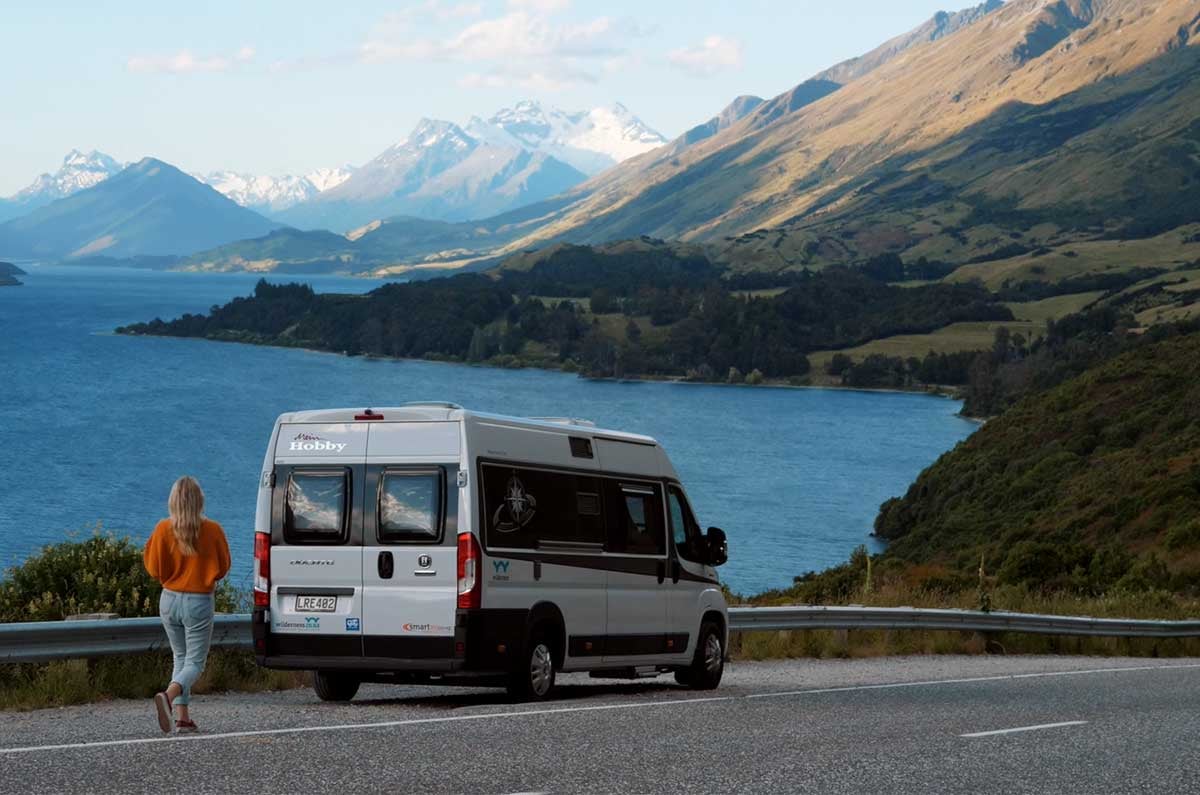 Glenorchy is a charming village only 45 minutes outside of Queenstown. The drive alone is worth the detour, the road runs alongside Lake Wakatipu the entire way. There are many stops to soak up the views of the crisp blue lake and mountains in the distance.

Queenstown is for the adrenaline junky, the foodie, the hiker. Get your heart racing over the Nevis valley at AJ Hackett Bungy, or watch the sunset over Lake Wakatipu with a Patagonia ice cream!

Queenstown > Te Anau – Day 9-10
Total driving time: 2 hours
Te Anau is the gateway to Milford Sound. Take a walk along Lake Te Anau at sunset, or for the hiker there are popular walking tracks that start here including the Kepler track.
Te Anau > Milford Sound – Day 10-12
Total driving time: 1 hour 45 mins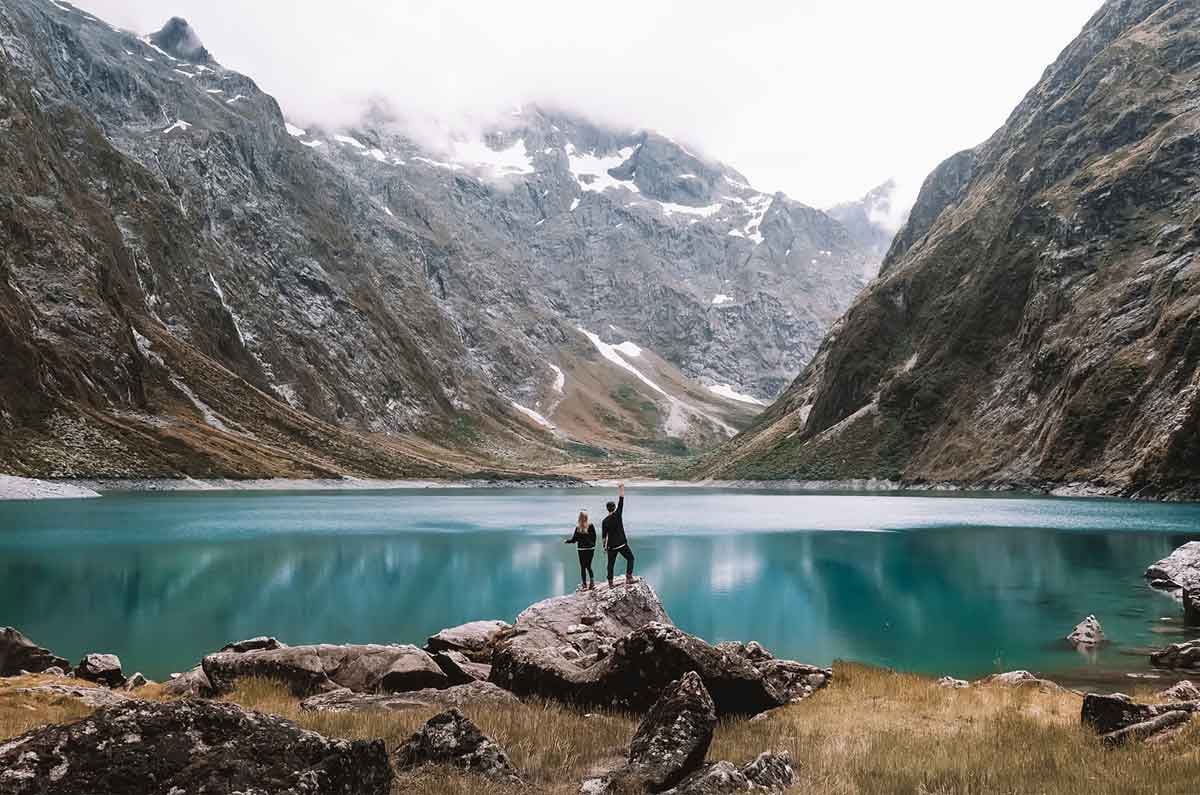 The road through to Milford Sound is one of the most scenic drives in the South. Stop at Eglinton Valley to enjoy lunch, a little further along hike to Lake Gunn or Lake Marian for breath-taking alpine views.


Milford Sound > Wanaka – Day 12-14
Total driving time: 4 hours 30 mins
Spend one or two evenings in Milford Sound, there is only one campground in the heart of Milford so book early. We suggest booking a cruise that will take you closer to the beautiful waterfalls, and if you're lucky, you might even see a dolphin or two!
The drive up to Wanaka is a scenic route with fields and rolling hills most of the way.


Wanaka > The Neck – Day 14-16
Total driving time: 45 mins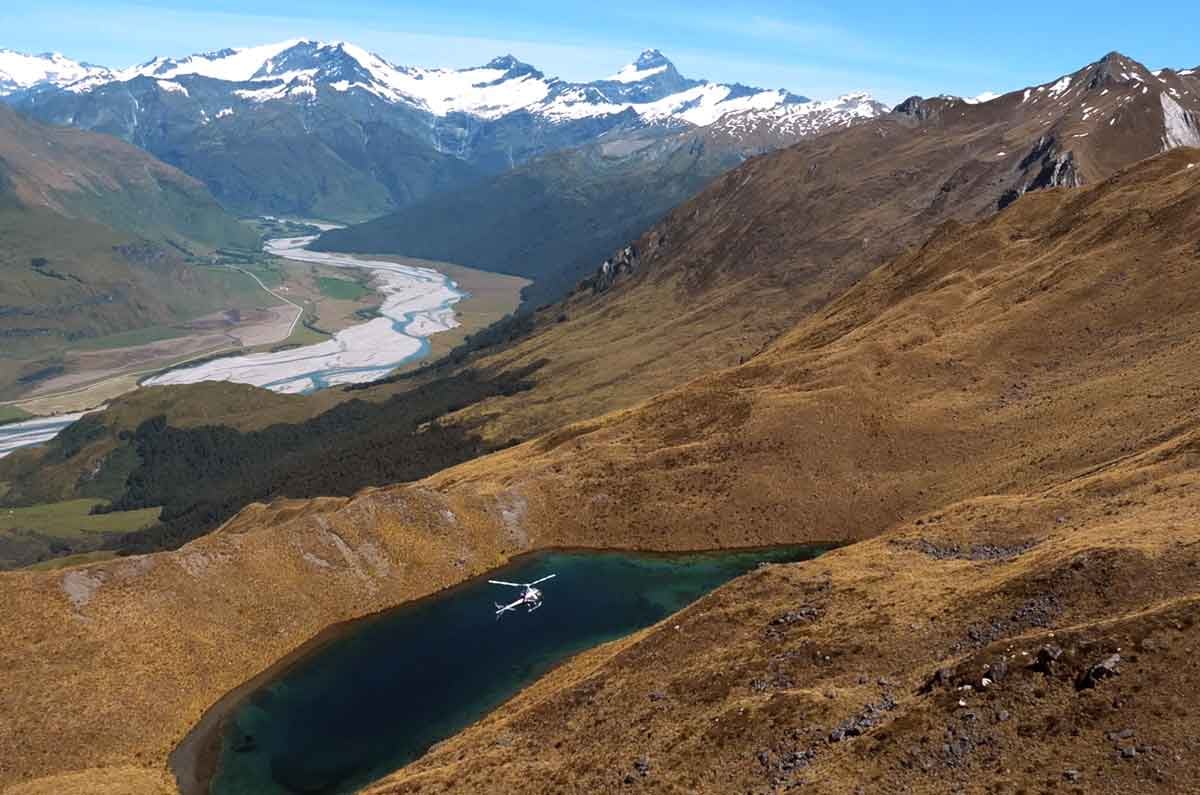 Wanaka is another hub for outdoor adventure, for adventure seekers there are activities from skydiving, canyoning and hiking. We took a helicopter ride with Wanaka Helicopters to witness jaw-dropping views over Mount Aspiring National Park and landed on age-old glaciers.
Popular hikes here include Roys Peak and Isthmus peak for 360 panoramic views over the mountains.
The Neck > Franz Josef – Day 16-17
Total driving time: 3 hours
The Neck is a spectacular journey up through to Franz Josef, with views of Lake Hawea on the right, and Lake Wanaka on the left with plenty of scenic spots along the way.
Franz Josef > Hokitika Gorge – Day 17-18
Total driving time: 2 hours
Franz Josef is a small town, often still snow-capped even in the summer months. For an awesome adventure, book a Heli-hike to helicopter on top of the glacier, strap on your crampons and go ice hiking.
Hokitika Gorge > Arthurs Pass – Day 18-20
Total driving time: 2 hours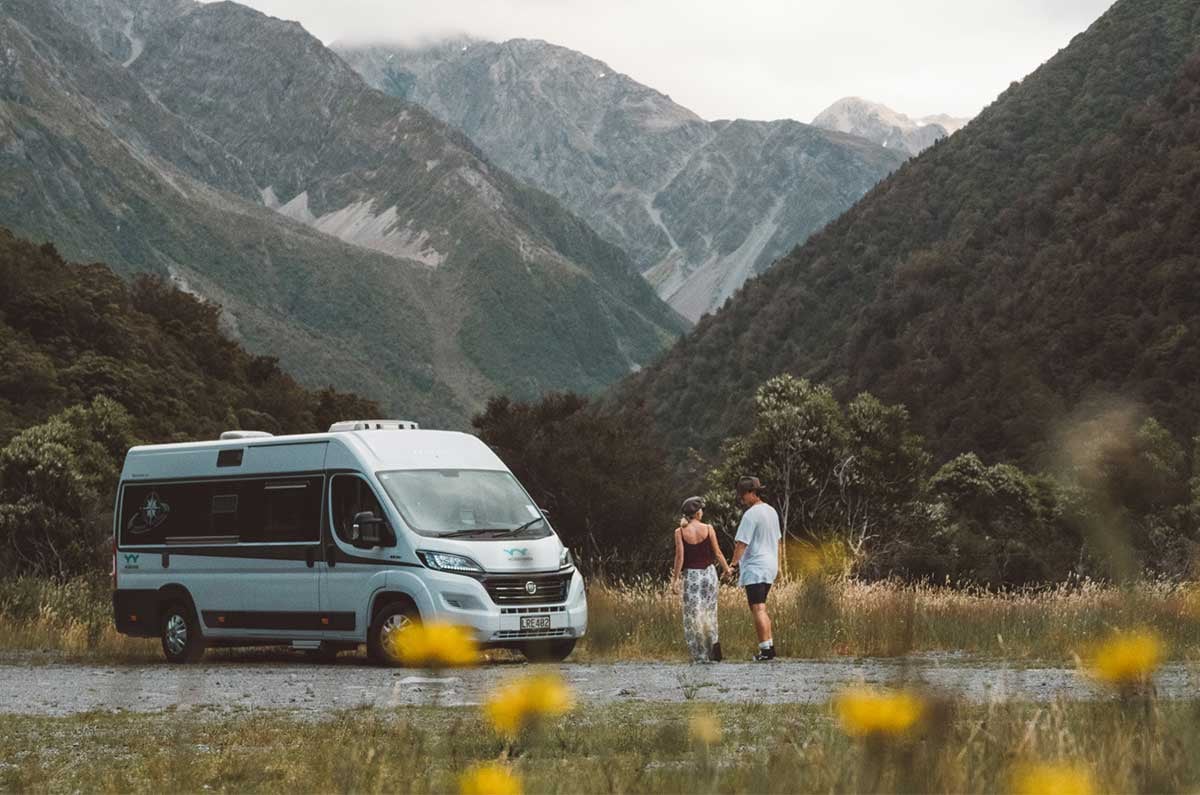 Stop at the beautiful Hokitika Gorge where the water is an incredible bright blue. An easy walk that takes only 15 minutes from the car park.

Continuing onto Arthurs Pass for more incredible mountainous scenery. Castle Hill is a popular stop, characterised by its distinctive rock formations.
Arthurs Pass > Christchurch – Day 20-21
Total driving time: 2 hours
Enjoy a leisurely drive back to Christchurch to drop off and wave goodbye to your motorhome!
Watch some highlights from their trip below: