Contrary to what you may have heard, New Zealand is not only about bungee jumping and skydiving. There are a number of exponentially fun activities for the whole family to enjoy and explore in a campervan.We suggest you get your children involved in the planning of your motorhome holidays. Here are just a few options that this beautiful country of ours has to offer, no parachute needed.
North Island Family Motorhome Holidays
1. Hauraki Gulf Marine Park
Located on the East coast of the Auckland and Waikato regions, the Hauraki Marine Park is home to a vast amount of wildlife and sea life. The park is made up of over 50 islands and spans an expansive 1.2 million hectares, encompassing five marine reserves where you can get up close and personal with orca whales, bottlenose dolphins and seabirds.
A few things to remember:
It's illegal to approach a whale at closer than 50 metres. This increases to 300 metres if there are already three boats in the vicinity.
Do not swim with juvenile animals.
Boats can be a threat to sea life, be careful and approach from the rear.
2. Mount Maunganui / Tauranga scenic flights
A few hours south and you can experience an awe-inspiring scenic flight over Tauranga and Mount Maunganui (also known as "The Mount"). The Mount is a local hot spot in summer time. You can walk around the extinct volcano or directly up it if you and your kids are up for a more challenging trek. Whether you're in an airplane or standing at the top of the peak, breathe in the picturesque landscape as you map out which beach you'll visit next.
3. Rotorua's Agrodome
When driving your way through the North Island, you really cannot go past the Agrodome in Rotorua. An exciting pastime for many New Zealanders, the Agrodome has been running for over 40 years and gives insight into farm life in New Zealand. The 'Farm Show', starring a cast of talented animals, is our must-see. You can also explore a working farm, learn about sheep shearing, hand-feed a range of animals, and even take a peek in the nursery for your young ones to enjoy a cuddle with the babies of the farm.
4. Taupo's natural hot springs
Taupo offers perfect respite to set up your camper and melt into DeBretts thermal mineral hot pools. You can take some time out to relax and enjoy a leisurely dip in the steaming thermal valley and let the children entertain themselves on the Taniwha hydro-slide or on any of the new racing slides available. You can even indulge in a mini-retreat away from the kids with massages, facials and body treatments all on the spa menu.
5. Te Papa Museum, Wellington
Near the bottom of the North Island is Te Papa Museum. It first emerged as a tiny Colonial Museum in 1865, and in 1998, Te Papa as we know it today opened, bringing the rich history of New Zealand to visitors and locals alike ever since. You can easily spend an entire day here with the family as there's also plenty of interactive exhibits to keep young minds engaged. Perfectly set on the waterfront, you can then venture out for a meal with a view before heading back to your snug motorhome for a great night's rest.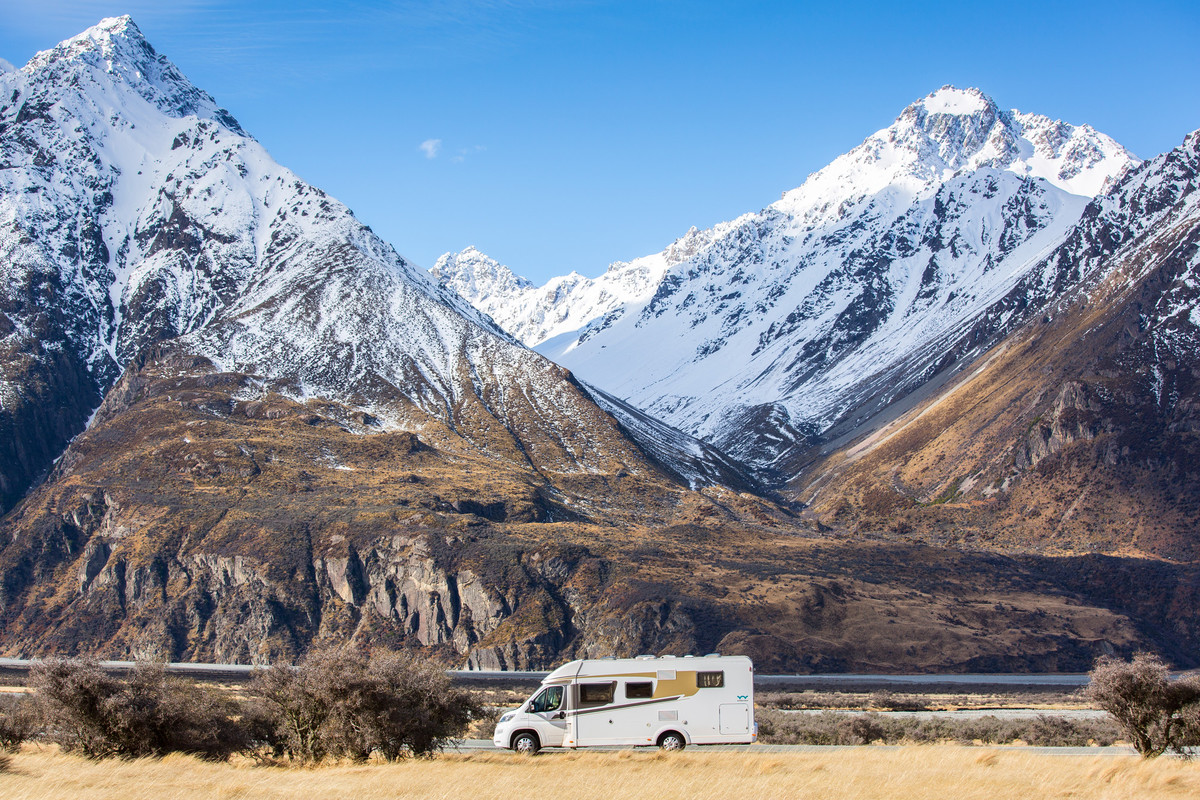 South Island Family Motorhome Holidays
1. Kaikoura marine life, coastal walks and seafood
Kaikoura is a unique setting where farmland meets the ocean, making the sea here an ideal habitat for marine life. This includes an abundant amount of crayfish, which coincidentally is where the name Kaikoura comes from (Kai - food, Koura - crayfish). This quiet town of 3,800 is the perfect place to park up your motorhome and relax, with hearty fresh air and scenic walks, and delicious, freshly caught seafood. If your timing is good, you can also jump aboard one of the whale watching expeditions too. We love this video for a great insight into another family's camper trip from Kaikoura to Coromandel.
2. Fox Glacier
Named after New Zealand's Prime Minister from 1869 – 1872, Sir William Fox, the Fox Glacier on the West coast of the South Island is a sight you won't forget. It's an easy stroll to the face of both Fox and Franz Josef glaciers, or if you're in for a more interactive experience, a heli-hike could be more up your alley. The nearby town, with the same name, is home to fascinating glowworm caves and a few great cafes and restaurants for a comfortable place to set up your campervan for a night or two.
3. Lake Wanaka
Lake Wanaka lies at the heart of the Otago lakes district. Around 42km in length, the lake offers a great mix of scenic beauty, safe swimming for the kids as well as adventure sports. Head on down to one of the many nearby streams in your camper to take in the majesty of the surrounding mountains, splash in the crystal clear shallow waters, throw out a line, or enjoy kayaking and whitewater rafting if you dare!
4. Queenstown views and skiing
Queenstown is renowned for its outstanding landscape, and is equally popular for its snow sports. Whether you're interested in panorama seeking, or skiing and snowboarding, Queenstown will satiate your needs. We recommend including a few nights there during your camper winter holidays to really take advantage of everything the town has to offer, including the annual Winter Festival.
5. Catlins wildlife tour
The last stop on our tour is the southeastern corner of the South Island, where you'll find an array of wildlife for nature-loving families. Long summer days are perfect for exploring the untouched landscape and coming in contact with the locals – the yellow-eyed penguin, Hooker's sea lion and the smallest dolphin in the world, Hector's dolphin. If you're lucky, you'll get a glimpse of the cheeky and loveable Kakapo, and a few albatrosses, petrels and terns on your way through.
Nicola Easterby from Polkadot Passport also offers her view on travelling the South Island in one of our motorhomes, which has some great added tips.
As you can see, there's something fun for every family, from adventure to the great outdoors and everything in between. Contact our team at Wilderness Motorhomes for our personal suggestions on ideal activities for your dream family motorhome holiday.