One of life's greatest joys is a new addition to the family — and it's also the opportunity to take time out of your busy schedule to create precious family memories.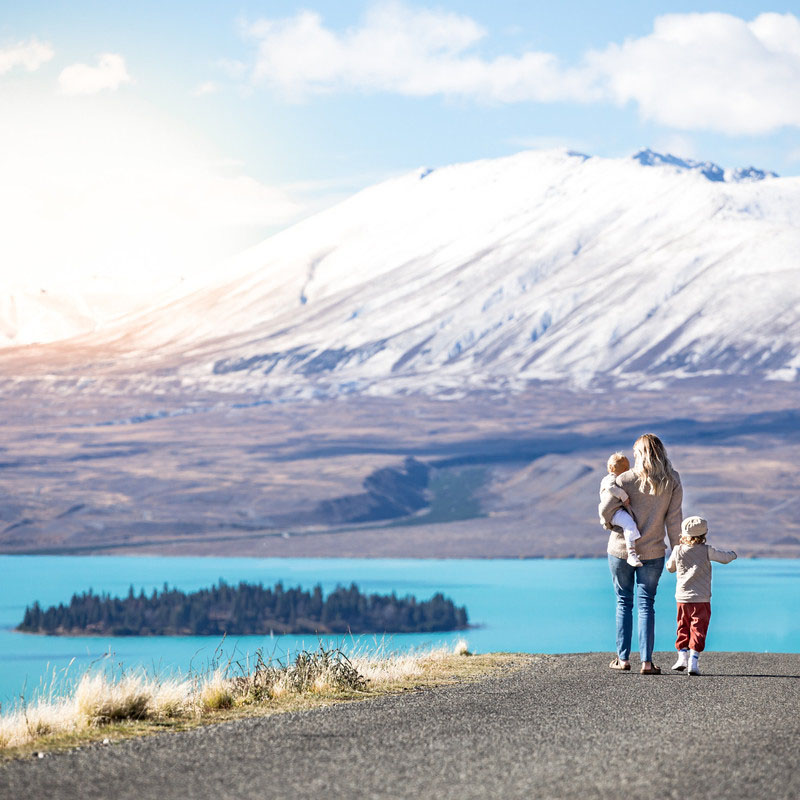 A holiday exploring the breathtaking wonders of New Zealand by motorhome might be the ideal home-away-from-home to fit your family dynamic. You can rest assured that creature comforts are always at hand, your travel plans can be flexible and there's always a bed around.


In this blog, we cover different sleep configurations, safety concerns, packing smart and how to choose a family-friendly motorhome, itinerary and camping ground.

1. Prioritise your baby's sleep
All your baby needs to feel settled and happy during a motorhome road trip is you and enough sleep. Giving priority to your baby's sleep (and your own) will help provide energy for your planned adventures.


It's important to find a strategy that works for your special family. Consider these following points for creating an optimum sleeping environment while on the road.

Be consistent

A holiday in a motorhome hire offers the flexibility to make it easy to stick to your baby's normal sleep routines. The setting each night and the wake up every morning is in the same space — no matter where in New Zealand you travel.


Having this consistency of routine and surrounding will help your baby transition and settle in quicker.
Find the right sleep arrangement

When choosing a campervan rental you'll need to consider which sleeping arrangements will work best for your family.
Portable cot or bassinet

One sleeping option is to travel with a portable cot or bassinet. Your baby will enjoy:
An easier transition from home sleeping to on-the-road sleeping
A protected space for napping and relaxing.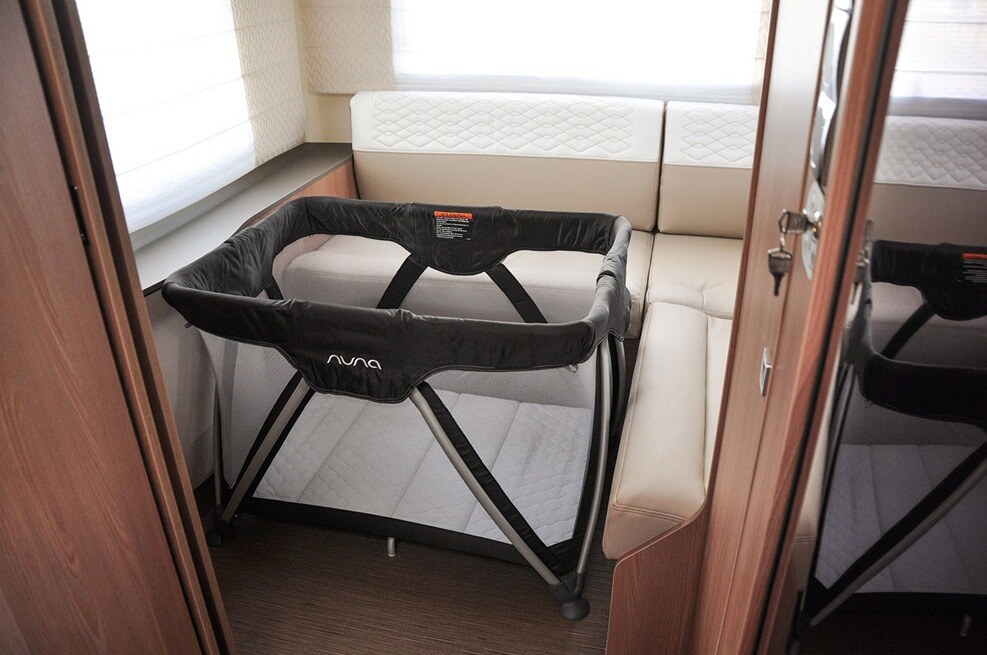 Portable cots do take up some floor room so choosing a motorhome hire that caters to this is vital. Find out about travelling in The Suite which can work perfectly for young families.


If your baby is already on the move, you'll appreciate the extra space for establishing a play and crawl area.
Travelling from overseas?
Check what baby gear your airline allows you to take onboard as part of your baggage allowance. You may find that you'll be able to take your stroller, child car seat or portacot free of charge.
Co-sleeping in a double or king bed

Co-sleeping is a popular option for parents travelling with their baby in a motorhome. This option offers:
Bonding — fostering stronger emotional bonds with your baby while on holiday
A sense of closeness, calm and comfort
The ability to respond quickly when your baby requires feeding or attention.


Although co-sleeping can be a rewarding solution, there are also a few important safety aspects to consider.


Ensure that your baby's sleeping space is free of potential hazards like pillows, heavy blankets and loose bedding. Consider renting an RV with a bed that reaches both side walls so there's no chance of your baby falling off during the night.


Our King/Twin for 4 motorhome when the bed is set up as a king is a perfect solution.


Single bed using a sleep wrap

If you plan to settle your baby down to sleep on its own bed, you'll want to be sure it's safe. A sleep wrap, combined with a tucked-in sheet on top, can be a great option in a campervan. The benefits of choosing a sleep wrap are:
Its ability to hold your baby safely in place
Utilising a bed separate from your own.


If you decide to hire a motorhome with a cabover, refrain from placing your baby in the cabover bed. It's simply too high to be a safe place for a baby.


Enjoy the evenings while baby sleeps

Although you'll want to prioritise your baby's sleep, it's equally important to make the most of your motorhome adventure.


Keep in mind how you'll spend your evenings when booking an RV. Can you partition off a sleeping space from the main living area? Are there camping chairs with a table you can set up outside on warm evenings?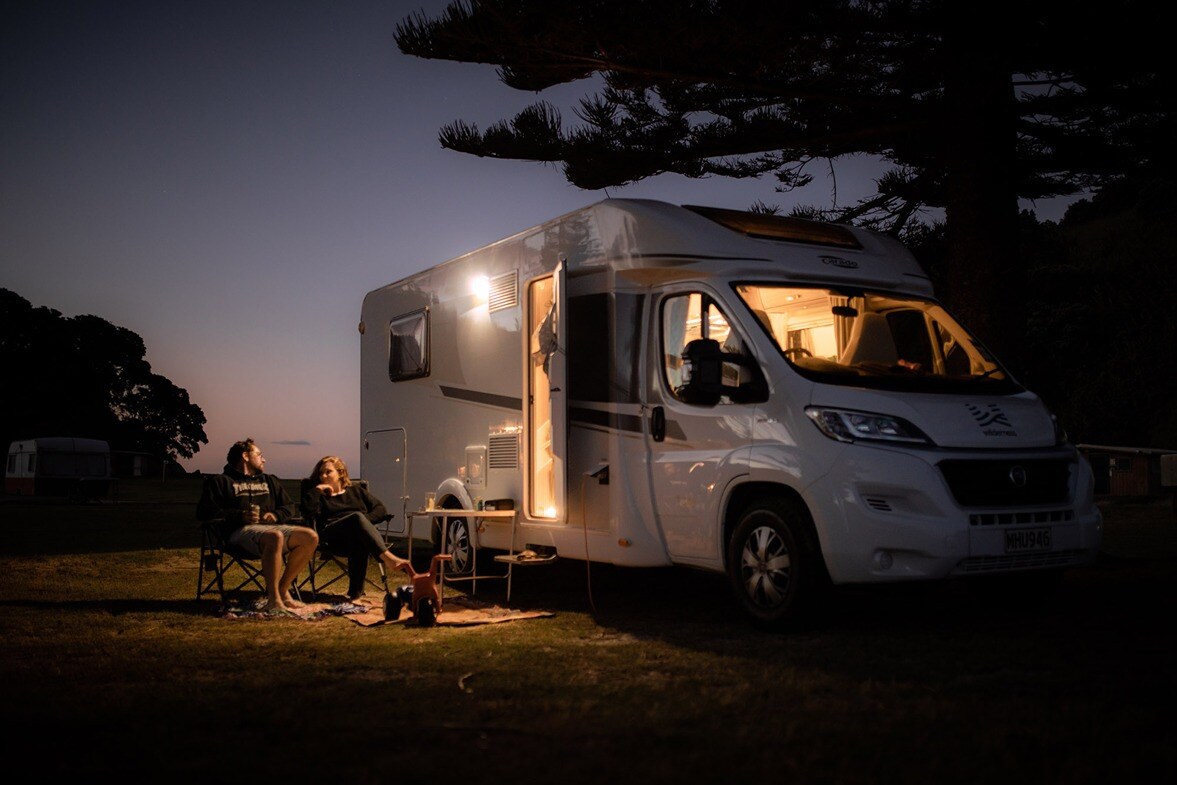 Control the temperature

Worrying about whether your baby is too cold or too hot is part of the job description of being a parent. Seek out a motorhome that will keep the right temperature range — whether it's a cold winter night or a hot summer day. Such features can include:
A central heating system — that works with insulation and double glazing
Windows and vents — with screens to keep bugs out
Blinds — to help you darken your baby's sleeping area for naps.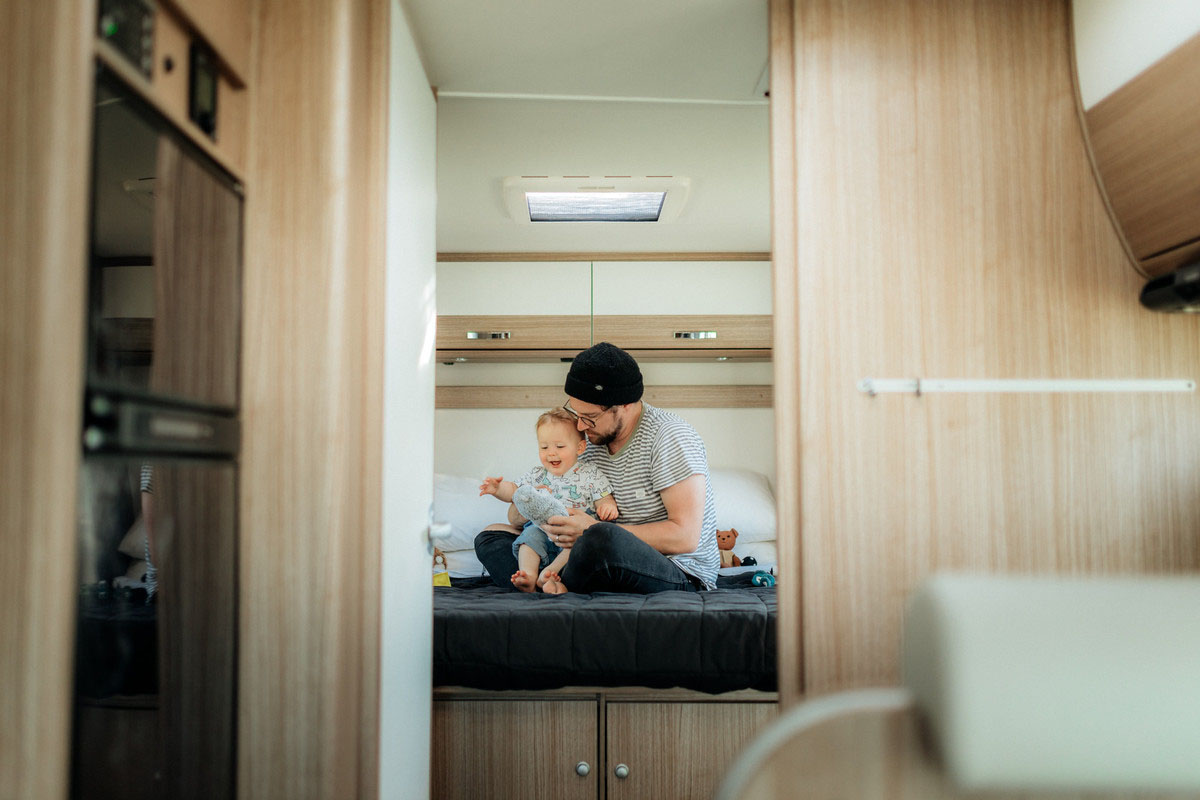 Sleep while on the move

Most babies love to nap while being driven with lots of white noise filling the room. Just make sure that your baby is always strapped into his or her child car seat while driving.


Under New Zealand law all babies must use an approved child restraint. It's therefore illegal and unsafe to put them to sleep in a bed while driving.
2. Choose a baby-friendly motorhome
Your travel adventures will be easier and more enjoyable in a baby-friendly recreational vehicle. Some key considerations are the layout and facilities onboard.


Floor space

The true test of a motorhome's suitability will probably come on a rainy day. If you're stuck inside and there's not enough floor space to help keep your baby entertained, it could be a long day.


When booking take into account:
How much your baby currently moves around
The point your baby will be at when your vacation arrives.


Take a look at a popular option for families with children — The Suite.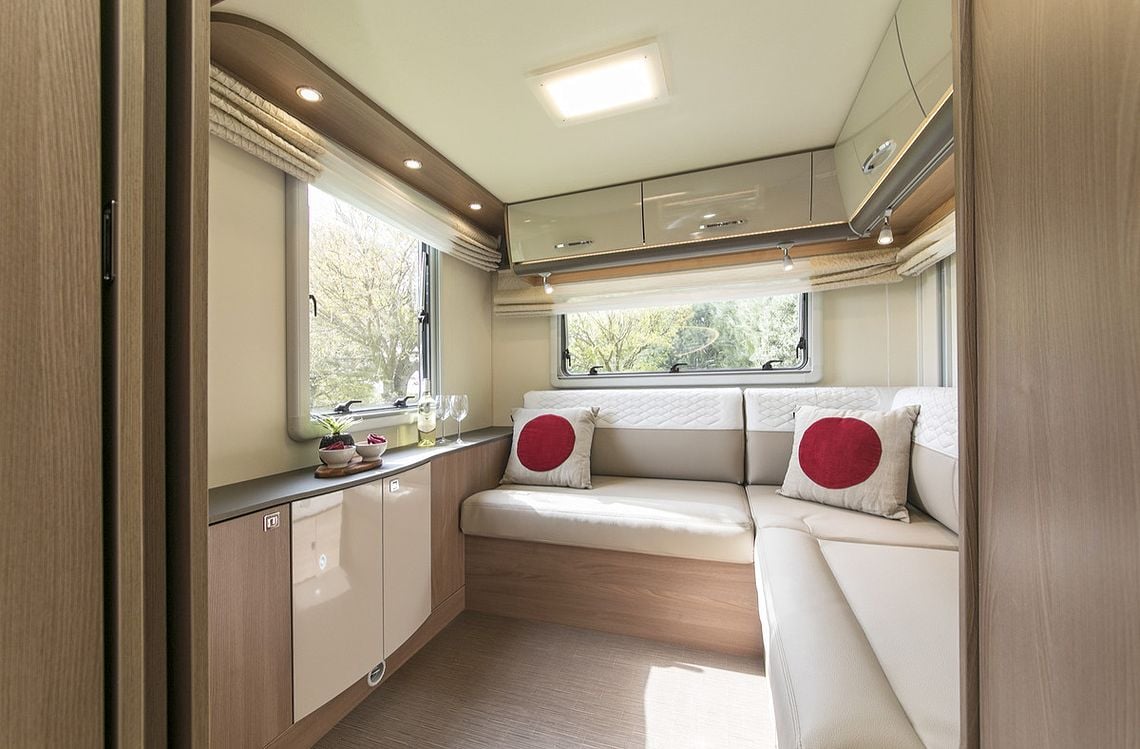 Storage space

With a baby on board you'll be packing a special bag of toys, books and favourite items to keep him or her entertained.


Most motorhomes come with an external storage compartment for storing larger items like your baby stroller. But also look for storage compartments and spaces inside the vehicle you plan to hire — where your baby's items can be easily stored and accessed.


Kitchen amenities


A well fed baby is a happy and healthy one. Choose a campervan or motorhome with a fully equipped kitchen so you can:
Load up on wholesome snacks — inside the generously-sized fridge and cupboard storage spaces
Easily prepare baby meals or heat up formula — using the stove hobs or even the oven
Breastfeed on the comfortable seating — keeping in mind that leather or faux leather is easily cleaned if you have spills.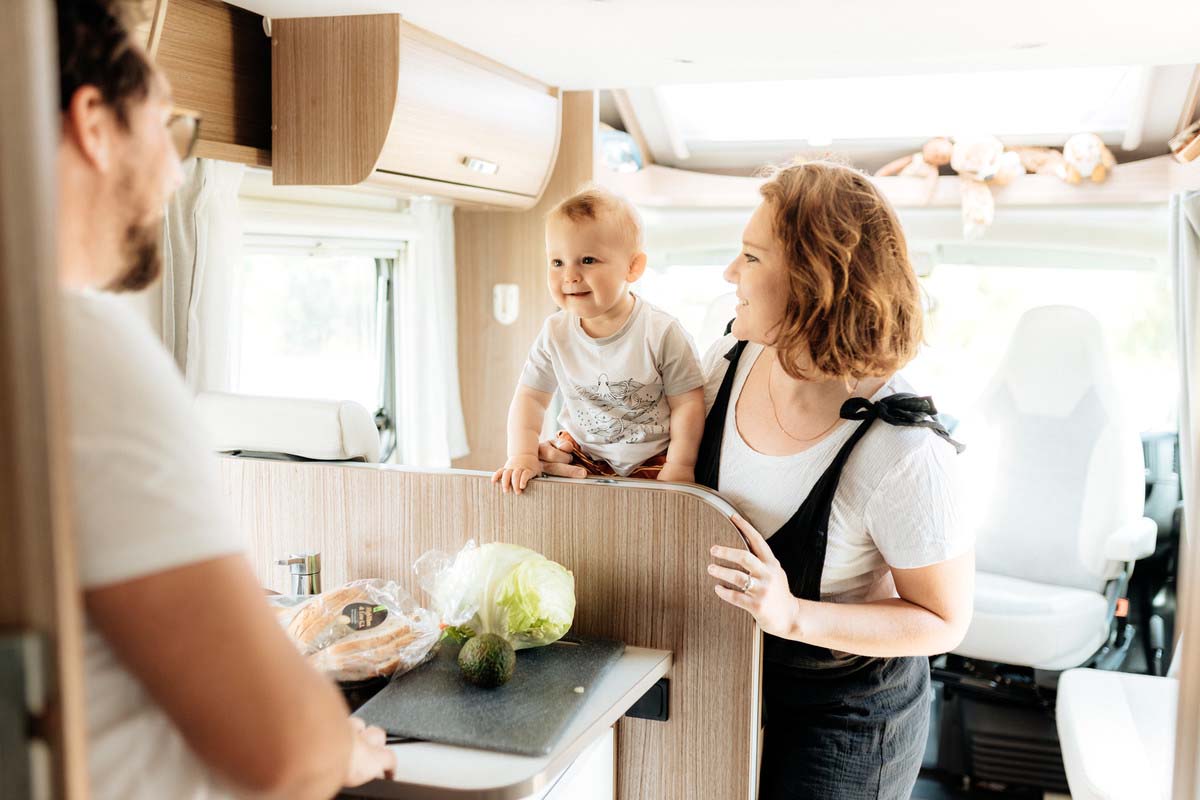 For easy on-road cooking inspiration, check out our wide variety of recipes for the road.


Bathroom onboard

Caring for a baby can get messy at times. Rent a self contained motorhome with an easy-to-use bathroom and shower space — so cleaning up any baby mess is quick and effortless.


3. Pack smart with your baby in mind
Write down all the things you and your baby will need while travelling by motorhome. While doing so, take into consideration what you can bring from home and what will be easiest to pick up on the road.


It can be tempting to pack everything you might possibly need but aim to only take what's absolutely necessary.


Essentials

Bring along the indispensable baby supplies that you simply can't go without, like diapers, wipes, sunblock and medicine.
Food

Many motorhomes and campervans don't come with a microwave. When preparing formula or food for your baby, you may need to place a glass bottle or jar in a heated water bath as a practical alternative.
Restock in the city
Stock up on snacks, food and essentials at the bigger supermarkets in the bigger cities. Smaller towns often only have convenience stores or smaller supermarkets — where there's less variety and supplies can come at a premium price.
Sleep

To encourage your baby to sleep well, travel with items they're familiar with — such as a sleep wrap, sleeping bag or comforter. Bring along a few small books if reading is part of your baby's bedtime routine.
Transport


Pack a front pack or a fold-up stroller for exploring cities and towns. If you're planning to go on long walks, think about investing in a baby backpack.
Fun

Ultimately, holidays should be fun — and a motorhome road trip with a baby is no different. Pack your baby's favourite small toys, books and teddies to set up an engaging space inside the motorhome and in the stroller.


Beaches and campsites are always within reach so remember to pack beach gear like baby swim nappies and a small bucket and spade. Also consider buying a cheap flexi tub for bathing your baby alfresco style.


Many memorable moments will be created on your motorhome adventure so don't forget your best camera to capture them.


Go over our packing checklist to be sure you haven't forgotten anything.
4. Keep your baby safe
Venturing into the unknown is a fun and exciting time — but it's also one where baby safety comes first.
Child car seats

Babies, toddlers and young children must always be restrained in a child car seat, booster seat or capsule when travelling in a vehicle in New Zealand.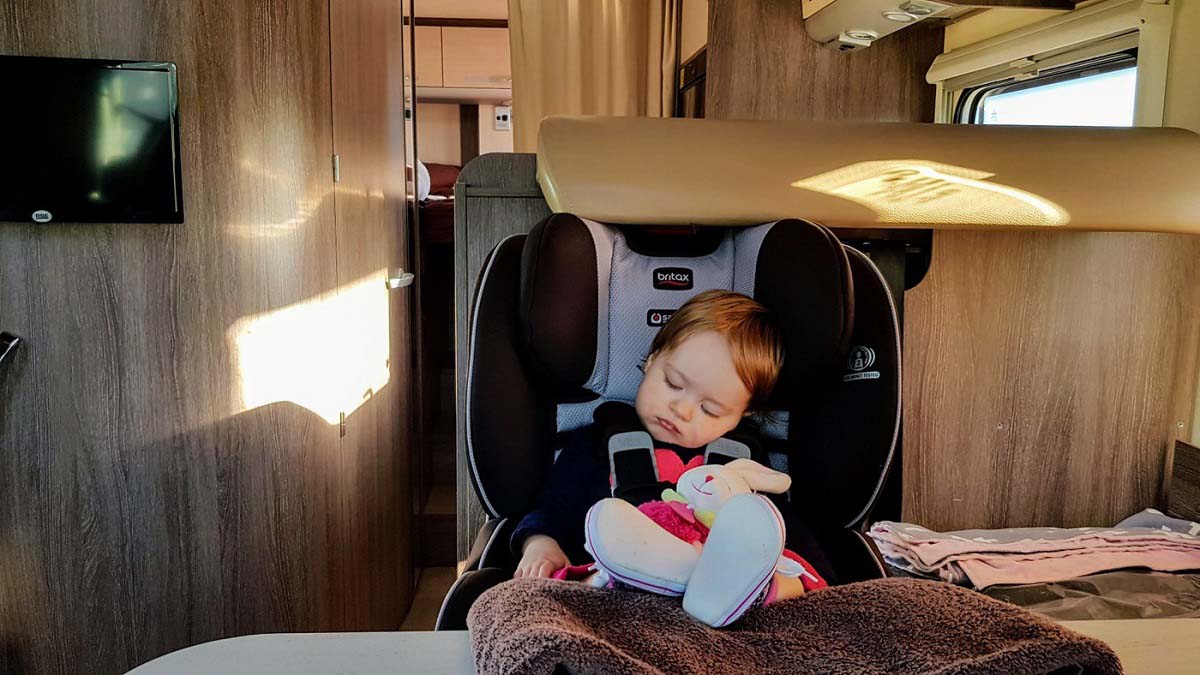 The safest location for a baby in a moving motorhome is behind the passenger seat (as in a car). You may even want to sit back there next to your baby — so he or she can reach you and remain relaxed.


Family-friendly motorhome rental operators offer child car seats as optional extras that you can add to your rental. This is especially useful if you're flying in from overseas.


Campsite hazards


When arriving at a destination, make yourself familiar with your surroundings. Be aware of any potential hazards like water, sharp rocks or steep drop-offs. Keep your baby well supervised and away from these areas.


Sun protection


The New Zealand sun feels harsher in this corner of the world than others and it's easy to underestimate its strength. It's best to favour shady areas for your outdoor activities but also pack wide-brimmed hats, sunblock and sunglasses — even for your baby.


Find out how to stay safe under the summer sun in New Zealand.
5. Set up a play area
Nothing beats a little downtime when most time is consumed by your baby. A dedicated play space will give you time out for relaxing, cooking or managing other tasks — all within sight of your baby.


One option is to bring a pop-up playpen and fill it with your baby's favourite toys and books. You can easily move this setup outside to soak up the natural surroundings from your camping chair.


6. Plan a safe and flexible itinerary
Planning an itinerary in advance has probably never been so advantageous as when you're about to travel by motorhome with a baby. Plan to:
Know where your campsites and food supplies will be
Be aware of opportunities for spontaneous detours, picturesque stops and family-friendly attractions
Drive on well-travelled and well-maintained roads so you can get help quickly if needed
Utilise

travel apps

to help locate amenities along the way
Visit nature reserves, playgrounds, beaches and museums to keep your baby entertained
Seek out local events and

farmers' markets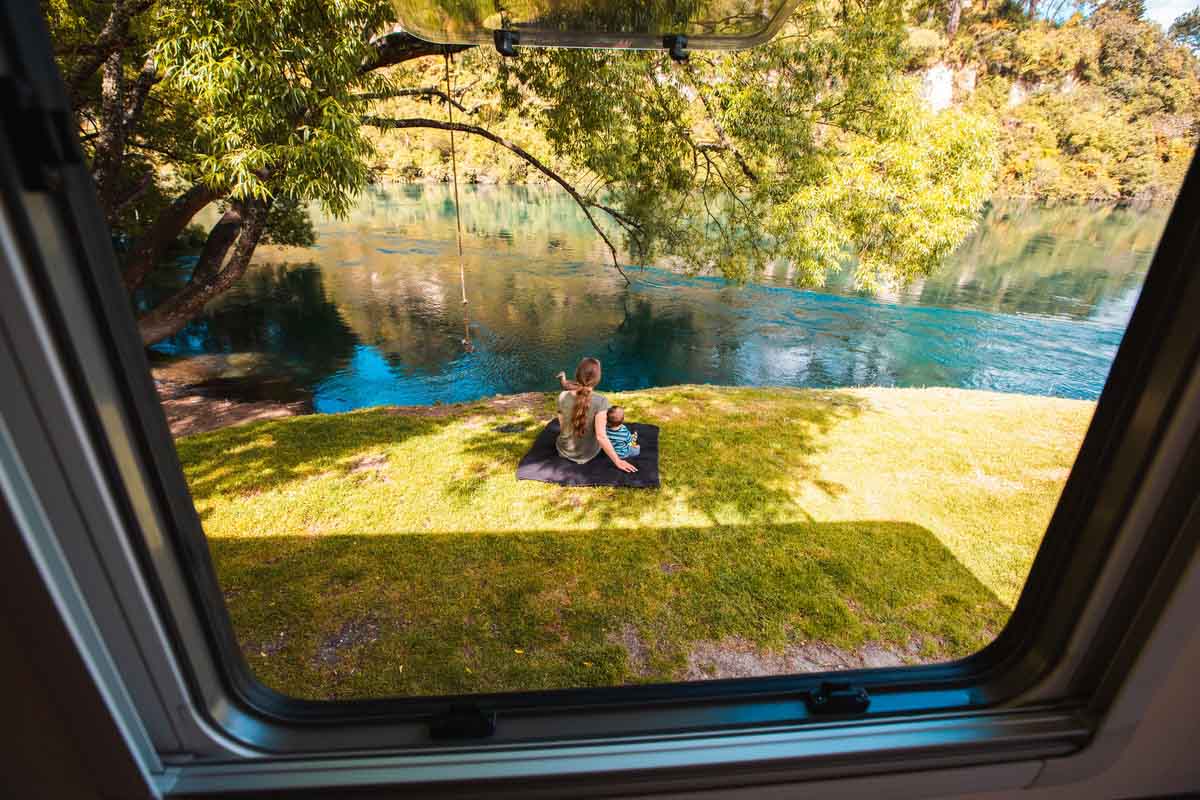 For baby-friendly trip inspiration, download our itineraries on Northland with a baby and the South Island with a toddler.
Avoid crowds

Before you're restricted to vacations during school holiday breaks, take advantage of the opportunity to travel with a baby anytime of the year. Consider low season when crowds don't exist and booking ahead may not be necessary. As a result, you'll enjoy a more flexible road trip.
7. Travel in sync with your baby's sleep routine
Letting your baby get sufficient rest and be comfortable as often as possible will be paramount to having an enjoyable motorhome holiday.


Plan your driving times around your baby's usual sleep patterns — which may mean timing some early afternoon driving with his or her daily nap. If your baby doesn't sleep while in vehicles, you may need to plan each travel day to arrive for nap time. Either way, driving for two or three hours a day is highly recommended to get the most out of your motorhome holiday.


Read our tips on travelling in a motorhome with a toddler as some may also relate.
Use apps to estimate travel times
New Zealand is compact in size but the natural hilly landscape means travel distances are often longer than expected. Use a travel app like the Automobile Association's (AA) travel distance and time calculator to help you gauge more realistic travel times.
8. Add family-friendly camping spots to your travel plan
New Zealand is well stocked with family-friendly holiday parks. They all offer comfortable amenities such as kitchens, showers and laundry facilities — along with fun zones like playgrounds, bbq areas and even heated pools.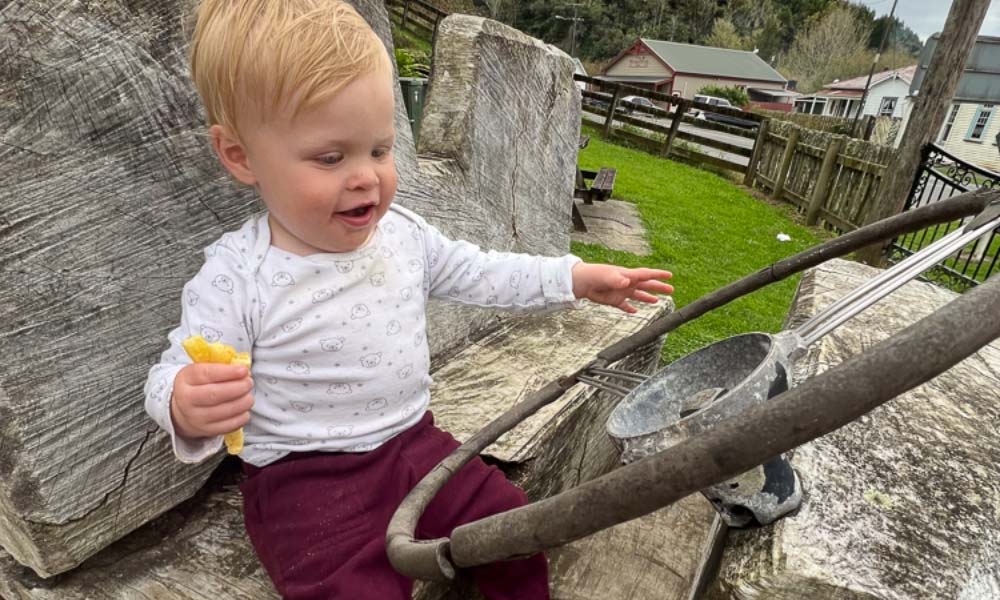 When staying at a holiday park or commercial campground, ask for a campsite with nearby facilities and grassy areas, while maintaining a comfortable distance from other campers.


DOC campsites are more rugged with minimal facilities but can be located at spectacular locations and are usually more affordable. A quiet beachside location with a shady grassy area can become special memories for you and your baby.


Freedom camping sites are also an option though they often don't have any facilities and can be some distance from civilisation.


See our guide to motorhome camping in New Zealand.


9. Take frequent driving breaks — and lots of family pics
It's always tempting to just keep on driving to get to your destination sooner. However, you'll slow down the pace of your motorhome vacation by taking time to stop occasionally and stretch your legs — and engage your baby's curiosity.
You'll also gain more opportunities to take picturesque family shots. Try to find your own little slices of paradise to break up your journey and create precious memories through your camera's eye.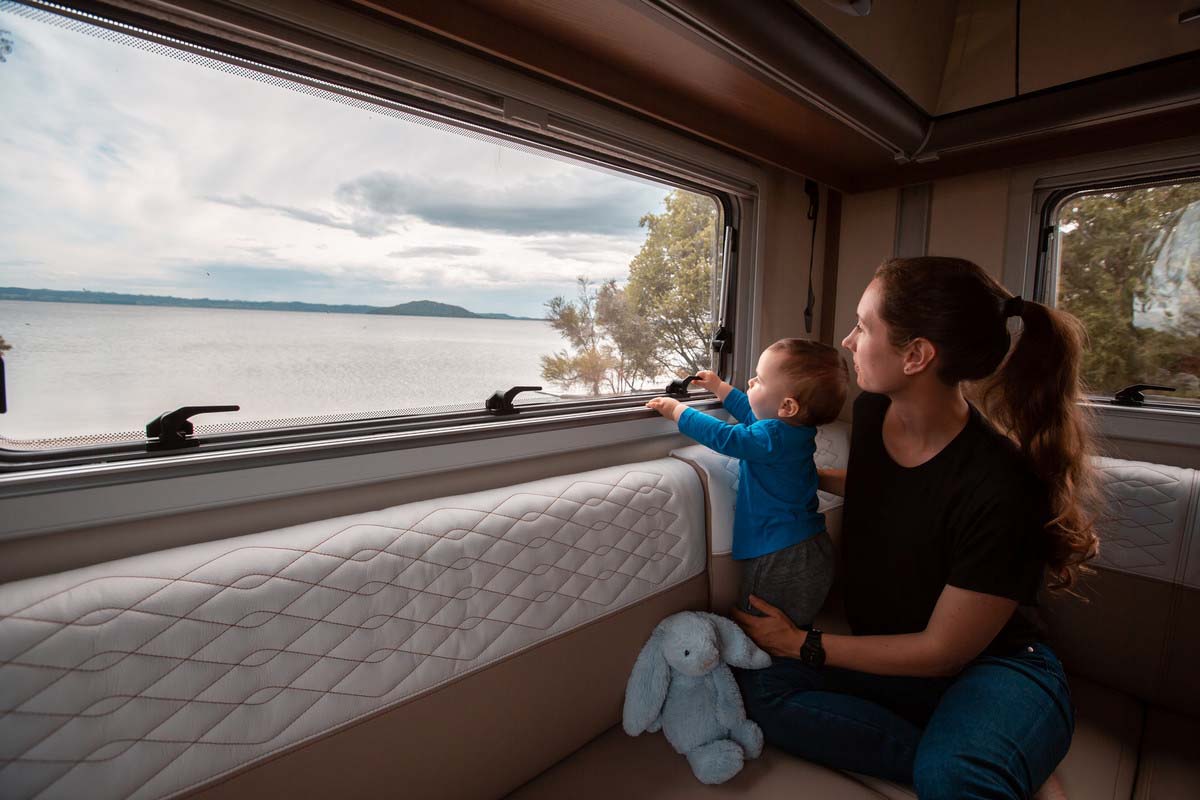 Being outdoors will keep you feeling fresh for your next driving leg. It will also give your baby much needed breaks from the capsule. Just remember to keep baby's toys and snacks on hand in case things begin to unravel.
Learn about driving a motorhome in New Zealand.
10. Prepare for changeable weather
New Zealand's weather can be unpredictable. Pack so that you're prepared for rapid weather changes — to keep exploring even when the rain or wind comes.


The smart move is to pack different layers of clothing, as well as protective clothing for you and your baby. While camping in your motorhome and spending more active time outdoors, expect to go through more clothing than usual. Most campsites have laundry facilities so you'll get chances to wash your gear.


Get an overview of New Zealand's seasons and weather.
---
Travelling with a baby can be a challenging yet rewarding once-in-a-lifetime experience. Take the time to appreciate nature — and make memories that you'll cherish for a lifetime.


Find out which New Zealand camping styles are right for you and your family.