Summer is an awesome time to visit New Zealand – the sun is out, the beaches are beckoning and it's always the right time for a barbecue.
If it's your first time visiting New Zealand, then here are some tips on what to pack and what to be aware of, so you can have fun and be safe as you collect some remarkable holiday moments in the summer sun.
The must-haves for a Kiwi summer are:
Sunscreen (minimum SPF30)
Hat (wide-brimmed is best)
Sunglasses
Insect repellent
Swimming costume (we call them 'togs') and towel
Sun safety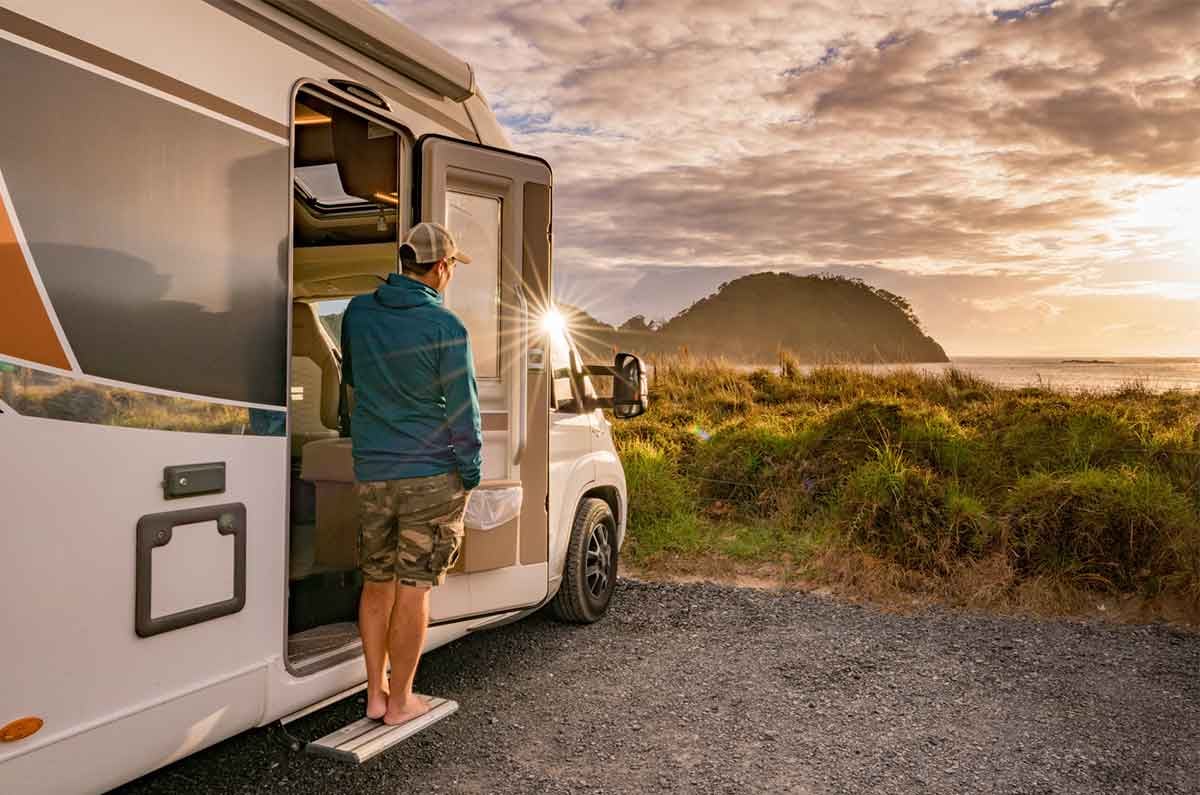 The sun in New Zealand is particularly hot as we have less ozone in the atmosphere above us to block the UV rays that cause sunburn. That means you'll burn faster, and visitors from the US, Europe and the UK are often surprised at how strong the sun feels here.
Always wear sunscreen and a hat when you're out and about in New Zealand from September to April, when sunshine hours are longest. You can find good quality sunscreens at supermarkets or chemists – look for minimum SPF30 and choose water resistant if you're planning on lots of swimming. Apply it 20 minutes before you go outside and then reapply it every two hours, especially after you've been in the water.
Kiwi families usually sit under umbrellas or in shade tents at the beach if there's no other shade available. You can buy these from department stores (and sometimes chemists) and if you don't want to take them home, you can always leave them at the Wilderness base after your holiday for other travellers to use.
If you're travelling with children, then rash vests ('rashies') are a great way of protecting them from the sun. These fitted stretchy tops are made from special fabric with UV protection and will keep the sun off them while they're swimming and playing at the beach. You can buy them at department stores, kids' clothing stores and some chemists relatively cheaply, expect to pay between NZ$15-$50. Or simply pop a t-shirt on them for an extra layer of protection.
You can find more handy information on staying safe in the sun on New Zealand's SunSmart website.
Stay safe in the water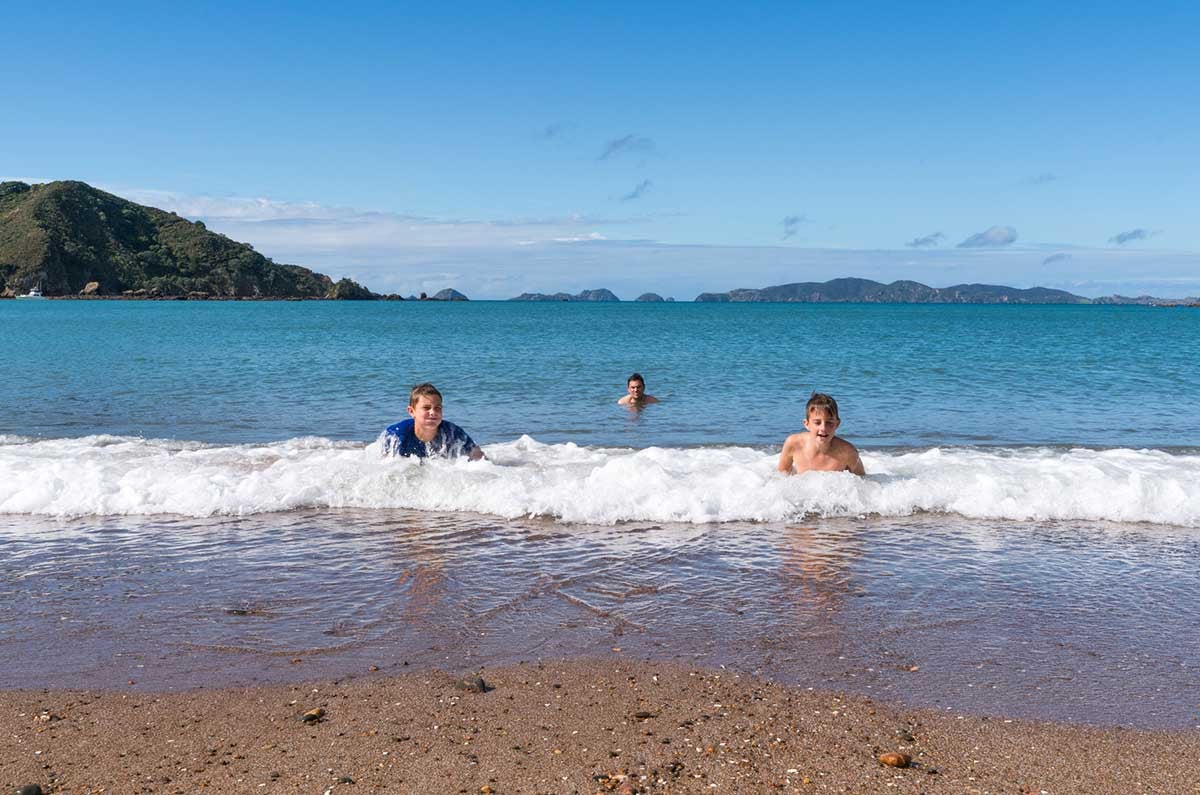 You're spoilt for choice for when it comes to swimming, surfing and exploring around New Zealand, as there are so many beautiful spots to discover around our coastline. The beaches can vary from gently lapping waves to pounding surf, and you'll also find yourself stepping onto shores of white sand, black sand, pebbles and shells.
We're lucky to have amazing crews of surf lifesavers who patrol more than 80 of New Zealand's beaches over summer. If you're at a beach with patrols, make sure you swim between the red and yellow flags. This is the area designated safest for swimming, without holes or dangerous currents, known as 'rips'. Keep an eye on the flags while you're at the beach as the patrols may move them during the day as conditions change.
If you're at a beach that isn't patrolled, check for signs warning of any hazards (such as rips or holes) before you get into the water, and stay within your depth if you aren't a strong swimmer.
Black sand beaches are a spectacular sight and you'll find them on the west coasts of the North and South Islands. Some of the most popular for swimming are Piha and Muriwai, around 45 minutes north-west of Auckland's CBD.
The sand's dark colour comes from iron-bearing minerals, so it can get VERY hot. Always have footwear when you visit black sand beaches over summer – this is especially important for children, whose feet can burn more easily.
If you're swimming by waterfalls or in rivers, always check for hazards just below the surface, and be careful of any strong currents.
Find out more about how to be water safe in New Zealand
Hiking and walking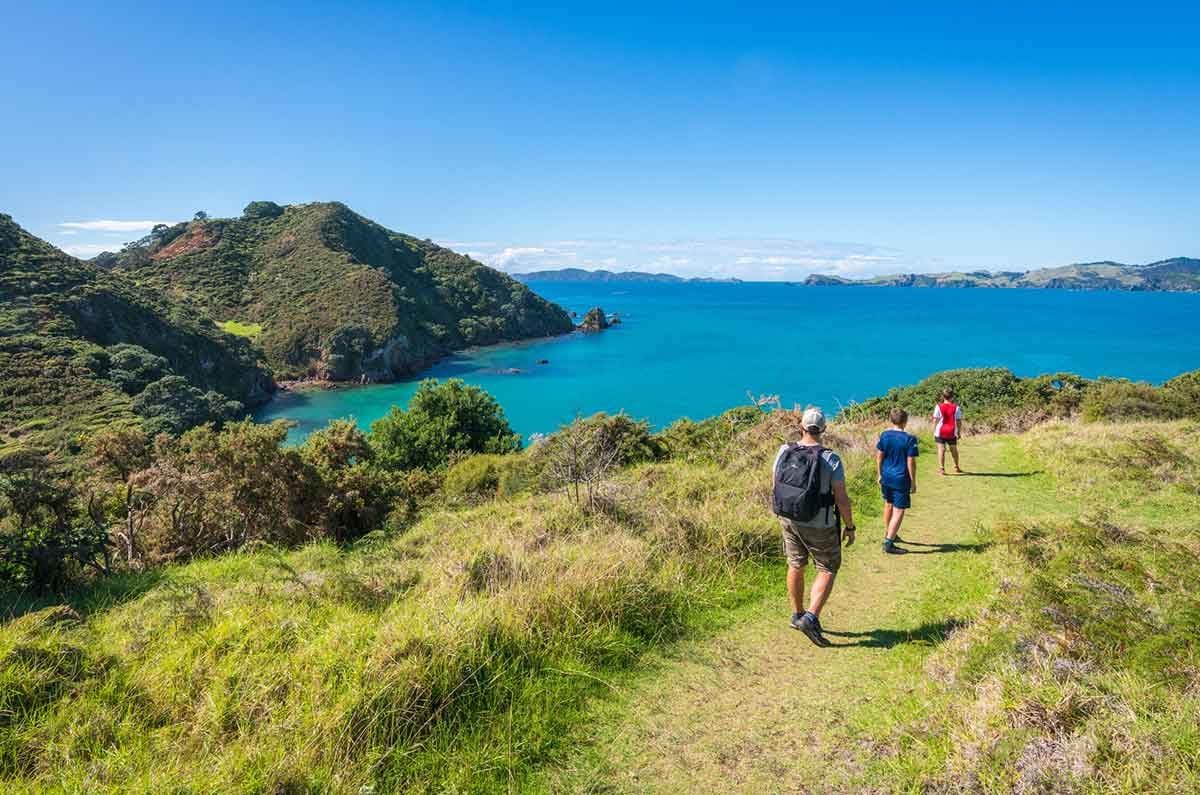 If you're planning a day walk or even just a short stroll, make sure you apply sunscreen before you go and take it with you to reapply every couple of hours. Wear a hat and take some water, even on a short walk.
Insect repellent is handy to have for sandflies that like to hang out around beaches, lakes, rivers and swamps, and for mosquitoes who might want to join you in the evenings when you're sitting outside. The good news is, you'll be insect-free inside your Wilderness campervan thanks to insect screens on the windows, so you can sleep soundly knowing you won't be bothered at night.
You'll find more info here about what to pack for your Wilderness adventure.