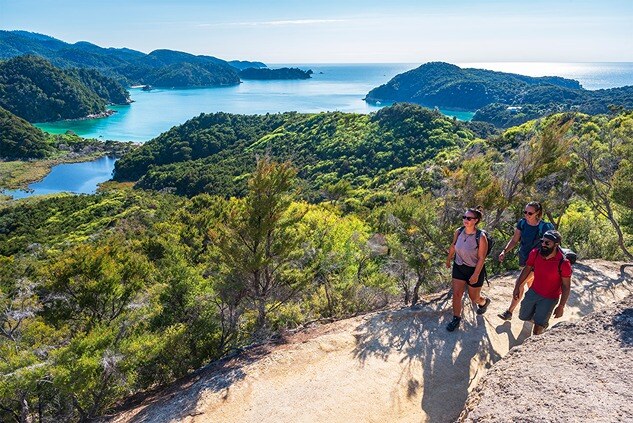 New Zealand is a hiking and walking paradise with hundreds of thousands of kilometres of tracks and trails. Regardless of your ability, you'll be spoilt for choice.
There are a diversity of trails that not many other destinations can rival, including:
Stunning coastal walks
Glorious glacial hikes
Lush rainforest rambles
Desolate alpine and volcanic treks.
In this blog, we highlight some of New Zealand's greatest walks — the rest is up to you.
Tongariro Alpine Crossing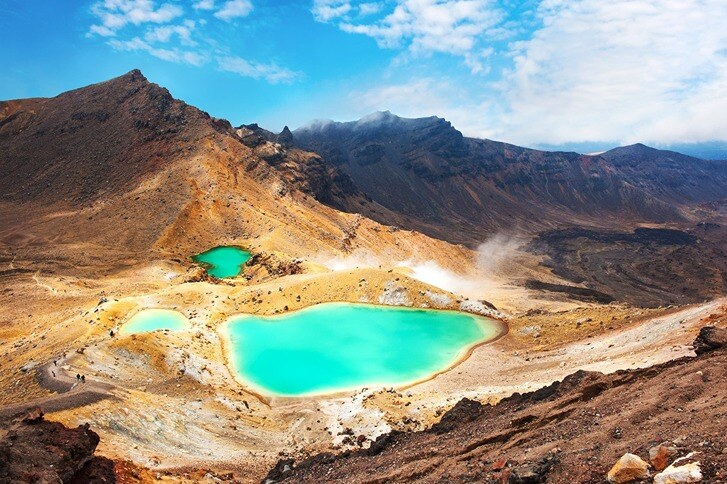 One of the world's best one day walks, the Tongariro Alpine Crossing is in the heart of Tongariro National Park. This 19.4 km journey is totally unique in that it takes you across a living, breathing volcanic plateau.
You'll be rewarded with stunning photo opportunities of the bright turquoise crater lakes and the volcanic peaks of Ngauruhoe, Tongariro and Ruapehu. You'll also enjoy stunning 360 degree views of the Central Plateau.
Ensure you prepare for the elements as the weather can throw anything at you. And if it does turn for the worst, be sure you're familiar with your motorhome's entertainment options.
Get the latest info on the Tongariro Alpine Crossing.
Routeburn Track
The Routeburn is one of NZ's most incredible multiday hikes. It was even named in the top eleven trails worldwide by National Geographic. The superlative views of pristine rivers, alpine lakes, mountains, and valleys will blow your mind.
Best tackled in summer and its side months — between November and April — this 32 km walk traverses both Mount Aspiring and Fiordland National Parks in Te Wāhipounamu (The place of greenstone).
There are multiple ways you can attack it. If you're travelling by motorhome, consider a day hike from the Glenorchy end up to Routeburn Falls Hut — where the impressive Routeburn Falls cascade is a sweet reward.
If you're keen for a longer day, or are an advent of trail running, continue past the hut to incomparable Lake Harris. From here you can reach the saddle and even explore higher up Conical Hill.
A third alternative is to set off from the otherside, at The Divide — right in the very heart of the Southern Alps. Be prepared for the weather to be chilly and wet. A long day walk will see you reach Lake Mackenzie before returning to your motorhome haven.
Other superb short walks in the area include Lake Marian and Key Summit Tracks. Both feature in the NZ Frenzy South Island Guidebook. Pick up a copy from the Wilderness depot or download one beforehand through your Wilderness booking.
Start to plan your adventure on the Routeburn Track.
Milford Track
Labelled the finest walk in the world, the Milford Track is a 53 km hike starting at Te Anau Downs and finishing at Milford Sound. Along the way you'll:
Cruise across majestic Lake Te Anau
Meander through beautiful rainforest
Cross misty wetlands
Hike over an epic alpine pass
Get up close to NZ's highest waterfall — Sutherland Falls.
The Milford is a one-way, four day tramp that probably isn't ideal if you've hired a motorhome. However, there are companies that will take you by boat to the trailhead or trail end for the opportunity to day walk on the track.
Begin your journey to experience the Milford Track.
Abel Tasman Coast Track
One timeless New Zealand Great Walk is the Abel Tasman. It traverses rich golden beaches and coastal beech forest — with incredible side trips up rivers and through estuaries.
The Abel Tasman is a 60 km walk that can take three to five days to complete. Your best option in a campervan is to head to either Marahau or Totaranui (near the start or end of the track) and day walk from there.
Check out the NZ Frenzy South Island Guidebook for other day walks in the area like the Wainui Falls Track.
Find out more about the Abel Tasman Coast Track.
West Coast glacier walks
Ask most Kiwis about West Coast glaciers and they'll probably mention two — Fox and Franz Josef.
Considered a couple of must-do adventures, a road trip to visit these glaciers will impress. They're unique worldwide for how close they sit to the coastline — at less than 300 metres above sea level — amongst lush rainforest and waterfalls.
Fly onto either glacier and ice hike through blue ice caves or drive your motorhome to specific vantage points for dramatic wide views.
Travelling the West Coast by road is a special journey. See our guide if you're new to driving in New Zealand to ensure it's a safe one too.
Discover more about Fox Glacier and Franz Josef Glacier.
Pouakai Crossing
Underrated compared to the North Island's epic Tongariro alpine day hike, the Pouakai Crossing is equally as exciting and rewarding.
This half day sub-alpine hike traverses the lower slopes of the mighty Mount Taranaki. You'll enjoy wide panoramic views, incredible waterfalls, high cliffs and even a moss swamp. If you're lucky, you'll also experience the changeable nature of Taranaki with clouds that come and go — sometimes with intense wind speeds.
The Pouakai Crossing is an end-to-end trail so you'll need a drop off at the start and a pick up when you finish.
Begin to prepare for your adventure on the Pouakai Crossing.
Kauaeranga Kauri Trail (Pinnacles Walk)
High above the picturesque Coromandel Peninsula is the peak of a superb day walk. The Pinnacles Walk is well-known in these parts as it offers stunning views of the peninsula from the top of the Coromandel Ranges.
If you plan to go all the way to the summit, the final ascent involves some climbing ladders. You'll then be rewarded with impressive views of the bush, mountains and coastline.
Find out more about the Kauaeranga Kauri Trail (Pinnacles Walk).
Preparing to walk and hike in New Zealand's outdoors
It's important to prepare well even for short walks in New Zealand's backcountry. Conditions can change very quickly so be sure to:
Check the

Department of Conservation (DOC) website

about trail conditions
Notify people of your intentions — particularly for longer hikes
Dress for the conditions and be prepared for the forecast
Bring along some food and water
Take a small pack — with vital supplies including rainwear.
With a motorhome as your resting place on the road, you'll be able to hop from one superlative walk to the next with ease. Wilderness motorhomes are insulated with central heating so when your active day is done, you'll return to a warm, comfortable base.