Movies — music — games. Digital entertainment is a huge part of our day-to-day lives. And it also comes in handy on the road.

Whether the kids need a distraction on a rainy day or you need to stay connected with your friends and family, quality entertainment with reliable Wi-Fi will keep everyone happy.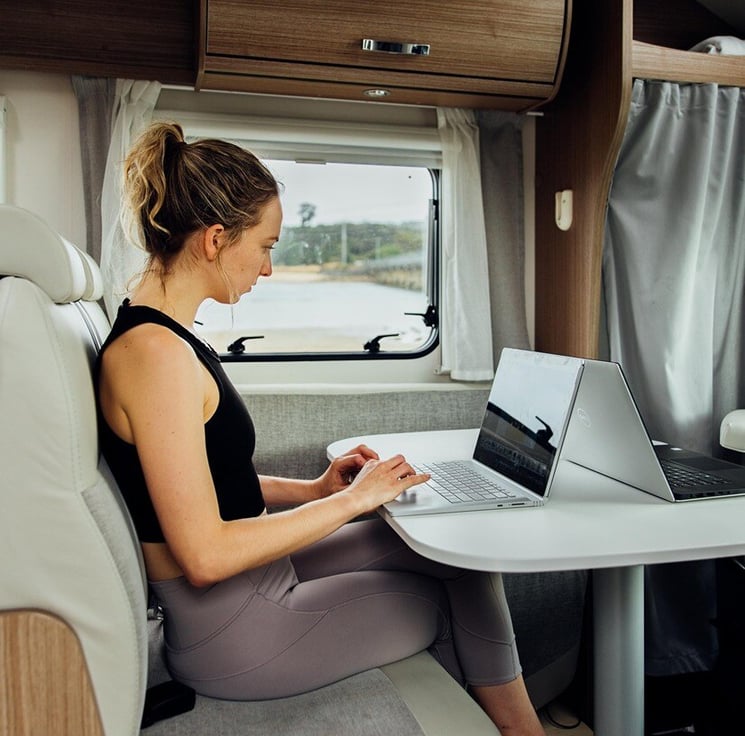 Will your motorhome come with Wi-Fi?
Only a few motorhome rental companies offer Wi-Fi plans, so it's vital you check when you book and take note of any additional cost.

If you're visiting New Zealand, you have two options.


Get a data plan with a local mobile service provider, or

Buy onboard Wi-Fi through a motorhome rental operator



Data plans
A data plan can work well if you stick to urban areas and only need to connect one device to the internet at a time.

Compared to many other countries, data plans in New Zealand are expensive. Research the various NZ providers and their mobile plans, but also weigh them up against onboard motorhome Wi-Fi deals.



Onboard Wi-Fi
If a reliable connection across multiple devices is important, you could be better off with onboard Wi-Fi.

With a router placed inside your motorhome, onboard Wi-Fi will generally tap into New Zealand's long-range rural broadband network.

It's also usually more cost-effective — especially when you have two or more devices to connect to the internet. To set this up, you'll have to get Wi-Fi enabled by your motorhome rental operator before hitting the road.

With access to Wi-Fi it's easy to stay in touch with your friends and loved ones. It's even possible to get some work done if need be.

Wi-Fi on the road can also be useful for:


Finding out about an area you're travelling through

Booking activities ahead of time

Navigating around cities or off-the-beaten-track




Being able to browse and book local offers online makes motorhoming doubly enjoyable. Check out the following apps as you're cruising the highway:


Rankers — for campsite reviews
Campable — access to some of New Zealand's best sites for camping and motorhoming
Wilderness NZ — offering the freedom and comfort to explore NZ



Download content before starting your adventure
Be mindful that you won't get a Wi-Fi connection all the time, especially in some remote areas.

Be prepared by having a few movies and some music downloaded onto your devices ahead of time. Downloading audio books is also rewarding over longer journeys.



Look out for a USB hub
When evaluating which motorhome to hire, check whether there's a phone holder and a USB hub in the cab. Some motorhomes (certainly higher-end ones) have these set up for navigation and charging while you're driving.

You'll need to bring your own USB charger with a USB type A plug. USB-C plugs aren't yet common, but are slowly beginning to replace USB-A connections.


How does a motorhome TV work?
While most motorhomes will have a flat screen television onboard, New Zealand's digital Freeview TV network is only available in urban areas.

As a result, you won't be able to watch free-to-air TV in most places on your New Zealand road trip. However, you will be able to use your TV screen to watch movies or other content from your laptop.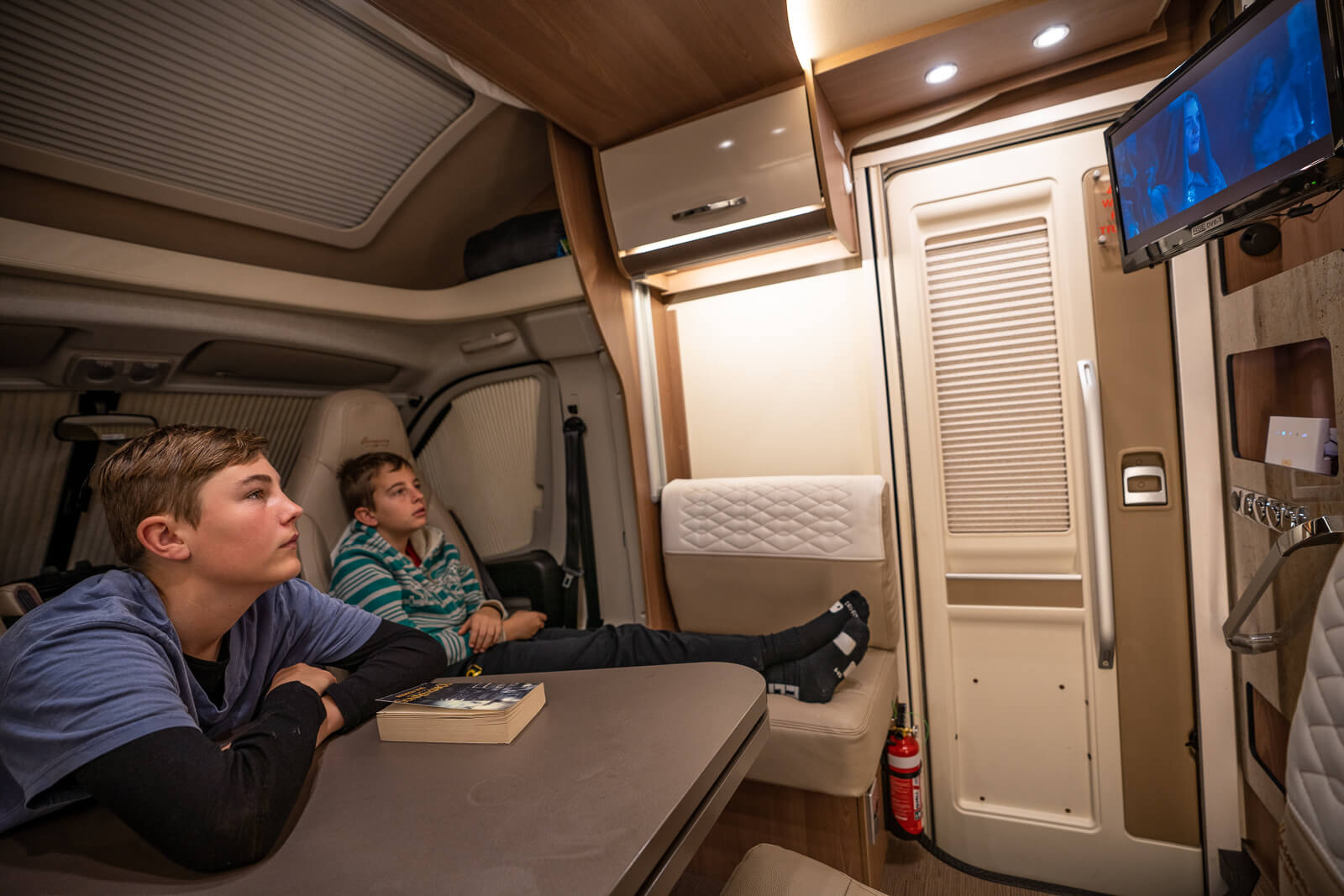 Locating the TV
Televisions are typically found in the living and dining areas of motorhomes. But there are differences between standard and premium motorhomes.


Standard motorhomes — if there's seating at the back that converts into the main bed, you'll be able to watch from your bed.
Premium motorhomes — these often have their TV hidden away in a cupboard near the dining table area up front.


Some vehicles still have a DVD player integrated into the TV but the trend is moving away from DVD players.
Connecting your laptop to the TV
Before picking up your motorhome, be prepared by:


Bringing your own device(s)

Downloading the content you want to watch in advance

Packing your own HDMI cable




You'll then be set up to watch your fav shows — either on your device or on your motorhome's TV via the HDMI cable.
Chromecast and streaming platforms
Chromecasting isn't yet available in New Zealand motorhome rentals though it likely will be in the future. Of course, you can use your own chromecast adapter on your laptop.

Access to streaming platforms such as Disney+ or Apple Music also doesn't come with a motorhome rental.
💡 TOP TIP
If you're not already joined up with a streaming service, consider signing up for a trial during your motorhome holiday.


If you're keen to stream movies on any of your devices, you'll definitely want onboard Wi-Fi included with your motorhome rental.

Wilderness Motorhomes offer onboard Wi-Fi as an extra.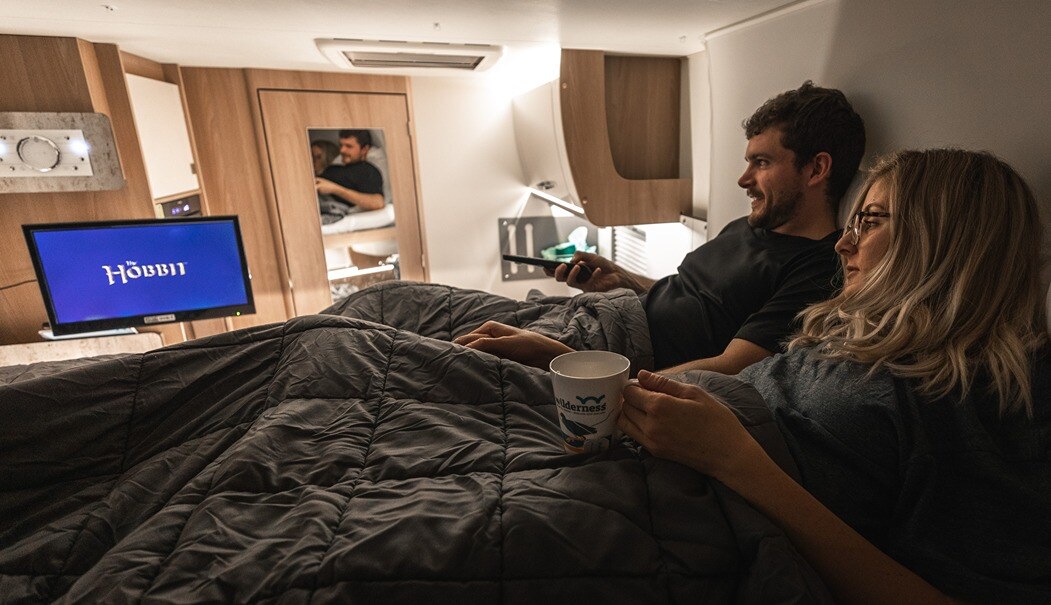 Keep an eye on power
Playing movies uses a lot of power. That's not a problem if you're at a powered campsite where you can plug into 240-volt mains power. If you're freedom camping, you'll want to keep tabs on the power level in your house batteries when using the entertainment system.


Can you connect your Playstation or Xbox?
Do you or your teenagers plan to bring along a Playstation, Xbox or other gaming console? If so, your motorhome will need to be plugged into 240 volt mains power at a powered campsite to use it.

Bring an HDMI cable and connect your console to the TV. When you're off grid a:


Standard motorhome will have a 12 volt house battery

Premium motorhome will come with an inverter that provides 240 volts




However, a gaming device like this is too much for either of these power sources you'll need to hook up to mains power for gaming.


What about bringing your own music?
Absolutely! All motorhomes should have a radio with a touchscreen and Bluetooth capabilities, so you can stream music from your phone or device.

In premium motorhomes, the radio is wired to the 12 volt house or leisure batteries. This way, you can listen to it without the fear of draining your engine battery.

Wi-Fi reception can be an issue in many areas, so ensure you download music to your device before beginning your journey.

If you have kids or teenagers who enjoy music, make sure they bring their headphones along. Motorhome travel can be noisy and your vehicle's speakers may not project all that clearly.


Can you charge all your devices in your motorhome?
Planning on freedom camping off-the-grid for long periods? It can be a challenge to keep all your devices (including cameras) charged. Follow these tips to maintain power:


Fully charge all your devices before leaving the rental base.
Utilise every mains power opportunity at powered campsites.
Make use of the 12 volt house battery for topping up your phone while freedom camping


Premium motorhomes are often fitted with an inverter that converts 12 volt power from the house battery to 240 volts.

Although this is perfect for charging a laptop or camera, there are some limitations. Most importantly, you want to avoid fully draining your house battery.


Get your favourite entertainment ready for the road
Ultimately, how your travel group entertains itself is up to you, but there are plenty of options out there. Preparation is key — but having onboard Wi-Fi enabled will be a huge advantage for staying in touch and finding out more about the places you're visiting.

Be ready to go remote with no reception or access to Wi-Fi at all — with the aim of simply enjoying New Zealand's rugged beauty and remoteness.

Classic entertainment options that don't require power (like cards and board games) are ideal for motorhome travel. You'll rediscover the joy of unwinding and reconnecting with your loved ones the old-fashioned way.

Check out our top ten apps for enhancing your New Zealand motorhome trip.