Mobile phones have quickly replaced home computers to become your main tool for gathering travel information — not only when planning but also while on the road.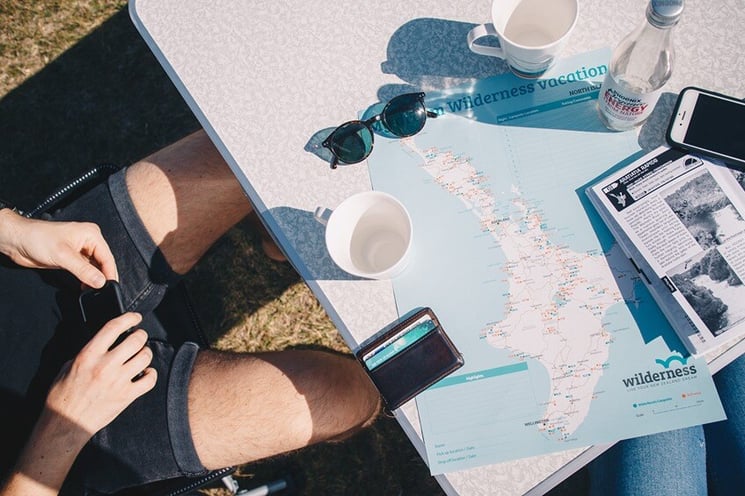 The increase in app usage has led to a rise in the number of travel apps. But which ones should you download while planning your New Zealand motorhome adventure?

From cheap gas to special trails, weather forecasts to Māori language, and great rides to campgrounds — our top ten free travel apps will enhance your motorhome holiday around Aotearoa.
1. Gaspy
You can save money on fuel by using the Gaspy app which puts up-to-date fuel price information at your fingertips.

Let the app know your location and you'll be able to view fuel prices closest to you. It's highly user-friendly, with handy filters to choose:


The type of gas you need — including products like LPG and Adblue

a clear harmless liquid used to reduce the amount of air pollution created by diesel engines





Only gas stations that have toilets or sell coffee





Petrol stations with daily discounts





Your maximum search distance — for instance, 20km away.




In the current environment, prices can change within the hour. Gaspy gives you the opportunity to plan where you'll fill up — but also to double-check that the price is still the cheapest when you're nearby.

Download Gaspy from the App Store or Google Play.
Finding AdBlue
Many modern motorhomes need diesel exhaust fluid, like AdBlue or GoClear, added every few thousand kilometres. Gaspy can help you quickly find nearby gas stations which sell AdBlue. Toggle between the list or map view.
2. Plan My Walk
Is walking or hiking a popular pastime? If so, download this excellent free app developed by the New Zealand Mountain Safety Council (MSC).

It's an indispensable tool for researching and planning both short walks and long hikes throughout Aotearoa. The simple search function makes it easy to quickly find the hut, trail or campsite you're looking for.

All of your essential planning information can be in one place on the app, including:


Track details — although still a work in progress, many trails already have a track description plus important info on what to expect and how to get there


Alerts — any weather issues or hazards are detailed as long as you've created an account and have saved your planned trip


Weather — a four-day weather forecast expands to include winds at altitude, freezing levels, and other mountain weather hazards like snow and rain


Gear — customise your own gear list for each individual hike you have planned


Planning notes — share your trip plans with friends, add emergency contacts, and even attach any related documents.


A key feature of the app is sharing information by commenting on tracks and reading others' reviews.

Download Plan My Walk from the App Store or Google Play.
3. Kia Rere
Getting to know and understand the culture of a country is one of the most rewarding aspects of travel. Culture includes language — and te reo Māori and New Zealand Sign Language are the two official languages of New Zealand.

English is most widely spoken but learning some Māori will not only endear you to some of the locals, it'll also help you understand some of the culture in New Zealand.

Kia Rere contains a range of interactive features including:


Audio learning — tap each word or swipe over a phrase to hear it pronounced correctly


Travel vocabulary — with place names and other useful phrases


Proverbs — hover over this content scattered throughout the app to find out more


Mihimihi — create your own introduction and share your travel journey in Māori


Haka and waiata — listen and read along to the New Zealand national anthem and a haka.


Download Kia Rere from the App Store or Google Play.
4. MetService
Being an island nation (or a nation of islands) means the weather in New Zealand can change very quickly.

The MetService app has a lot of useful info which is laid out in an easily digestible format. Allow location access while using it and you'll receive up-to-date weather information about where you are. A few handy features include:


Layers — the app suggests how many layers you may need to wear based on the current temperature, wind and cloud cover


Severe weather — the menu bar has a severe weather tab with details of any thunderstorms on the horizon, plus road snowfall and heavy swell warnings


Customise snippets — drag what you want to view onto your dashboard, such as humidity, rainfall and fire level


Forecast modules — reorder weather info on your dashboard as you prefer, like moving the three-day forecast to the top


Feels like — at the top of your dashboard is the actual temperature but also what the temperature feels like due to wind or humidity


Cardiopulmonary resuscitation (CPR) instructions — you can find these simple, easy-to-follow steps through the menu bar if someone has a breathing issue.


Another one-click feature involves tapping anywhere on today's descriptive or pictorial forecast. Doing so will quickly bring across a right sidebar with a five-day forecast. Then, tap on this sidebar for a ten-day forecast in much more detail.

Take a look at our overview of New Zealand's weather and seasons.

Download MetService from the App Store or Google Play.
5. Great Rides
If there's one relatively large item that's easy to take in and out of a motorhome's rear garage, it's a bike — or two. And that knowledge is what makes this app so great. Great Rides clearly:


Details many of New Zealand's exceptional trail rides throughout both the North and South Islands


Showcases some link rides which connect A to B



Informs about under-construction rides and when they're expected to be open.




Click on a ride and you'll get a short description plus highlight points. Download the trail if you're really interested and you'll access some superb content, including:


Video highlights of the trail


A long description of the ride


Location details


A 3D animated video map tracing the ride across the terrain


Information on trail services — like transport, cafés, accommodation and activities



A trail map with sectional highlights.




You don't need to plan a multiday ride just because many of these epic rides take more than a day. Simply utilise the app to access the trailheads and ride as far as the wind takes you.

Download Great Rides from the App Store or Google Play.
6. Bookme
Last-minute discounts can be a serious money saver for travellers. Bookme doesn't exactly offer last-minute discounts as such — instead, you can search upcoming days and weeks for low prices on activities, eateries and tours.

Fancy dinner at a Wellington waterfront restaurant? Or jumping off a bridge strapped to a bungy cord? Whatever you might be planning on your New Zealand adventure, it's worth downloading this free app and seeing what's discounted along your route.

The easy-to-use Bookme app features a:


Location search engine — to only find deals near a certain town or city


Discount tab — where you'll find activities with 99% discounts and some that only cost one dollar


Menu — to switch between adventure, activities, tours, attractions and restaurants.


Download Bookme from the App Store or Google Play.
7. Star Chart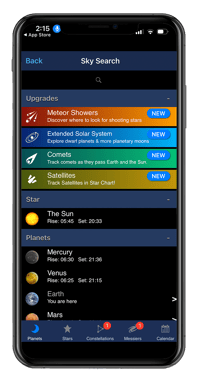 New Zealand is home to the world's largest dark sky reserve. It's located in the South Island on the Mackenzie Basin high country — and is worth spending at least a night to simply stargaze.

The Star Chart app is well-known worldwide for calculating the current location of every planet and star visible from Earth, in real time. The Southern Hemisphere night sky is quite different to north of the equator. Point your device at a certain star while using the app and find out what it is.

Star Chart has some amazing features like:


Sky Search — planets, stars, constellations and celestial bodies are listed so you can easily search and click on what you want


Stats — whatever object you're focusing on has some stats behind it, so you can find out diameters, distance away and exact location in the night sky


Time adjuster — a pop-up right sidebar lets you move forward or back in time to see what you'll be viewing in so many hours time


Zoom — after you've found what you're looking for, zoom in for stunning 360-degree views.

Download Star Chart from the App Store.
8. Sandfly Map
Although New Zealand doesn't have many pesky wild creatures that could ruin your holiday, sandflies can be a real nuisance. They breed in running water so can be prolific near beaches, lakes, rivers and swamps.

Dusk and dawn are when the annoying sandfly has a ferocious appetite. But there are ways you can minimise, and even avoid, getting bitten.

This very simple community-based app is ideal to have on your phone if you get majorly affected by bug bites. It features a:


New Zealand map — with pins marking where sandflies have been encountered and their density and annoyance


Report tab — pin your own sandfly experience to the map and rate it with comments in a matter of seconds.


Download Sandfly Map from the App Store or Google Play.
9. SwellMap Surf
For the latest surfing and beach conditions, get SwellMap Surf on your phone. The app will provide you with the latest atmospheric and oceanographic numerical models — forecasted four times daily.

Your surf holiday will be well planned with the SwellMap Surf app onboard. It features:


Seven-day swell and wind forecasts — plus a New Zealand map that toggles rain, wind, temperature, wave height, wave period and sea temperature


An easy search-by-location menu


Detailed graphs — showing wave and swell height, low and high tide points, winds and gusts, sunrise and sunsets, sea temperature and wind direction



The option to create your own alert for when conditions at a particular location meet your preferences.




Download SwellMap Surf from the App Store or Google Play.
10. Wilderness NZ
Your motorhome adventure around New Zealand wouldn't be complete without an essential motorhome holiday park and freedom camping app.

The free Wilderness NZ app helps give you the confidence to explore the country well off-the-beaten-track. It's ideal for planning where you want to park up each night on your journey. With the app, you can:


Check the locations and details of holiday parks, campgrounds and freedom camping spots


View summaries, descriptions, prices, comments and images


See what activity suggestions and deals are nearest you — such as walks, gardens and museums



Add stuff — comments, reviews, shoutouts, photos and even new places to explore.




Download Wilderness NZ from the App Store or Google Play.
Other useful apps for finding the right places to stay on your motorhome adventure are:
Campable — helps you find camping sites throughout New Zealand


Rankers Camping NZ — you can filter for top-ranked reviews of what you're looking for


CamperMate — select an interest like golf, fishing, walks or culture and the interactive map shows where these are, along with descriptions, directions and key details.