There's now an app for just about everything when it comes to travel, from making the most of an extended flight delay, to tracking your expenses and learning about local culture.If you've travelled before, you're probably all set when it comes to your flight finder apps, TripAdvisor reviews and the like. But what about when you're on the ground here in New Zealand?
Here are our top recommendations of the lesser-known but incredibly useful digital tools for motorhome travel in our beautiful country.
1. Campable (Android and iOS)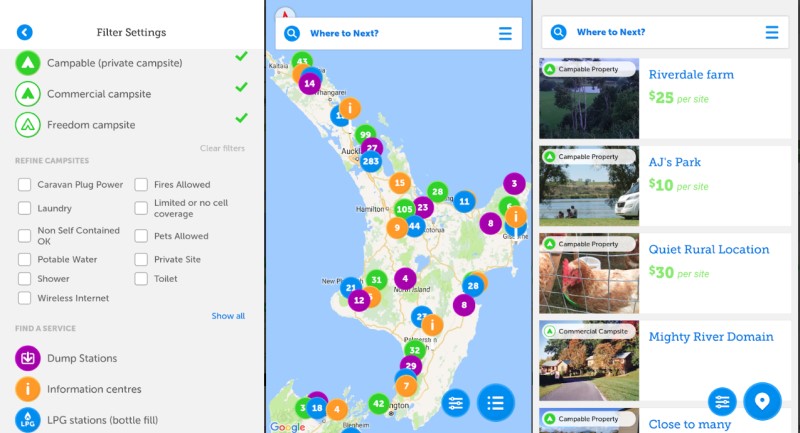 See a different side of New Zealand and meet the locals for a real Kiwi experience with Campable. This free app gives you access to the country's best sites for motorhomes – stay the night on private properties or explore New Zealand's best public and freedom camping sites. You can download Campable on the Apple App Store and on Google Play.
2. MetService (Android and iOS)
New Zealand is known to experience four seasons in one day (there's even a song about it). We suggest you should be prepared with a good rain jacket, layers and the country's most accurate weather app.
3. Essential New Zealand Travel Guide (Android and iOS)
This comprehensive app from Tourism New Zealand offers the latest information about thousands of travel experiences from the tip of the North to the deep South. While on the road, you can search for activities, attractions and events within 100 kilometres of your location, or you can do your research ahead of time and save items to your wish list. There's a handy list of must-do experiences for 26 regions, as well as accessing special offers and deals offered by various tourism and hospitality operators.
4. New Zealand's Great Walks (Android and iOS)
If you're bringing your hiking shoes with you, then this app is for you. It's dedicated to New Zealand's nine Great Walks as designated by our authority on the matter, the Department of Conservation. The Great Walks are walking tracks that pass through spectacular scenery including native forests, lakes and rivers, rugged mountain peaks, deep gorges and vast valleys – quite simply, all the best that New Zealand has to offer. The app includes track history, details, routes, photos and more.
5. Menus.co.nz (Android and iOS)
Get 'in the know' like the locals do with New Zealand's premier guide to restaurants, bars, cafes and more. The results are listed by proximity to your current location, you also have the option to change the search area and refine by price and opening hours. It includes detailed venue information including address, map, website, photos and reviews.
6. Star Chart (Android and iOS)
With some of the best night skies in the world, New Zealand is THE place to stargaze. Star Chart calculates – in real time - the current location of every star and planet visible from Earth and shows you precisely where they are. Our night sky is quite different to that of the Northern Hemisphere – use Star Chart to know what planet or star you are looking at, all you have to do is point your device at the sky and Star Chart will do the rest.
7. Wolfram Sun Exposure (iOS)
We're big on being sun smart here in New Zealand, particularly as the time to get sunburnt in our country is often quicker than others. This healthwise app helps you manage your time in the sun safely according to skin type, time of day and location.
8. WhatsApp Messenger (Android and iOS)
This app is the best way to stay in touch with family and friends back home without having to pay for SMS, all you need is Wi-Fi or 3G connection. You can send and receive messages, calls, photos, videos, documents and voice messages with no hidden fees or international charges.
9. XE Currency (Android and iOS)
This easy-to-use currency conversion calculator takes the math out of the equation so you can focus on enjoying your time in New Zealand. It offers live currency rates and charts, and even stores the last updated rates so it works when the Internet doesn't. The best part is you can personalise it to keep your main currency at the top, and all it takes is a shake of your phone to get the most up-to-date rate.
10. New Zealand Memory Game (Android and iOS)
Keep the kids happy on long road trips with this app that offers a fun card matching brain-booster with wonderful pictures from paradise. The cards show the best sights of New Zealand including stunning landscapes such as the picturesque Whangarei Falls, the spectacular Cathedral Cove, the northernmost point Cape Reinga, 90 Mile Beach and much more. This educational and entertaining memory game is perfect for all ages – a virtual vacation in New Zealand that can complement your real one!
If you have any other useful apps to optimise your New Zealand motorhome touring experience, please leave your recommendations as a comment below, we'd love to hear them.