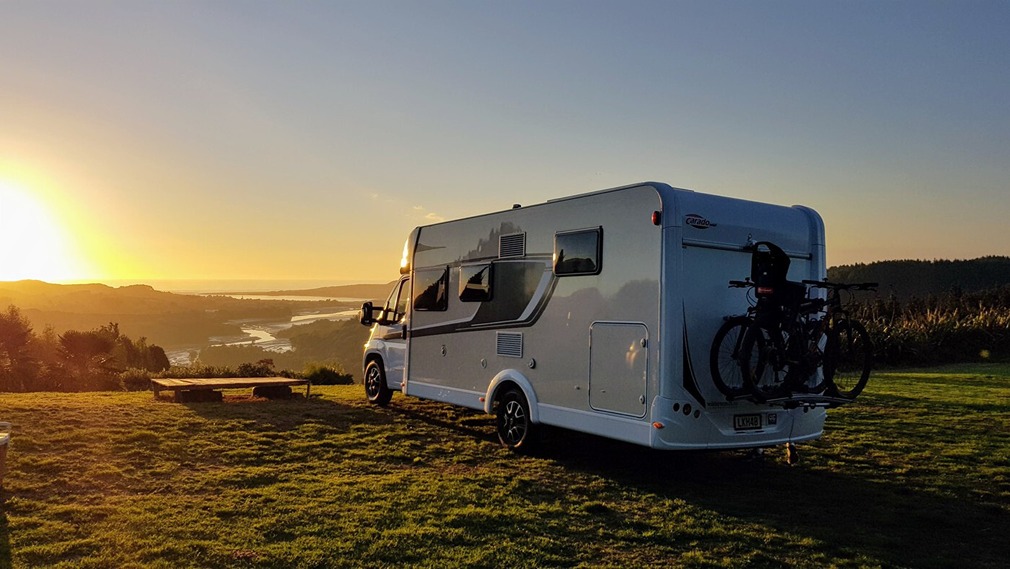 Take a front row seat amongst New Zealand's incredible scenery riding some of the country's best trails. Through native bush and sweeping landscapes, past translucent lakes and snow-capped mountain peaks, this epic backcountry is open for you to explore.


New Zealand is often touted as having some of the best trail riding on the planet. Just one day on these standout rides will give you a completely different perspective to travelling by motorhome — whether you're a seasoned expert or new to two wheels.

In this best rides blog, we focus on a selection of great New Zealand trails — from Roxburgh Gorge to the West Coast Wilderness and the Timber Trail to the Kauri Coast Cycleway.
Many of these trails are well-known as multiday adventures but they're also worth sampling as single day rides. Carefully plan your campervan hire itinerary to include a few days riding them on two wheels.
1. Moke Lake
Mountain biking near Queenstown doesn't get much better than a loop around stunning Moke Lake. Hidden up high in the mountains behind New Zealand's most famous tourist town, this idyllic volume of water creates a magical backdrop for a day of riding.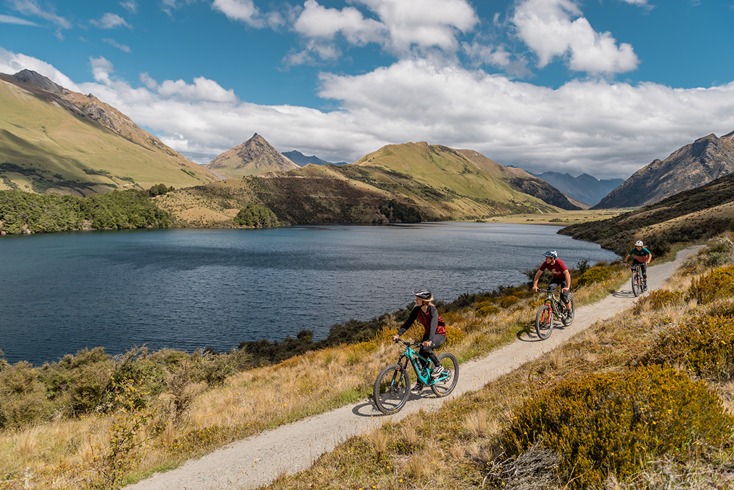 Image by QueenstownNZ.co.nz
A cross-country style trail, Moke is an undulating single track with lakeside views. The terrain is mostly grassland — though there are some short boardwalk sections.
Find out more about the trail around Moke Lake.
Total distance: 7km loop
Grades: 2-3
Making the most of Moke

Turn your hour long circumnavigation of Lake Moke into an epic full day adventure from Lake Wakatipu.

Begin at the carpark at Seven Mile Point and ascend the Gold Digger trail to the gravel Lake Moke Road. Continue uphill to the lake and after completing the loop, take the trail that leads southwest towards Lake Dispute.

You'll eventually find your way back to the Glenorchy-Queenstown Road — about a 20 minute bike ride from Seven Mile Point.
2. Roxburgh Gorge Trail
Ride into another world alongside the serene turquoise tones of the Clutha River.


The remote Roxburgh Gorge Trail offers a colour-palette of scenery unlike any other in the country. Marvel at the grey schist rocky outcrops — contrasting alongside the golden willow trees in autumn or amongst the wild purple thyme of spring.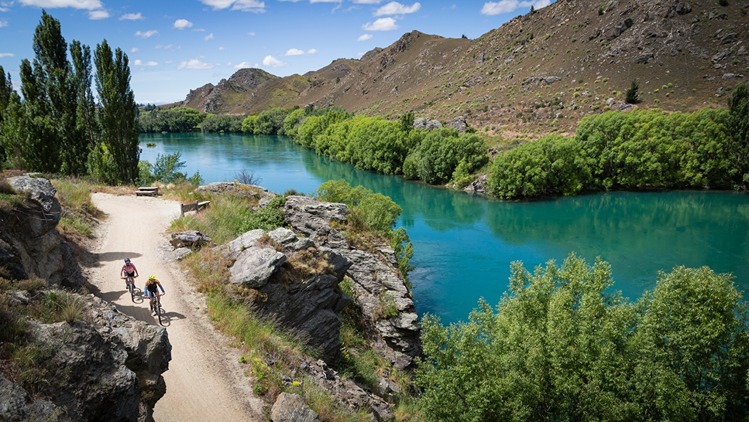 Image by Geoff Marks
This short yet dramatic great ride links the town of Alexandra in Central Otago with the Lake Roxburgh Hydro Dam. You'll bike through native forest and past heritage sites, all the while being captivated by the eroded bluffs of the gorge.

To add to the fun, choose to take the 13km jet boat trip which bridges the gap between the two trail sections. Alternatively, ride one section and then return to your campervan hire, enjoying a different perspective.


If you're fairly new to cycling off-road, the Roxburgh Gorge Trail is a wide gravel path making it an ideal option for beginners.


Get more information on the Roxburgh Gorge Trail.
Total distance: 21km
Grades: 2-3
Understanding bike trail grades


Grading numbers for New Zealand bike trails are actually very straightforward. All trails are graded on a scale of one to five and are specified as:
Easiest
Easy
Intermediate
Advanced
Expert
3. Alps 2 Ocean Cycle Trail
The incredible Alps 2 Ocean Cycle Trail is a seriously long haul. At more than 300km, it's New Zealand's longest great ride. But that doesn't mean you can't enjoy one of its nine sections ranging from 27 to 55km — or even just part of a section.


The trail, created through the desire to cycle from the Southern Alps to the Pacific Ocean, entails much of the beauty of the South Island. What better place to start than under the shadow of Aoraki Mount Cook.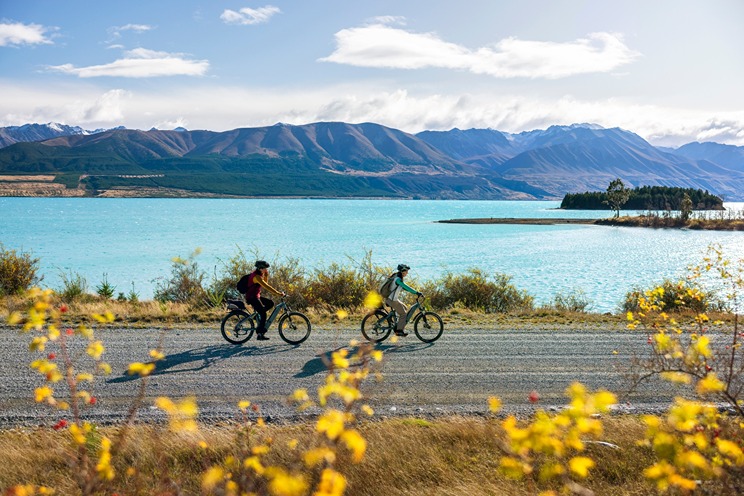 Most of the easier segments of the trail are between Mount Cook and Lake Ōhau. Here you can pick and choose between riding beside the naturally breathtaking Lake Pukaki, the man made Tekapō Canal or the peaceful Lake Ōhau foreshore.

Discover more about the Alps 2 Ocean Trail.

Total distance: 360km
Grades: 2-3
4. West Coast Wilderness Trail
The untamed charm of New Zealand's wild West Coast offers something a little different. You can ride straight into all of its exhilarating adventure on the West Coast Wilderness Trail.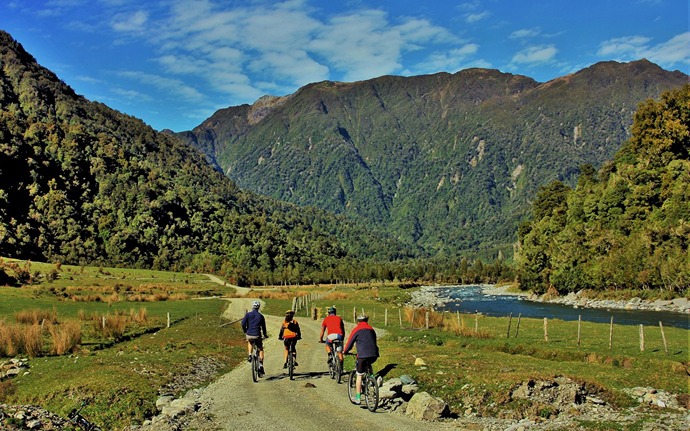 Image by Chris Steele
Forests, wetlands, glacial rivers and mountains are all part of the wondrous landscape on various segments of the track. Select a part of the trail that sounds appealing to you. You may prefer biking:
Through the history of Greymouth to Kumara
Past the remnants of the gold rush between Kumara and Milltown
Alongside Lake Kaniere on the way from Milltown to Hokitika
Amongst native birds and forest on the trail from Hokitika to Ross.


Get to know more about the West Coast Wilderness Trail.

Total distance: 133km
Grades: 2-3
5. Great Taste Trail
There are times when sweating out a bike ride deserves a reward — and what better incentive than the opportunity to eat and drink some local produce. On that note, the Great Taste Trail is a must-do if you plan on cycling parts of the South Island.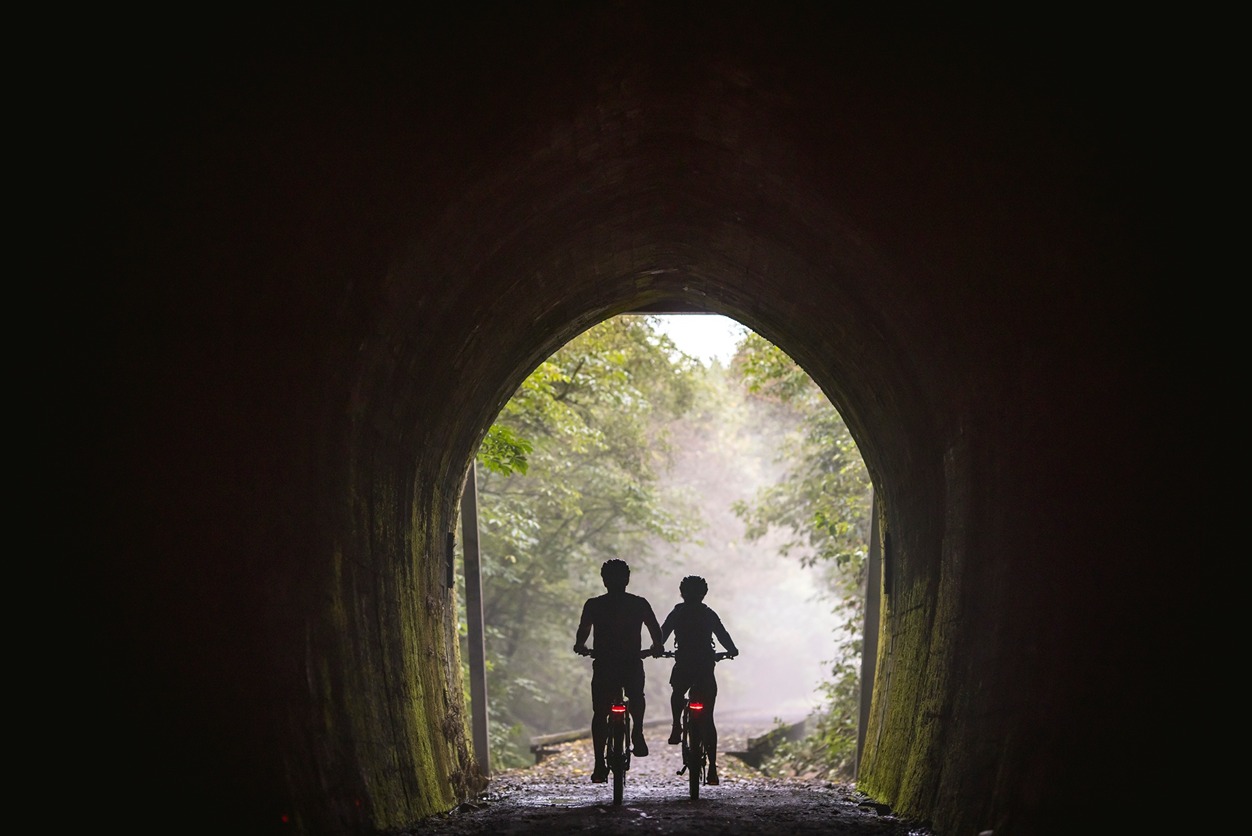 Blending the word taste into the trail name was perhaps a stroke of genius. However, there's more to this ride than taking one too many breaks. The trail itself loops from Nelson along the coastline through Mapua, Motueka and Riwaka — before heading inland near the Motueka River and Tapawera on its return to Nelson.

As with the other multiday trails, you can pick which part takes your fancy. The location of certain scenery, wineries, fresh produce and award-winning hops along the route will help your decision making.

Learn more about the Great Taste Trail.

Total distance: 177km
Grades: 2-3
6. Hawke's Bay Trails
Sunny Hawke's Bay is made for slow motorhoming around the region and for leisurely cycling amongst the wineries. Mostly easy trails make up the network of routes between Napier, Hastings and Havelock North — with short distances and a few stops the most common travel plan.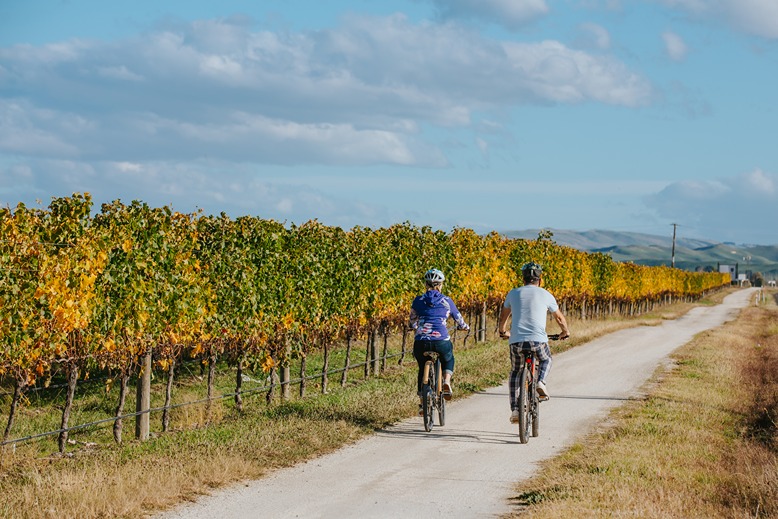 Image by Kirsten Simcox
You can expect a plethora of highlights, such as sampling regional cuisine, tasting local wines, peddling past historic landscapes and taking in scenic coastal views.

Find out more about the Hawke's Bay Trails and download our North Island bike trails road trip itinerary for things to see on your ride. Also take a look at our Napier motorhome holiday guide for other activities to do in the area.

Total distance: 200km
Grades: 1-2
7. Timber Trail
In the heart of the North Island there's a trail with a secret — hidden podocarps make up much of the scenery on the aptly-named Timber Trail.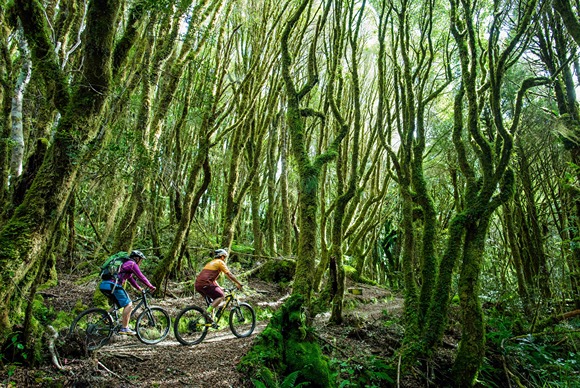 Image by Hamilton & Waikato Tourism
Following the paths of logging trucks that used to be put to work here, you'll be riding a part of New Zealand that very few people get to see. Be prepared to bike across some of the highest and longest swing bridges in the country.

A huge drawcard is the 35 bridges along the route including Maramataha suspension bridge — the longest one on the trail at 141m. You can ride in either direction so it's easy to start at one end of the trail in the morning and return back to your motorhome hire after lunch.

Plan your journey along the Timber Trail.


Total distance: 85km
Grades: 2-3
8. Te Ara Ahi
Rotorua is a unique city, not only in New Zealand but globally. The smell is the first thing you notice, followed closely by the geothermal activity trying to escape from underground. It's this uniqueness that makes Rotorua such an interesting one to explore by bike.


Te Ara Ahi roughly translates to The pathway of fire — and is also known as the Thermal by bike trail. The ride links some major geothermal parks in Rotorua, including:
Whakarewarewa
Waimangu Volcanic Valley
Waiotapu Thermal Wonderland
Waikite Valley Hot Pools.


As you cruise along the trail, you'll see bubbling mud, steaming vents, guzzling geysers, Māori culture, regenerating wetlands and the Redwoods Mountain Bike Park.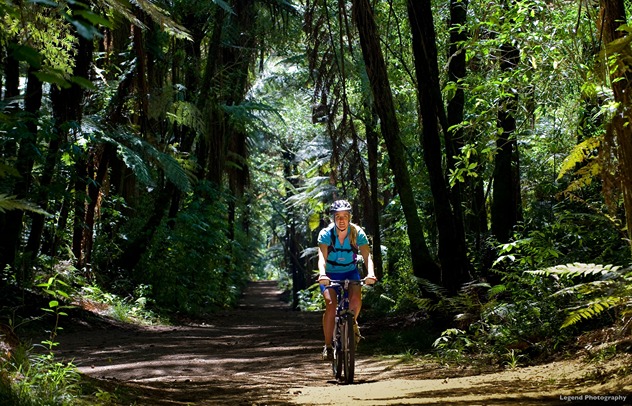 Image by Legend Photography
Unearth more details about Te Ara Ahi and check out our Rotorua motorhome holiday guide for other things to see and do in the city.


Total distance: 47km
Grades: 2-3


Simply the best


Rotorua and Queenstown were both recently named in the top ten mountain biking destinations on Earth by Strava. Both cities are recognised as mountain biking epicentres on the North and South Islands respectively.
9. Waikato River Trails
Five main tracks make up the Waikato River Trails, each with their own character — telling the story of the country's longest river.

You'll ride past hydropower infrastructure, native trees and remote farmland, while crossing streams, boardwalks and even suspension bridges. Varied terrain showcases the indigenous birdlife with chances to see kiwi and kaka.

If you're a technically intermediate to advanced rider, you may be able to bike all five trails in one day. If you're into a more relaxed ride, one section will probably be enough.

Check out the official Waikato River Trails site for more details.

Total distance: 104km
Grades: 3-4
10. Kauri Coast Cycleway
Linking two northern west coast harbours, the lesser-known Kauri Coast Cycleway is more road than trail. The route passes through a majestic kauri tree forest and bypasses some alluring small towns on a mix of sealed and gravel road surfaces.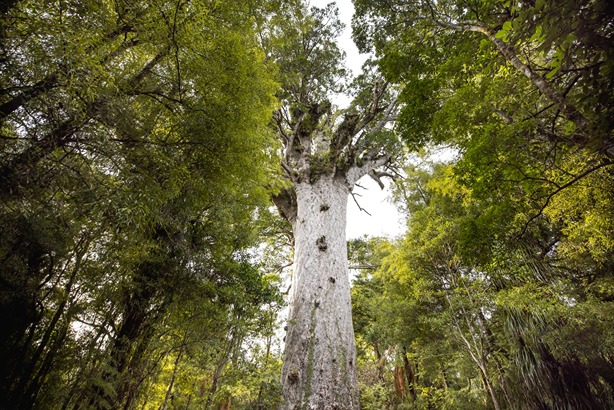 Experience the cultural heritage of the region amongst picturesque coastal scenery while navigating over hilly terrain. Take a break in the Waipoua Forest to see giant Tāne Mahuta — New Zealand's largest living kauri with a fitting name that translates to Lord of the forest.


The southern end of the cycleway brings you to Dargaville, the country's kumara capital where arts and crafts are common, including kauri carving.


Discover the Kauri Coast Cycleway in more detail — and read our exploring the far north blog for other things to do on your Northland campervan trip.


Total distance: 112km
Grades: 4
---
Our ten bike rides offer some of the best single day riding across New Zealand — though most are multiday trails. Organise your motorhome rental to include riding one or more of these tracks with the help of our itineraries.