Location: Napier is a seaside city on the east coast of the North Island, around five hours south of Auckland. It sits in the Hawke's Bay region, which is famous for its wine and stone fruit, and you'll see vineyards and orchards at every turn. Napier is also known for its beautiful Art Deco architecture, as the city was rebuilt in 1931 after a large earthquake. It's a popular spot for lovers of food and wine and offers plenty of year-round outdoor activities too.
Amazing Art Deco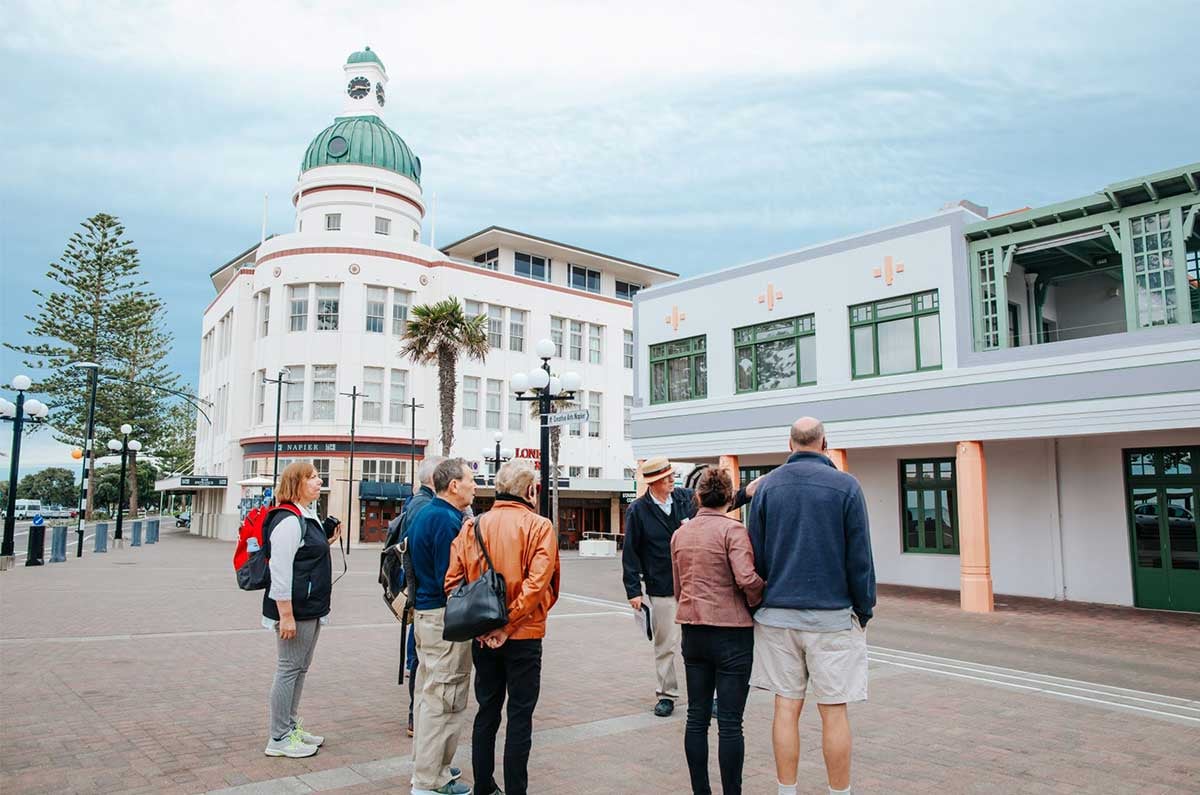 Credit: napiernz.com
As soon as you arrive in Napier you'll notice the distinctive Art Deco architecture scattered throughout the city. It's a beautiful legacy from a devasting earthquake in 1931 that destroyed much of the area. Art Deco is now a key part of Napier's personality – there are vintage shops bursting with clothing, jewellery and other antique items from the period and thousands flock here in February for the famous Art Deco Festival when Napier steps back in time and the 1930s come to life again with special events, music and parades.
The museum MTG Hawke's Bay in central Napier is a great way to find out more about the region's past, or you can join a guided walking tour too.
Food and wine
Hawke's Bay is a foodie paradise as it's one of New Zealand's top wine regions and Napier and the surrounding area are home to a huge range of wineries, orchards, and some fabulous restaurants. You can drive your motorhome between wineries (but make sure your driver isn't drinking as New Zealand has very strict drink driving laws) or leave your motorhome at your overnight parking spot and join one of the many winery tours available. These small group tours are usually by minivan but can also be bike tours, and are a great way to taste, meet like-minded wine lovers, and see the vineyards behind some of New Zealand's most famous wines.
If you're looking for wineries with 'wow' factor when it comes to location, wines and dining then try Craggy Range, Church Road, Mission Estate, Elephant Hill, and Black Barn.
Hawke's Bay is also home to F.A.W.C (Food and Wine Classic), a three week event held in June and November each year. It's a chance to experience some amazing culinary events at special locations around the region with some of New Zealand's top chefs and winemakers. Keep an eye on the website and book ahead as many events sell out fast once released.
Family fun
The National Aquarium of New Zealand is centrally located on Marine Parade in Napier and kids will love spotting the reef fish, little penguins and sharks, and watching them being fed. Check the website for feeding times. There is also a Kiwi house, where you can get a glimpse of New Zealand's iconic national bird.
Summer time in Hawke's Bay means a visit to Splash Planet (20 minutes from Napier) where you'll find outdoor pools and waterslides, bumper boats, go-karts and mini golf to help everyone cool off and burn off any excess energy!
There are also kids' bike tracks (see The Great Outdoors below) and plenty of parks and play areas around Napier – you'll find a handy list of playgrounds here.
Every Sunday the Hawke's Bay Farmers' Market is held at the Showgrounds in Hastings (20 minutes from Napier). It's the longest-running farmers' market in New Zealand and one of the largest. Grab a coffee, mix with the locals and stock up on Hawke's Bay fruit and vegetables, cheeses and sauces while the kids take their time choosing something to spend a couple of dollars on from the sweets and treats.
Beach life
You're spoilt for choice when it comes to beaches, whether you're swimming in summer or want to blow away the cobwebs with a winter walk. Ahuriri Beach in Napier is perfect for families and has the bonus of a playground and cafés close by, while many locals head 45 minutes south of the city to the golden sands of Waimarama where you can swim and collect pipi (small shellfish) at low tide.
Waipatiki Beach is 40 minutes north of Napier and has fantastic swimming and a fresh water stream that little ones will enjoy exploring. There's also a holiday park that overlooks the beach and has powered sites for motorhomes.
(Note: Marine Parade Beach in Napier isn't suitable for swimming as it can have large unpredictable waves and you'll see warning signs for this.)
Go by bike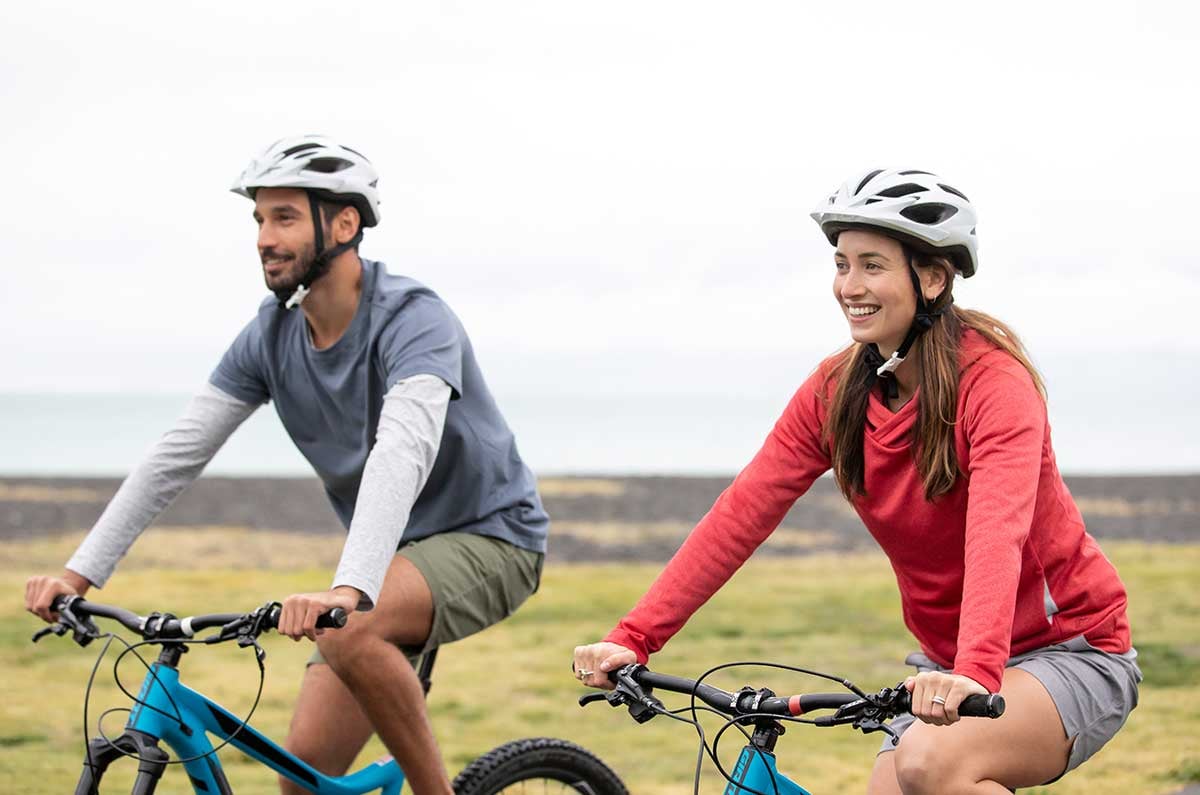 Credit: Graeme Murray
Napier and the surrounding area are relatively flat, so ideal for cycling. The Hawke's Bay Trails are 200km of bike trails around the region that connect wineries, artisan producers, scenic stops and wildlife areas and have options for all ages and abilities. You can download the trail map here. Mountain bikers needn't worry – there are hills too and a range of mountain biking options for all levels. Te Mata Park (around 30 minutes from Napier) has mountain biking trails from Grade 2 (easy) to 6 (extreme). Little cyclists will love the Napier Junior Bike Track on Marine Parade, which is a replica road system complete with traffic lights, roundabouts and road signs. It's for kids up to 10 years old, and there's coffee and an ice cream shop nearby.
Further down is the Napier Pump Track – 500 metres of rollers, berms and jumps that more confident riders will have great fun on. There's also parking for freedom camping near here on the seafront.
Walks, waterfalls and more

Credit: Gary Lisbon
There are plenty of walks to choose from, whether you want a short stroll or a full day hike, but a must-do is a visit to the top of the iconic Te Mata Peak. This spectacular range has 360 degree views of Hawke's Bay and is well worth the climb. It's part of Te Mata Park and the maps and tracks link here gives you a choice of tracks and highlights the points of interest along the way. (If the walk is too much then you can drive up to the top as well, but be aware the road is steep and tight in places.)
There are some beautiful waterfalls around Hawke's Bay, and one of the best is Maraetotara Falls, which has a gorgeous swimming hole at its base. Head 40 minutes south of Napier to Maraetotara Road and you'll find the waterfall just 10 minutes from the carpark.
Keen golfers won't want to miss the experience of a round at Cape Kidnappers. This clifftop course has incredible views across Hawke's Bay and ranks in the Top 100 golf courses in the world. It's part of a luxury lodge property but is open to the public for bookings.
There's also a large gannet colony at Cape Kidnappers that you can view on a tour from September through to the end of April when these seabirds are nesting and breeding.
Perfect pictures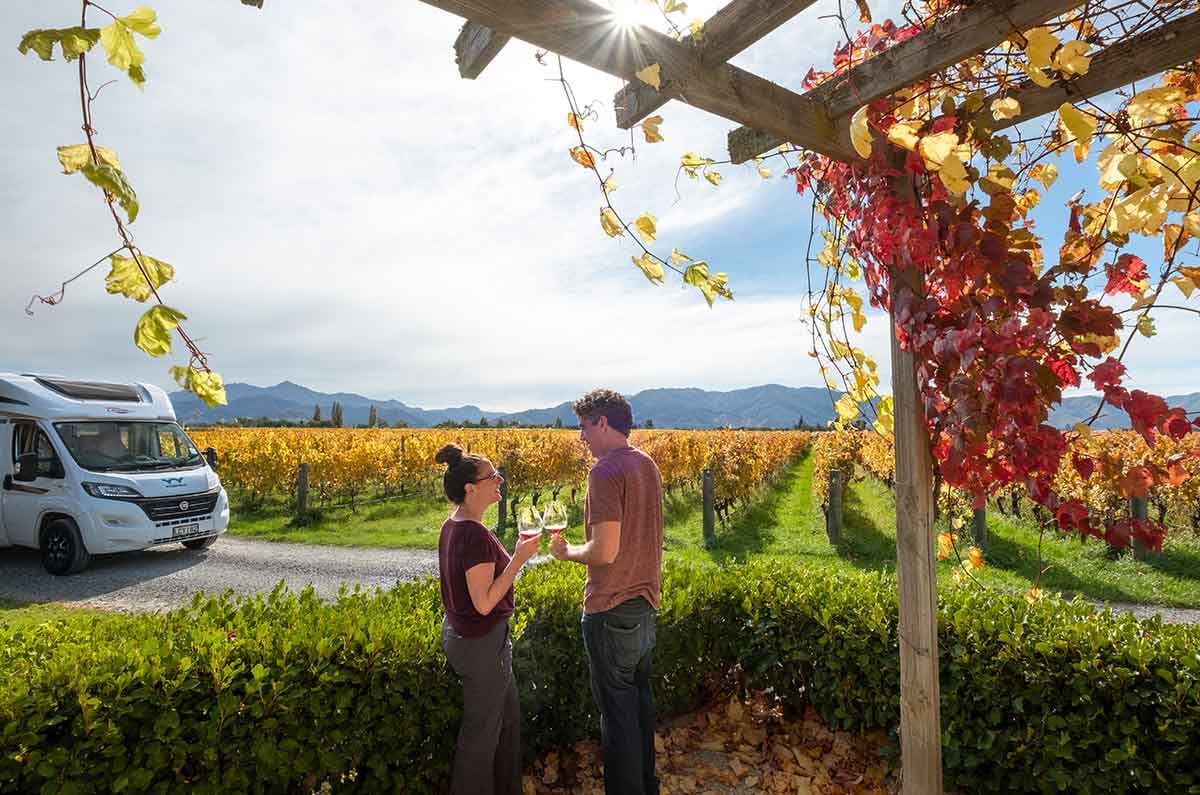 You'll find magical #nofilter moments at every turn in Hawke's Bay. Here are some ideas to get you started:
Pastel-toned Art Deco buildings – you'll spot them in central Napier and nearby Ahuriri
Te Mata Peak at sunset – pack a picnic and make the most of the views
Pania of the Reef – this figure of Maori mythology has her famous statue on the seafront on Marine Parade
Vineyards – they're everywhere and beautiful at any time of the year
The cliffs of Cape Kidnappers – you can see this imposing headland that juts into the Pacific Ocean from Marine Parade in Napier. It's especially pretty at sunset when the pale cliffs turn dusky shades of orange and pink.
Where to stay
There are freedom camping sites around Napier where you can stay in your motorhome overnight and they all have sea views! Spaces are limited so you'll need to get there early to secure your site.
The Napier City Council has useful information here about where you can and can't stay overnight and where you'll find dump stations.
There is also a range of holiday parks and campgrounds with powered sites in and around Napier if you need to recharge your batteries. Kennedy Park Resort is a few minutes' drive from central Napier and has all the amenities you could need including playgrounds, two swimming pools, barbecues and an on-site restaurant and bar. Napier Beach Kiwi Holiday Park is a short drive (9km) north of Napier and is next to the beach with an on-site café and playground.
There are also campgrounds and holidays parks further afield throughout the region and you can find more details here on what's available or ask at the Napier iSite on Marine Parade.
Useful websites: