Location: East coast of the South Island of New Zealand. Christchurch is the largest city in the surrounding region of Canterbury. Set in a region of lush plains and edged with snow-capped mountains, Christchurch is a city honouring its past and building its future. After two earthquakes (one in late 2010 and a much more significant one in early 2011) the inner city has been revitalized with new developments and businesses, and many original attractions continue to draw tourists keen to support the region. Christchurch is a modern city with discoveries around every corner, and it offers something for everyone, from scenic landscapes to local history.
Family and kid-friendly
A Christchurch Tram City Tour on a classic heritage tram is the ideal way to see the city sights. Your day-long ticket lets you hop on and off as you please. If you're arriving at Christchurch International Airport, you might see one of the specialist aircraft getting ready to head to Antarctica, as Christchurch is one of five gateway cities to the ice. You can find out more at The International Antarctic Centre, just next door to the airport's main terminal. It's a fun, interactive way to discover more about life in Antarctica. You can experience an Antarctic storm, hang out with Little Blue Penguins, and try a Hagglund ride!
Orana Wildlife Park is New Zealand's only open-range zoo, about 15 minutes from Christchurch Airport. It is renowned internationally for its breeding programme work with endangered and native species. The Lion Encounter at Orana is a must-do – it's a unique up-close experience that you won't want to miss. You can also hand-feed giraffes and see New Zealand's only gorillas and orangutans. A great option for older kids.
Willowbank Wildlife Park is ideal for smaller children and offers farmyard feeding and donkey rides alongside its displays of native and exotic birds (including Kiwi), ring-tailed lemurs, kunekune pigs and wallabies. It is also home to Ko Tane Living Maori Village, the only Maori cultural performance and hangi experience in the South Island. Bigger kids will love the new Christchurch Adventure Park, which offers mountain biking and ziplining with incredible views of the Port Hills.
Further afield, you could head to the settlement of Akaroa on Banks Peninsula and book a trip out onto the harbor for some Hector's Dolphin spotting. Or drive to Castle Hill for a picnic, where the kids will spend ages exploring the ancient limestone formations that dot the landscape, around 1 ½ hours from central Christchurch.
Special interest
Transport buffs will love the Air Force Museum of New Zealand and its displays of vintage aircraft and special collections of military and aviation memorabilia.
Ferrymead Heritage Park offers a glimpse of what life was like for Christchurch's early residents in the 1900s. It features an Edwardian township and a variety of historic displays. There are also tram rides and a steam train running on the second Sunday of the month.
Christchurch is known as The Garden City, and keen gardeners are in for a treat. Here you'll find a round-up of some beautiful gardens to visit around Christchurch and Canterbury.
Food and wine
There is a diverse range of bars and restaurants throughout Christchurch (some of the best are tucked away in fairy-lit laneways!). You can choose from kid-friendly to bistro, or cocktails and shared plates. The local tourism website has a great round-up of eateries and bars, while the Neat Places website has the latest and most interesting spots to try.
Wine lovers will want to head to Waipara, north of Christchurch, to explore one of New Zealand's lesser-known (but highly regarded) wine regions. You can download the North Canterbury Food & Wine Trail to ensure you see all the best bits. There is also a Selwyn Food & Wine trail covering the region east of the city. And if you fancy stocking up on some delicious local treats then the Christchurch Farmers Market is held every Saturday morning.
For romance
Punt on the Avon River in the central city, then head to a nearby café for a warming coffee or hot chocolate (note – punt rides are shared, but 45 minute private trips are available to book).
Head up into the Port Hills for a picnic with panoramic views of the city and the Southern Alps. It's the perfect spot to sit together and watch the world go by. You could get even higher on the Christchurch Gondola, which offers spectacular 360° views of the city, over the Canterbury Plains and beyond to the Southern Alps and hills of Banks Peninsula.
Spend a day exploring the French township of Akaroa, around 90 minutes east of Christchurch on Banks Peninsula. There are little boutique stores and craft galleries, along with cafes and restaurants full of local food and wine. Or you could head 90 minutes north of Christchurch for a relaxing and indulgent day at Hanmer Springs Thermal Pools. Soak in the pools, book a spa treatment or try the waterslide together!
Shopping and culture
Boutiques, homewares and local designer stores have popped up around central Christchurch in recent times. The website Neat Places has the latest in what's happening in food, drinks, shopping, art and culture.
For art lovers, the Christchurch Art Gallery has a constantly changing array of New Zealand and international artists exhibiting their work.
Most instagrammable
The local tourism body has rounded up its top 10 most Instagrammable spots from the city. These will get you started and you'll no doubt find your own!
Walking and hiking
There is a range of walks in and around Christchurch and the wider Canterbury region. You can choose from shorter forest and bush walks within central Christchurch, to longer scenic coastal or hill walks. You'll find a great round-up of short walks and longer hikes as well as a guide to the difficulty of tracks on the website walkcanterbury.com.
Understanding the quakes
If you want to find out more about the Christchurch earthquakes there are several spots in the central city to visit. Quake City at Canterbury Museum is an ongoing exhibition that gives an insight into the two events and their effects on the region and its people, as well as providing an update on the rebuild.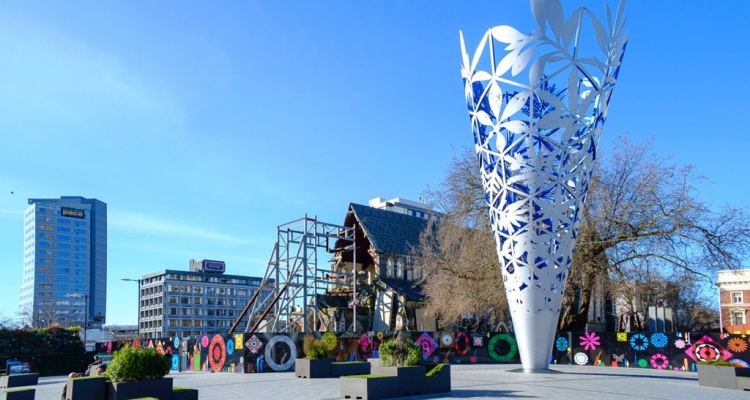 The ruins of Christchurch Cathedral in the central city have become a symbol of the city's resilience, and give an idea of the force of the February 2011 event. The ruins are visible, although the site itself is boarded off. The building's future had been uncertain but a decision to restore it was made in 2017.
If you'd like to stop and reflect then the Canterbury Earthquake National Memorial (opened in February 2017) is a beautiful spot on the Avon River to sit and contemplate. The 185 Empty Chairs Tribute on the corner of Cashel and Madras Streets is also a simple but moving tribute to the 185 people who lost their lives in 2011.
Where to stay
In a Wilderness motorhome, you can choose to book at holiday parks with powered sites and dump stations, or you can 'freedom camp'. This is because your motorhome is certified as fully self-contained (with toilet, wastewater and rubbish facilities on board) so you can camp overnight for free on land administered by the Council across Christchurch and Banks Peninsula, and on some public conservation land.
Freedom camping is prohibited in town centres, some residential settlements and on Council parks and reserves, so check for signs.
Sites on public conservation land are administered by the Department of Conservation (DOC). There are more than twenty DOC sites in the region suitable for motorhome access and which offer everything from native bush settings to stunning waterfalls and sea views. You can search on the DOC website to find a spot that suits you. You can also download the Campable app which allows motorhome travellers to stay at private properties around the country, getting up close to Kiwi life, and also lists free and paid camping location in New Zealand as well as LPG stations, dump sites and i-SITE locations.
Useful websites
Christchurch and Canterbury tourism:

Christchurchnz.com

The worst of the road damage since the quake has been repaired, but if you want to check any route you're planning to take, the

NZ Transport Authority

has a useful updates page.