New Zealand is famous for its scenery (and for good reason!), but it's also full of delicious things to discover. You'll find food markets, artisan producers, wineries, breweries and a wide of range of dining experiences from food trucks to five star restaurants wherever your Wilderness adventure takes you.
Whether you're a cheese lover, want to try the latest cocktail bar, or fancy sipping a glass of our world-famous Marlborough Sauvignon Blanc while admiring the view of the vines, you'll find something to satisfy your appetite.
(Just remember to never drink and drive. New Zealand has very strict drink driving laws, so always make sure your driver is not drinking, or leave your motorhome at your overnight parking spot and join a day tour when exploring.)
So, get your taste buds ready – here are 20 of the best food and drink experiences around New Zealand (in no particular order).
Crayfish from Nin's Bin – Kaikoura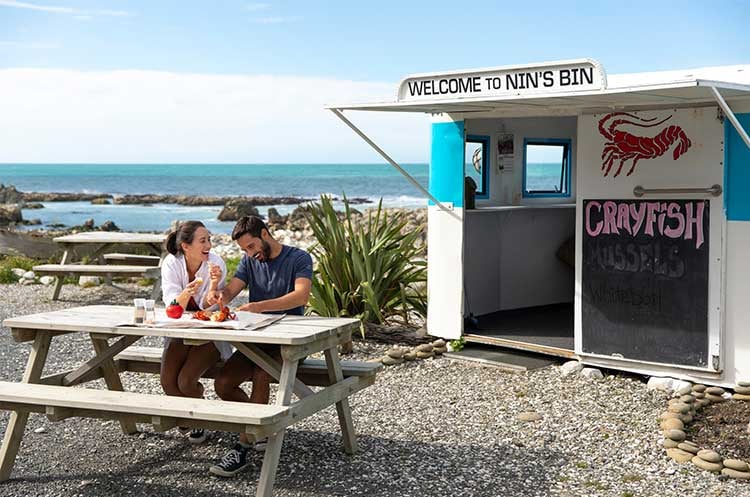 Credit: Graeme Murray
This caravan selling freshly caught crayfish ranked #7 out of 500 global experiences in the Lonely Planet Ultimate Eatlist, so you don't want to miss it if you're visiting Kaikoura over summer. Nin's Bin has been a popular stop for tourists and locals since the 1970s. It may not look flash, but the crayfish is out of this world. The season usually runs from November to April – check their facebook page for updates.
A foodie walking tour – Wellington
New Zealand's capital is a foodie's dream, with artisan producers, cafés, breweries, cocktail bars and restaurants at every turn. The city has a reputation for having the best coffee in the country (it's common to smell beans roasting as you explore the streets) as well as being the hub of the local craft beer movement, so you'll find plenty of specialty beer bars and taprooms to tempt you. Wellington's CBD is compact and easily walkable so join one of the tours that will show you the highlights or check WellingtonNZ.com for the latest openings.
Hannahs Laneway – Wellington
If you're only in Wellington for a short time, then head straight to Hannahs Laneway in the central city (between Leeds and Eva Streets) for a taste of the food and drink culture. This little lane is home to some of New Zealand's top artisan producers like Fix & Fogg Peanut Butter, The Wellington Chocolate Company and brew bar Fortune Favours, among others.
Local markets
You'll find markets all over New Zealand – they're usually held on a weekend and are great places to see a real slice of Kiwi life. Ask at the local i-Site (visitor information centre) to find out where the nearest market is taking place. Some are certified Farmers' Markets, meaning everything is grown and produced locally. You'll find fresh fruit and vegetables (often much cheaper than those in shops) along with cheeses, sauces and sometimes even wine and beer. Grab a coffee made with locally roasted beans and spend the morning browsing the stalls. Here's a map of the Farmers' Markets around New Zealand.
Green-lipped mussels
Seafood fans should try New Zealand's famous green-lipped mussels (also known as green shell mussels). These large, juicy mussels are found only in New Zealand and although they can be gathered from the wild they're mainly farmed. You'll find them on many restaurant menus, or you can buy them from a fishmonger or supermarket (they're sold live from tanks in the seafood section) to cook yourself. Find out more about mussels here, including recipe ideas.
Ice cream at Giapo – Auckland CBD
Get your camera ready – this is an ice cream experience you'll never forget. Giapo's in downtown Auckland is a boutique ice cream parlour that's a must-visit for all ages. Chef Gianpaolo Grazioli creates astounding flavours (and shapes!) with his ice creams. There's even one shaped like Auckland's Sky Tower!
The NZ Whisky Collection – Oamaru
There's a strong Scottish heritage in New Zealand's south, and after one of the country's last whisky distilleries closed down in 1997, a clever group of chaps bought up the stock and created The NZ Whisky Collection. You can visit their new cellar door in historic Oamaru (on the road south between Christchurch and Dunedin), a town famed for its beautiful architecture.
Kiwi craft beer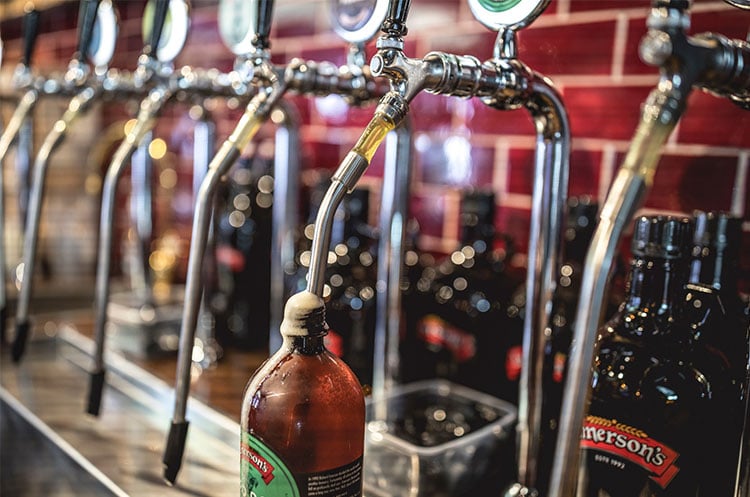 Credit: Miles Holden
Craft beer (beer that is produced locally in relatively small quantities) has boomed in New Zealand in recent years. In fact, New Zealand has one of the highest rates of craft breweries per capita in the world, so you'll find plenty to sample on your Wilderness adventure. Beer geeks will want to try brews made with New Zealand's famous Sauvin hops, while others can enjoy everything from classic Pilsners and IPAs to weird and wonderful concoctions, like beers brewed with chocolate, berries and even tea! Check out the new NZ Ale Trail at nzaletrail.com for details of what's nearby, but some of the must-visits include Hallertau (Auckland), Sunshine Brewing (Gisborne), Garage Project (Wellington), Sprig & Fern (Nelson) and Emerson's (Dunedin). If you can't make it to a brewery, then check the beer fridges at supermarkets as these are usually crammed with local beers.
World-famous wine
New Zealand's wine regions stretch from sub-tropical Northland to Central Otago in the south and are home to some of the best wines in the world – including the famous Marlborough Sauvignon Blanc. Nearly all wineries have cellar doors that you can visit for wine tasting and many have restaurants or cafés attached too. Joining a tour is a great idea if you'd like to see the highlights without having to drive yourself around and you'll find info on these at the local visitor information centres in each region, or online.
Handy tip: One of New Zealand's top wineries is just a few minutes from Wilderness' Auckland base – stop at Villa Maria Estate to see the vineyard, cellar door and winery café at the beginning or end of your trip!
Waiheke winery lunch – Waiheke Island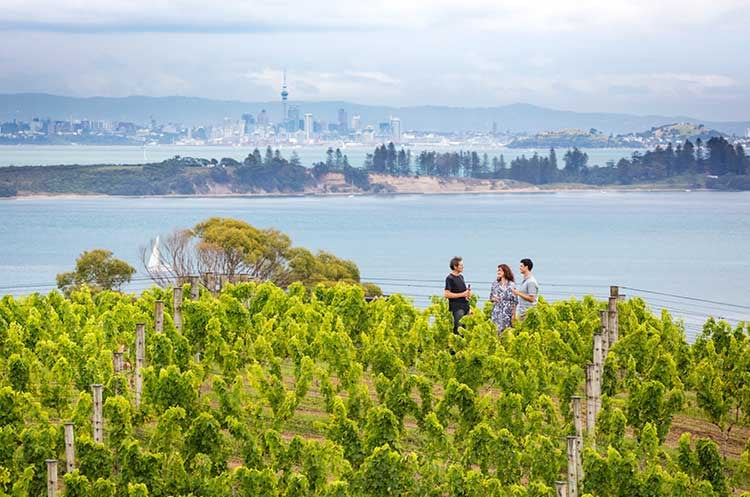 Credit: Miles Holden
Beautiful Waiheke Island is just over an hour by ferry from Auckland and feels like a world away. Its rolling hills are dotted with vineyards, with red wines a specialty. You can take your motorhome over or take the passenger ferry (both depart from downtown Auckland). Waiheke is home to wonderful restaurants and wineries, many with incredible sea views. Top picks include: Cable Bay, Mudbrick Restaurant and Vineyard, The Oyster Inn, Stonyridge Vineyard, and Poderi Crisci.
Maori hangi – Rotorua
A hangi (pronounced HUNG-ee) is a traditional Maori meal of steamed seafood/meat and vegetables, prepared in a pit oven dug into the earth and covered over. You can experience a hangi at Tamaki Maori Village or try a hangi with a difference at Te Puia, where you can watch as the food is encased in a woven flax basket and lowered into one of the boiling hot pools to cook.
Hiakai Restaurant – Wellington
If you want to see a more modern side of Maori cuisine, then make a booking at chef Monique Fiso's 30-seat restaurant in central Wellington. At Hiakai (which means "hungry" in Maori) you choose from one of three set menus that use indigenous ingredients to explore Maori history and culture. Since opening in 2016, Hiakai has been named one of 'The World's 100 Greatest Places of 2019' by Time magazine and one of the '10 Coolest Places to Eat in 2020' by Forbes magazine.
Fish and chips on the beach
If you're near a beach anywhere in New Zealand, chances are there is a shop nearby selling deep-fried fish and chips. You can usually choose which kind of fish you'd like (this will vary depending on where you are in the country) and whether you'd like it battered or crumbed. It'll come wrapped in paper, sometimes with lemon wedges inside, and you'll want tomato sauce to go with it. For a really Kiwi experience, buy some cans of L&P (a Kiwi soft drink) from the shop fridge. Then head straight to the beach, sit on the sand and unwrap your feast. It doesn't get much more Kiwi than this. (Just look out for scavenging seagulls.)
Tip: The fish and chips from the Mangonui Fish Shop in Northland are widely regarded as the best in New Zealand, so be sure to try them if you're up that way!
People watching at the Viaduct – Auckland
The Viaduct precinct in downtown Auckland is lined with great restaurants and bars that overlook the water. Grab a table and watch the yachts and multi-million dollar launches come and go.
Fleur's Place – Moeraki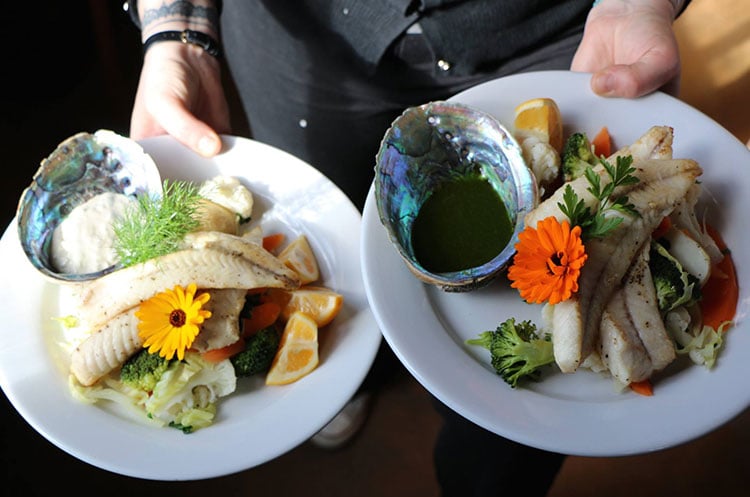 Credit: Fleurs Place Facebook
This rustic looking restaurant in Moeraki, on the east coast of the South Island, around four hours south of Christchurch, has become world famous for its seafood. When UK chef Rick Stein was given the choice of flying anywhere in the world to eat, he chose Fleur's Place. If you love the idea of seafood fresh off fishing boats that you can see from the restaurant window, then this is the place for you. Just be sure to book ahead! The restaurant is also just a short drive from the famous Moeraki Boulders – a group of spherical "stones" that are one of New Zealand's most famous landmarks.
Cooking class – Muriwai Beach
Spend a day with one of New Zealand's top chefs at a cooking class just minutes from the beautiful black sands of Muriwai Beach, 45 minutes northwest of Auckland's CBD. Chef Michael van de Elzen and his wife Belinda have opened the Good From Scratch cookery school on their farm property, where you pick the produce from their kitchen garden, learn to cook it and then enjoy a meal with fellow foodies. Afterwards, you can drive down to the beach and take a stroll, or stay at the Muriwai Beach Campground and go to sleep to the sound of the surf.
Night Market – Rotorua
If you're in Rotorua on a Thursday then don't miss the Night Market, which runs every week from 5pm to 9pm (weather permitting) in Tutanekai Street and is full of food trucks and street vendors. It's a great way to try lots of different cuisines from around the world and pick up a few treats for the campervan fridge.
Find a festival
Summer time is 'peak festival' in New Zealand, with a huge range of food, wine and beer events all around the country. Here's a guide to some of the biggest – but if you search online around your travel dates you're bound to find something to whet your appetite.
The Sugar Club – Auckland
For a night of fine dining with truly spectacular views, book a table at The Sugar Club, on the 53rd floor of Auckland's Sky Tower. This beautiful restaurant has sweeping views of the city and a menu created by internationally renowned New Zealand chef Peter Gordon. If you want to celebrate a special occasion during your New Zealand holiday, or simply want a magical night out, then this is the place.
Every meal on your Wilderness holiday!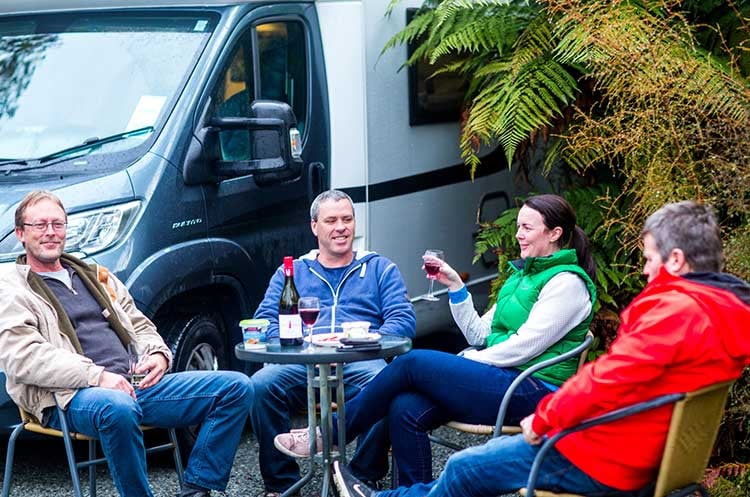 One of the best things about holidaying in a Wilderness motorhome is that you can choose a different view every time you sit down to eat. The kitchen has all you need to create delicious meals (whether you're at a powered site or freedom camping) and you can add a portable barbecue to your booking if you fancy cooking outdoors.