Part of the fun of a campervan holiday is cooking and eating in a different place every day. Preparing meals on the road isn't difficult, as modern campervans offer gas cook tops and small ovens. Plus, you can often hire a barbecue that stows easily in the garage.
New Zealand is famous for its quality meat, seafood and fresh fruit and vegetables (not to mention craft beers and internationally award-winning wines), so make the most of cooking with local ingredients while enjoying the beautiful scenery on your New Zealand campervan trip.
Food shopping in New Zealand
One of the first stops after collecting your motorhome will be to stock its fridge and pantry. Major supermarket chains Countdown, New World and Pak'n'Save are in most towns, along with smaller Fresh Choice stores. They have everything from fruit and vegetables to meat, seafood, household items, beer and wine. Be aware that as New Zealand moves towards eliminating plastic supermarket bags, you may find some supermarkets don't offer them at all. You'll need to either take reusable bags with you when you shop, or buy a few at the supermarket on your first trip and keep them on hand for future visits.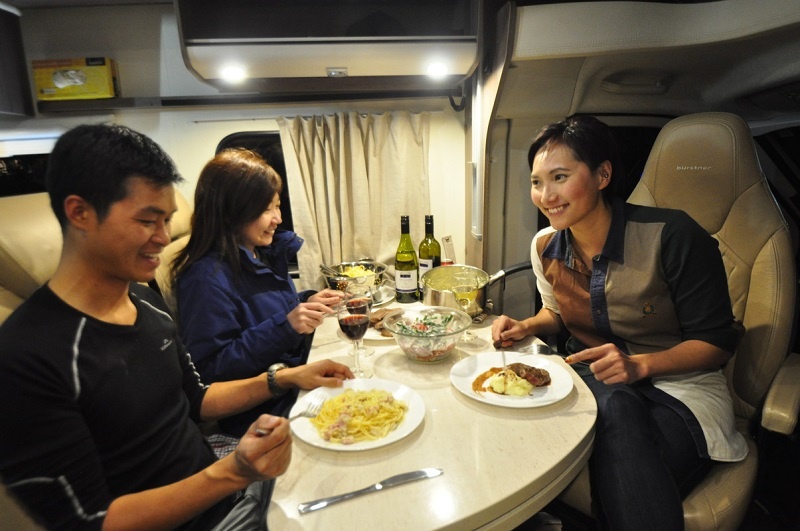 If you're visiting from overseas and looking for ingredients from your home country, then most supermarkets have an 'International' section with pantry staples from Japan, South East Asia, India, South Africa and even some brands from the UK (in case you can't live without your Branston Pickle). Auckland's multicultural population also means it has a wide range of specialty Asian supermarkets and green grocers.
Fresh fruit and vegetables are cheaper at green grocers, roadside stalls (you'll see these as you travel around the country) and at markets. Usually held in a weekend, farmers markets' are where you'll find cheap, fresh, locally grown produce (and without all the pesky packaging), along with meats, cheeses, preserves and treats plus local wines and beers. They are the perfect place to stock up and you can find one near you by looking online here. Some of the country's most popular farmers' markets include Bay of Islands Farmers' Market, Matakana Village Farmers' Market, Hawke's Bay Farmers' Market and Otago Farmers' Market.
The stallholders will be only too happy to share tips on how to prepare or cook whatever you buy – you'll be whipping up a gourmet Kiwi meal in the comfort of your motorhome (or outside on the barbecue) in next to no time!
Depending on when you travel, look out for the following seasonal goodies:
Spring – asparagus
Summer – corn on the cob, strawberries, tomatoes
Autumn – apples, pears
Winter – oranges, mandarins, grapefruit, lemons, feijoa, tamarillos
Easy meal ideas
If you're travelling with a group of friends or are a family with kids, then quick and simple is the way to go.
Season thinly sliced meat and cook quickly in a pan with some vegetable oil over high heat. Add chopped fresh vegetables and a dash of soy sauce or kecap manis and cook for a further few minutes. Add dried noodles to boiling water, drain and stir through the meat and veges.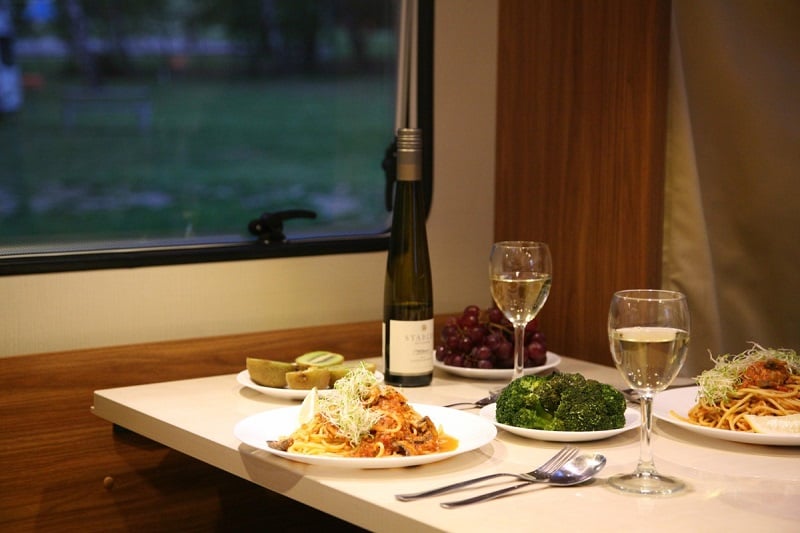 Fry a chopped onion in olive oil until softened. Add garlic and mince and fry until browned. Then either add a tin of store bought pasta sauce, or add tinned chopped tomatoes, tomato paste, dried Italian herbs and a dash of Worcestershire sauce, stir through and leave to simmer for 20-30 minutes. Add pasta to a pot of salted boiling water and cook for 7-9 minutes.
Season thinly sliced chicken breast and fry in a pan. Place on a wrap or tuck into a pita bread pocket with lettuce, tomato, capsicum, grated carrot and top with sour cream and grated cheese.
A hot cooked chicken bought from the supermarket (you'll find them in the deli section) is ideal served with a salad and mashed potatoes.
In the oven
Ovens in campervans might not be huge, but are still big enough to create delicious meals.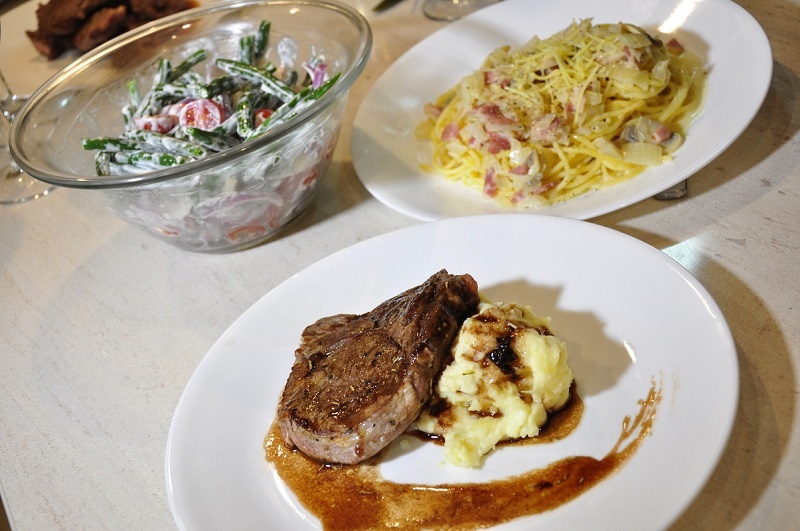 Pan fry or barbecue seasoned steaks and use the oven to cook frozen chips or roast partially boiled potatoes until crispy. Serve with a crisp green salad.
New Zealand is famous for its lamb and you'll find a range of cuts at the supermarket or butcher. For something a bit special, choose lamb racks and rub with olive oil then season all over. Stand them in a roasting dish and roast at 180°C until still pink in the middle. Serve on a bed of couscous with a crisp green salad and a glass of New Zealand Pinot Noir.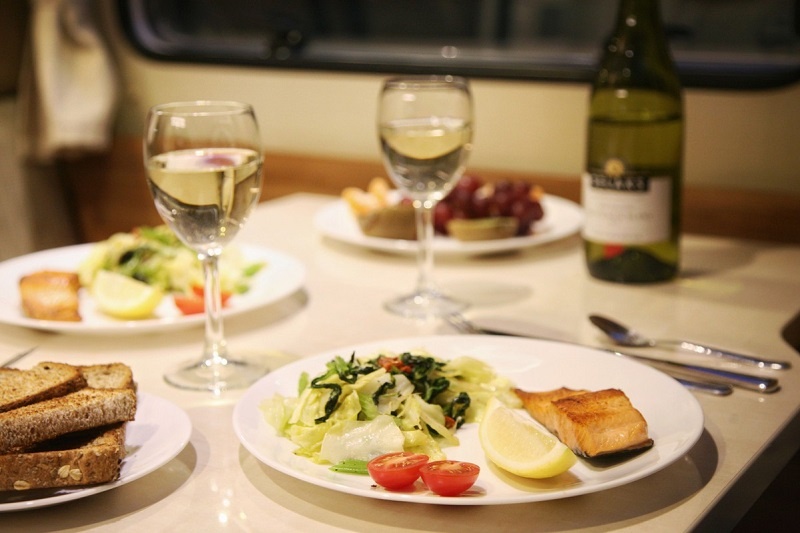 Place fish fillets on a piece of foil. Drizzle with a little olive oil or butter and season with salt. Add 2-3 slices of lemon on top. Fold the foil into a parcel and place on a baking tray. Bake at 180°C for 15-20 mins or until the fish flakes apart. Add a salad, boiled new potatoes or couscous and you're set!
On the barbecue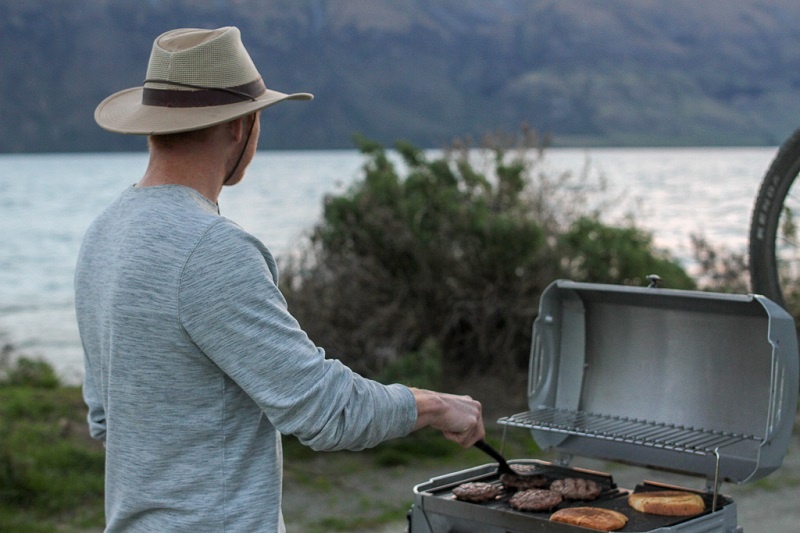 If you're travelling in summer then a barbecue is fantastic to have on hand. You can either hire one from your motorhome rental company, or most campgrounds or holiday parks will have them available for use. It's a simple, no-fuss way to cook and means even less clean-up in the kitchen. Plus, there's the bonus of enjoying the scenery while you do it. Supermarkets in New Zealand make it extra easy with a range of sausages, kebabs, steaks and burger patties ready for the barbecue – just look in the chilled meat section. You can also cook fish in foil parcels this way too.
No summer barbecue is complete without corn on the cob. It's fresh, cheap, plentiful, and so easy to cook on the barbecue. Leave the green husks on and soak the corn cobs in water for 15-30 minutes. Shake the water off, then grill on the barbecue for 15-20 minutes, turning regularly.
Catch your own
If you're into fishing then there are many fishing spots around the country to try, or head out on a charter trip for some local knowledge. Get a real taste of Kiwi beach life and gather shellfish like pipi or tua tua at low tide. You'll likely see others doing the same in popular spots. Look for signs that will let you know what's available and how many of each you're allowed to take. (Toxic algae can sometimes affect shellfish, but samples are taken weekly and notification of any bio toxin warnings will also be clearly signposted at affected beaches. You can also check on the MPI website here.)
Leave the shellfish in a bucket of salt water (out of the sun) for about an hour, so they can spit any sand. Heat a pan or pot with a little oil and garlic, add the shellfish, pour in a little white wine or a splash of sea water then cover and leave to steam for a few minutes until they have opened. Discard any that are still closed, squeeze some lemon juice over the rest and enjoy!
Useful reading:
The Wilderness Guide to Food Shopping in New Zealand – Part 1
The Wilderness Guide to Food Shopping in New Zealand – Part 2
The Art of the Great Kiwi Barbie
Recipes for the Road - Simple Tasty Cooking in a Motorhome