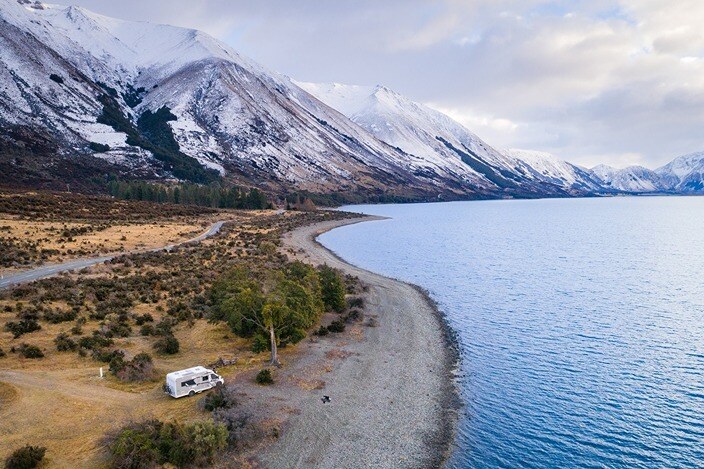 Traveling by campervan is one of the best ways to see New Zealand – you can travel at your own pace, get off the beaten track and take time to enjoy the spectacular scenery for which this country is famous.

Freedom camping (also called wild camping) means staying overnight on public land that isn't a campground or holiday park. This type of camping is popular with locals and visitors who enjoy staying in unique locations, falling asleep far from the holiday park crowds and waking up to beautiful scenery.

While freedom camping is permitted in New Zealand, there are regulations and these are strictly enforced in many areas. In this article, you'll find all there is to know about freedom camping in New Zealand and how to do it responsibly.
If you're short on time, you can click a link below to jump to the section relevant to your right now:

What is freedom camping?
Freedom camping is camping in a tent, campervan or other type of vehicle on public land with minimal or no facilities like toilets. Most freedom camping on public land is limited to vehicles which are certified self contained. However, you can stay in some basic campsites on conservation land and council land if your vehicle is not certified self contained because these have facilities such as toilets. If you want to stay in any other freedom camping site you must check that freedom camping is not prohibited and have a vehicle that is certified self contained.



What is self-contained certification?
A self-contained vehicle is one that meets the motorhome and caravan self-containment certification standard. The vehicle can be lived in for three days without getting more water or dumping waste. This will allow you to stay in an area with no services because you have all the required facilities to be self-sufficient (a toilet, fresh water storage, wastewater storage and a rubbish bin with a lid) onboard. Self contained certification (CSC) must be issued by a qualified compliance officer. Vehicles that are CSC compliant must display a compliance sticker and carry the certificate of compliance in case a compliance officer requests to view it. All Wilderness campervans and motorhomes are certified self-contained which means they meet the standards for having a low impact on the environment.


Is freedom camping still allowed?
While there are fewer places where freedom camping is permitted than were a few years ago, freedom camping is still allowed but under strict conditions. Over the past ten years, the huge growth in the number of visitors freedom camping has put significant pressure on the environment. A few irresponsible campers have left a bad impression about campervanning with the locals in some parts of the country. The culprits are usually people in cars or budget vans with no toilet or water storage facilities.

Freedom camping is regulated under the Freedom Camping Act 2011. The legislation gives local authorities the ability to prohibit freedom camping in specific areas and enforce the bans. Under the Freedom Camping Act 2011, you are liable for a NZ$200 instant fine (or up to $10,000 depending on the severity of the offence) if you (a) camp in an area where freedom camping is not permitted; (b) breach any restrictions at the area; (c) damage the area; (d) dispose of your waste inappropriately; or (e) refuse to move on if asked to by an enforcement officer. On the other hand, local authorities can't impose blanket bans – that is, they have to specify areas where freedom camping is not permitted. People travelling in certified self-contained vehicles still have the right to camp in all areas unless it's specifically restricted under a council bylaw or Department of Conservation notice. Look out for the round sign containing a tent and campervan with a red line through it – they mark the spots you should avoid.

The law aims to balance our right to freedom camp with the need to protect the environment. Since it's New Zealand's pristine landscapes that make it such a compelling destination to visit, it's in all our interests to protect that.

If you're keen to try freedom camping (and we certainly recommend it), it's important to understand your responsibilities (other than abiding by the law) so that you care for New Zealand's precious natural environment and treasures. This is called the Tiaki Promise. The Tiaki Promise is a commitment made by every person who lives and travels in New Zealand to care for this country and preserve it for future generations. The promise is founded on the principle of Kaitiakitanga or guardianship which underpins sustainable management of our landscape for current and future generations. We strongly encourage you to understand the Tiaki Promise and make the commitment before you freedom camp in New Zealand.


Where can I freedom camp in NZ?
Once you understand your rights and responsibilities, you need to find out information about where you can go to freedom camp. New Zealand has a huge range of freedom camping spots, many of which are beachside, by lakes or native bush, or with spectacular mountain views, while others are in towns and cities. Some of the places that are free to camp might be next to busy roads or in council car parks. Just driving up to a public reserve and looking out for a 'no freedom camping sign' isn't enough. Not all public land will have a sign stating freedom camping is prohibited even though it is.

Freedom camping is permitted on public conservation land (owned by the Department of Conservation or DOC) and council land (owned by local authorities). Freedom camping on DOC land is generally permitted but with some exceptions. You cannot camp at a DOC reserve unless a sign allows it. Read more about freedom camping on DOC land. DOC also has an extensive array of campsites with amenities which are perfect for campervans and motorhomes. The most basic DOC campgrounds are free, with fees increasing according to the services available (for example, the water supply may just be a stream).

Freedom camping on council land is controlled by New Zealand's 78 local authorities - many of which have camping bylaws. These bylaws detail where camping is restricted and prohibited, at what time of year you can camp, how many nights you can stay at a particular place among other things. Some camping areas are only open during the summer. While council websites will give you the most up to date information on how freedom camping works in the specific area that you're planning to visit, trolling through the numerous websites can be time consuming.

Alternatively, you can find information on freedom camping sites on a camping app such as Rankers,Campermate and WikiCamps. Or you can visit an i-SITE, NZ's official network of visitor information centres, in the area you are visiting.

If you're travelling with Wilderness, we recommend downloading the free Campable app from the Apple App Store or Google Play. This will give you exclusive access to some of our favourite hand-picked camping spots around New Zealand, including some that are free. It also gives you access to private properties around the country where you can stay and get up close to Kiwi life.


Are freedom camp sites free?
Freedom camping is free in many places but not all. Camping on some conservation land (DOC) is free but small fees usually apply at sites with amenities such as fresh water and toilets. Most freedom camping on local authority land is free but some require the purchase of a permit for example Gisborne District and South Waikato District. . Other local councils meet their obligation to provide freedom camping sites by providing sites near busy roads or in council car parks. While these are free, they may not be very enticing. A little research beforehand is definitely recommended to make the best of freedom camping.

The extraordinary growth in freedom camping over the past ten years has been due to the huge number of budget conscious travellers who have chosen this type of camping as an alternative to paying for a place to stay. Freedom camping has become a proxy for "free" camping for people in vehicles with limited facilities. However, it has become much harder to find places to camp for free as Kiwis have become less tolerant of the negative effects of irresponsible camping.
How Do I Choose the Right Campervan for Freedom Camping?
Renting a vehicle that is certified self-contained gives you the biggest choice of freedom camping locations as many councils will only permit freedom camping in a self contained vehicle.

A campervan doesn't have to be premium to meet the requirements for self containment but many cars and small vans in the budget end of the rental market which previously were able to be certified self contained are no longer compliant. The regulations for self-containment certification changed in 2017 so vehicles certified after 31 January 2018 have to meet a more rigorous standard. In particular, the vehicle must have a toilet that is adequately secured when travelling and it must be usable within the vehicle even when the bed is made up.

Having said that, Wilderness motorhomes are perfect for freedom camping. All our motorhomes are certified self-contained and have all the facilities and equipment you need for staying off-the-beaten track for days on end. That's why we're called Wilderness!
What facilities can I expect at a freedom camping site?
Most freedom camping sites have no amenities - you just get a flat piece of ground to park your camper on. It could be in a shopper's car park, a sports field car park, a public reserve on the edge of a town or a grassy patch on public conservation land. Sites with no amenities are usually restricted to vehicles which are certified self contained so that campers who stay there will have minimal impact on the environment. Freedom camping sites which are suitable for vehicles that are not certified self contained will usually have basic amenities such as toilets, rubbish bins and a water supply and possibly picnic tables and barbecues. Generally the more remote the site, the more limited the services - and that includes cell phone coverage. New Zealand has many areas where there is no digital coverage.

But New Zealand is also a compact country. Unless you're really determined to get as off the beaten track as you can, you're unlikely to ever be more than a few hours from an outpost of civilisation. A properly self-contained vehicle means the emphasis of your trip is on freedom rather than free camping. You can revel in some of New Zealand's wild, beautiful places – and replenish your spirit – all in the comfort of your fully equipped campervan or motorhome. Don't be put off by having to top up water or empty the toilet – it's clean, quick and easy, will only need to be done every few days and is well worth the freedom a campervan holiday brings.
How do you freedom camp in New Zealand?
If you're planning on a freedom camping adventure in New Zealand, it's important to choose the right vehicle, understand your responsibilities, know where you can and cannot camp, and be aware of how to camp in a way that is both enjoyable and responsible. That way you can be part of preserving New Zealand's precious natural environment for current and future generations. Read more about planning your freedom camping trip.

We are travellers too, which is why we have lots of information to share from personal experiences of wild camping. Get in touch to learn about how we can help you plan your upcoming trip to New Zealand.