It's arguably never been more important to disconnect occasionally from the hectic business of modern life and revive our creativity, happiness and productivity by immersing ourselves in the great outdoors.
Photo:Freedom Camping at Opito Bay, Coromandel #wildernessnz explorer Matt Hardy
Study after study confirms the restorative power of nature and there can be few better ways than to claim a secluded piece of New Zealand landscape for a night or 2.

Freedom camping can be a blissful experience and we're lucky enough to have a country where it's still possible to pull off the road and find a welcoming haven at little or no cost.
Wilderness vehicles are fully kitted out to encourage freedom camping; we wouldn't call it compulsory but we know it's the ultimate way to experience those corners of New Zealand that still feel undiscovered.
That doesn't mean it's okay to simply park a motorhome anywhere and stay overnight.
Travellers are required to respect the environment and to be sure freedom camping is permitted.
There have been a few abusers of this privilege, resulting in new rules to help local authorities manage camping.
The rules vary depending on where you are and you risk an instant $200 fine (or worse) if you chose to ignore 'No Camping' signs.
How Do I Find Places to Freedom Camp?
Wilderness campers often ask us for advice about where to camp.
We've noticed they tend to be a bit more adventurous than the average traveller - which got us thinking about how to get the very best out of a Kiwi road trip.
So we asked award-winning travel writer Scott Cook to compile his favourites into an exclusive guide, the WilderNessts Camping Directory, to point you to over a hundred fantastic sites, many of them offering freedom camping.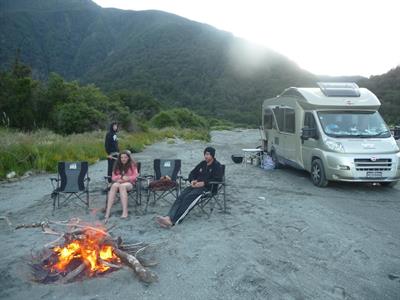 Wildernessst DD6 Haast Pass - Credit: The Johnson Family
Every WilderNesst in the guide is noteworthy for being off the beaten track, especially scenic or remarkable in its own particular way.
The Wildernessts Directory is a strictly limited edition – to ensure some of the peaceful spots stay that way – and is only available to Wilderness travellers.
We also recommend downloading the free customised Wilderness app from Apple iTunes or Google Play, a super handy tool to help you find not only campsites but fuel stops, supermarkets, dump stations, points of interest and all sorts of handy stuff.
Another place to look for sites is with the Camping Our Way website, a guide not only to where you're allowed to wild camp but also to Kaitiakitanga, the principles of guardianship originated by New Zealand's indigenous Maori people that underline sustainable management of our landscape for current and future generations.
Other freedom camping guides include:
I Respect New Zealand, a comprehensive map showing commercial and wild camping sites and an accompanying smartphone app
iSites – NZ's network of local information centres
Department of Conservation (DoC) website and visitor centres
If you're in doubt about overnighting in a given location, please ask. Remember your actions affect all those who hope to follow.

Wildernesst at Anatori Beach, Photo from the Johnson Family
Is It Really Free?
Yup, in many places it is – but not always.
However any fees are modest. For example, some local authorities issue a permit that works out to just over $3 a night.
The most basic of the DoC campgrounds are free with fees increasing according to the services available (in other words, the water supply may just be a stream).
Be aware that while many are spectacular, some of the places that are free to camp are not very enticing – near busy roads or in council carparks. But they may still save you money while enroute to the more attractive sites.
A little research beforehand is definitely recommended to make the best of freedom camping.
What Do I Need to Free Camp?
For the greatest possible choice of freedom camping locations, your vehicle must be certified self-contained.
This means being able to be entirely self-sufficient for up to 3 days, particularly in terms of waste and wastewater.
Many councils will only permit freedom camping in a certified vehicle, indicated by a compliance sticker.
All Wilderness vehicles are fully certified for wild camping; able to meet the sanitary needs of the occupants with appropriate water and holding tanks - with an added level of off-road creature comforts for cooking and relaxing once you've settled in.
Through our Wilderness Environmental Care Code, we encourage travellers to join us in respecting the landscape.
A few of the do's and don'ts for freedom campers:
Never use the bush or waterways as a toilet
Keep detergents, soap, toothpaste etc. out of waterways
Dispose of all rubbish responsibly, or take it with you
Respect private property
Leave no trace of your visit
Use only approved dump stations for motorhome waste.
Will I Really Be Without Services?
Technically you could be freedom camping in a shopper's carpark next to malls and restaurants (though not everyone would call that 'camping'.)
On public conservation land or in parks and reserves there may be toilets, picnic tables, barbecues, rubbish bins and a water supply.
Generally the more remote the site, the more limited the services.
This also applies to WiFi and cell phone coverage. New Zealand has many areas where there is no digital coverage.
But New Zealand is also a compact country. Unless you've really sought to go deeply off road, you're unlikely to ever be more than a few hours from an outpost of civilisation.
A properly self-contained vehicle means the emphasis is all about the freedom.
Travellers can revel in some of New Zealand's wild, beautiful places – and replenish their spirit – all at no extra charge.