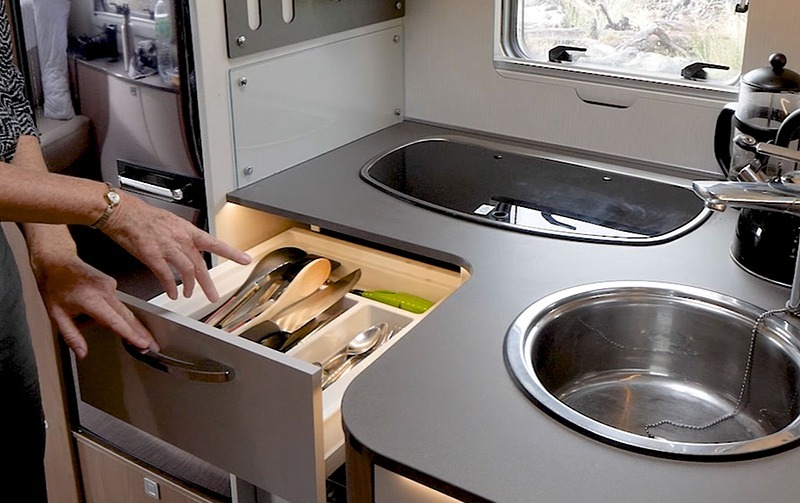 When researching a motorhome hire in NZ, you will notice that not all rental companies include the same things. Even in the premium motorhome rental space, there are big differences in terms of service, what's included, what's not and which expenses are added further in the booking process. I'm here to make it easier for you to find your best campervan rental option.

When you're looking up a motorhome rental, car or even when booking a flight ticket, I'm sure you've come across additions that increased the price you initially saw. When booking a flight, the most common add-ons are preferred seat allocation and luggage. When hiring a vehicle, it's often the insurance and one-way fee.

In this article, I'll briefly explain what makes a rental company 'premium' and what you can expect to be included in a premium motorhome home hire in NZ. I'll walk you through inclusions, exclusions, handy add-ons and possible stumbling blocks - everything that might pop up before you can hit that 'Book Now' button.


What makes a motorhome rental company 'premium'?
It's important to know that for this comparison, I only looked into the inclusions of premium motorhome rental companies. Mid-range and budget campervans usually come with less basic equipment and would need their own breakdown. For a broader rental comparison by category, click here.

So, what makes a rental company 'premium'?
These are typically premium brand motorhomes with a well thought-through layout, constructed from high-quality materials and containing everything you'd need for your holiday. It's likely these motorhomes come with hotel-quality beds for a good night's sleep. You'd also expect a powerful and economical engine to tackle those hills and great drivability for parking manoeuvres.
You should expect more attentive and personalised customer service from any premium brand. They will do their best to understand your needs and go the extra mile for you.
Condition of the motorhome
A premium motorhome experience includes a mechanically sound vehicle that is checked, maintained and thoroughly cleaned between every hire. Know that cheaper rates for motorhomes are often funded by the rental company reducing cost in areas like service, cleaning and maintenance. This affects the motorhome condition. In fact, beware of cheap deals which are often too good to be true.
Hidden costs are frustrating. A premium motorhome company is usually more transparent about costs and includes as much as possible in the base rate. That being said, a premium operator may provide you with add-ons that increase your enjoyment of the trip, for example unlimited Wifi..
Go where the road takes you. A high-end campervan hire company will have few restrictions on the roads you're allowed to drive on.
What are standard inclusions in a motorhome hire?
A premium motorhome rental means you should only have to bring your clothes, personal electronics and food. The following basics should always be included in your motorhome hire in NZ, no matter which category:
Bedding
Towels
Kitchen and cooking equipment
Charging ports and plugs
The quality of bedding and equipment you'll get depends on the motorhome rental company. Naturally, better quality comes with more premium rentals. In my experience, a good-quality mattress, linen, duvet and pillows is a key ingredient for a good night's sleep on the road.

Some of the motorhome rental companies include more items in their basics than others, confirming their premium standard. Wilderness Motorhomes, for example, include the first bottle of gas in your rental fee as well as toilet paper and toilet chemicals (these dissolve the toilet paper and prevent bad smells). In addition, you can download the NZ Frenzy travel guide e-book and get exclusive access to the Wildernessts campsites on the Campable app.

With other rental companies, these are either chargeable add-ons or unavailable.

On a side note: Most motorhomes include basic appliances like kettle, toaster and microwave. These appliances, as well as power plugs, only work when you're hooked up to power on the campsite and can't be used while freedom camping as they'd quickly drain the battery. You'll need a motorhome with a power inverter when you're freedom camping to convert the power from the 12v house battery to 240v so you can charge your devices.

Some premium motorhomes don't come with a microwave. Is that a big deal? Let's face it, a motorhome kitchen is a lot smaller than your kitchen at home, so compromises on space need to be made. That's why a bulky microwave that can only be used when the motorhome is hooked up to mains power at a campsite are often relinquished in favour of more storage space.

The DVD player is usually hooked to the 12v battery and can be used when you're not staying on a powered site. However, keep in mind that it draws power from the same battery that provides your light at night.

The stove, on the other hand, runs on gas and will always work (as long as you have enough gas in your LPG bottle.
Wilderness' Standard Inclusions
(as of August 2020)
Bedroom
Pillows and pillow cases

Sheets

Duvet

Blankets

Clothes hangers

DVD player
Kitchen
Crockery
Cutlery
Cups & glasses
Bowls
Pots & Pans
Cooking utensils
Dish cloth & brush
Tea towels
Coffee plunger
Kettle
Heater (in living area)
Dustpan & brush
Water refilling hose
Fire extinguisher
Gas bottle
Matches or lighter
Bathroom
Bath towels
Toilet paper
Toilet chemicals
Other
Complimentary airport transfers
Travel guide e-book
Exclusive access to Wildernessts via the Campable app



Liability reductions and insurance

Every motorhome hire comes with comprehensive insurance cover. This is included in your rental fee. However, like other types of insurance you will be familiar with, the insurance comes with an excess or deductible. This means you are liable up to a certain amount for any damage to the vehicle, usually up to $7500.

You can go with this insurance and you're not obligated to buy any liability reduction product. However, every motorhome (and car) rental company strongly advises you to reduce your liability for your peace of mind.

Many of these liability reduction products not only reduce your liability they also come with additional inclusions, the most important ones being coverage of windscreen and tyres.

Other nice-to-have freebies in the $0 excess liability reduction may include outdoor furniture camping chairs and table, child/booster seats, snow chains and in some cases even Road User Charges (a charge that applies to all diesel vehicles in New Zealand).
Insurance & liability reductions

Wilderness

Standard insurance included in base rate

Standard:

Liability $7500. Credit card imprint.

Liability reduction

Extra:

$39/day. Liability $950, card imprint.

Inclusive package

VIP:

$59/day. Liability $0, $250 bond, card imprint.

Includes Road User Charges, windscreen & tyre cover, undercarriage/overhead damage (accidental) cover, single vehicle rollover cover, plus extras like toll road fees, camping chairs & table, child booster/seat, portable barbeque, snow chains.

The not-so-obvious charges

This is where we separate the wheat from the chaff. With a true premium motorhome rental company, there shouldn't be any more charges to your rental fee (apart from the optional add-ons).

The not-so-obvious motorhome rental charges are added later in the booking process and are mandatory. They are added to the final cost and can increase your total rental cost quite drastically.

I'm talking about these charges, among others:
One-way fees (i.e. pick up in Auckland and drop off in Christchurch)
Additional drivers
Public holiday surcharges
Credit card fees
Location fees (where you pay to pick up at their depot)
First full gas bottle
Airport transfers (if offered)

These surcharges could easily be included in the base rate but in order to keep this rate low and attractive, they are added later on. This can be frustrating and waste your time as you might have to start looking again after realising the rental ends up being too pricey.

Credit card fees probably have the biggest impact on the end price of your motorhome rental price. Because passing these fees on to customers is not common in all countries, they might come as a surprise to you. In New Zealand, passing the credit card fees on to the customers is common practice. Just how much is charged can vary widely.


| | |
| --- | --- |
| Extra fees and surcharges (as of August 2020) | Wilderness |
| Additional drivers | included |
| Gas bottle | included |
| One Way Fee | included |
| Road User Charges | $0.07/km |
| Public holiday surcharge | included |
| Location fee (pick-up Queenstown) | NA |
| Cleaning | included |
| Preparation fee rentals less than 5 days | included |
| Credit Card fee (Mastercard, Visa) | 2.50% |
Handy add-ons

Add-ons are useful additions to your motorhome hire, for example camping chairs and table, baby seats, bike racks or ferry tickets. Not everyone needs or wants all of these additions. This is why they're not automatically included in the rental fee but can be bought as required.

For families, it's great to know that all premium motorhome rental companies supply child seats and boosters. However, only Wilderness goes the extra mile and supplies the best child safety seats in the market for the smallest campers. Older kids will appreciate unlimited in-vehicle wifi to stay connected with their friends.

The add-ons can usually be found towards the end of the booking process. Some rental companies' add-ons are things that other companies already include in their base rate, like a full bottle of gas at pick-up. The range of possible additions can vary greatly depending on the rental company.
| | |
| --- | --- |
| Useful add-ons against a fee | Wilderness |
| Baby/booster seat | ✔ |
| Camping chairs & table | ✔ |
| Unlimited Wifi | ✔ |
| Ferry tickets | ✔ |
| Portable BBQ | ✔ |
| Snow Chains | ✔ |
| Bike rack | ✔ |
| Pet fee | No pets allowed (excluding service animals) |
| Carbon offset | ✔ |

Some motorhome rental companies prefer to promote a lower rate to attract people only to add compulsory charges later in the booking process. These practices aren't necessarily bad or deceiving, it's just one business model.

Other motorhome rental companies prefer to go with a more transparent strategy with more inclusions and exclusive add-ons.

It always pays to compare the final rental price of your favourite motorhome rental company and not pay too much attention to the lead in price. Once you add transfers, all insurances and charges to your motorhome hire, the price difference between the seemingly cheaper and the premium motorhome might end up much less than you thought.