If you usually choose high end hotels and a luxury rental car on your holidays, you may be wondering if there's a similarly luxurious option for motorhome rental in New Zealand. The answer is yes. Luxury motorhomes are a great way to get off the beaten track without sacrificing creature comforts.

It can be hard to see past the advertising hype and determine which of the many rental brands offer a genuinely luxurious motorhome experience. That's why we've created this article to help you understand what makes a rental motorhome luxury. In this article we will cover what's included in a standard motorhome rental, what makes a rental motorhome luxury, what you can expect from a luxury motorhome rental provider, whether it's worth choosing a luxury motorhome and where you can hire one in New Zealand.
---
Find the perfect motorhome rental for your trip
Take our quiz to find out whether your travelling style is better suited to a budget, mid-range or premium motorhome hire for your New Zealand adventure.
---
What's included in a basic motorhome rental?
Most rental campervans and motorhomes are built with two things in mind - keeping costs low and providing a minimum standard that will keep the average renter happy. A discerning traveller will look past the basic checklist of must-haves to the elements that give you performance, comfort, ease and a feeling that you deserve to have something a bit special.

Upfront, a standard rental motorhome will have only basic safety and comfort features and will drive more like a cargo van than a car. When it comes to the internal fit out, you'll find all the basics - a kitchen with a cooktop, fridge and sink, a toilet and shower, interior storage, a dinette (or two) which converts to a bed(s) at night. Plus, it will usually have a TV/DVD player and maybe a microwave oven.

The usual bedtime drill in a standard rental motorhome is to rearrange the table and seat cushions into the bed configuration and make the bed up using the linen supplied. Since the bed doubles as lounge seating during the day, it may not be super comfortable for either relaxing or sleeping. The bathroom design is functional with a shower separated from the rest of the bathroom with a curtain. Getting water over the bathroom floor and toilet when showering is a common hazard.

Standard motorhome rentals have ample interior storage but lack exterior storage. This means that your suitcases and other bulky items need to be squeezed into cupboards usually under the seats.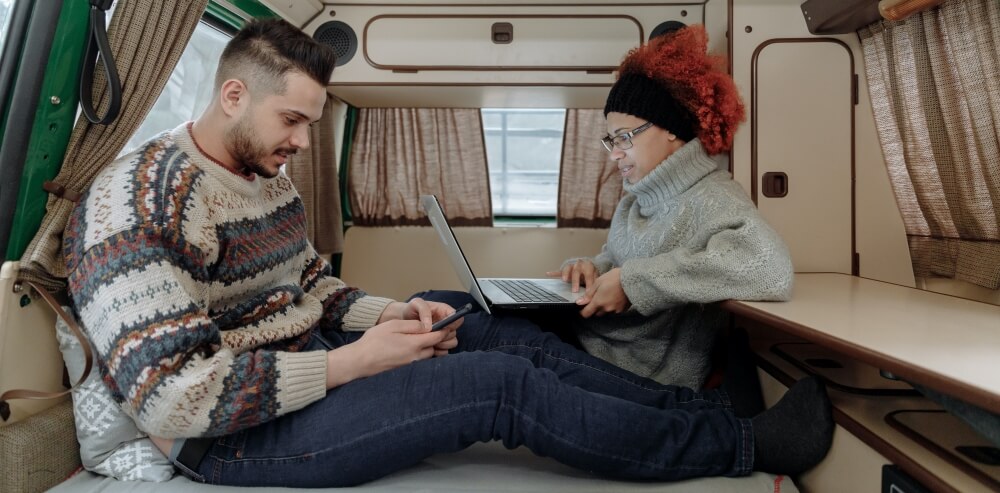 What makes a campervan luxury?
A few New Zealand motorhome rental operators specialise in luxury motorhomes - ones that are designed to be owned rather than rented. This means that they have high quality construction and a fit out designed to impress discerning motorhome buyers. There's a distinct difference between these motorhomes and a standard rental motorhome even if that motorhome is new. The features that set luxury motorhomes apart include an enjoyable drive, superior comfort, high quality fit out and innovative solutions.


1. Luxury motorhomes are enjoyable to drive

The drivability of the campervan or motorhome is not a high priority in a standard motorhome rental but it's a defining feature in a luxury one. Most begin life as a light commercial vehicle - think delivery van or truck. This base vehicle, combined with the size and weight distribution of the campervan or motorhome conversion, determines how the vehicle drives.

Most luxury motorhomes are built on either a Fiat Ducato or Mercedes Sprinter base. The Fiat Ducato has dominated the luxury market since 2007 due to work Fiat has done to optimise the performance of the Ducato as a motorhome base. Luxury motorhomes are more responsive and smooth to drive than standard rental motorhomes. The chassis is lower and wider with lower ground clearance and a modified rear track that results in better handling and makes them more stable and comfortable for passengers.

As well as an optimised chassis, luxury motorhomes also have drive enhancing features usually found in high end cars. These include cruise control, electronic stability control to keep the motorhome stable during emergency manoeuvres and hill holder technology that keep the motorhome braked when starting uphill.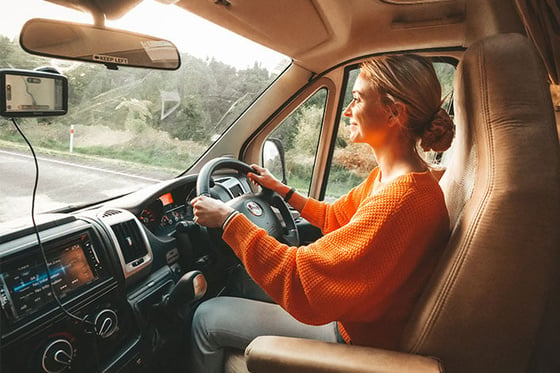 2. Luxury motorhomes are more comfortable

One of the most valued features of a luxury motorhome is the premium beds. The beds in a luxury motorhome are permanently made up so when you're ready to call it a day, there's no fussing around getting the bed set up. Some of the beds are fixed and others fold down from the ceiling. Luxury motorhome beds are designed with comfortable hotel quality mattresses for a great night's sleep. You may get a choice of several different bed configurations such as a king bed and/or twin single beds. Single beds are ideal for travelling buddies and families with kids who don't want to share. Most larger luxury motorhomes have a dedicated bedroom and may also have a door between the bedroom and living area for privacy.

Seating in a luxury motorhome is also a cut above a standard motorhome. Since these seats are not designed to be converted into a bed, they are optimised for comfort. This includes ergonomic design and high quality materials which make relaxing even more enjoyable.

Luxury motorhomes are fitted with double glazed windows and high quality insulation in the walls, floors and roof. These features keep temperatures consistent inside the motorhome by reducing heat loss resulting in more warmth in winter and coolness in summer. The heater in a luxury motorhome will be ducted ensuring that the warm air is evenly dispersed instead of blasted out.

3. Luxury motorhomes have everything you need

Luxury motorhomes have clever features you didn't even know you needed. Inside the motorhome, it's the little touches that make a difference. Luxury motorhomes are bright during the day with ample windows and clear roof hatches. Windows and hatches are protected with bug screens and blinds to keep the light and insects out. At night, the many carefully placed lights keep the habitation area well lit so you can continue to see clearly when night falls. The discreetly placed ambient lighting creates a feeling of calmness and warmth.

You'll find the kitchen in a luxury motorhome may be a little smaller than in a standard rental. However, it will be well thought out with all the equipment you need to whip up a gourmet meal including a large cooker and fridge plus plenty of storage space.

Step into the bathroom and you'll notice it's all about function. The shower is usually separated from the toilet in either its own room or by a clever divider that keeps the water from splashing over the rest of the bathroom. You'll find loads of storage plus hooks and drying rails for towels.

Many luxury motorhomes have generous exterior storage spaces called garages. These allow easy access to your luggage as well as outdoor equipment like camping tables and chairs (and even a portable barbeque) without having to rearrange the inside of the motorhome.


4. The innovative design that sets a luxury motorhome apart

Space is at a premium inside a motorhome so the innovative use of the available area is key in design. You'll find that every nook and cranny has been carefully optimised to ensure that it has a purpose and many spaces are multipurpose. Some motorhomes have permanent beds which fold away to provide more living space (without sacrificing sleeping comfort) and many have different configurations to suit the needs of the user, for example twin singles that convert to a king. The seats in the cab swivel to provide more chairs around the dining table. These innovative features are easy to use and give passengers space and flexibility.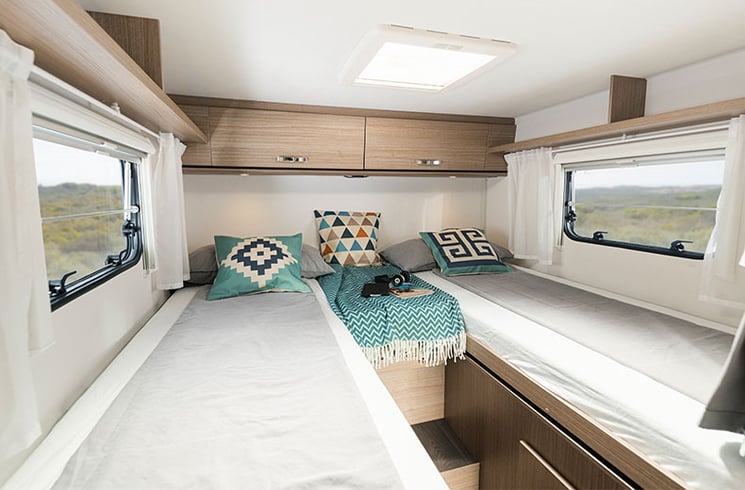 What can you expect from a luxury campervan brand in New Zealand?
Great customer service

Luxury motorhome brands are known and loved for their personalised service, attention to detail and proactive communication. Great service starts when you first engage with the company and continues through to when you drop off your motorhome. You'll find all the information you need to plan your motorhome holiday at your fingertips including helpful advice and loads of staff tips.

When you arrive to collect your motorhome, you'll be greeted by friendly attentive staff who will guide you through the paperwork and orientate you to your home on the road. If you have any hitches while on tour, they're just a phone call away. Poor service can lead to wasting your precious holiday time waiting for help.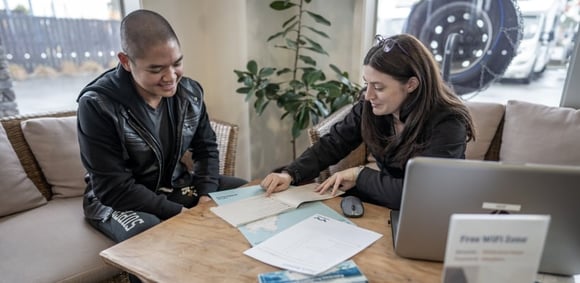 No hidden costs

Dealing with a luxury motorhome rental brand means less chance of getting surprised by hidden fees. You can expect a luxury brand to be upfront about what's included in rental prices and what's additional. Common additional charges for a rental include airport pickups, location specific fees, one way or extra driver fees, and public holiday surcharges.


Top quality add-ons to choose from


Some of the add-ons you'll find when you rent a luxury motorhome include unlimited Wi-Fi and portable barbeques perfect for eating outdoors under the stars. You can expect to find safety equipment like child restraints that are safer and more comfortable than a standard child car seat. All the equipment is carefully maintained and updated when required.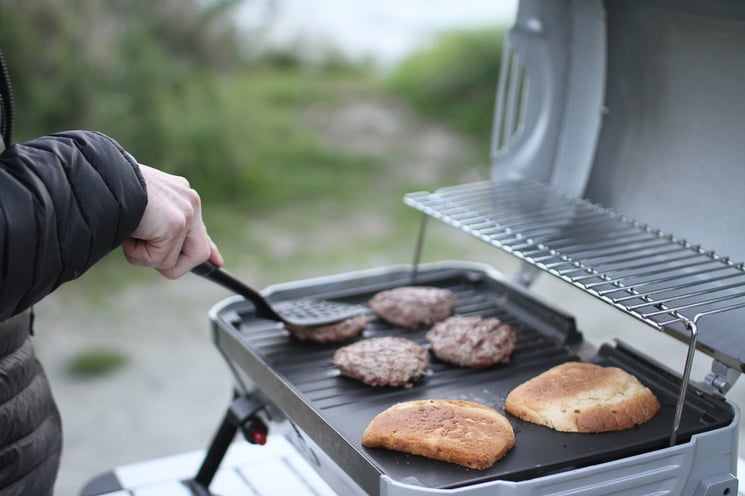 Is it worth paying extra to rent a luxury motorhome?
The quality of motorhome can make a big difference to the enjoyment of your trip. Comfortable beds mean a restful sleep and being ready to go for the next day of adventure. Flexible living spaces mean you can make the most of the confined area without getting on each other's nerves. Functional work areas mean you will actually enjoy preparing a meal for your family and good heating, insulation and ventilation will keep you comfortable and relaxed so you can focus on creating fantastic memories.

When renting a luxury motorhome, you can expect more than just a better performing vehicle that's more comfortable and functional. You can also expect a higher standard of service, more regular and thorough maintenance and a bigger focus on cleanliness.

Motorhome renters often assume that luxury rentals are a significantly more expensive option than a standard motorhome rental. This isn't always so. It's important to look for extra fees and hidden costs so you're comparing apples with apples. Then weigh up whether the extra comfort, performance and service you can expect with a luxury motorhome brand is worth the premium you may need to pay.


Where can I hire a luxury motorhome in New Zealand?

The three companies that offer luxury motorhomes for rent in New Zealand are Bay of Islands Campervans, Kiwi Motorhomes and Wilderness Motorhomes. They all run fleets of modern European motorhomes.



Bay of Islands Campervans are based in Paihia, Northland but their motorhomes can be collected from either Paihia, Auckland or Christchurch. They offer German motorhomes with two different layouts.



Kiwi Motorhomes are based in Auckland and offer pick ups from various cities in the North and South Islands. Their range of European built motorhomes cater for couples and families.



The largest of the three luxury motorhome rental providers in New Zealand and the one that's been around the longest is Wilderness Motorhomes. Wilderness pioneered luxury motorhome rentals back in the early 2000s when the only options were the standard motorhomes that had changed little in the previous twenty years. They have a large fleet of German motorhomes in two and four berth configurations.

Wilderness has developed a reputation for not only their luxury motorhomes but also their superior customer service. You can start and end your Wilderness motorhome holiday in either Auckland or Christchurch.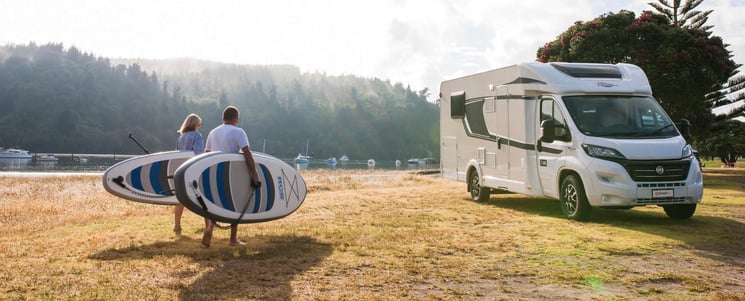 ---
Is a luxury motorhome right for me?
Take our quiz to find out whether your travelling style is better suited to a budget, mid-range or premium motorhome hire for your New Zealand adventure.
---