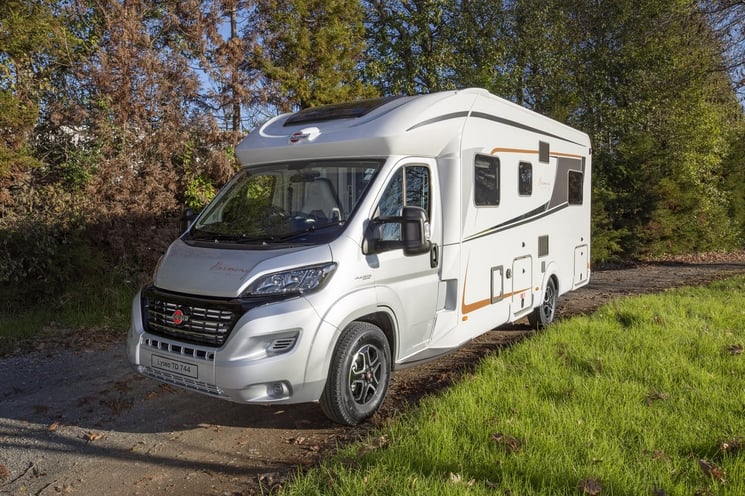 Travelling New Zealand by motorhome is a magical way to soak up the country's natural beauty. But why not take your experience to the next level and adventure in a truly exceptional RV — The Suite.

In this article, you'll uncover the unique layout and features that ensure The Suite stands out from the pack. Plus find out how easy it is to drive, how much it costs, and whether indulging in this particular luxury is worth it.


Is The Suite motorhome worth the splurge?
A honeymoon, your wedding anniversary or a trip where nothing less than the best will do. For that special holiday you have planned, consider going all out to make it genuinely memorable.

Luxury options are few and far between when it comes to rental motorhomes — so The Suite really stands out. The Suite is the name Wilderness has given to this high-end German motorhome from Bürstner.

Comfort and functionality are always at the forefront of a Bürstner. Their motorhomes were never built for the rental market. They were made for private owners and that's why they offer such a high level of luxury.

The Suite isn't your run-of-the-mill motorhome. It's the ultimate motorhoming experience because it offers homely comfort with greater versatility and more space.
Discover how Wilderness motorhomes are intended to be owned rather than rented.

What are The Suite's special layout and features?
The Suite is the most spacious motorhome in the Wilderness fleet. More home-like than any other motorhome on the road in New Zealand, it has an impressive look and feel.

The only Bürstner motorhome in NZ's commercial rental fleet, The Suite has some incomparable features — making it very different from standard rental motorhomes.


Superior floor space
The Suite's interior features the largest amount of usable floor space on offer in a luxury motorhome for hire in New Zealand. It was designed to provide more freedom and comfort for you and your travel party.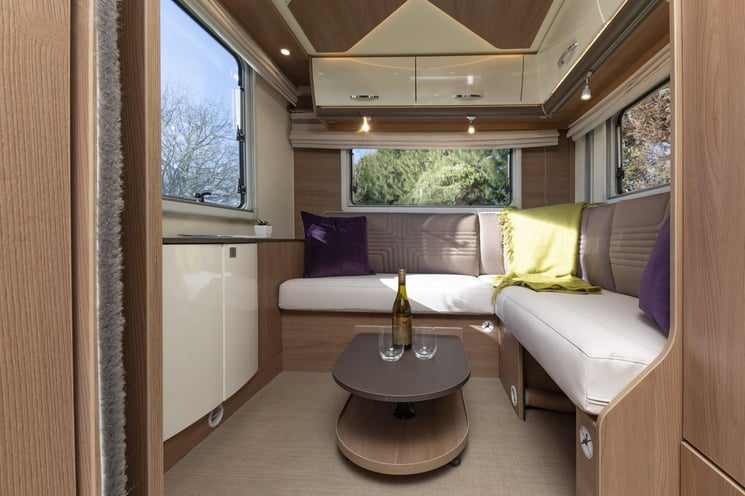 Double lounge with panoramic views
It's hard to fathom how two lounges can be possible in a motorhome but it's an absolute winner in The Suite. There are effectively two separate living and gathering places — one in the front and one in the rear.

The rear lounge has a small pull-out coffee table rather than a large, fixed one. As a result, you can choose a completely open space at the back if you wish. There's extra room for doing a puzzle or fitting in a yoga session. Even playing with toys or building Lego if you'll be travelling with kids.

Sit back and take in the sweeping views out the three large windows which wraparound the rear of your motorhome. While panoramic windows are common in standard rental motorhomes, they're generally single glazed so the motorhome isn't comfortable in winter. Expect double glazing and insulated warmth in The Suite.

Most European motorhomes for hire in New Zealand have fixed beds at the back of the vehicle — with only a small window on each side. The Suite brings together the comfort and convenience of permanent double beds with 180 degree views — a rarity in rental motorhomes.

The front lounge contains a fixed dining table with driver's and passenger's seats that swivel around to meet it.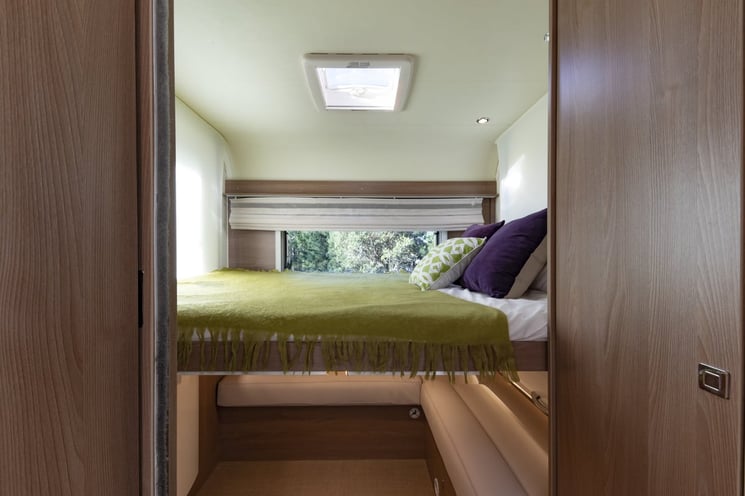 Dual fold-down beds
Standard rental motorhomes usually have a combined lounge and dining area. In some cases, this space also doubles as the master bedroom. The seats have to be converted into the bed nightly — then converted back again each morning.

The Suite comes with two electric double beds that are stowed directly under the ceiling. You can lower and raise them at the push of a button.

These beds are already made up with sheets in place — so you're ready to go. They're fitted with comfortable mattresses offering a far superior sleep experience than beds in standard rental motorhomes which consist of converted seat cushions.

Learn more about motorhome bed types.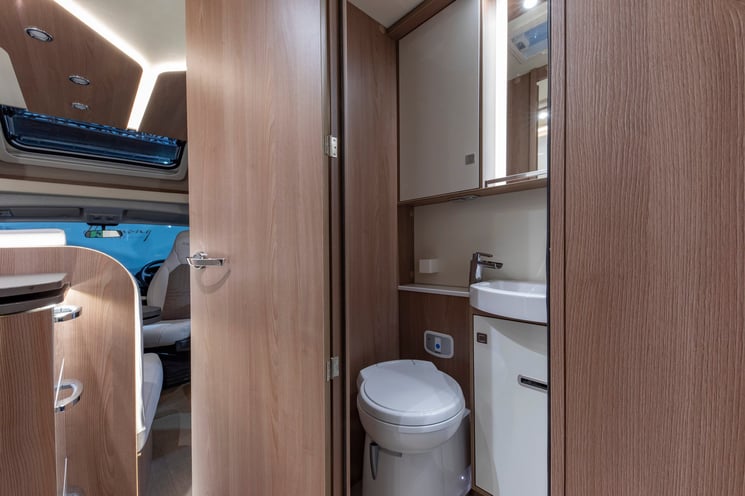 Luxurious bathroom
You'd expect a premium motorhome to have generous bathroom space and The Suite doesn't disappoint. Its features include:


A fully contained shower area with foldable shower doors — ensuring your toilet and toiletries stay dry

Plenty of handy storage cupboards — for all your essential bathroom items




Check out our guide to motorhome toilets and showers.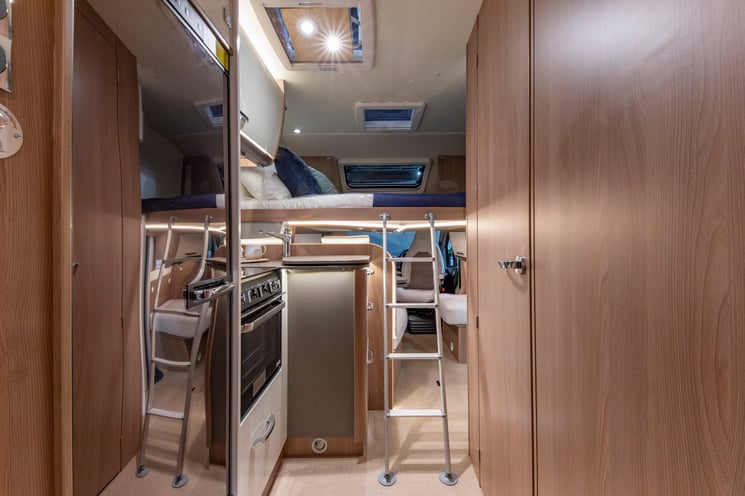 Extendable kitchen space
Cooking in a motorhome can often be one of the trickiest tasks. Space is at a premium but with The Suite's cleverly-designed kitchen area, you'll enjoy a large fridge freezer and an extendable workbench.

Find out more about cooking in motorhome kitchens.


Insulated double floor
Standard rental motorhomes often have limited space with exposed wheel arches and steps leading to the driver's cabin and the bedroom area.

The Suite features a seamless floor surface from front to back with insulation sandwiched between the floor layers. It can be heated in winter and gives you the added bonus of keeping little hands and feet warm.
Versatile layout
Being adaptable in the 21st Century is a real advantage. The Suite has a versatile, highly adaptable layout that's obvious with its:


Two lounges that both convert into bedrooms

Dual fold-down beds — in the front and in the rear

Foldable shower doors — which keep your wet area wet and your dry space dry

Extendable workbench in the kitchen

Pull-out and putaway coffee table




The design and level of comfort in The Suite are exceptional. They reflect the fact that Bürstner are global market leaders because of their build quality, innovative design and excellent motorhoming experience.

Get some more info on what makes a luxury motorhome.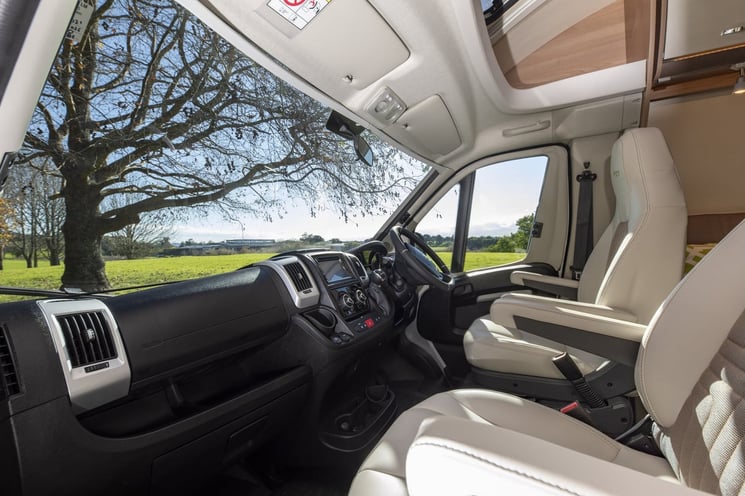 Is The Suite easy to drive?
Just like other German motorhomes, The Suite is designed to drive more like a car than a large vehicle. The habitation unit (or shell) is built on a Fiat Ducato chassis, which is the most popular base for European motorhomes.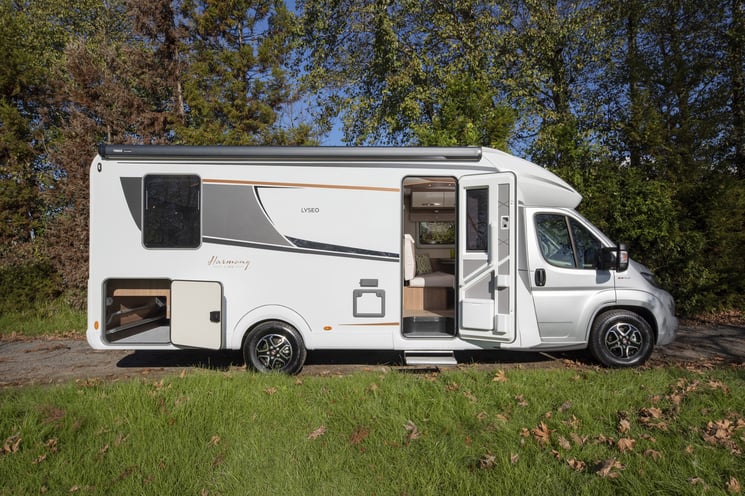 Low profile and aerodynamic
The Suite actually has similar dimensions to most other premium four berth European motorhomes at a length of 7.4 metres.

And with its low profile and aerodynamic exterior, it's far easier to drive than bulkier Luton-style (or cab over bed) motorhomes — especially on adventurous New Zealand roads in windy conditions.


Get to know your motorhome
It's a wise idea to get to know your motorhome before you hit the road by:


Familiarising yourself with the road rules

Getting used to the motorhome's controls

Taking time to adjust your seats and mirrors before driving out of the rental location




Driving in New Zealand is a world of fun. There's so much natural beauty to discover at almost every turn.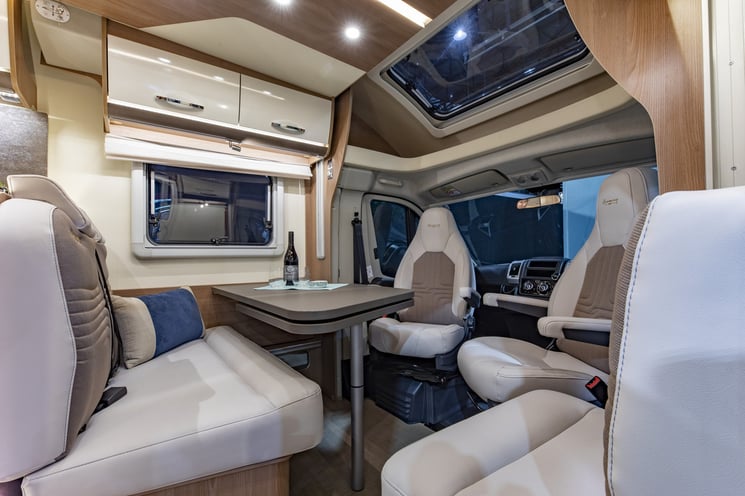 How much does it cost to rent The Suite?

The Suite sits at the top of the luxury motorhome rental market in New Zealand. Depending on the time of year (see an overview of New Zealand's seasons), The Suite costs around $100 - $200 more a day than a standard rental motorhome.

Many people book The Suite for really special occasions or long-awaited extended trips. To find the best rates, check the shoulder or off-seasons — which in New Zealand are roughly from May through to October.

Find out more about the best time to book a motorhome in New Zealand.


Is The Suite right for your travel group?
Your big question around hiring The Suite may be whether it's worth it. This extra-spacious recreational vehicle will be totally rewarding if you want:


A luxury motorhome holiday to mark a milestone or share a special moment

Extra floor space for equipment like your camera gear

Additional room to share time on the road with your camping neighbours

To travel with a group of close friends or family.


Popular with couples
Extremely popular with couples looking for glamorous getaways, The Suite allows travel in luxury comfort at a pace that works well with you.

You'll be able to explore secluded places while easily taking ample luggage and equipment along — all the sports gear, drones and art supplies you might need.


A favourite with young families
Young families travelling with babies also frequently book The Suite.

The extra floor space means you can put up a portable cot so your little one can sleep in a familiar way. Having space for a baby or toddler to crawl and play is priceless, particularly on rainy days — and it's a rarity in motorhomes.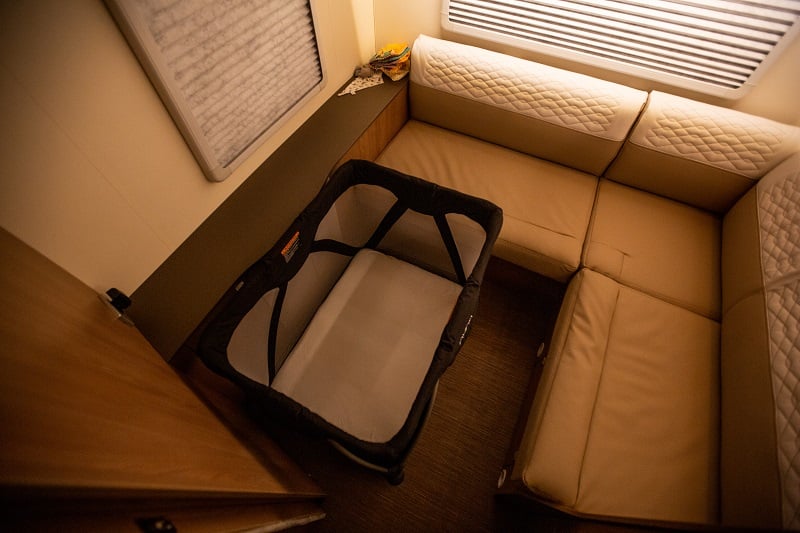 Learn more about travelling by motorhome with babies and motorhoming with toddlers.


Case study: Mike Brown & Kathy Hart experience The Suite
After a dozen trips to New Zealand touring in a variety of Wilderness Motorhomes, the quality and unique design of each new model have continually impressed us. However, we were unprepared to be totally blown away by the luxuriousness of The Suite.

Sporting a similar external length to the other four berth models in the Wilderness fleet, the creative arrangement of internal fixtures has effectively doubled the liveable space inside The Suite. It's the motorhoming equivalent of a Swiss Army Knife.

So how did we utilise all of this space?
Space for her
With the ability to retract the rear double bed up into the ceiling, the entire back area of the motorhome becomes a spacious living room during the day.



I took ownership of this space early in our trip. Using the onboard Wi-Fi, I set up my laptop to connect with family or check emails on my mobile phone. I'd often just stretch out and relax with a book — or sip on a glass of wine.

By night, when Mike wanted to stay up late, I simply lowered the rear bed down and closed off the sliding door. I was snuggled up for the night in the peace and quiet of my own cosy bedroom.
Space for him
Mike was in his element at the front dining room table. With the 240 V inverter to charge our camera and drone batteries, he backed up all our daily images and video footage to USB.



Mike also enjoyed watching movies late at night. When he was ready for sleep, he simply lowered the front double bed. Mike would wake before dawn to shoot the sunrise, simply raise his bed and organise his camera gear up front  — all without disturbing my snoozing in the rear. Sweet.
Space for us
Upon arriving at our destination, we liked to relax together with a glass of wine and some cheese. We'd often sit outside in our folding chairs whilst enjoying the sunset over the ocean.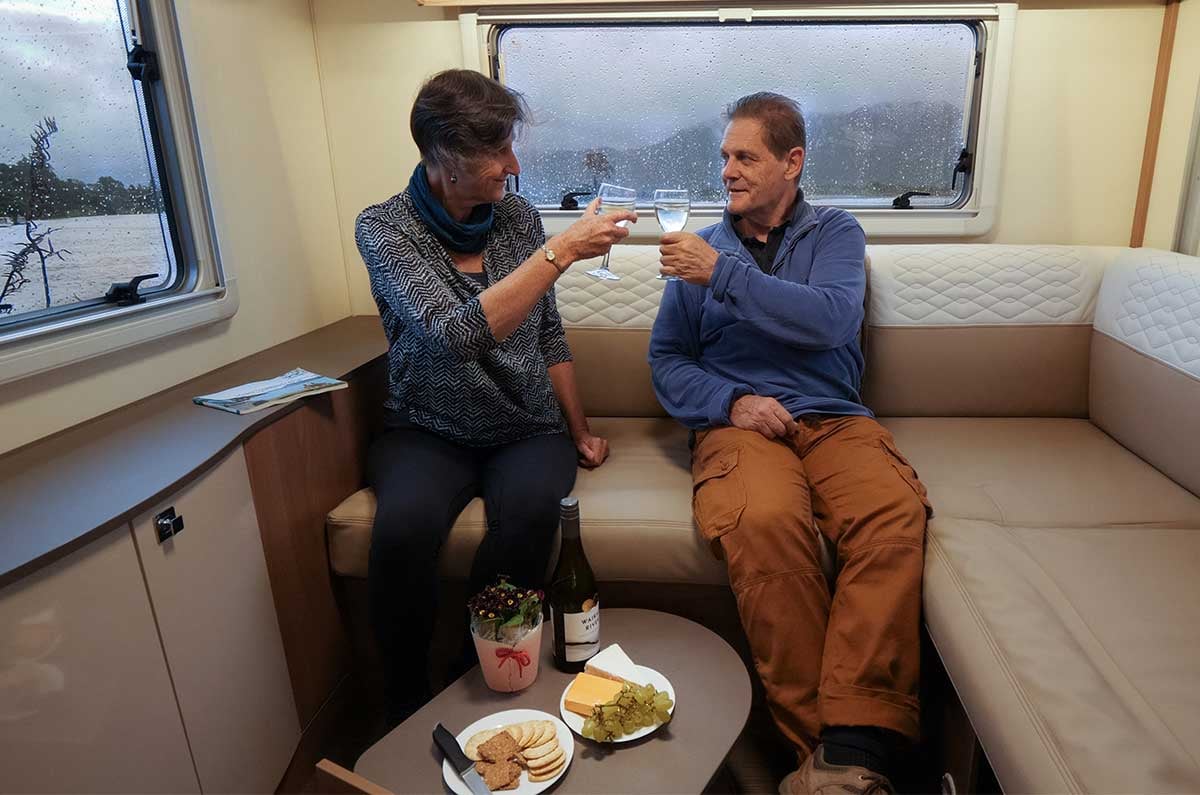 When the Autumn weather turned a little cool or damp outside, the rear living room of the motorhome provided a cosy alternative space to enjoy the view.

The three large windows in the rear of The Suite gave us panoramic views at each location. We'd reverse into our campsite so we could fully appreciate the view at day's end and the sun rising the following morning.
For more inspiration on travelling in your golden years, check our our over 50s guide to New Zealand motorhome holidays.
Practical space
There were so many cupboards and drawers, but my all-time favourite cubby was the clever slide-out pantry in the kitchen that made excellent use of dead space.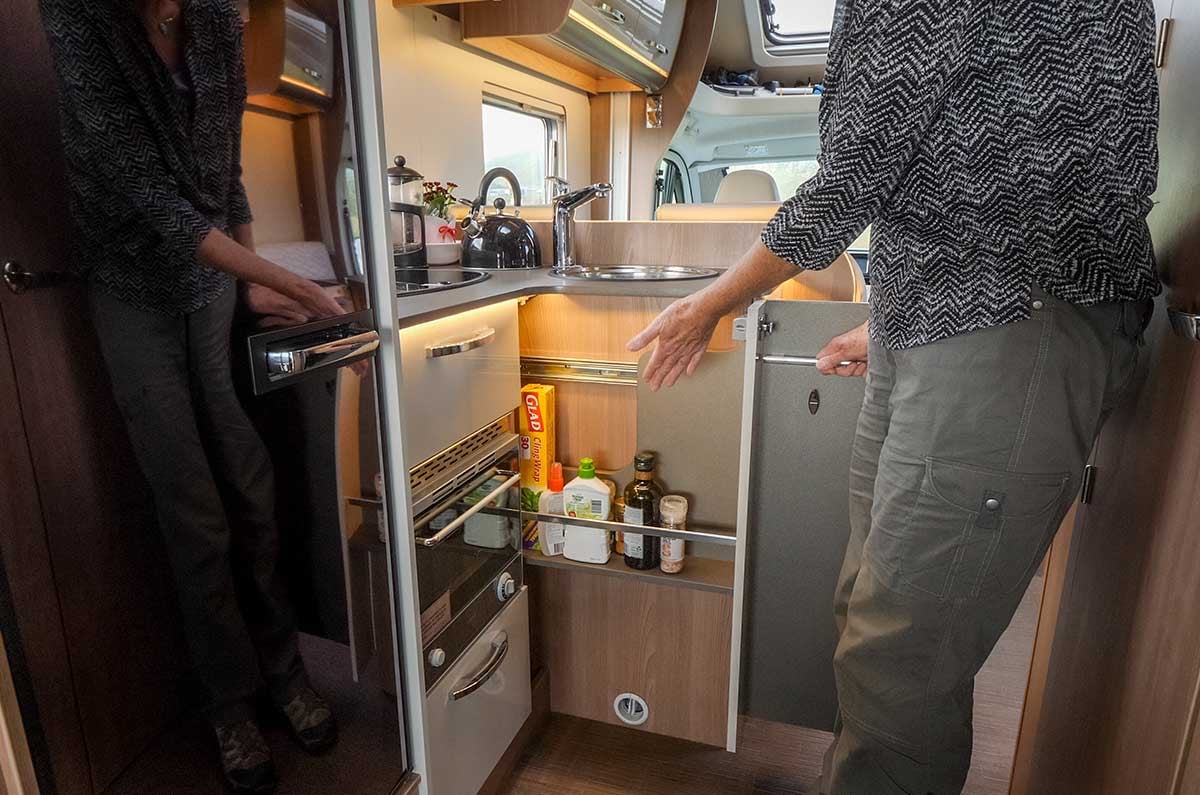 Plus, there were hooks and racks supplied for the tea towels and dishcloths. Putting makeup on each day was a breeze with excellent lighting and a large mirror in the compact, private bathroom.

If you're seeking luxury and space, look no further. Let The Suite from Wilderness drive you to the stars on your next New Zealand motorhome adventure.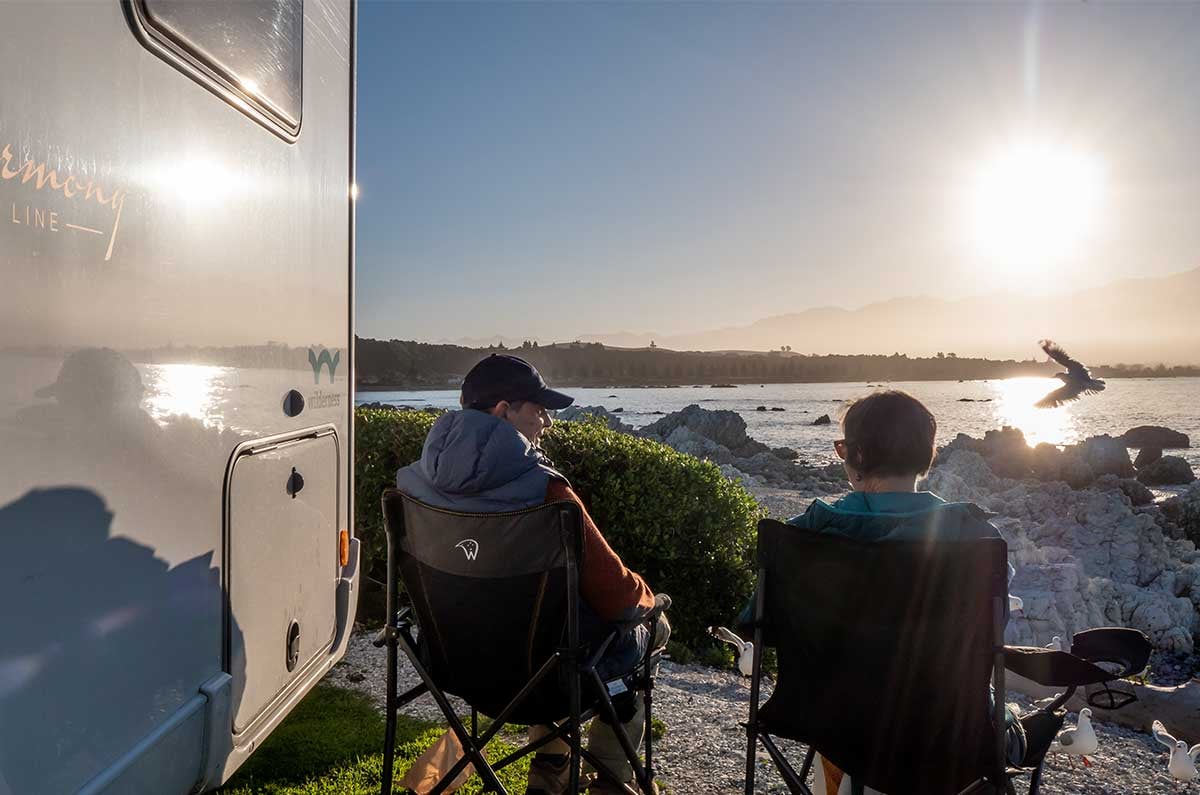 A truly exceptional recreational vehicle, The Suite offers homely comfort with greater versatility and more space. It doesn't compromise on style or comfort — and neither should you.


Discover everything you need to know about The Suite motorhome.