All our motorhomes come with comfortable beds with quality linen, full-service bathrooms, a kitchen and plenty of space and storage for you and your family. There's no compromise on comfort just because you're on a camping adventure. A Wilderness motorhome is the best motorhome choice for exploring New Zealand, especially if you want to head off the beaten track. Read more about the Wilderness Difference.


Our rental motorhomes are designed to to be owned, not rented
Someone who's looking at buying their own motorhome puts a lot of time, thought and money into their future home on wheels. The furniture needs to be high quality and the layout properly thought through, making the best possible use of the space available. A motorhome buyer doesn't want to make compromises. And neither should you when you hire a motorhome in New Zealand!

At Wilderness, we take pride in our high-quality rental motorhomes. They are manufactured in Germany from materials that are both enduring and elegant. To make sure we can always provide you with the newest innovations on the motorhome market, our RV rentals are no more than four years old. Go off the grid in comfort and style with the best motorhome you can hire in New Zealand.


💡 Did you know
Prior to about 2018, most NZ rental motorhomes built in New Zealand or Australia were designed to rental specifications. For most renters, the key attribute they look for is the age of the motorhome, assuming that a new motorhome will be better than an older one. This results in some rental operators providing new motorhomes with very basic specs and poor build quality in order to keep their costs down. A true premium rental motorhome is built with the thought of the customer as a temporary owner, not just a renter.
The beds are a dream to sleep in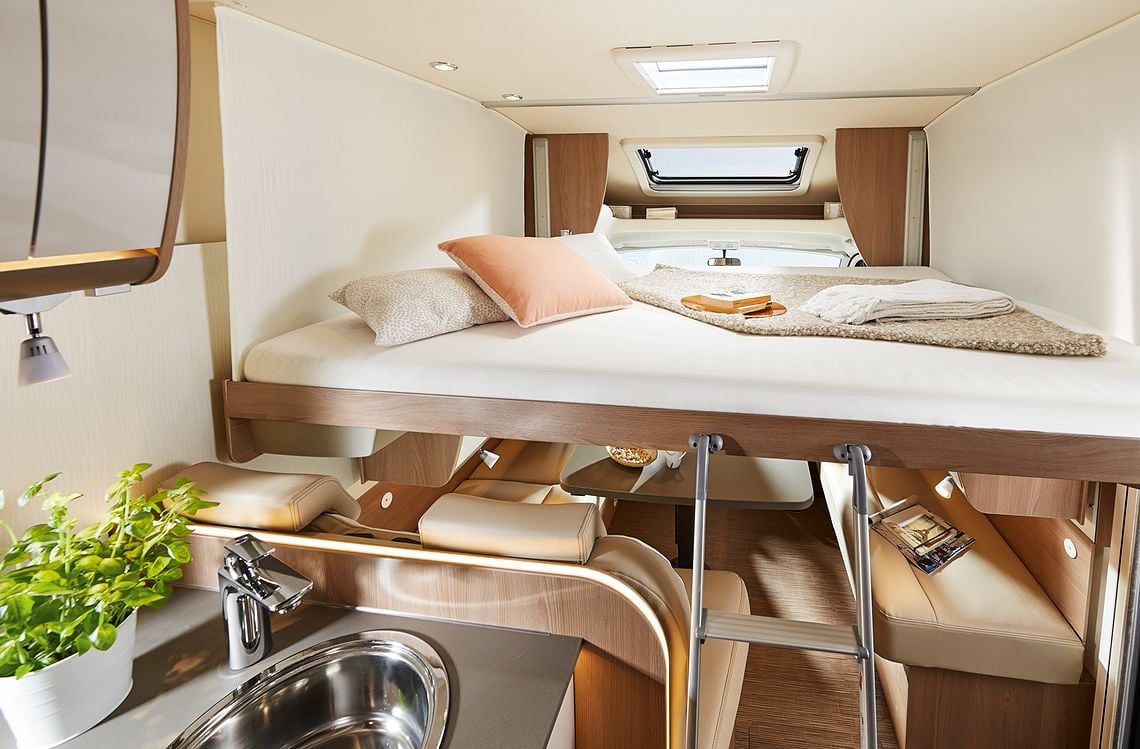 The beds in Wilderness campervans are cosy and comfortable just like a luxury hotel bed. They are all permanent and do not need to be assembled from a couch every night. Some beds are fixed to the floor while others tuck away into the ceiling and fold down when you're ready to go to sleep.

The bed layouts vary between motorhomes, so you can choose the one that suits your travel style best. Beds include singles and doubles. Some single beds can be combined to create a king bed. All beds have memory foam mattresses and are made up with high quality sheets, duvets, blankets and pillows.

See how a fold down bed is ready to use at the simple push of a button
The bathrooms are almost like at home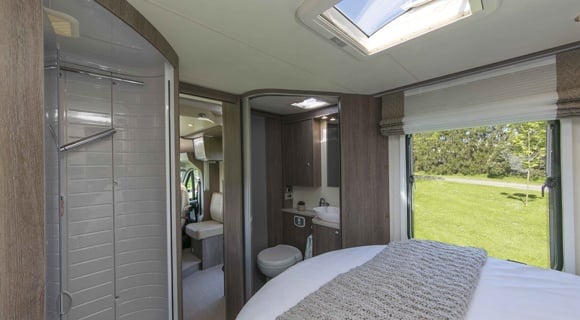 While the bathroom of your motorhome might be a little tighter in space than what you're used to from home, it comes with all the important amenities and without much compromise.

One of the major benefits of a Wilderness campervan is that no matter how far off the beaten track you go on your New Zealand adventure, you can always enjoy a hot shower and the convenience of a separate toilet on board.

The bathrooms in Wilderness campervans are either combined (the toilet, hand basin and shower in one room with a door) or the shower is separate to the toilet and vanity. The bathrooms have good storage for toiletries and most convert to a drying room when needed.

Where the bathroom is combined, the shower will either have a door or will sit on a swivel post (as in the Twin/King for 4), so that the bathroom stays dry. Take a look at an example of a combined bathroom in a Wilderness campervan in the inside tour of the Twin/King for 4.

The campervans use cassette toilets. These look similar to regular toilets, but when you flush them they empty into a storage container beneath the floor, known as a 'cassette'. The cassette contains a chemical to break down the contents and prevent odours. These are quick and easy to empty and replace when needed (usually every few days, depending on how many of you are travelling). A light on the toilet will indicate when emptying is needed.

All Wilderness motorhomes come with a built-in shower and a hot water heater powered by a supplied LPG/propane bottle when you're freedom camping. When you're connected to 240V mains power on a campsite, your water heats with electricity.

You can find out more about the toilet and shower in Wilderness motorhomes here.
Cook up a storm in your motorhome kitchen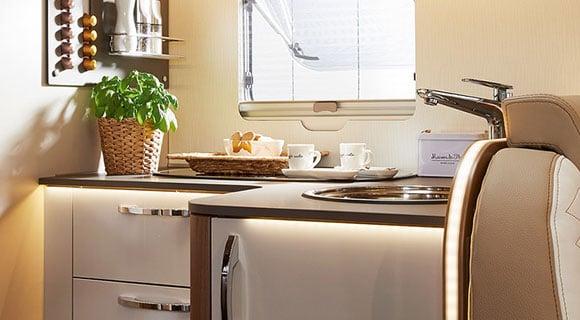 You'll be amazed at how easy it is to cook in your Wilderness campervan! Every model has a fully equipped kitchen with a gas cooktop and a fridge/freezer. Most models have an oven/grill too, so you can enjoy a delicious meal (or a cup of coffee!) whenever you want.

You can also add a portable barbecue to your booking if you want to make the most of the outdoors on your New Zealand adventure.

Everything that is needed in a camping kitchen is there, and more. You'll find your pots and pans plus all the crockery and cooking utensils. There's even a coffee press, electric kettle and a toaster. A power inverter lets you plug in 230v electrics so you won't have to do without your daily breakfast toast when you're off the grid.

Click here to read more about what you can expect from our kitchens. Or watch Mike and Kathy's tour of The Suite's kitchen.

There's ample storage and Living Space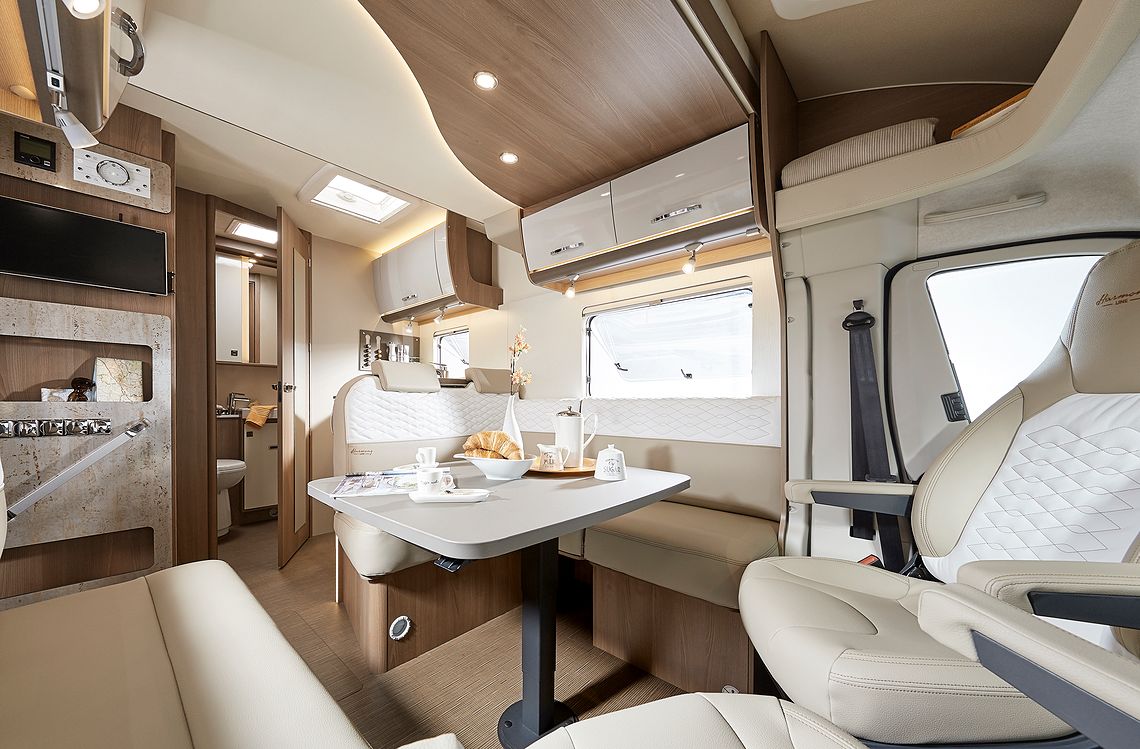 Wilderness motorhomes have plenty of storage options, so you can unpack and relax instead of living out of a suitcase when you're on the road.

Most of our motorhomes have an external locker (we call it a garage). The motorhome garages range in size from big enough to stow bags, through to a large space that can accommodate luggage, bikes, golf clubs and even a couple of surfboards or snowboards.

Inside the motorhomes, you'll find storage cupboards in the sleeping and living areas. The bathrooms also have secure cupboards and shelves for toiletries.

All Wilderness motorhomes have semi-integrated cabs, meaning you can walk from the driver's cabin to the living areas without having to go outside. Some also have sliding doors that can separate the bedroom from the kitchen/living area.

See how two of our regular Wilderness travellers make the most of the space in The Suite
Our motorhomes are super easy to drive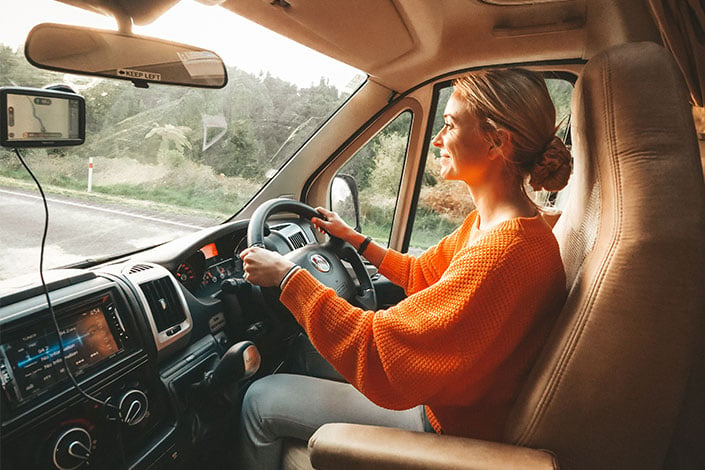 Travel New Zealand's roads stress-free with built-in features that make your life easier. Automatic transmission, reversing cameras, large wing mirrors and comfortable seats mean that you can be confident behind the wheel of your motorhome on our most scenic routes. In fact, they drive just like cars – just longer ones! Our motorhomes range in length from 5.9m to 7.4m, so you can consider what you'd feel most comfortable in when choosing yours.

When you collect your motorhome from Wilderness, the Adventure Support team member checking you in will happily show you all the features to make sure you're comfortable in the motorhome before you set off.
Go wherever the road takes you, without restrictions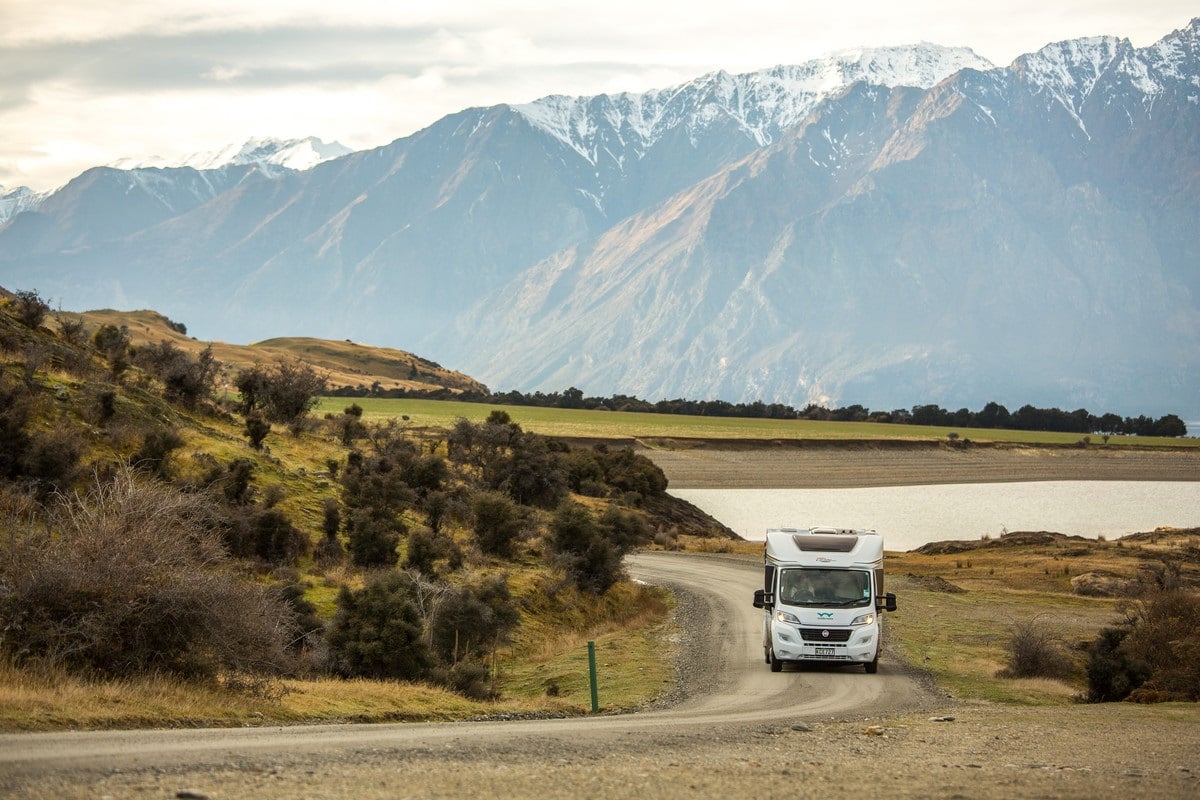 Which is pretty much anywhere you like. We want you to get lost in the moment and find the best bits of New Zealand. Because this can mean taking the road less travelled, we don't have any specific road restrictions (unlike most other motorhome rental companies). That means you can drive our motorhomes on named gravel roads and even ski access roads in your Wilderness motorhome and our standard insurance will cover you (with an excess of NZ$7500).

For your peace of mind, we have a range of liability reduction options that reduce your excess/deductible should something happen to the motorhome when you're on the road.
Park up and stay anywhere you like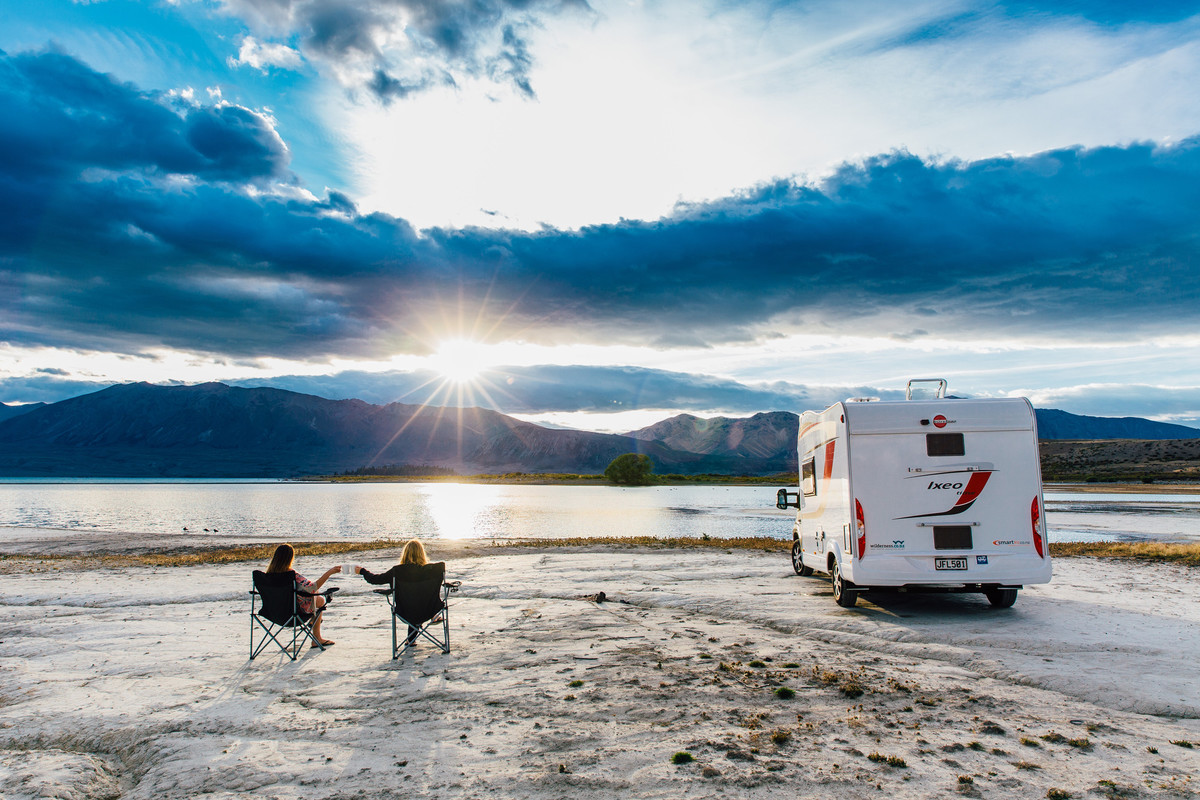 Choosing somewhere to stay overnight in your Wilderness motorhome is easy as all our motorhomes are certified self-contained. This means you can stay at any legal camping site. You can choose either commercial holiday parks with all the amenities or camp without being hooked up to power at a Department of Conservation (DOC) campsites, Wildernesst, Campable sites or any legal freedom camping site.
Wilderness motorhomes are great for freedom camping
Our motorhomes are designed to keep you comfortable no matter how far off the beaten track you go.
Your Wilderness motorhome can usually run all supplied appliances onboard from the 12V house battery for up to 48 hours. This means you can freedom camp in one location for 2-3 days at a time.




An inverter in each vehicle provides a power socket when you aren't plugged into mains power. This lets you charge your laptop and other devices that wouldn't work on 12V.
If you drive once a day for at least 3-4 hours, it will recharge the 12V house battery and you won't see the battery levels come down much, if at all. (We do recommend staying overnight at a powered site every second or third night to fully recharge the house battery - just in case you don't drive enough to do this.)


A battery indicator lets you check battery/water levels at any time


Water storage (fresh and waste) for up to three days


Efficient heating and hot water runs without needing mains power.
You can find more information about where to stay in our Motorhome Camping in New Zealand: A Complete Guide.
A true premium experience on the road
Renting a Wilderness motorhome means you'll have a true premium experience on the road. Our motorhomes are built to be owned and not rented and hence provide you not only with high-quality furniture and a better layout but also with fixed beds that are a dream to sleep in.

But don't just take our word for it. Go on an inside tour of our motorhomes in our collection of videos created by previous Wilderness customers and make up your own mind about how a Wilderness motorhome could work out for you.

Watch the inside tour of our motorhomes now.


And more!
We not only provide you with a premium motorhome. At Wilderness, we make sure you have an all-encompassing premium experience. In addition to relaxing and holidaying in a high-quality motorhome, Wilderness offers:


Exclusive access to WilderNessts through the Campable App
Complimentary airport transfers
Reduction on parking for the duration of your hire
NZ Frenzy ebook, a travel guide for New Zealand

Fully flexible

when you need to change or cancel your travel plans or we go into another

lockdown

Open and upfront communication in terms of pricing and no hidden costs
We're a family business and treat you like family.


For all of these reasons and more, if you're looking for the best motorhome hire in New Zealand, check out our range of Wilderness motorhomes and let's help you make your New Zealand holiday the best it can be.

Now that you know why our motorhomes are a cut above the rest, let us help you find the right Wilderness motorhome for you. Just answer a few questions in our quick and easy quiz and we'll tell you which of our motorhomes is perfect for you.