New Zealand is a small country but its unique geography means its climate varies greatly from one part to another. It's warm and subtropical in the far north and cool and temperate in the far south. This article will explore what to expect at different times of the year, how to make the most of your motorhome trip and how to prepare for a motorhome trip during each season.

A quick overview of New Zealand climate
Because New Zealand is an island nation, the surrounding ocean regulates the temperatures meaning extreme variations are rare. The mean annual temperature is 10 degrees in the south and 16 degrees in the north. Except for some inland areas, variations in temperatures between seasons are minimal. Snow is usually limited to the mountainous regions of the Central North Island and South Island.
Summer

Autumn or Fall

Winter

Spring

Months

December - February

March - May

June - August

September - November

Average
daytime
temp

20 - 25˚C (68 - 77˚F)

17 - 21˚C (62 - 70˚F)

12 - 16˚C (53 - 61˚F)

16 - 19˚C (61 - 66˚F)

Tourist
season

High

Shoulder

Low

Shoulder


December to February is high season


Travelling New Zealand in mid December to early January

If you're considering a road trip between mid December and early January, be prepared for crowds at popular destinations such as Queenstown and experiences such as The Church of the Good Shepherd in Tekapo and the Tongariro Crossing in the Central North Island. At this time of year, we have more international visitors than any other time of year as well as domestic tourists travelling during their summer holidays.



Why take a campervan trip in mid December to early January


As New Zealand summer unfolds, the days get longer and warmer with more settled weather. Longer days mean more time to spend exploring the great outdoors from beaches to hiking trails. If you're in New Zealand on Christmas Day, consider indulging in your very own Kiwi Christmas by enjoying a barbeque on the beach against a backdrop of pohutukawa trees.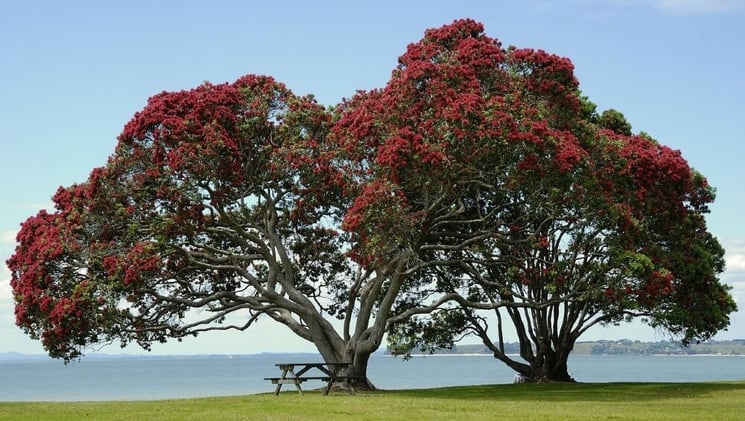 Travelling New Zealand in early January to February

January and February have the highest temperatures so are likely to be warm and sunny. It's the best time to spend at the beach or lake. The miles of beaches come alive as Kiwis and visitors enjoy swimming, surfing, snorkelling, sailing and the many other fun water activities. However, no matter what the time of year, low pressure systems sometimes creep across the Tasman Sea bringing rain and cooler weather. So you may have a day or two to sit indoors with a good book and a glass of wine.



Why take a campervan trip from early January to February

It's a lesser known fact that visitor numbers dip in the second half of January as international tourists head home and Kiwis return to work. The drop in demand means that you can often find good deals on attractions, transport and accommodation for the couple of weeks when tourist activity is a bit lower.

January is the month for all things outdoors, at beaches and lakes and in the hills and mountains. If you're looking for something cultural, choose from the many festivals, concerts and fairs across the country.

If January and February are the months that fit best with your schedule, you can avoid the crowds by staying away from the most popular tourist areas. If you're heading to the South Island, avoid Fiordland National Park, Queenstown, Fox and Franz Josef Glaciers, Abel Tasman National Park and Mount Cook National Park. On the North Island this includes skipping The Bay of Islands, Rotorua, Tongariro National Park and Napier. While these are all fantastic destinations to visit, they are best to save for another season. Instead, we recommend exploring some lesser known locations with just as much to offer. In the North Island, check out Northland, the East Coast and the beaches and mountains in the Taranaki region. If you're heading to the South Island, it's worth visiting Golden Bay, the northern West Coast and Otago.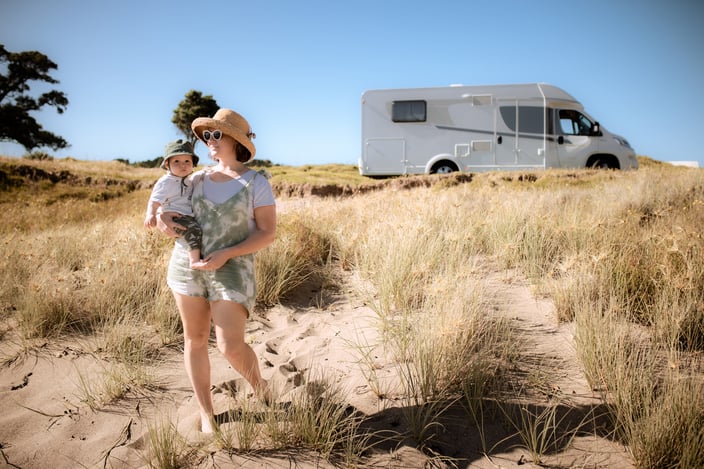 How to prepare for a campervan trip in December, January and February
If you're planning a trip in the high season, book your motorhome rental and accommodation well in advance. Choose a motorhome with good insulation (to keep it cool), plenty of windows and roof vents for ventilation, and insect screens (to keep the bugs out). Temperatures in New Zealand don't reach the highs you'll get in Australia, so air conditioning in the living compartment isn't necessary. While some motorhomes come with awnings, these are prone to damage in the wind so again, not a necessity when motorhoming in New Zealand. Since you'll want to maximise your time outdoors, you'll appreciate the convenience and comfort of a motorhome with permanent made up beds. Make sure you include outdoor chairs and a table plus a portable barbeque / outdoor grill with your motorhome rental so you can maximise enjoyment of the outdoors.


New Zealand's sun is a lot more punishing than in most other countries so you need to make sure you're well protected when outdoors - even on a cloudy day. UV radiation can be especially high in summer meaning you're more likely to get burnt. Make sure to put sunscreen (SPF30+) and sun hats at the top of your packing list. You'll also want to pack for the possibility of cold weather or rain.


While New Zealand has few dangerous creatures, mosquitoes and sandflies can be a problem in summer (mostly on the West Coast of the South Island). They leave bites on exposed skin which can be very itchy. Insect repellent containing DEET is a great protector. If you do get bitten, antihistamine cream, calamine lotion and even Bonjela can be helpful to reduce the itch.


Map of New Zealand showing sandfly activity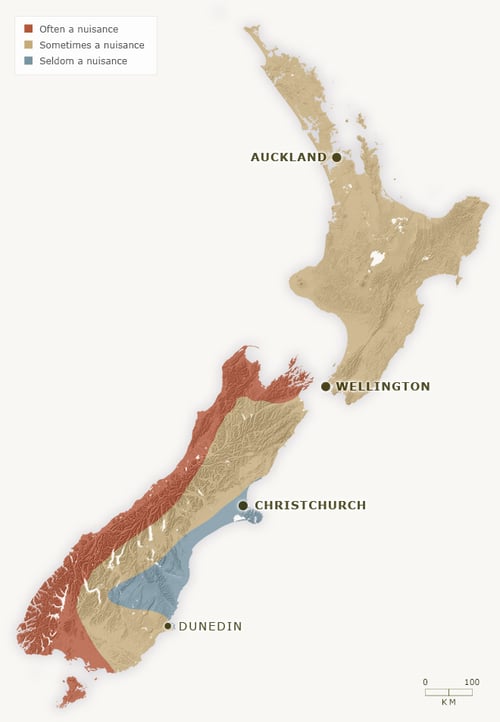 Our favourite destination for December, January and February

We highly recommend visiting the Coromandel in the summer months. This popular holiday destination is known for its pristine white sand beaches, rugged mountain ranges and charming coastal towns. There are plenty of beautiful spots to park your motorhome overnight from Whangamata in the south to Coromandel Town in the north. Surfing at top surf breaks like Whangamata or Hot Water Beach and snorkelling in one of the marine reserves are must-do activities.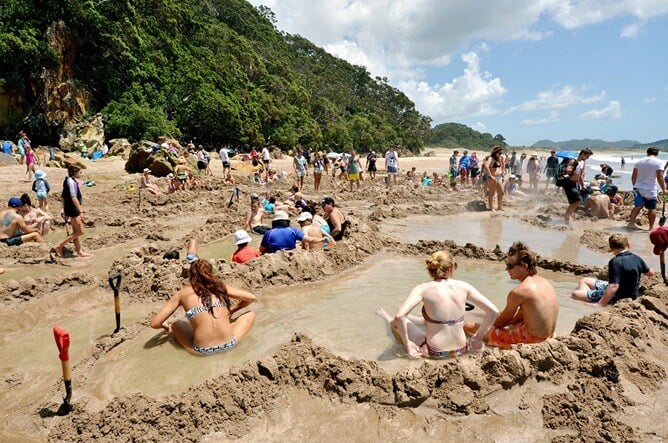 ---
Thinking about a motorhome trip in high season?
Motorhome rentals book out especially fast over summer. Book early to avoid disappointment!
---
March to April is the shoulder season
Travelling New Zealand in March and April

Visitor numbers drop at the beginning of autumn and prices along with them. However, the warm and settled weather in March and April make them popular months to travel so you can expect to pay shoulder season rates - a little lower than the December/January peak rates.
Holiday destinations will be busy over Easter with locals taking a break (check out fun things locals are doing during this period here), so it's worth checking your dates to be prepared for the Easter holidaymakers. Come April, the weather is starting to cool, especially in the south but travellers in late autumn may be rewarded with long spells of fine weather.


Why take a campervan trip in March and April

The summer crowds have dispersed by March making it the ideal period to enjoy scenic spots with fewer people. Most of the best beaches are fairly deserted in March, especially during the week. If you're in the north and don't mind cooler water, you can swim well into April. The cooler weather is the perfect time to explore the geothermal wonderlands across the country. Grab your swimsuit and head to one of the many hot pools around the country. Kick back and relax in a natural thermal spring and or take the family to a thermal resort to enjoy the many warm water activities.

April also brings beautiful autumn colours across New Zealand which are especially spectacular later in the month in the South Island. Admire the striking yellow poplars as you wander around Lake Wanaka or take a punting tour along the Avon River in Christchurch to enjoy the autumn colours by boat.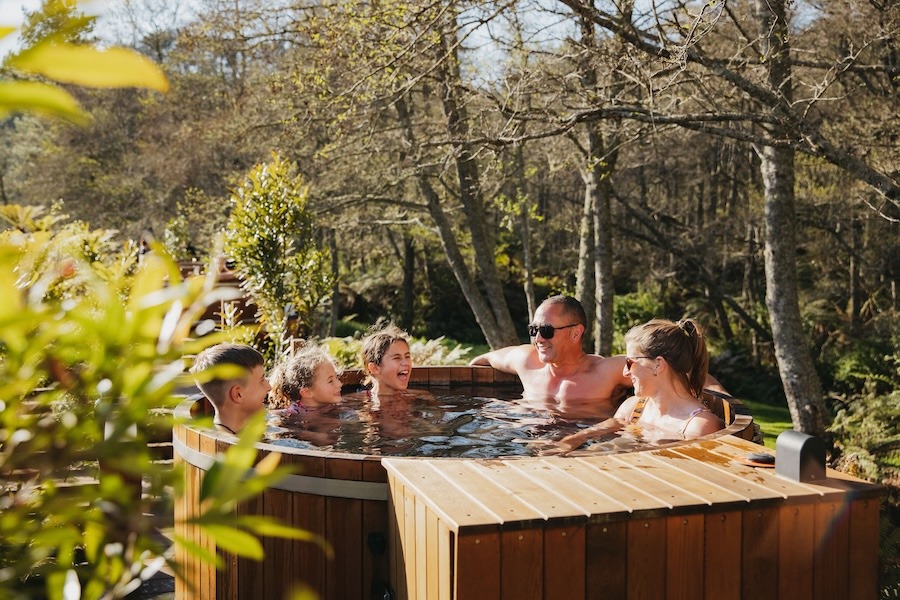 How to prepare for a campervan trip in March and April

It's best to pack for both warm and cool weather in the autumn. Our advice is to pack extra layers so you can put more on when it's cooler and take them off when the weather is warmer.

Daylight saving time ends in April so the days will be shorter. Make sure you allow daylight time to locate your campsite for the night, especially if you're planning on freedom camping. Trying to park a motorhome in the dark in an unfamiliar place can be challenging.



Our favourite destination for March and April

Central Otago is a gorgeous location to enjoy the autumn colours. The long running Arrowtown Autumn Festival, held in late autumn, attracts large numbers of visitors who enjoy the parades, art exhibitions, a market, gold panning championships and foodie events.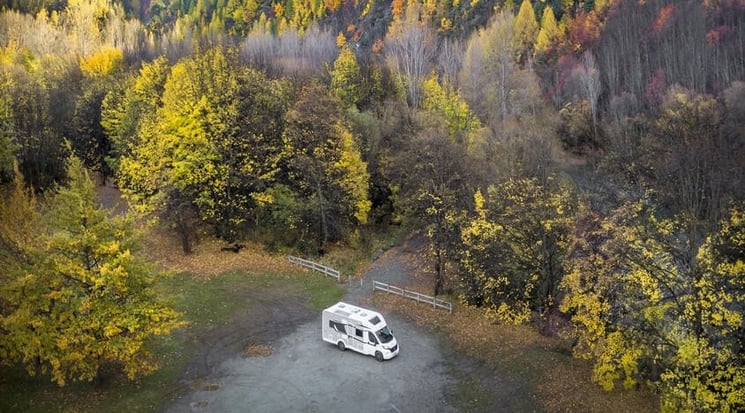 May to August is low season
Travelling New Zealand in May, June, July and August
If avoiding the crowds and getting a great deal for your travel dollar are important to you, then we would recommend taking a trip between May and August. While it will definitely be cooler and you'll have a higher chance of rain and snow, you will be warm as toast in your motorhome - as long as you choose a model that's fully winterised. Many Kiwis take the opportunity to get out of town for the Queen's Birthday holiday weekend on the first Monday of June and again in the July school holidays so you can expect prices to be a little bit higher over those periods.

Why take a campervan trip in May, June, July or August

You'll find some great deals on motorhome rental rates during the low season which means your travel dollar will go much further. The low winter prices mean you can take a much longer trip for the same amount you'd spend in the summer. In fact, in most places excluding the winter resorts like Queenstown, rates for transport, accommodation and attractions are lowest during the winter.

From July onwards, the ski fields usually have a generous covering of snow, so snow sports lovers head for the mountains. While you'll find ski fields to suit all levels of experience in both the North and South Islands, there are a lot more fields in the South Island. Because that's our less densely populated island, the South Island ski fields usually have fewer people on them than the few North Island fields.

Between May and August, you'll have the best chance of spotting the spectacular Southern Lights (aurora australis) in the night sky from various parts of the South Island. You can view the Southern Lights from one of the Dark Sky Reserves or pretty much anywhere in the lower half of the South Island if you're lucky.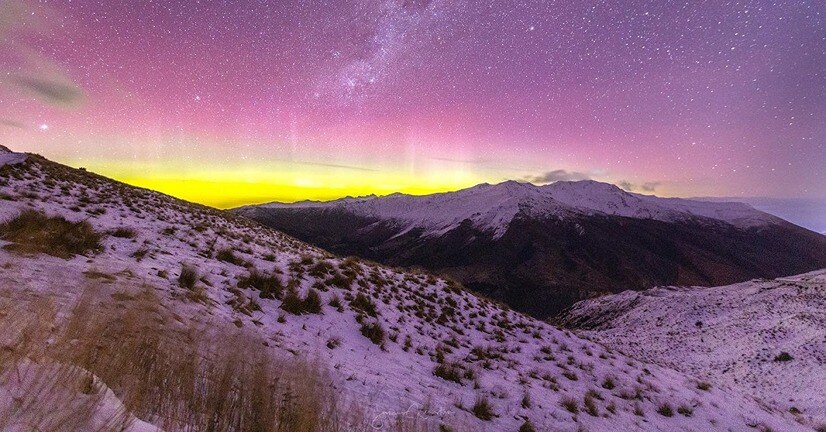 How to prepare for a campervan trip in May, June, July and August


While winter is the time to travel on a budget, it's important to ensure your motorhome is winterised otherwise the thrill of making big savings will soon wear off! Not all motorhomes are created equal. Most rental motorhomes are designed for three season travel. They may come with a heater but if the motorhome isn't insulated and the windows are single glazed you'll struggle to stay warm. If you plan to stay off grid, make sure the heating works when you're not connected to mains power.

You may find that some attractions are closed over the winter. Some tourist operators including attractions, holiday parks and even conservation areas take the opportunity to give their staff a break and undertake repairs while the visitor numbers are lower. Contact operators to find out their winter hours before you make any special trips to an attraction or accommodation spot to avoid disappointment.

As daylight hours are shorter in the winter, make sure you get to your campsite before dark so you can choose a suitable parking spot. Avoid parking on soft ground in the winter as the motorhome may get stuck. Pack a flashlight to help with locating things in the dark.

The further south you head, the more warm clothing you should pack. Be sure to also pack indoor activities such as cards, board games, and books to keep the family amused when the weather isn't suited to outdoor adventures.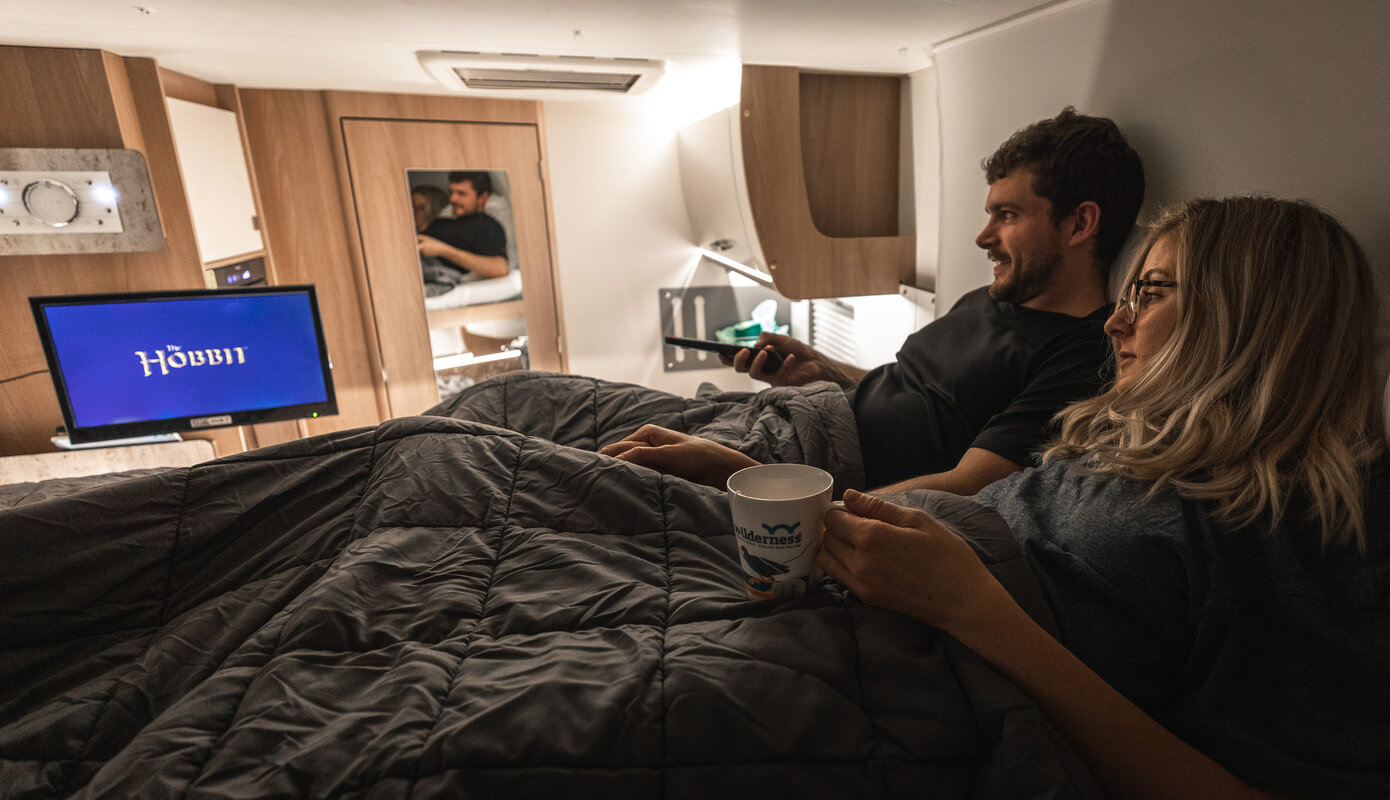 If you enjoy skiing, check out the five top ski resorts in Queenstown and Wanaka: The Remarkables, Coronet Peak, Cardrona, Treble Cone and Snow Farm. These resorts offer terrain to suit everyone from novice to expert.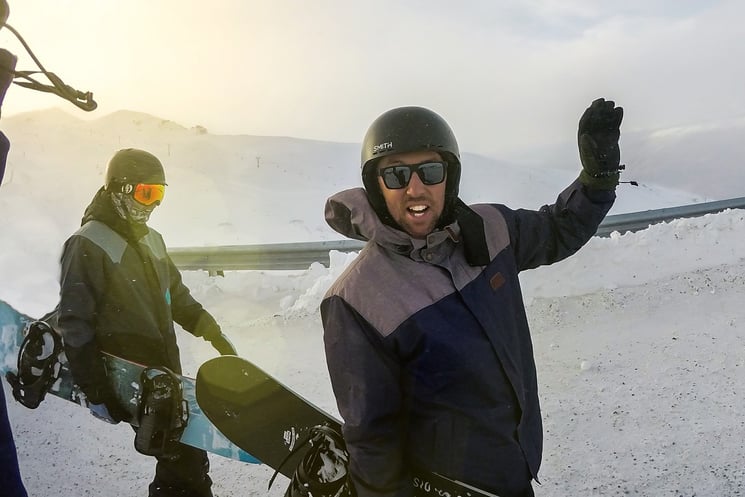 September to December is shoulder season
Travelling New Zealand in September, October, November and December

With the warmer spring weather comes longer days and fields of blossoms and delightful bouncing lambs. During September and October, expect the unexpected weather. Days with sunny periods followed by showers of rain and a sudden drop in temperature aren't uncommon. The weather becomes more settled in November and December as summer approaches.


Why take a campervan trip in September, October, November and December

November is the most popular spring month to travel. Since demand usually dips before the summer holidays start at Christmas, you can lock in some good deals on motorhome rentals especially in the first half of December.

Touring by motorhome in spring is the best way to experience the country emerging from winter. Walk through the parks in Christchurch to see the bluebells and daffodils and in Dunedin to see the rhododendrons. Then take the South Island's back country roads to see lupins in full bloom on the road side. Capture the brimming rivers and vigorous waterfalls on film. If you don't mind getting wet, spring is the perfect time to try white water rafting.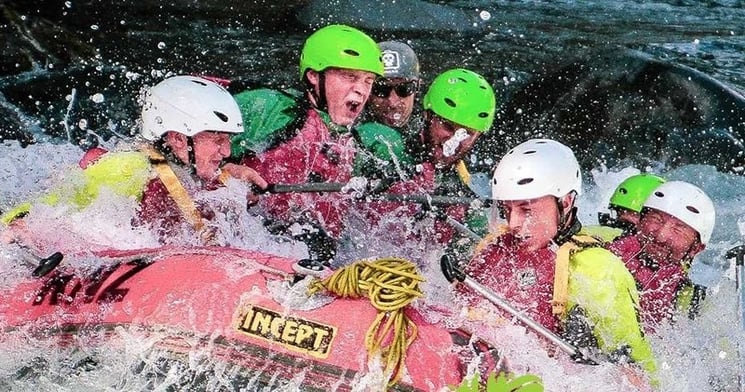 How to prepare for a campervan trip in September, October, November and December

Since the weather can be unpredictable in spring, make sure you're prepared for warm and sunny as well as wet and cool weather. Spring blooms may trigger allergies in some people so if pollen season usually affects you, pack your antihistamines.


Our favourite destination for September, October, November and December

Explore the gorgeous array of spring botanic displays in the Hamilton Gardens' 28 themed gardens. Don't miss the weird and wonderful Surrealist Garden. If you have the whole family in tow, we also suggest visiting Rotorua Canopy Tours south of Hamilton, for a thrilling zipline experience up high in the ancient native forest.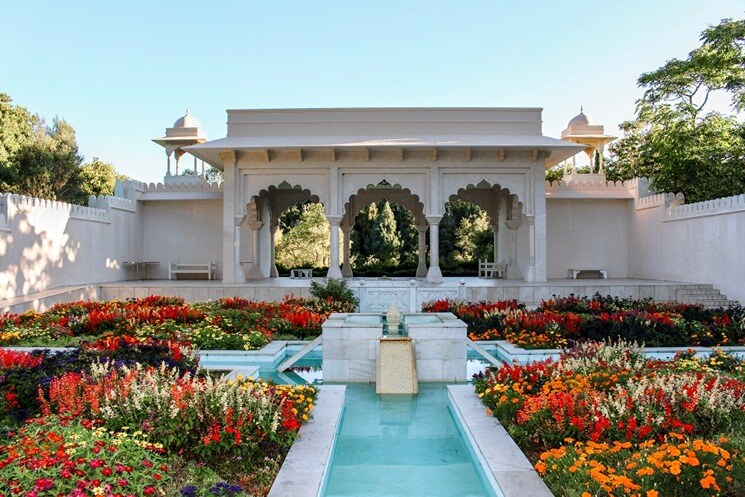 What's the best time to explore New Zealand in a campervan?
No matter what month or season you choose, there is so much to explore and enjoy throughout New Zealand. The best month will depend on what type of traveller you are, whether you're willing to take a chance on unpredictable weather in order to stretch your travel budget or you prefer the certainty of more settled weather and are happy to pay a premium.

If you're looking for settled warm weather, are not budget conscious and don't mind the crowds, consider travelling in the high season from mid-December to February.

If you don't mind cooler evenings and mornings that make way for warm days and prefer fewer tourists, an autumn road trip in March and April is perfect.

If you love colder weather, enjoy winter sports and like the idea of low prices for your holiday, the winter low season between May and August is worth considering.


Best months for enjoying beaches and fine weather:
January, February and March

Best month for festivals and events:
January

Best months to see autumn colours:
April, May

Best months to soak in a hot pool:
May, June, July, August, September, October

Best months for hiking:
April and May

Best months for viewing the night sky:
May, June, July, August

Best months for snow sports:
June, July, August

Best months for avoiding crowds:
June, August

Best months for visiting parks:
September, October, November


Our favourite season for touring New Zealand by motorhome is spring. The rugged mountains, untamed rivers, and rich coastal plains come alive with signs of new life - delicate blossoms, wide-eyed baby lambs, and exquisite birdsong. It's the perfect time for hiking the numerous trails New Zealand is renowned for and being adventurous - whether it's zipping through the treetops or cascading down a gushing river in a raft.
Whatever time of year you choose, we have no doubt you'll make some fantastic memories in New Zealand.
Be sure to check our tips for planning a New Zealand motorhome trip.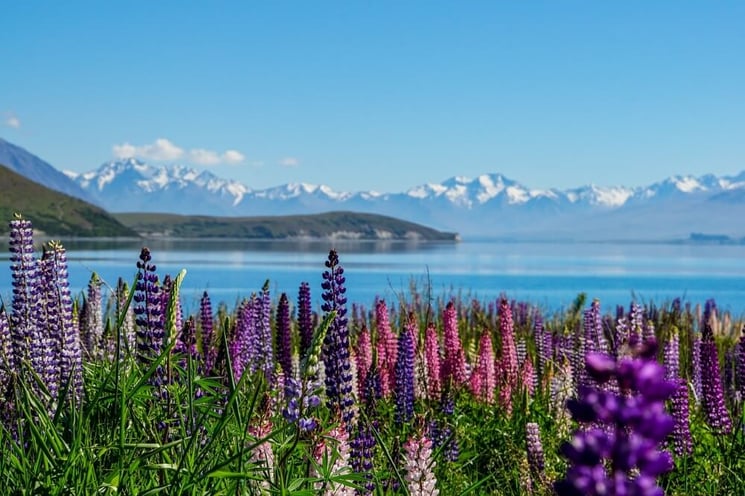 ---
Motorhome rentals book out fast. Book early to avoid disappointment!
---