The long weekend over Easter is always a popular time for Kiwis to take a break, as it's the last long weekend before the cooler weather of autumn and winter sets in. In 2018, Easter is observed from Friday March 30 to Monday April 2, with school-age children also having Tuesday April 3 off school.
If you're thinking about a family holiday over Easter, we still have some great deals available on a motorhome rental from Wilderness. Give our friendly reservations team a call and forget the hassle of finding accommodation – just climb aboard with the family and head out on the road!
We've rounded up some great Easter weekend activities from popular holiday spots around the country, along with some year-round attractions.
NORTHLAND
Waipu Carnival - Sat 31 March
A fun family event with entertainment, carnival rides, food and craft stalls.
waipucarnival.com
Northland for kids
Waipoua Forest – home to 'Father of the Forest', the giant Kauri Tāne Mahuta
Dune surfing in Hokianga
Dolphin watching in the Bay of Islands
AUCKLAND
The Royal Easter Show - Thur 29 March-Mon 2 April
New Zealand's largest family fun show returns to the ASB Showgrounds with a huge array of rides and entertainment for all ages. The A&P Show is also on site with livestock, FarmWorld and equestrian exhibits.
eastershow.co.nz
Waikaraka Park Speedway Easter Derby and Fireworks Spectacular - Sat 31 March
A night of thrills and spills for speed-lovers with a Demolition Derby, spectacular burn outs from thundering V8s and much more high velocity fun! To end the night the legendary Waikaraka Thumping Thunder Fireworks Spectacular fills the sky, along with Fire Balls and Flame Towers.
Waikaraka Park Speedway Easter Derby
Giant Easter Egg Hunt at the Amazing Maze in Maize - Fri 30 March-Mon 2 April
Thousands of eggs will be hidden in this awesome corn maze in Karaka (South Auckland) every day, with the Easter Bunny on site from 11am-2pm throughout Easter Weekend. The Amazing Maze is open daily from 10am-4pm with Easter bags and baskets available to purchase.
maze.co.nz
Dig It – MOTAT - Fri 30 March-Mon 2 April



A fun construction-themed event for kids, offering a variety of interactive activities for all ages. They'll also have the chance to operate the real thing, with Doug the Digger. There will be a construction zone, a craft activity, and a fun trail for exploring the MOTAT collection.
motat.org.nz
Brickman: Wonders of the World - Fri 30 March-Sun 13 May
One for LEGO® lovers! A special exhibition at Auckland Museum featuring LEGO® block-building skills that will blow your mind. LEGO® Certified Professional Ryan McNaught (aka Brickman) and his team have spent a jaw-dropping 4,944 hours building 50 incredible LEGO masterpieces.
aucklandmuseum.com
Auckland for kids
Auckland Zoo
Kelly Tarlton's Underwater World
SKYCITY Sky Tower
WAIKATO
Eureka: The inventions of Archimedes - On until Sun 24 June
Waikato Museum is the exclusive New Zealand venue to host this international touring exhibition showcasing the inventions and scientific discoveries of Archimedes, the 'Father of Modern Science'. With computer-modelled animations, interactive machines and an activity station, this exhibition is designed for all ages.
waikatomuseum.co.nz
Waikato for kids
Hobbiton
Waitomo Caves
ROTORUA
Melt: Festival of Chocolate - Fri 30 March-Mon 2 April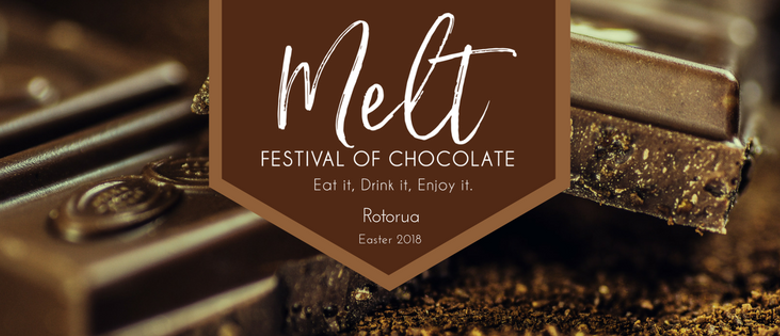 Calling all chocolate lovers! Don't miss this brand new festival with four days of chocolate-powered indulgence. There'll be stalls, tastings, an Easter Egg hunt, demonstrations for those keen to learn the art of cooking with chocolate, and much more.
meltrotorua.co.nz
Rotorua for kids
Wai-O-Tapu
Agrodome
Te Puia
Luge and Skyline Rotorua
WELLINGTON & WAIRARAPA
Late Fridays at Wellington Zoo - Fri 30 March
A zoo visit with a difference – experience what it's like 'after hours' with the animals, as the zoo stays open until 8pm. Special keeper talks are scheduled and children are half price after 5pm.
wellingtonzoo.com
Armageddon Expo - Fri 30 March-Sun 1 April
One for the bigger kids (and the grown-ups!) – this is New Zealand's biggest show dedicated to all things sci-fi, gaming and more. The 2018 guest line-up includes stars from Doctor Who, Harry Potter, iZombie, The 100, Supernatural, Dragonball Z, Attack on Titan. Exhibitors, gaming areas, celebrity signings and entertainment.
armageddonexpo.com
Wairarapa Balloon Festival - Thur 29 March-Mon 2 April


A vast gathering of spectacular hot air balloons. Events planned include morning ascensions from 7am throughout the festival, and the Night Glow Show on Saturday 31 March, when the tethered balloons are lit for a show set to music.
nzballoons.co.nz
Wellington for kids
Te Papa Museum of New Zealand
Zealandia Wildlife Sanctuary
CHRISTCHURCH
Weber Bros Circus - On until Sun 15 April
All the fun of the circus with a few thrilling bits thrown in! Experience Weber Bros new show 'Adrenaline' featuring the Globe of Death, FMX and the Human Cannon.
weberbroscircus.co.nz
Weka Pass Railway - Sun 1- Mon 2 April
All aboard the historic rural Weka Pass Railway, just 50 minutes from central Christchurch. Using both vintage steam and diesel-electric locomotives out of Waipara, this is a chance for kids to experience train travel as it used to be and see the sights on the way.
wekapassrailway
Black Caps v England - Fri 30 March-Tue 3 April
Cricket lovers could spend a day (or five!) soaking up the atmosphere at the 2nd Test between New Zealand's national Black Caps cricket team and the visiting English side at Hagley Oval in Christchurch.
Summer of Cricket 2018
Christchurch for kids
Vintage tram ride
Orana Wildlife Park
International Antarctic Centre

WANAKA
Warbirds over Wanaka - Fri 30 Mar-Sun 1 Apr
Known as the world's most unique airshow, Warbirds over Wanaka has something for everyone including aircraft displays, classic cars, the chance to ride in the airplanes and spectacular airshows. There is also a children's area with entertainment.
warbirdsoverwanaka.com
Wanaka for kids
Puzzling World
Lismore Jump Park (be sure to pack the bikes!)
Transport & Toy Museum
Don't delay - book your family Easter holiday today. Give our friendly Wilderness Reservations team a call on 09 282 3606 or live chat online at wilderness.co.nz