Cruising around New Zealand's remote wilderness is breathtaking, awe-inspiring, and simply good for the soul. Until nature calls — the kind of nature that requires a bathroom pretty urgently.

What to do when you're on route and miles away from the next town? Or when you're parked up for the night in the back of beyond?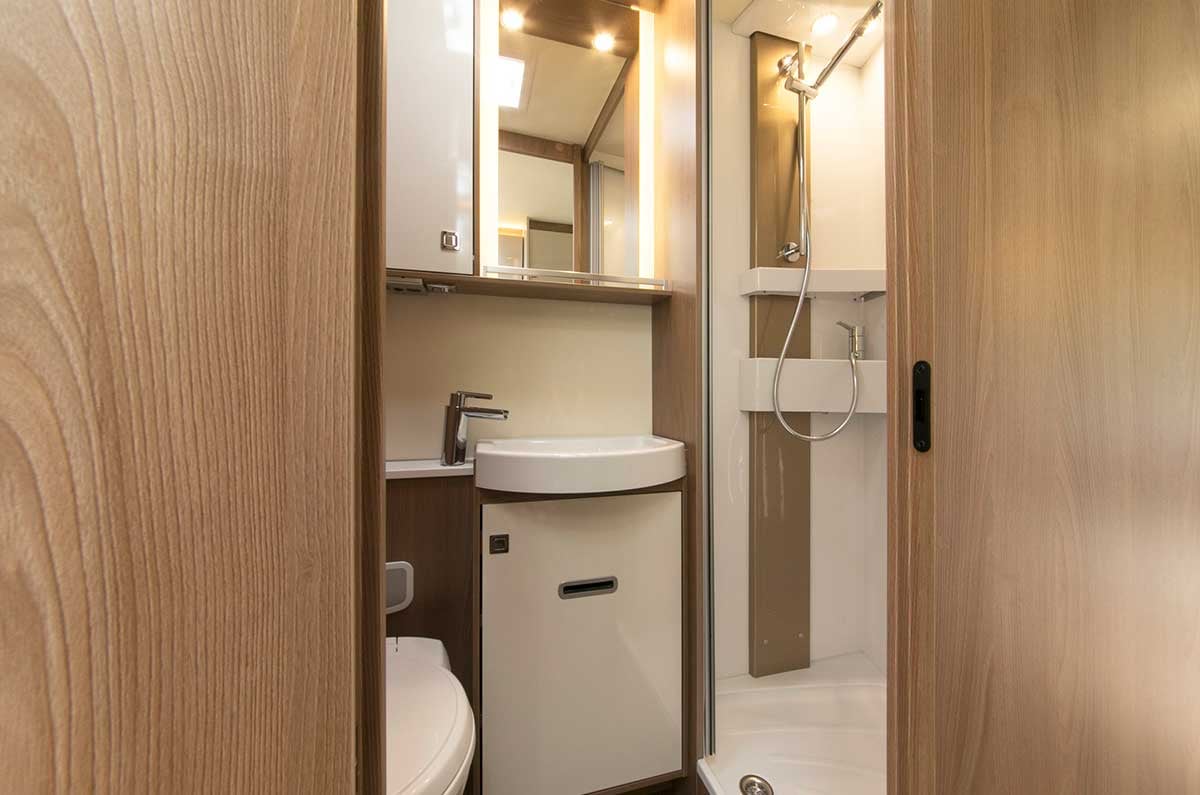 A motorhome toilet and shower for freedom camping

All large motorhomes built for rentals have a toilet and shower these days. Wherever the road leads, your private little bathroom will come too.

Having a bathroom onboard is not only extremely convenient and reassuring — it's also your ticket to freedom camping in New Zealand. Your vehicle needs to be self-contained so you can legally freedom camp and having a bathroom is step one.
Bathrooms on the road
While it's handy to always have access to a toilet and a shower, your motorhome bathroom probably won't be your main or only bathroom. It's relatively small — and the more you use it, the more you'll have to empty the toilet cassette and top up your freshwater tank.

You'll also be using public toilets when they're available and campground facilities when you pull into holiday parks.

The motorhome bathroom is a feature that truly sets a high-end motorhome apart from a standard one. But the onboard toilet and shower can vary greatly in terms of both layout and finish.


What are the most common toilet and shower layouts?
A standard motorhome commonly comes with a bathroom that's essentially a wet room.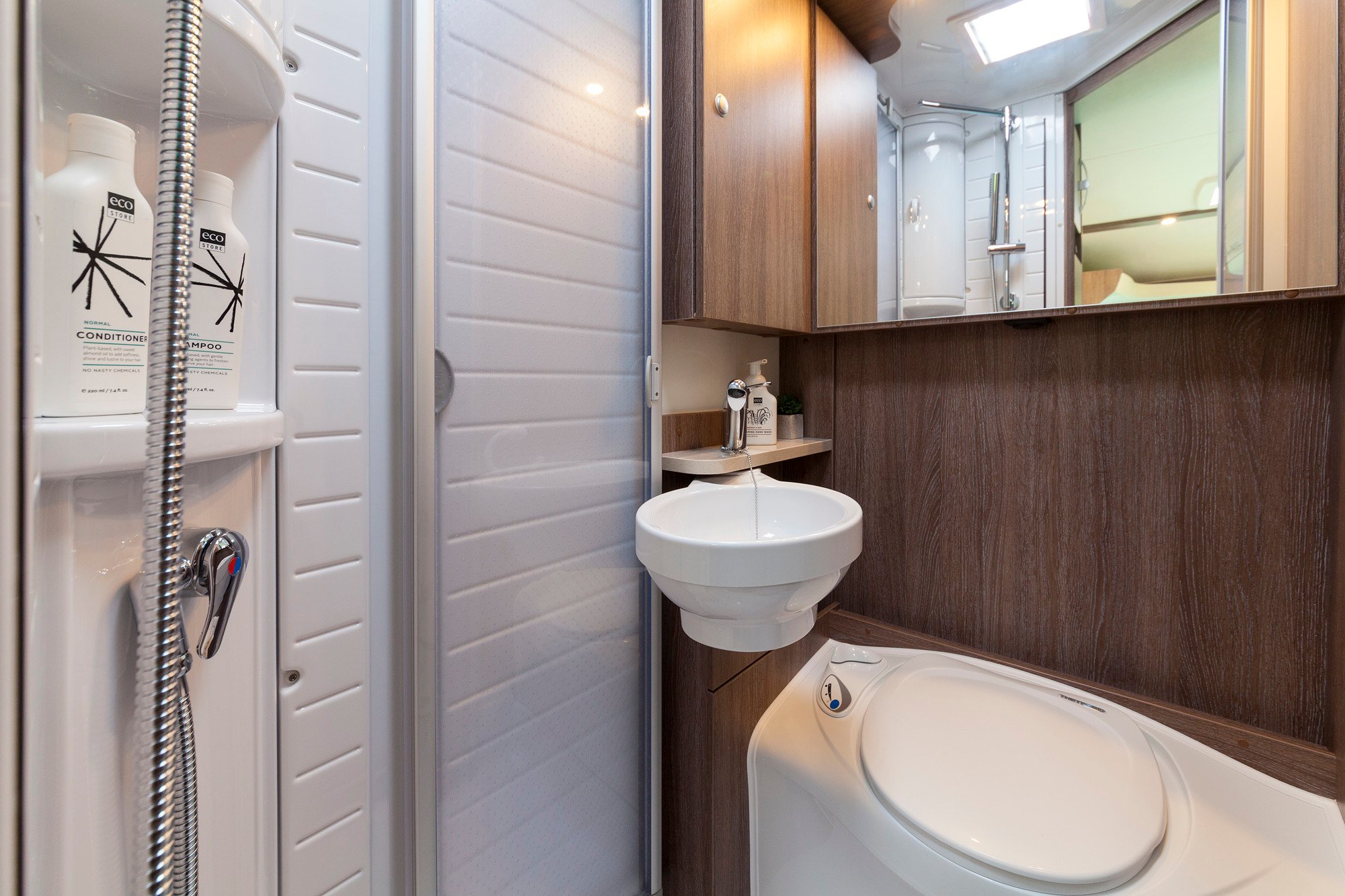 Wet rooms
Wet rooms are just as they sound — a small toilet, shower head and fold-down basin take up the same space and will need to be dried down after each shower. Often the basin has to be folded out of the way for the toilet to be usable.

A standard wet bathroom offers a larger overall shower space, but you won't be able to store any toiletries or other belongings as they'll get wet.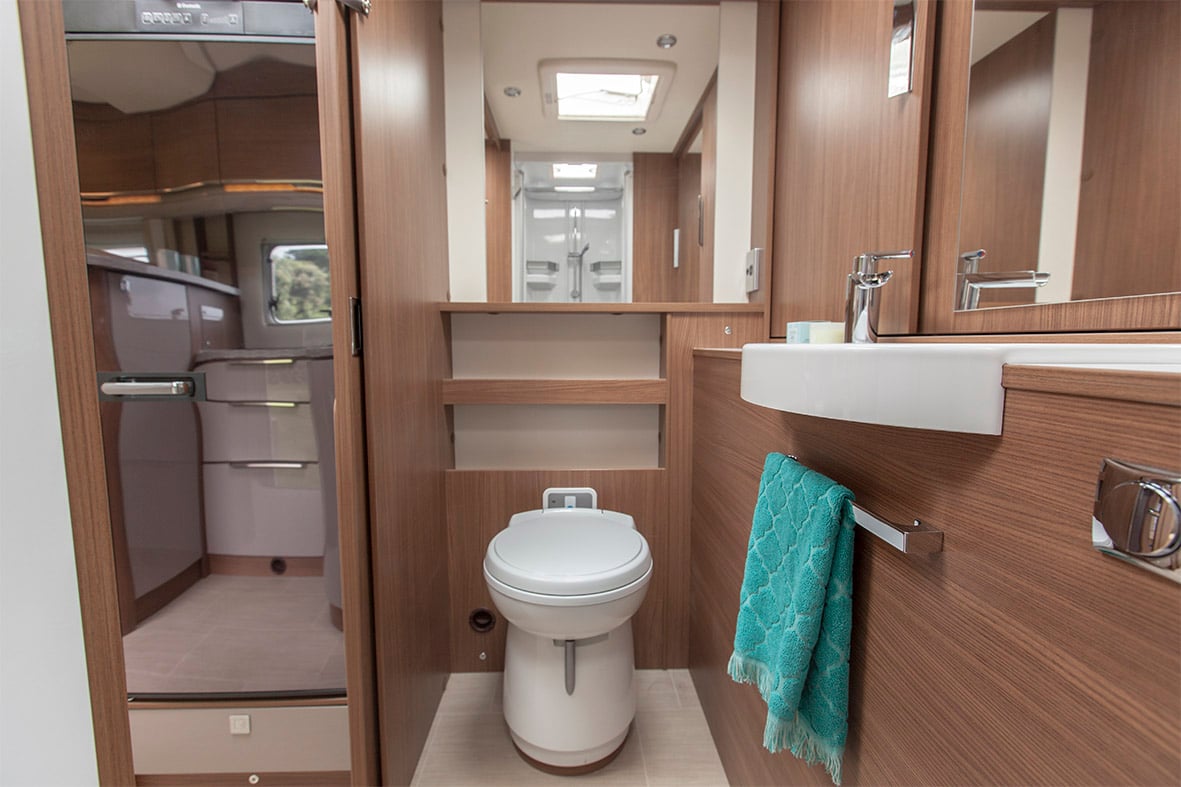 Dry rooms
A dry room is designed to feel more like your bathroom at home. There's joinery and cupboards, a basin that's normally fixed in place, and a separate shower so that the toilet area always stays dry.

Other advantages of a dry room bathroom are the:


Additional storage space — for all your essentials

Safety — you won't have to worry about slipping over.




And if there's central heating with a vent that ducts into the bathroom, you can use it as a drying room to dry your clothing and shoes overnight.

On the downside, higher spec bathrooms can be smaller than standard ones.

Both wet and dry rooms work well, but they do offer different levels of comfort. You'll more likely find a dry room in a luxury motorhome.



Separate rooms
In some premium models, the toilet and shower are built as two separate rooms. That's ideal when you're travelling with teenagers and there's higher demand for both facilities at the same time.

However, this layout takes up more floor space overall, which means that the bedroom or kitchen areas may be a little smaller or the shower or toilet rooms are smaller than in a combined bathroom.


Is it possible to have a proper shower?
Motorhome showers work much the same as your shower at home. The differences are that:


Water is limited to the amount the freshwater tank can hold (usually between 100 - 150 litres)
Used water flows into a grey water tank — where it's held until it can be emptied at a designated dump station

Water pressure may be lower — to help you use less water and stay off grid longer before needing to refill the freshwater tank.





Using your shower while freedom camping
It's not always easy to refill your freshwater tank in remote areas, so be mindful of your water usage while freedom camping. Keep an eye on the freshwater level on your control panel to make sure you don't run out.

Freshwater tanks vary in size. Many premium European motorhomes have tanks that hold around 120 litres.


💡 TOP TIP
Planning to get off-the-beaten-track and freedom camp for several days at a time? Consider buying a five or ten litre springwater bottle from the supermarket — so you'll always have spare cooking and drinking water.
Luxury motorhomes have very efficient low-flow water systems that are designed to prevent tanks from draining quickly. But even so, a shower can still use a significant amount of water.

If you and your travel buddy both take one shower and wash the dishes daily, you may get four to five days out of your freshwater tank.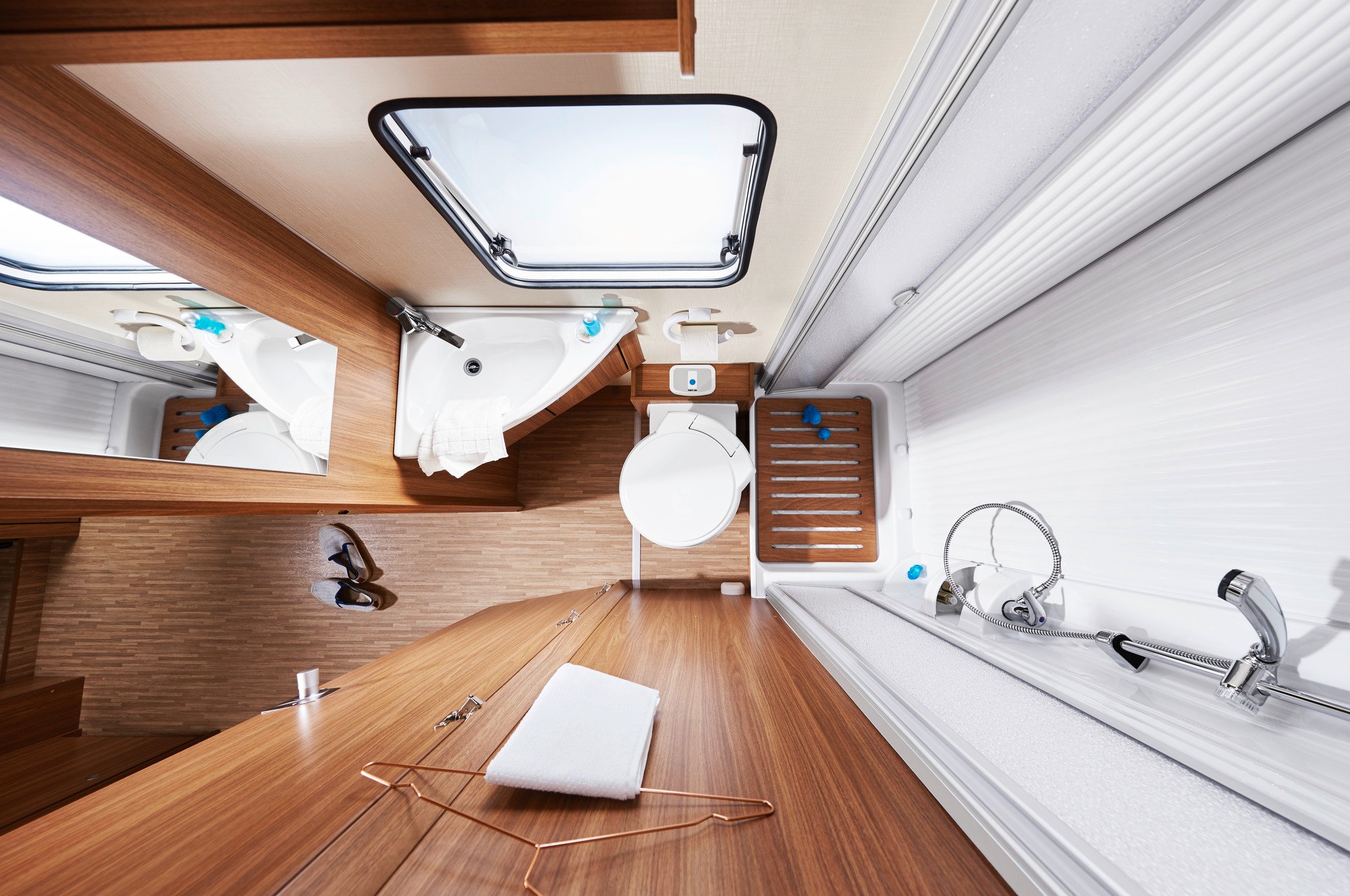 Keeping your showers short and sweet
Unless you're happy filling up your motorhome's water tanks every other day, you'll want to keep showers short and sweet. Plenty of travellers take the following approach.


Wet yourself down.
Turn the shower off while lathering up.
Restart the flow to wash off your soap.


Most motorhomes have a gas hot water system which heats the hot water on demand. Keep in mind that it can take up to 40 minutes to heat cold water sufficiently for a warm shower. Using the shower will also require power for the water pump.


Making use of campground showers
Many motorhome travellers only use the shower in the motorhome when freedom camping or when there's no other option. Taking a shower at a campground or holiday park is often preferred because they:


Are spacious and clean

Have an unlimited water supply.




A few campgrounds limit the duration of hot showers (and may even charge for hot water) but higher-end operators include hot water in their overnight camping fees.

Take a look at our guide to motorhome water.
How often should you empty your motorhome toilet?

Similar to showers, a motorhome toilet looks like your toilet at home — only it's a little smaller. What's different is the operating mechanism and the plumbing.


Parts of your motorhome toilet
Your motorhome toilet has a few important pieces.


Holding tank (or toilet cassette) — is located underneath your toilet, and it collects all the waste.

Lever — opens a flap in the toilet bowl covering the toilet cassette. Open the flap when you use the toilet and close it when not in use.

Button — for flushing.




The warning light
The toilet warning light is next to the button for flushing. It indicates when the toilet cassette is getting full.

If you have kids that still love to have a job, ask them to be the guardians of the toilet light and sound the alarm when it comes on. Don't use the toilet once the light is on, as waste could overflow.

If the toilet in a premium motorhome is used when the cassette is full, the system is designed to overflow into the cassette holding compartment — not the inside of your bathroom.
Emptying the toilet cassette
Emptying the toilet cassette is actually very straightforward. Most rental companies provide disposable gloves you can use. Follow these simple steps.


Ensure your toilet flap in the toilet bowl is closed.
Open the toilet cassette locker on the outside of your motorhome.
Lift the release lever and pull out the cassette — which usually has a spout to swivel out with a cap to remove.
Keep pressing down the breather button as you pour the contents out — so it can flow out smoothly and easily without any airlocks.
Rinse and drain the cassette.
Refill the toilet cassette as described in your motorhome manual — usually with a little water and a toilet chemical for minimising bad smells.
💡 TOP TIP
If two people are travelling in your motorhome with moderate toilet use, you may need to empty the toilet every three or so days. With more people or more frequent use, empty it every two days.

Utilise approved dump stations
In New Zealand, toilet waste and grey water must only be drained at approved dump stations. It's an important law that helps us keep our environment clean and safe — and travellers like yourself healthy.

Most towns have at least one public dump station which is free to use. Larger campgrounds also usually have one or more dump stations available for their customers. Use a travel app such as Campermate or search on Google for the closest dump station location.

Remember that you'll need to empty out the tanks before you return your motorhome.


Use public toilets when possible
To limit the number of times you'll have to empty your toilet cassette, use public toilets where available, like:


Playground areas
Campgrounds and freedom camping sites with facilities
Cafes and restaurants — if you stop for lunch or dinner.


Most people reserve the throne in the motorhome as a backup option for late night visits or urgent needs when a public toilet isn't available.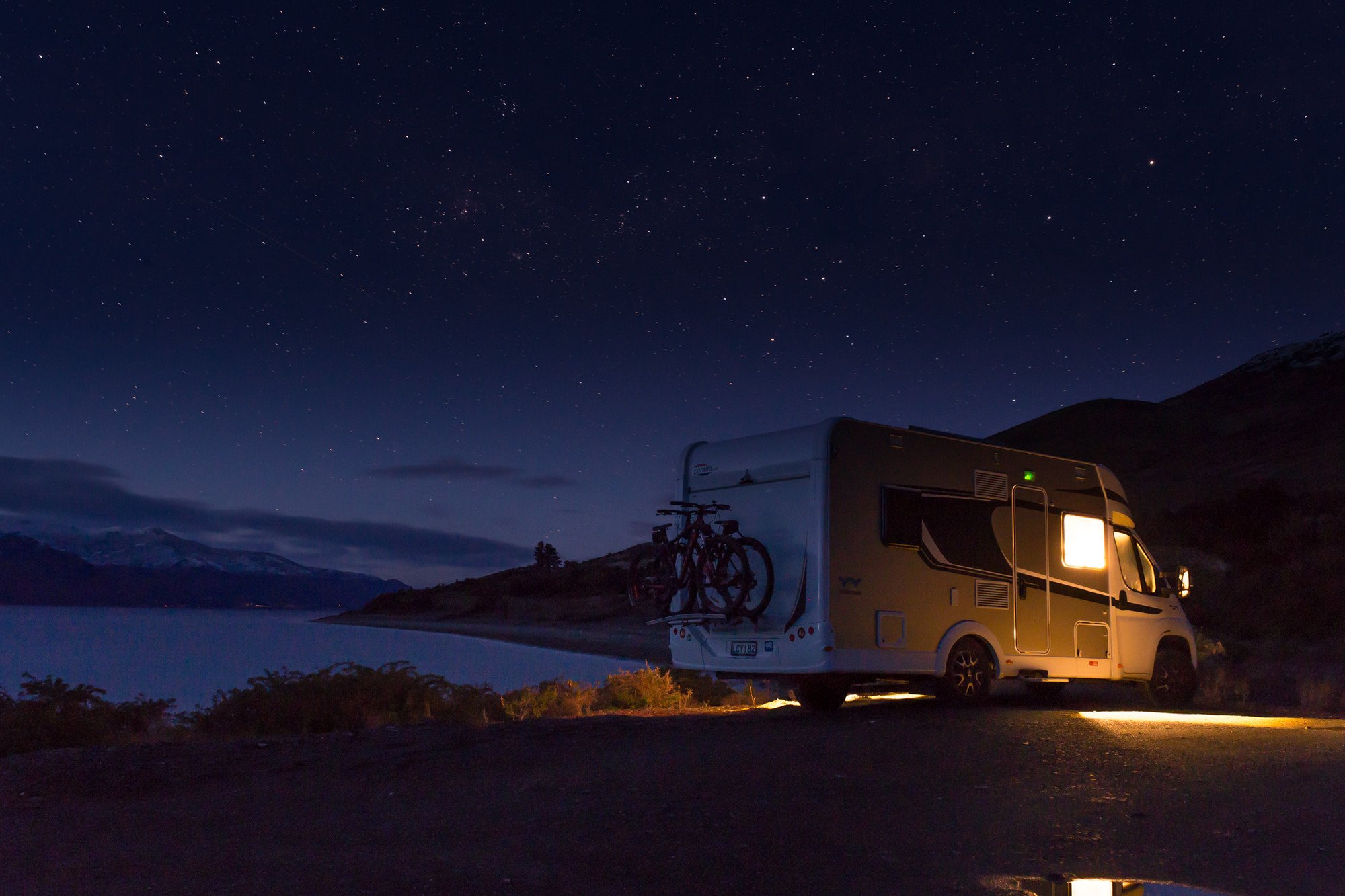 A more comfortable road trip awaits
If you're adventuring with young children, have a pregnant traveller, are recovering from an operation or injury, or are worried about bathroom access, a self-contained motorhome is right for you.

Having an efficient and well-designed toilet and shower on board makes any road trip so much more fun and comfortable. Because your motorhome's fully self-contained, you'll be able to freedom camp, and you won't get caught out when nature calls.

It's even easy to maintain and clean — meaning one less thing to worry about while on holiday.