The words 'driving' and 'children' don't always sound like natural allies. Until you mention the magic word, campervan, unleashing the adventurer in every kid.
With a bit of planning and foresight, a motorhome road trip can be the best family holiday ever.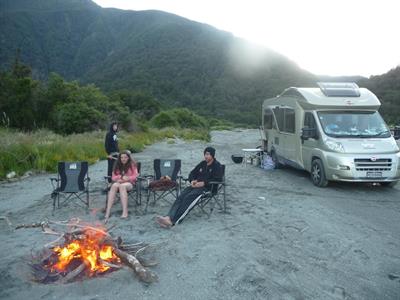 Think Like A Kid
The first and most important thing about travelling with children of any age, is to take it slow.
You may have heard the traveller's adage: after you've packed, remove half your stuff and double your spending money. With kids in a motorhome, it's better summed up as: while planning your itinerary, reduce the daily driving time, then reduce it again. And always be sure to have food.
Seriously, don't expect to do days of long-haul driving and remember that roads in New Zealand will often take longer to negotiate than you may be used to.
Think like a kid when you're planning. Grumpiness prevention is a worthwhile investment.
Planning
All but the very youngest child can be involved in the planning. Encourage kids to find about New Zealand with books and websites.
Let them help choose the activities – maybe something special like whale watching, volcano climbing or feeding lambs.
Attractions don't have to be pricey theme events. Natural wonders like a black sand beach or bubbling mud will capture children's imagination.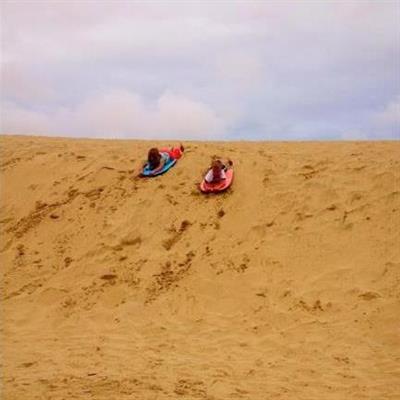 Resist the temptation to do everything - it's surprising how often kids are most content at a basic playground or poking around in a tide pool. Give them downtime and time apart, even if it's just building their own separate sand castles.
Be flexible enough to enjoy the low-key spontaneous stops. In retrospect, these may turn out to be the most rewarding.
Aim to arrive at overnight destinations before dark to make everyone comfortable and familiar with the site.
Stay in a holiday park or commercial campground periodically – these have child friendly extras like a trampoline and maybe a swimming pool, as well as other kids for yours to tribe up with. They're also a good place to do laundry.
Provisions
Be sure to bring (or buy in NZ):
Distractions – there's a place for DVDs, iPods or mp3 players, or devices loaded with games, apps and information about NZ; driving is one of them. Have a few small 'surprise' activity packs on hand – puzzle or sticker books, plasticine, even a roll of tape can provide entertainment for a child. Avoid things with lots of loose pieces.
Sunscreen (and hats and maybe sunglasses; the NZ sun is fierce – kids burn faster than adults; keep an eye on babies and toddlers in a backpack who get more sun than you realise
Insect repellent – not required everywhere but a must for sand-flies in parts of the South Island.
Medication – as well as any prescriptions, consider bringing standard over-the-counter medication your child is used to; the NZ version may have a different form or flavour which can be off-putting for a sick child
Flashlight/torch – a solar one can be fun; a head torch is useful for bedtime reading
Toys – your child's choice of a favourite small game or toy and of course, any beloved bedtime cuddly toys or special blanket
Small first aid kit, safety pins, sewing kit, rubbish bags, wet wipes, hand sanitizer
Ziplock bags – endlessly useful for everything from headphones to beachcomber's collections to leftovers
Camera – give everybody one
Travel journal – can be as simple as a school exercise book. Get one with plastic pockets to hold mementoes like ticket stubs, pamphlets, leaves, feathers and so on.
Assign each child their own space in the motorhome for their gear. Engage them in the few chores of motorhome living; the novelty will make it fun for them to be helpful.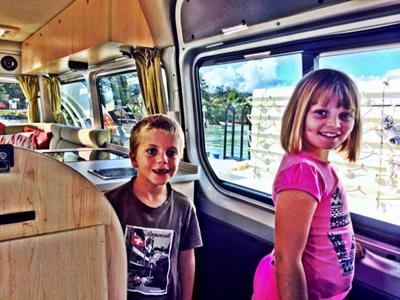 What To Pack
A teacher I know says 'There's no bad weather, only bad clothing.' Whether you agree or not, no one likes to be too cold, too hot or too wet.
Pack enough changes of clothing to last between laundry stops but be realistic about the limited space in a motorhome.
Even with independent teenagers, supervise their packing before you leave home.
Layering is the traveller's friend. Polar fleece and merino are the fashion staples of NZ campers.
A raincoat is a must.
Opt for sturdy, practical footwear.
Personally I avoid white while camping but some people enjoy doing laundry more than I do.
On The Road
As above, keep your daily distances child-friendly. Be armed with healthy snacks.
Make frequent stops. Often a short walk will take you to a hidden waterfall, a giant tree or a swing bridge.
Get the children to help navigate – it's a lost skill in these days of GPS.
Turn them into your tour guide for the day; hand over the guidebook and ask them to tell you about the interesting sights along the way.
You know their sleep habits – if you have nappers, keep to their schedule and drive accordingly. (Establish your own routine but don't be a slave to it. Some classic NZ sights are nocturnal!)
Allow the kids to be 'plugged in' while you drive – it's a holiday.
Use your provisions – there's also the old family standbys of alphabet games, car bingo and I Spy.
Safety & Comfort
All children need to be in an approved child restraint. You can usually book child seats and booster seats when you reserve your vehicle. Height is a better guideline than age for a properly fitted child seat; booster seats are recommended until 148 cm (4 ft 10).
Babies under 6 months need to be in a rear facing seat. Not all campervans can accommodate a young baby so be sure to check.
Not all motorhomes have enough floor space to accommodate a a standard travel cot. We recommend The Suite as it has plenty of floor space to fit your travel cot. Talk to the reservations team about bringing your baby.
Children may enjoy a seat belt buddy or travel pillow.
Be patient if you have a child prone to motion sickness. Try ginger lozenges or lemon-flavoured ice blocks.
Do it right and a motorhome adventure is bound to rate as a family favourite. And that goes for the grown-ups too.