Your Wilderness campervan will be a home away from home during your New Zealand adventure, so it's important to understand how to keep everything running so that you're never left in the dark or out of phone battery!
How it works
Your Wilderness campervan has power supplied to its living compartment by a rechargeable 12V house battery and 240V mains power when you're connected at a campsite.
What the 12V house battery does
It powers the lights in the living area as well as the water pump and LCD screen with DVD player, so these will work when you're not plugged into mains power. (Heating runs off gas bottles in your motorhome.)
It recharges while driving and will recharge fully when the motorhome is plugged into 240V mains power overnight.

It is separate from the starter (engine) battery, so you can still start the engine even if the 12V house battery is running low on power.
Wilderness motorhomes can run all supplied appliances onboard for up to 48 hours from the 12V house battery, without needing to drive and recharge during this period. This allows you to freedom camp for 2-3 days at a time.
If you drive once a day for at least 3-4 hours, it will recharge the house battery and you won't see the battery levels come down much, if at all. However, we do recommend you stay overnight at a powered site every second or third night to fully recharge the house battery - just in case you don't drive enough to do this.
What 240V mains power does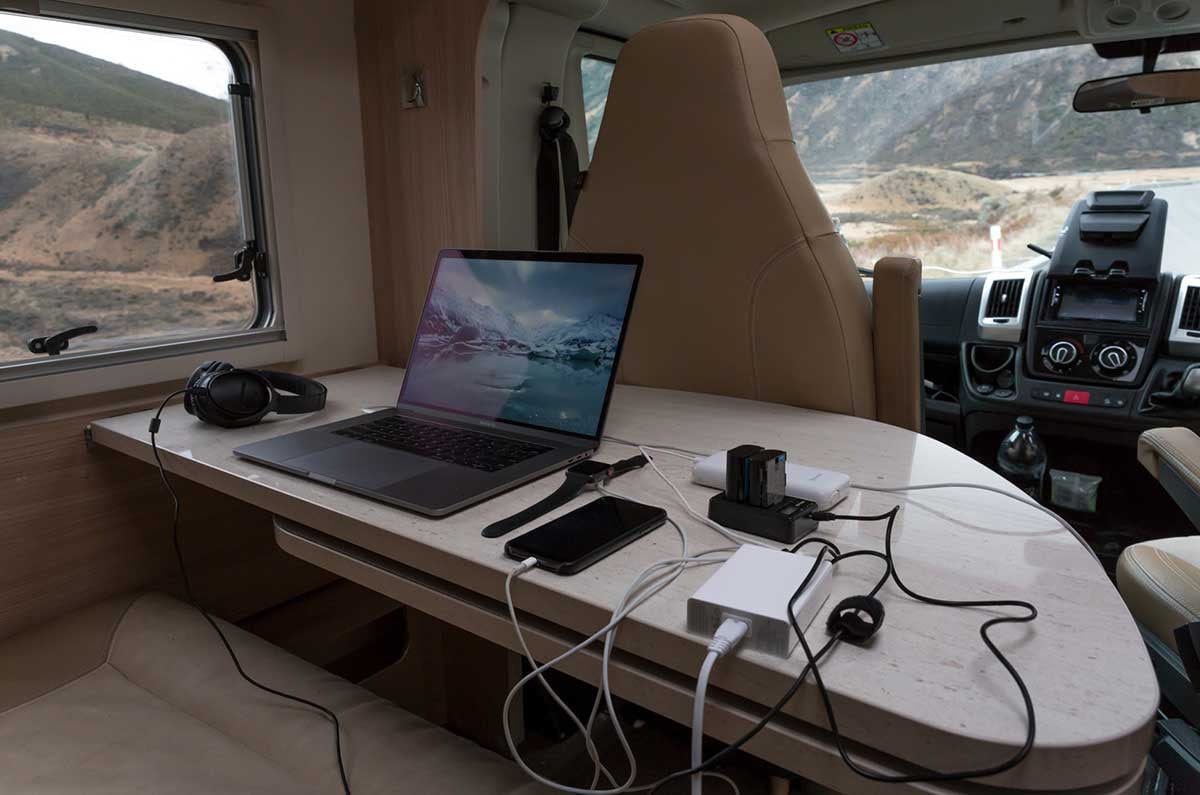 You need to be plugged into mains power to use the power sockets to operate any electrical equipment like an electric jug, toaster, portable heater and any devices you may have brought with you (laptop computer, digital camera, or mobile phone charger) that is over 600w.
New Zealand uses angled two or three pin plugs – the same as in Australia and parts of Asia. If you're visiting from another country you will need a power plug adapter for your devices and a voltage converter for anything that doesn't run on 240V. NOTE: If your hair dryer or straighteners require more than 600W they won't work unless you are plugged into mains power.
If you're not plugged into mains power (e.g. freedom camping or stopped somewhere other than a campsite) and need to use a socket, there is a power inverter in your motorhome. This converts power from the house battery to 240V/600W power, giving you a socket when "off the grid".
IMPORTANT: Never start the motorhome engine when you are plugged into mains power.
How to plug into mains power
When you stay at a 'powered' site at a campground or holiday park, you will have access to a 240V mains power connection. You can connect to this using the power lead provided in your campervan.
How to monitor your power
· There is a control panel on the wall in your motorhome. From here, you can turn the 12V house battery on and off and see how much charge it has remaining.
Video tutorial – Power in your motorhome
Watch an easy explanation of how the power in your Wilderness motorhome works:
Our Adventure Support team will take you through your Wilderness motorhome step-by-step when you collect it. They will explain the power system and how to use it, and you will also find easy-to-follow instructions in the campervan for when you're on the road.