A campervan holiday is one of the best ways to see New Zealand – you can travel at your own pace, get off the beaten track and take time to enjoy the spectacular scenery for which this country is famous. Choosing the right campervan means you can also stay overnight in comfort in some amazing locations. Imagine watching the sun set over crashing waves at a surf beach before you head to bed, or waking to sunrise over mountain tops. This is what freedom camping allows you to do and it's the ideal way to see all New Zealand has to offer.
What is Freedom Camping?
Freedom camping is when you stay on public land that isn't a recognised campground. To do this legally you need a vehicle (usually a campervan) that is designed to be self-contained for up to three days. That means you have enough reserves of water and power to stay in an area with no services because you have the required facilities in your campervan to be self-sufficient (a toilet, fresh water storage, wastewater storage and a rubbish bin with a lid). Campervans that are certified self-contained (CSC) have a compliance sticker to show this.
How Do I Choose the Right Campervan for Freedom Camping?
The quality of CSC campervans available to rent in New Zealand varies, so when booking your motorhome do some research to ensure the company is reputable, and ask about the features and what's included.
For example, bathrooms in CSC campervans can range from a portable toilet (at the cheaper end of the market), to a toilet and shower area screened off by just a curtain, to a full bathroom with toilet, shower, basin, storage and lockable door (in more premium campervans). It also pays to check what kind of heating is provided in the vehicle (especially if travelling in winter), if bedding is included (some rental companies charge extra for this) and what sort of fridge, cooking and kitchen equipment is provided.
While choosing a cheaper rental may save you money initially, you could find you need to buy extra items (blankets, pots and pans, cutlery etc) after you collect your vehicle.
It also pays to check the quality of the motorhome you're hiring and what sort of on-road support the rental company provides while you're travelling in New Zealand. You don't want to find yourself in a campervan with mechanical issues and no one to contact for help.
Where Can I Freedom Camp?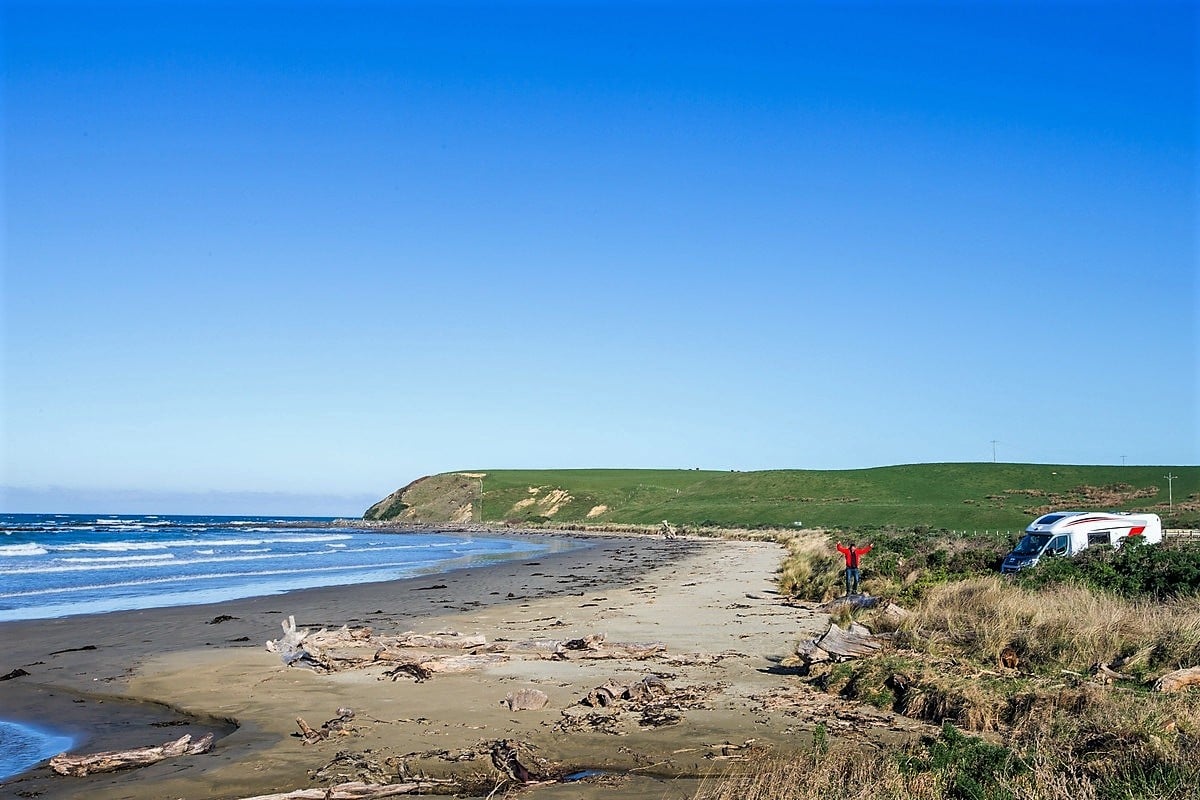 New Zealand has a huge range of freedom camping spots, many of which are beachside, by lakes or native bush, or with spectacular mountain views, while others are in towns and cities. Sites on public conservation land (usually near beaches or bush) are administered by the Department of Conservation (DoC). You can search the DoC website to find a spot with campervan access. The most basic DoC campgrounds are free, with fees increasing according to the services available (for example, the water supply may just be a stream).
You can't just freedom camp anywhere – an increase in freedom campers in New Zealand means local authorities now designate sites where freedom camping is permitted. Some may also require the purchase of a freedom camping permit for a small fee (less than NZ$6 per night). Always check for "no overnight camping" signs or ask for recommended spots at a local Visitor Information Centre (called i-SITEs). You can get an instant fine of $200 for freedom camping in a prohibited area and get a court fine of up to $10,000 for a major dumping of waste, for example a campervan emptying its sewage tank onto public land.
Some of the places that are free to camp might be next to busy roads or in council car parks. Do some research beforehand to find the best spots, or once you're on the road use an app like Campable to see all the freedom camping spots and amenities near you.
Anything Else to Know?
A self-contained motorhome is a great way to travel as it covers your transport and accommodation and freedom camping lets you get even closer to the scenery. Don't be put off by having to top up water or empty the toilet – it's clean, quick and easy, will only need to be done every few days and is well worth the freedom a campervan holiday brings.
Find Out More
All vehicles from Wilderness are modern European motorhomes that are certified self-contained, ideal for travelling year-round in New Zealand and come with everything you need, as well as on-road support.
Useful Links
Freedom Camping in NZ
Department of Conservation (DoC)
Campable