Thinking about visiting New Zealand? Whether it's for the first time or an encore excursion, you'll want to consider including a road trip.

But what if you're used to joining tours rather than creating self-driving itineraries? Here's a tip — it's never been easier or more enjoyable to plan a roadie around this astoundingly beautiful country.
What makes New Zealand a great road trip destination?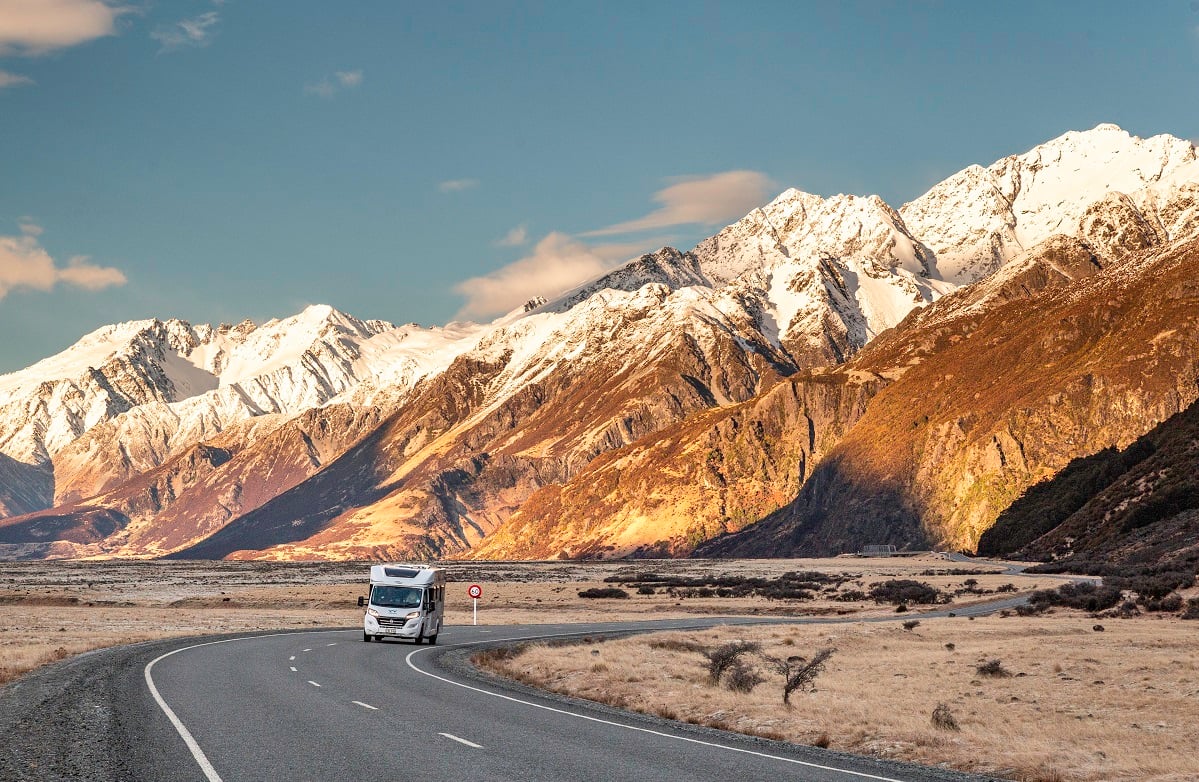 Are you a fan of jellybeans? Who isn't, right? New Zealand is a lot like a bag of jellybeans — it's full of a wide assortment of small delights making the entire bag simply too hard to resist.

Those delights are the incredible activities and geography on offer. The choices are endless, including:


Mountains or rolling flats

Beaches or hills

Rivers or lakes

Mountain biking or hiking

Skiing or bird watching

Bungy jumping or jet boat riding




A relatively compact country, there are so many captivating drives that will satisfy your curiosity and quench your thirst for activity.

Of course, you can also opt for the lazy approach — did someone say hot pools? Surely it's time to start planning your dream New Zealand road trip.
What are the roads like in New Zealand?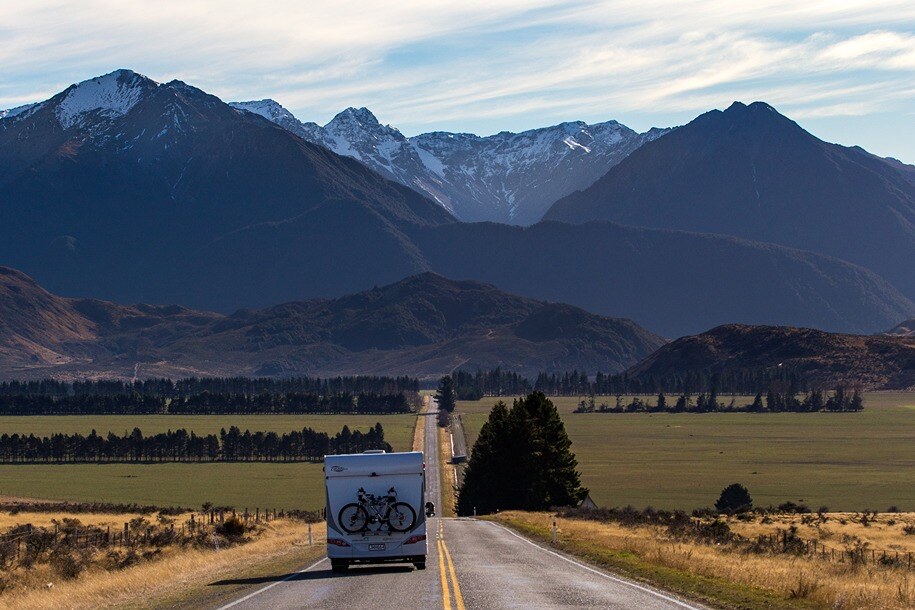 New Zealand roads are mostly excellent, so you'll be able to take your time. After all, taking your time is what travelling by motorhome is all about.


Narrow and winding

Some routes away from the main centres may be narrower or windier than you're used to. Other interesting points about NZ roads are the:


Motorways — they're few and far between, mainly on the outskirts of cities

Two lanes — most roads have traffic going in both directions separated by little more than a white line

One lane bridges — where only one direction of traffic can cross at a time

Unpaved routes — sometimes referred to as metal roads by Kiwis, they provide access to some of the best off-the-beaten-path locations




You'll be able to enjoy the freedom of exploring unsealed roads if you choose to go with a Wilderness motorhome.

The further you get from civilisation, the more likely it is that roads will become narrower and require more care. Remember to always stay focused and drive to the conditions.


Less is more

Less is more when it comes to touring New Zealand. Focusing on small areas, rather than trying to see the entire country in a couple of weeks, will be a more rewarding plan.

A smart rule of thumb is to try and drive less than 200 km per day — or to limit yourself to two and a half hours behind the wheel each day. If traffic backs up behind you when driving your camper, pull over in a safe spot and let it pass.

Following the mantra of less is more will ensure you don't feel rushed. Pull over where you want — New Zealand life generally moves slowly, so you'll fit right in.
Is it easy to drive around New Zealand?

First, and most importantly, New Zealanders drive on the left. This can be a novelty if you're used to driving on the right, but it's important to be very cautious until you feel comfortable.

New Zealand road rules are very easy to understand. Most road signage is consistent with international conventions so it's like you'd expect at home. Check out our super helpful resource about Driving in New Zealand from Waka Kotahi (New Zealand Transport Agency). Written for international visitors, it's just six pages long and available in 12 languages.

For more tips on driving a motorhome safely in New Zealand, see our guide for first time motorhome drivers.
Self-drive or package tours — which is cheaper?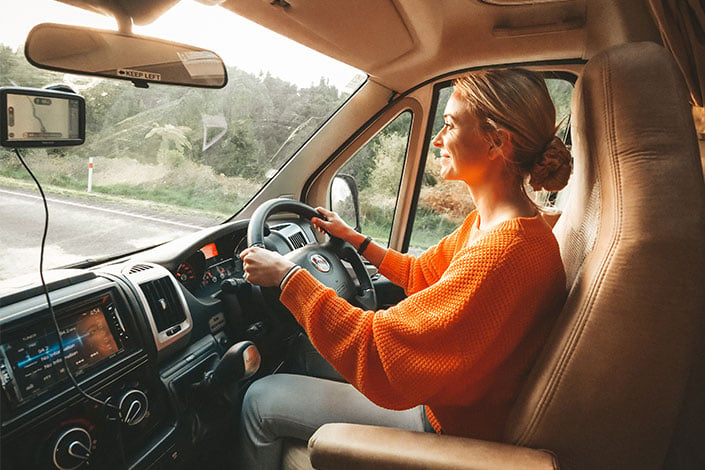 Package holidays take a lot of the guesswork and leg work out of a vacation. There's a certain relief when giving yourself over to a pre-planned itinerary.

However, you might also find there are activities that aren't offered which you'd like to do — or alternatively, things are planned that you're not so keen on.

If you have an independent traveller mindset, self-designed self-drive holidays are an excellent option. Compare whether a campervan, RV or motorhome is best for your travel party.
Which vehicle is ideal for your New Zealand road trip?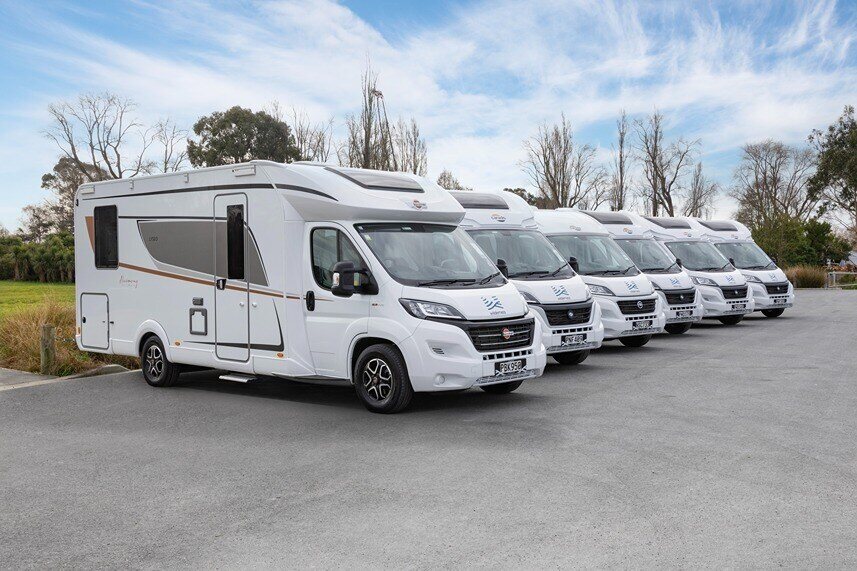 Now that you've embraced the idea of a self-drive holiday, your next step is to figure out:


Where you want to begin

The places you wish to go

How you prefer to get there




Exploring off-the-beaten-track with comfort and style is best done in a motorhome. You'll be fully self-contained and able to discover out of the way spots. You'll also have the option of parking up at some sublime freedom camping sites.

Hiring a compact car may be more convenient or feel more manageable, but a motorhome means you won't need to unpack or repack at each destination.

And while a car can seem more economical, you'll end up paying more for accommodation. When it comes to self-catering, a campervan or motorhome can be both easy and comfortable.

Weigh up whether to hire an RV or choose hotels with a car.
Epic New Zealand road trips
We've highlighted a handful of epic New Zealand road trip destinations to stimulate your appetite for adventure.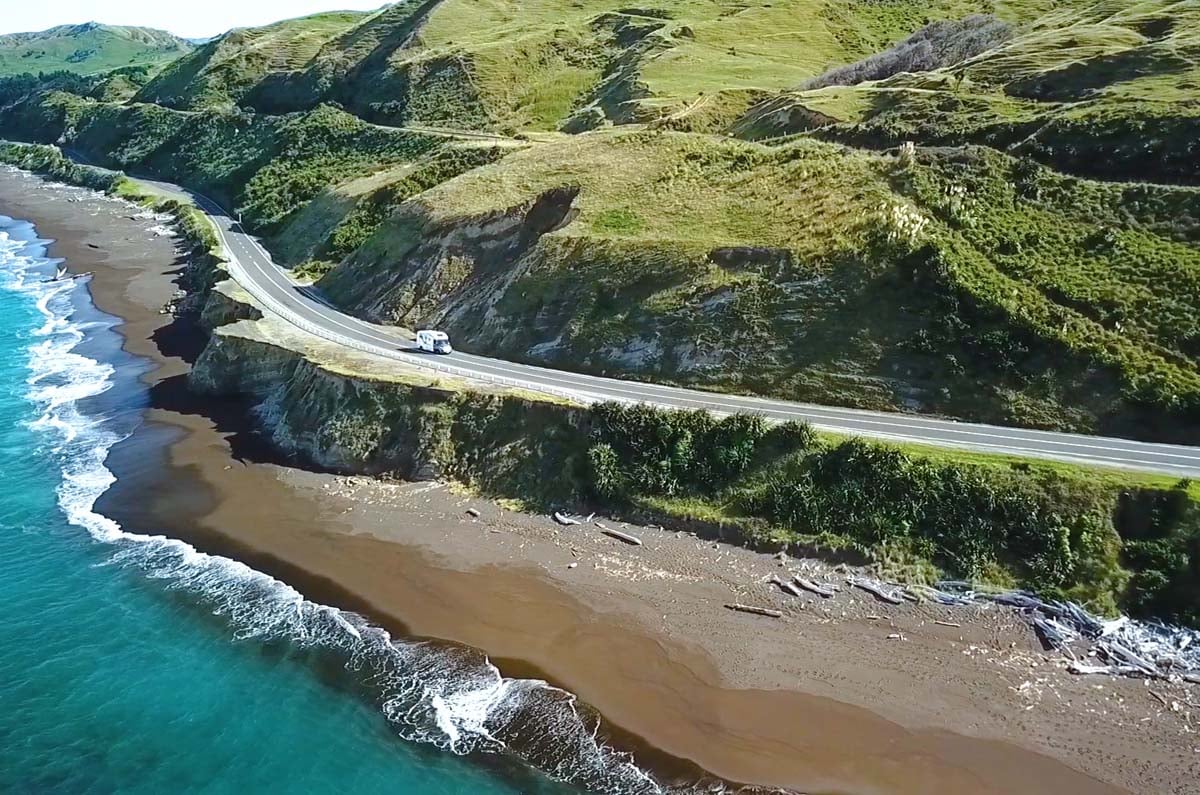 Surf Highway 45 — New Plymouth, Ōakura, Ōpunake and Hāwera

Take a trip along Surf Highway 45, and you'll be rewarded with 104 km of divine coastal cruising.

Set off from charming New Plymouth and pass through the beach enclaves of Ōakura, Ōpunake and Hāwera, You'll also be circumnavigating majestic Mt Taranaki and you'll see why it was the stand-in for Mt Fuji in The Last Samurai movie.

Pack your swimsuit, a surfboard and your hiking boots — as well as your appetite for fine food and culture. Isn't it time you explored some of the most pristine parts of New Zealand's North Island?



Pacific Coast Highway — Auckland, Coromandel, Hawkes Bay

Prepare yourself for 1,100 km of awesomeness! Depart Auckland and head for the dreamy Coromandel Peninsula.

Spend a night in Whitianga before continuing on through Tauranga, Whakatane and the stunning East Cape towards Gisborne — before finishing in Napier, the art deco capital of New Zealand.


A few must-sees include:


World famous Cathedral Cove — not far from Whitianga

Hot Water Beach — dig your own hot pool in the sand

East Cape Lighthouse — at New Zealand's most eastern tip




Gisborne Rail Bike Adventures and the Arboretum should also be on your to-do list on this roadie.



Alpine Pacific Route — Christchurch, Kaikōura, Hanmer Springs

Set off from Christchurch towards Kaikōura, then cruise inland alongside the Kaikoura Ranges to the popular spa town of Hanmer Springs.

This 450 km itinerary offers:


Whale watching
Mountain biking
Hot springs
Vineyards — as well as opportunities to dine on crayfish (rock lobster)


Reserve a half day for gazing at the kēkeno (New Zealand fur seals) in their protected colonies. To watch the blubbery mothers hanging out with their adventurous young is like having a David Attenborough documentary come to life.



Southern Scenic Route — Dunedin, Milford Sound, Invercargill, Queenstown

This 810 km excursion includes Dunedin and takes in the coastal Catlins, Milford Sound, Invercargill and Queenstown.

You'll want to keep your camera handy because the scenery will blow your mind. If you time it right, you might be around for the Aurora Borealis (Southern Lights).

Featuring delicious cuisine including kai moana (seafood), there are plenty of spectacular day walks in this region of NZ. A few of those walks are:


Discover unique wildlife, glassy lakes, sky-reaching mountains and some of the most brilliant night skies imaginable.
Hire your wheels and hit the road
Your road tripping plan is coming together, and you've booked some dates away from work. It's time to make a decision about how you want to travel. Is the comfort of a motorhome right for you? Will a car and tent do the job?

With so many roads to enticing places, you'll also have to settle on a route across the country. To paraphrase Forrest Gump, New Zealand is like a box of chocolates — you really don't know what you're gonna get.