Renting a campervan or motorhome is one of the best ways to discover this stunning country – so it's no surprise that there are a host of different vehicle types available for hire here. Here's an overview of the most common camping vehicles available for rent in New Zealand – along with useful tips to help you find the right RV rental for your adventure.


What camping vehicles can I rent in NZ?
An RV, or recreational vehicle, is a catchall name used for motorised camping vehicles. It's a term that's commonly used in North America but less so in New Zealand. The main types of RVs available to rent in New Zealand are campervans and motorhomes.


Campervans



The term campervan is popular in New Zealand and sometimes used for all types of camping vehicles. But technically speaking, a campervan is a smaller vehicle based on a van body with a bed. It's best suited for two people. Most campervans have a kitchen set up, however, the smaller vans don't have a bathroom or toilet, which means they may not be self-contained.

Larger vans tend to have a wet room with a toilet and shower. As they are usually higher they also give you some more headroom. You can sleep up to four people in some larger campervans. And while they're still very easy to drive, they have the added advantage of allowing you to freedom camp and stay overnight in places that require self-containment certification. Some vans have extendable roofs and over the cab beds. Overall, the biggest downside is that campervans offer limited space and can feel crammed. On the plus side they're affordable and very easy to drive and park.


Pros and cons of campervans

Pros
Most economical
Compact and maneuverable
Suitable for short getaways and everyday use
Cons
Limited space and headroom
Limited camping site options
Less suitable for winter
Motorhomes
Motorhomes are by far the largest and most popular category of RV rentals in New Zealand. They are roomier vehicles providing more living space and comfort. The specs of the vehicles can vary greatly, from chassis and engine through to the habitation unit and fit out, so it's important to compare all the features and understand what you're getting for your money.

Unlike a campervan, a motorhome is built on a truck body. How the habitation unit is integrated into the truck body determines the type of motorhome it is. The two most common categories for rental motorhomes are semi-integrated and cabover. Less common is the integrated category.


Cabover Motorhomes
The cabover body type is the original rental motorhome seen on New Zealand roads since the 1950s and is still the most popular. These iconic motorhomes have a bed above the driver's cab and are popular with rental operators because they're suitable for multiple layouts. The most common layout is a four berth with a lounge in the rear which converts to a double bed at night (by rearranging the seat cushions) and a double bed over the cab which is accessible with a ladder. The six berth version has a dinette in the middle that converts to a double bed again with the arrangement of the seat cushions.
Pros and cons of a cabover motorhome
Pros
Ideal for families
Good option for couples
Lots of storage
Cons
Beds are less comfortable and convenient
Increased fuel consumption
Extra height can be hazardous
Semi-integrated Motorhomes


Semi-integrated motorhomes first appeared in rental fleets around 2012. Most have been imported from Europe although a small portion are made locally. A semi-integrated is a motorhome that has the driver's cab retained and the habitation unit starts just behind the cab. They are more streamlined than the cabover body type so they're more fuel efficient than the cabover. The additional bed drops down from the ceiling above the dinette then tucks away when not in use.
Pros and cons of a semi-integrated motorhome
Pros
Ideal for couples and small families
Good driving experience
Comfortable and convenient beds
Cons
Less fuel efficient than a van
Requires a bigger parking space than a van
Integrated Motorhomes


Fully integrated motorhomes resemble a bus with a seamless living space from front to back. They are becoming more popular in New Zealand for private owners but in the rental market they are generally only available if you hire from a private owner.
There is a lot of variation when it comes to motorhomes but generally they tend to offer more living space and better features than campervans. However, they may be harder to manoeuvre into tight spots than a campervan and the cabover body is higher making it prone to hitting low structures and less aerodynamic.

What sizes and layouts are available in rental motorhomes?
A small two berth campervan caters for up to two people and with its compact size is a great choice for couples wanting a quick and easy getaway. Larger two berth motorhomes can offer more space and comfort, with quality beds and well-designed kitchens and bathrooms. Families with children, or friends travelling together, can opt for a four berth or a six berth motorhome.

If you're travelling with a baby or small child, they can sleep with you in a two berth motorhome. However, you need to ensure the child has their own seat belt as it's a legal requirement that all passengers use a seat belt. Most motorhomes have at least four seat belts (even two berth motorhomes) but campervans usually only have two.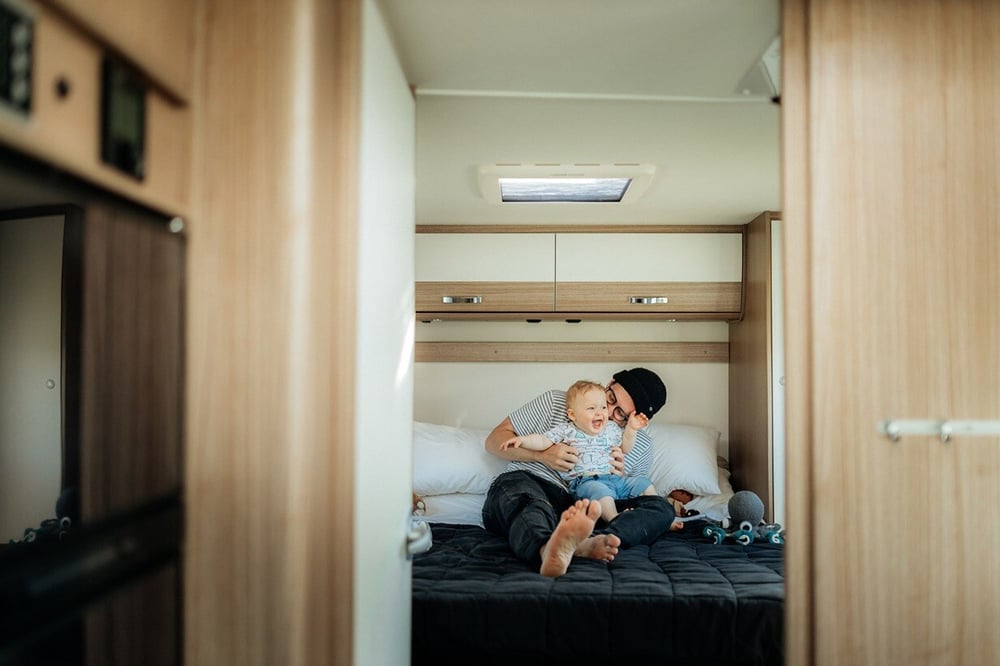 The rental motorhome market has loads of choice of interior layouts and bed configurations. Most New Zealand made motorhomes have seats at the back that can be converted into the main bed for night-time. Others (often premium German and other European brands) have permanent beds with quality mattresses at the back or drop down beds that can easily be tucked away when not in use. Consider how important a comfortable bed is and if you're prepared to take the time to convert the seating area into a bed every night.
How much do the different campervans and motorhomes cost to hire?
Rates vary depending on the time of year, the size and age of the vehicle you're hiring, and the level of comfort it is designed for. Consider travelling during the shoulder seasons (March to May, and September to November) or winter (June to August), and book well in advance to get the best deals.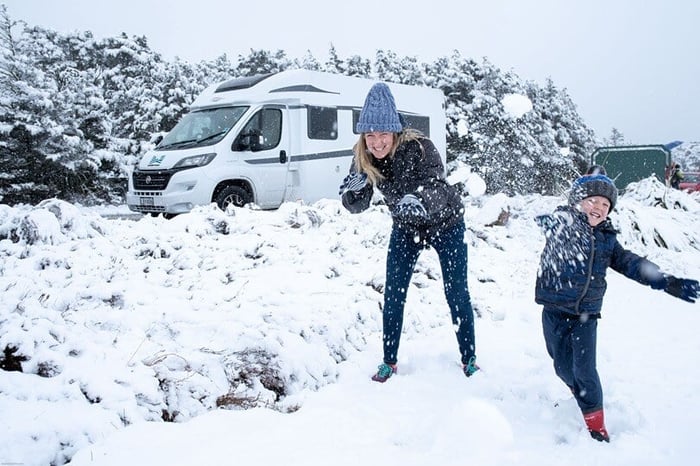 Smaller campervans or older two berth motorhomes can be a good entry level rental option on a small budget. You still get to explore the country your way and wake up to epic views (especially if the vehicle is self-contained). You just have to make do with less space and creature comforts. This might work well for shorter trips and during summertime. You may also be able to get an older four or six berth for a good price but be aware – it may have "been around the block" quite a few times!

In the mid range segment of the rental market, you'll find large, high spec vans as well as motorhomes that have had quite a few years on the road. You can generally expect to get a bit more space but find that interiors (and sometimes exteriors) can be slightly dated and dented. These motorhomes might work well for longer trips if comfort isn't a main concern and are best suited to travel in the warmer months as they are often not insulated.

Most rental motorhomes are built to a basic rental specification so if you're looking for comfort, convenience and style, look for a premium European motorhome. Premium motorhomes come with all the added comforts that make life on the road truly remarkable. You can expect modern vehicles with comfortable beds, well-organised kitchen spaces and exceptional bathrooms plus, in some cases, dry rooms with a separate shower and toilet. Some brands have excellent insulation and heating systems in their motorhomes making them a great option for summer and winter alike.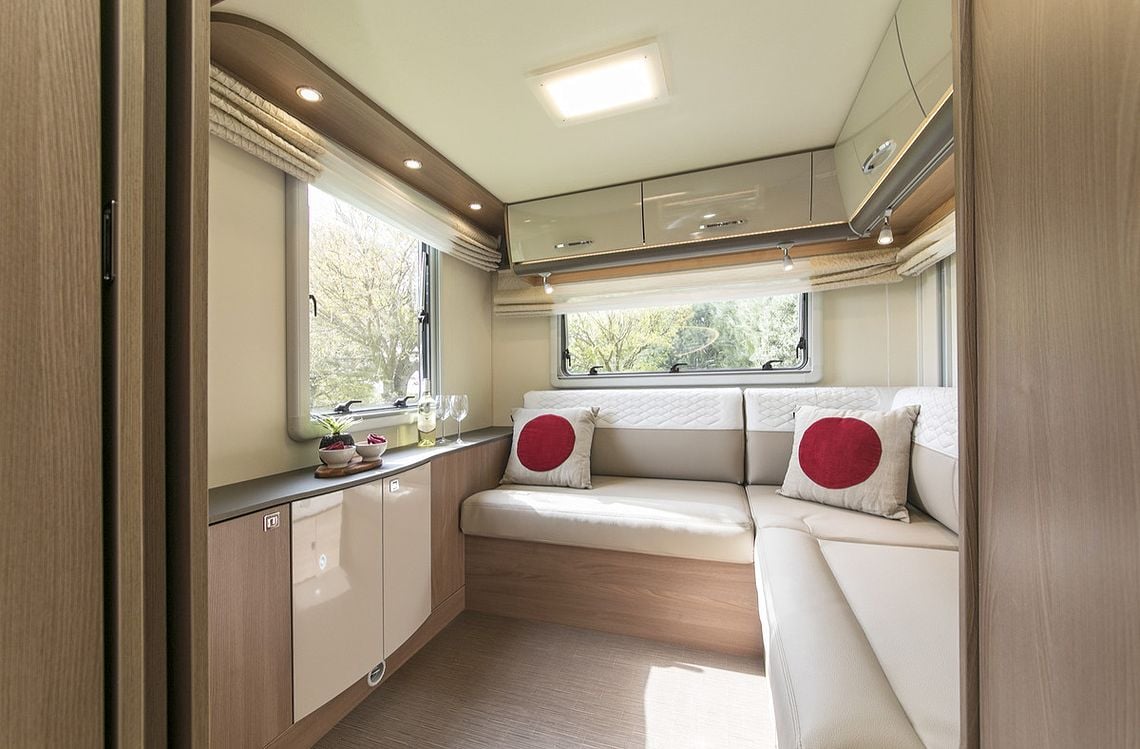 When you're comparing costs, check the fine print and ensure that you don't get surprised by any hidden fees or additional charges. Free mileage and comprehensive insurance is usually included. Unless you opt for a liability reduction option, you'll need to pay the excess (which may be significant) if the campervan or motorhome is damaged. Camping equipment, car seats for children and extra drivers often cost extra. New Zealand also has a fuel tax for diesels that has to be paid on top of your rental fees.
What kind of customer service and roadside assistance is included in the motorhome rental price?
It's not just the motorhome itself that will make for an amazing, stress-free holiday, it's also the type of customer support that comes with it. Research the different rental providers and find out what kind of customer service they offer. Qualmark ratings, customer reviews and travel forums may also offer useful insights. Check out our handy guide on how to choose a rental operator in New Zealand for more on this topic.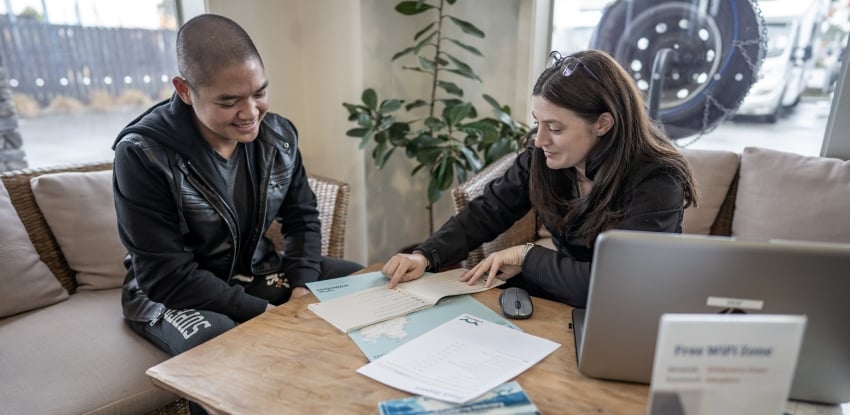 What type of holiday are you looking for?
When you're considering which motorhome would be best for your road trip, a few other considerations can also play a role. For example, if you normally like to stay at campgrounds with a power hook up and shower facilities, a basic or mid-level motorhome may suffice. However, if you're keen to freedom camp for longer periods, a better motorhome that has an efficient house battery and fridge is key. Similarly, if you enjoy touring the country in winter, which can be magical, you'll want to make sure the motorhome you rent is insulated well and has a reliable heating system.

For biking and golfing holidays, storage can be a deciding factor. Campervans and small motorhomes have little to no storage space, while some manufacturers of high end motorhomes provide a large garage that can be accessed externally. This is ideal for golf clubs, bikes, a surfboard, and extra supplies.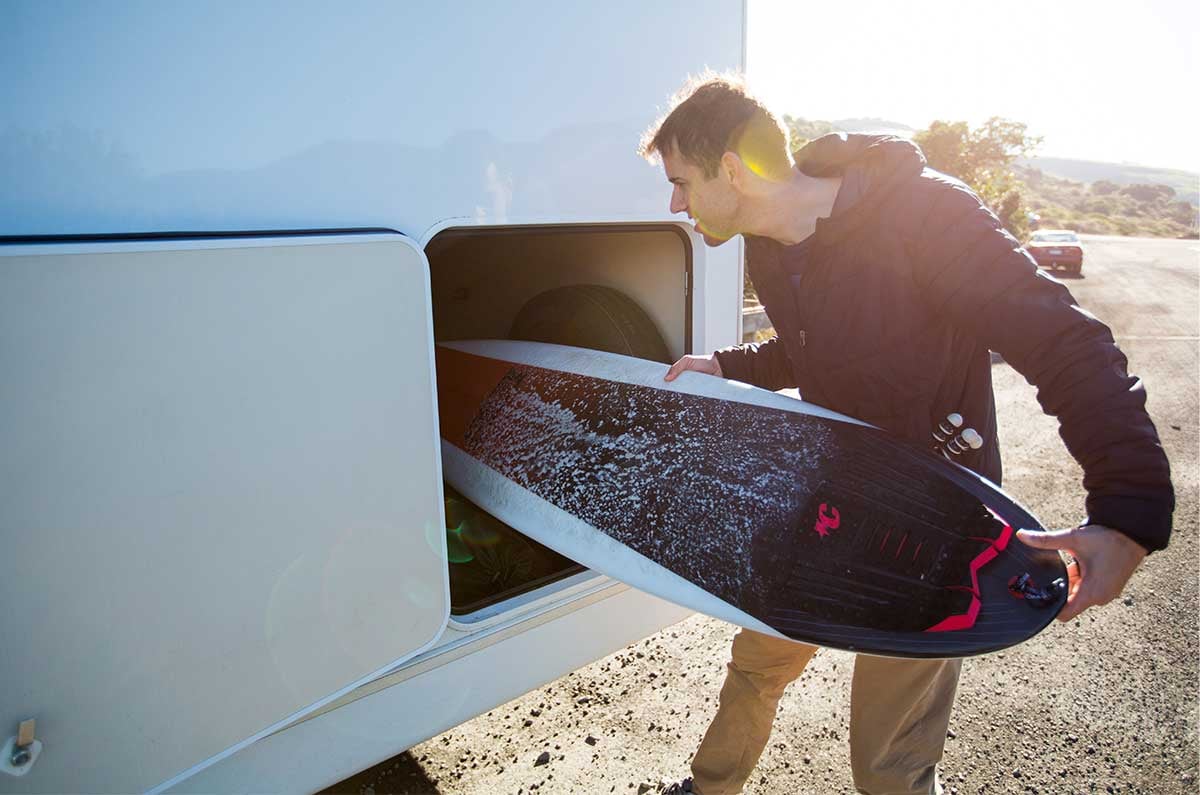 If you're going on a family vacation, you'll need a four or six berth motorhome. Again, depending on your budget and the kind of adventures your family likes, you have a wide range of options. With several people living in the motorhome, decent storage space becomes extra important. Ensure the water tanks are large enough, especially if you are hoping to freedom camp a lot. The size of the fridge can also make a huge difference to your holiday. While some motorhomes only have a very small fridge, others have a large fridge freezer. Bathrooms with a separate shower and toilet are handy for families. Finally, check the location of the seats and seat belts. In some models, your children may be sitting at the very back of the motorhome when driving. They'll be a long way away from you and often not ideally placed to get a view of the road ahead which could be a problem if your children are prone to car sickness.


Conclusion – what's the best campervan or motorhome to rent?
Now that you know the basics about the different types of campervans, motorhomes and RVs in New Zealand, you can narrow down your search based on the features that are most important to you. Take our quiz to find out which RV rental is right for you.