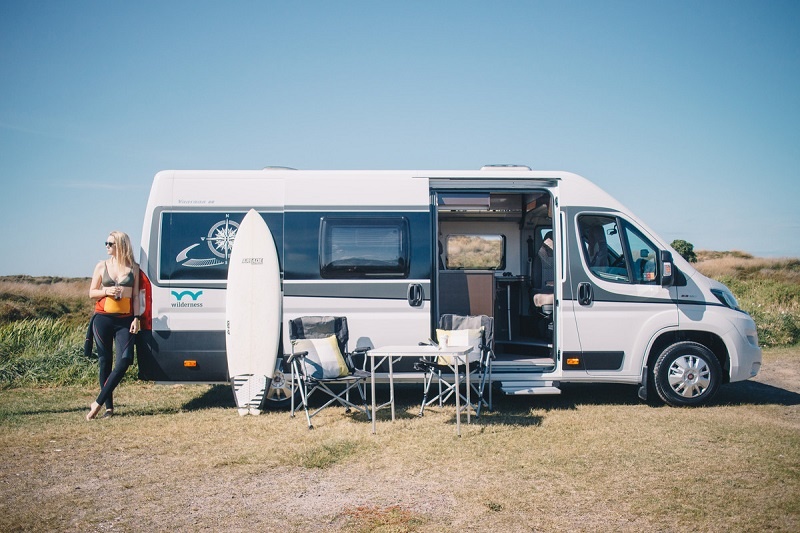 Finding the perfect recreational vehicle (RV) provider in New Zealand is exciting. There are many RV rental companies out there though and doing the research can be a bit overwhelming. There are many factors to consider, like the number of people in your group, how important comfort is to you and how big or tight your budget is.

Fear not! We're here to help you find your way through the rental jungle by providing you with this guide and a quiz to help you choose which type of recreational vehicle (RV) is best for your needs.


What is the difference between a premium, mid-range and low-budget motorhome rental?
For the untrained eye, it's not easy to see the difference between a premium and mid-range or a mid-range and low-budget motorhome rental as the distinctions are often blurred. However, each category has its attributes:


Premium RV hires

Premium motorhome rentals can be recognised not only by their outstanding customer service. They will do anything they can to make you feel welcome and safe. Complimentary additional service, like airport shuttles, is a matter of course to them and you hardly ever pay extra for additional drivers and one-way rentals.

In New Zealand, the rental vehicles of a premium operator have well-maintained mechanics and a high-end interior. The furniture is sturdy, limit rattles to a minimum and the layout of the living, sleeping and storage areas is well thought through for your ultimate comfort. Many premium RV rental companies use branding on their vehicles in moderation and only reveal they're rentals at a second glance.

Naturally, premium motorhome rentals tend to be the most expensive.
Mid-range RV rentals

In the mid-range motorhome section, there are heaps of New Zealand RV rentals competing with each other. This often results in short-term discounts and sales that can be great deals outside of high season and school holidays.

In New Zealand, the gap in the mid-range section can be quite big for the reason that the more expensive RV rental companies often guarantee a vehicle with low mileage. The vehicles on the cheaper end of the spectrum usually have a higher mileage while the interior and layout of the two remains more or less the same.
Low budget RVs

Low-budget RVs, mostly campervans, are usually aimed at young travelers and couples who don't mind a smaller space and love a smaller price. They're usually smaller vehicles, often delivery vans that were converted into a campervan. Having the size of a regular car makes these campervans agile and easy to park anywhere. However, having less space in the campervan automatically means that both living and sleeping area need to be very basic.

So how do you find the best RV rental for your next trip?
Be aware that what looks like a cheap motorhome rental at first glance may not be the bargain you thought it was. There's more to a great RV rental than a brand new motorhome. In New Zealand, a company offering 'brand new' doesn't necessarily also offer a premium service or premium specs.


1. Know which budget range you're looking for
Knowing how much you want to spend on your RV rental will already rule out a few companies on either the premium or the low budget end and narrow down the search radius. Rates vary between seasons and between different campervan rental companies.


2. Identify the size of RV appropriate for your group

If you're looking for a mansion on wheels, it's unlikely you'll find what you're looking for in the low budget range as most of the vehicles in this category are small vans.

Travelling with your better half, a friend or as a small family, you have more options to choose from. You can stay in smaller, often more agile vans or you can opt for space. As a family of four, you'll need at least two beds to sleep all family members which, again, narrows your search. It's important to note that if there's just two of you travelling and you want more space, you won't find it in a motorhome with more beds e.g. a 4 berth or 6 berth.

Most of the usable space in these motorhomes will be taken up with the extra beds. Some rental operators offer larger motorhomes with just one double bed. Usually these will have a more spacious lounge, a bigger bathroom and more storage than a 4 or 6 berth motorhome of the same length.


3. Check Qualmark ratings

Qualmark is Tourism New Zealand's official rating system for tourism products. It's similar to the star rating for hotels but covers all parts in the New Zealand tourism industry. Qualmark ratings are divided into Qualmark Gold for the companies with the best results, then Qualmark Silver and Qualmark Bronze. By looking for the Qualmark logo, consumers and travel sellers can book and buy with confidence, knowing that the products are quality assured.

You can find the Qualmark ratings for RV rental companies here.


4. Read customer reviews

A good way for an RV hire comparison is reading reviews of previous customers. Nowadays, there are a lot of websites that provide you with genuine reviews. Tripadvisor is the pioneer of travel reviews but it doesn't cover motorhome rentals. Most motorhome rental reviews can be found on the business' Google listing or on Facebook. Make sure you check not only the average review score but also how many reviews have been posted. The more reviews, the more reliable the information will be.


5. Ask for advice on NZ travel-related Facebook groups

Joining a few New Zealand related Facebook groups before your holiday is a good way to find some additional inspiration. You can also ask for advice on people's experience with motorhome companies. The members of these groups usually love to share their knowledge and experience.
There are heaps of RV companies in New Zealand to cover all tastes and budgets. Just because you get a new vehicle doesn't necessarily mean the company or camper is a premium one. On the other hand, there are quite a few good companies on the cheaper end of the scale. It definitely pays to do your homework and decide what's important to you and what your budget is before you start looking. Try our quiz to help you choose which type of campervan rental is best for your needs!