Camping is an institution in New Zealand. Many Kiwis grow up taking family road trips to remote locations. They pitch canvas tents or hitch caravans onto tow bars and head to their favourite family holiday spots.

If you're coming to New Zealand and are craving alternative camping experiences, it's perfectly set up for a variety of camping styles. What kind of camping experience are you into? Take our short quiz to discover your camping style, then link through to the types of camping that are likely to suit it.
Tent camping
Camping in a tent is a brilliant way to holiday in New Zealand. There are an abundance of beautiful camping spots that are ideal for unwinding.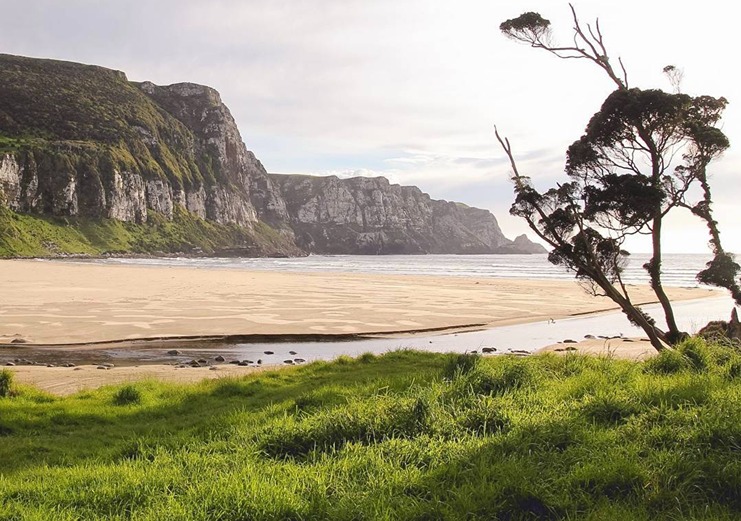 NZ tent sites range in price from a few free ones managed by the Department of Conservation (DOC) to an average of $26 per person per night in a holiday park.

The difference in price can be due to location and amenities like kitchens, hot showers, Wi-Fi and laundry facilities.
💡 Tent Camping Tips
Cost of a reliable camping tent:
Budget up to $200 for a 1-4 person tent. If you plan on camping in winter, you'll probably need to spend more. Holiday parks will often hire out tents and mattresses — both standard and self-inflating.

Helpful apps for finding campsites in New Zealand:
Rankers — CamperMate — Wikicamps — Campable
These apps also show reviews from previous campers.

Camping styles:
Minimalist / Extrovertist

Our top pick:
Pūrākaunui Bay — DOC campsite — The Catlins

Review from an experienced camper:
"Very peaceful in every way and one of the only places I know you can have your own fire. Expect others to join your fire in the evening. Great walking, diving, fishing, paua and muscles!" - Jan Mckay, Google review.

Know before you go:
No mobile phone coverage. Bring your own firewood.

Fun fact:
The cliffs at Pūrākaunui Bay feature in the Narnia movies.
Holiday parks
Holiday parks can feel almost like mini hotels compared to DOC campsites. You can expect to find things like:


Hot showers and flushing toilets
Kitchen and laundry facilities
Internet and power hook up options.


They're very popular with families and often have playgrounds, game rooms, pools and entertainment for the kids.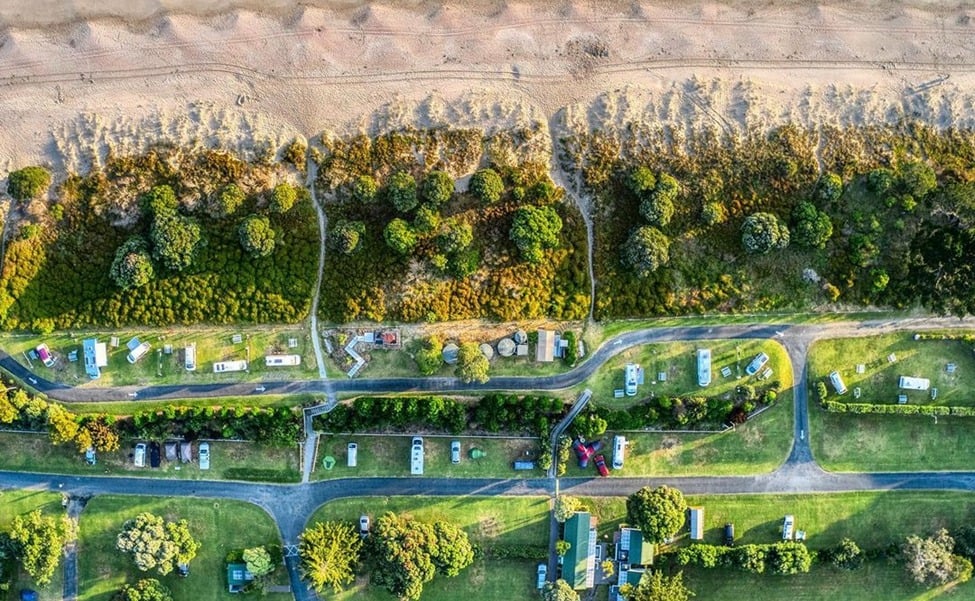 Often located within towns and cities (in comparison to more isolated DOC campsites), they offer convenience. Expect to see holiday parks fairly busy during school and public holidays, and in the summer months.
💡 Holiday Park Tips
Camping styles:
Extrovertist / Family first
Our top pick:
Hahei Beach Resort
Tip from experienced campers:
"From this campground you can begin the walk to the iconic Cathedral Cove, meaning you can get an early start and miss all the crowds. Also, while we were there, a woman spotted orca whales swimming just offshore. We missed them, but keep your eyes peeled (especially in the early morning hours)!" -@twowanderingsoles
Glamping
A fun and exciting twist on the classic Kiwi camping trip, glamping is the perfect blend of luxury and nature. Penned from a combination of glamour and camping, glamping is just like camping but includes some of the luxuries you'd find in five star hotels.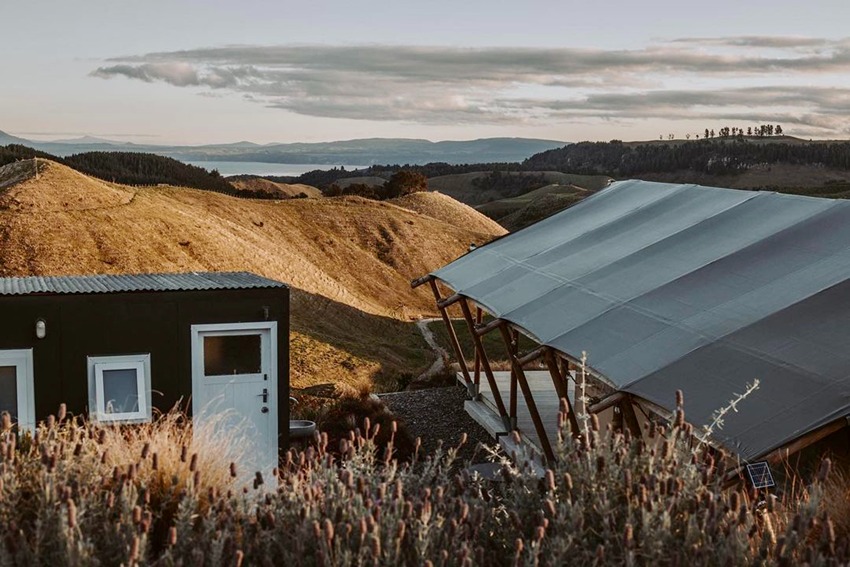 Glamping sites are commonly set up in safari-style tents with some located in stunning areas of New Zealand's wilderness. You can expect features like:


Outdoor hot tubs
Fire pits
High quality linen
Breathtaking views.


They offer peace and seclusion, and are a great option for a romantic getaway — though a few are also kid friendly. Self-catering is usually easy with a kitchen and BBQ provided.
💡 Glamping Tips
Camping style:
Glamperist
Our top pick:
Kinloch Glamping
Review from experienced camper:
"Such a nice place to stay and relax, spend time with friends, family...away from the hustle and bustle. The site is close to Kinloch Lake. Loved the outdoor tub, having wine while waiting for the sun to set was one of my favourite experiences. We had a barbecue and stayed around the fireplace outside chatting and playing games with friends before calling it a night. Wanna go back soon!" - Tony - Google review
To find more NZ glamping sites visit:
Canopy Camping
Motorhomes
If you thought glamping looks impressive, try glamping on the move! Wake up to a brand new view every single day.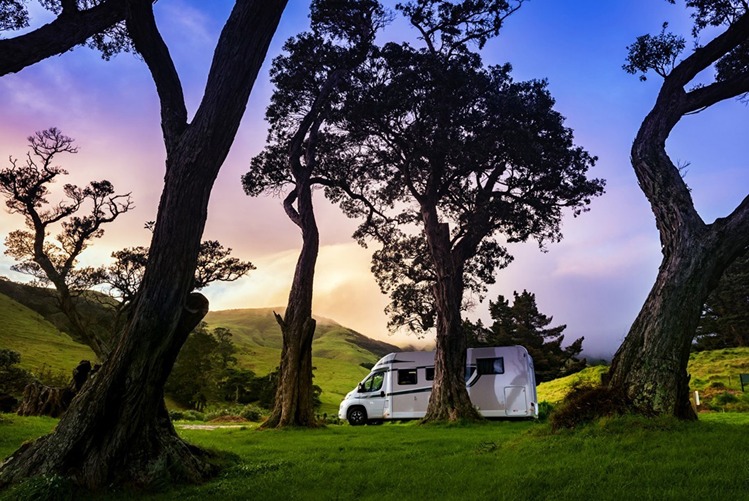 Hiring a motorhome gives you transport and accommodation all in one package. You'll enjoy the freedom to:
Stay where freedom camping is allowed
Cruise at your own pace.


Motorhomes have generous living areas and are self-contained with their own bathroom facilities. You'll be able to legally freedom camp in designated areas around New Zealand.
💡 Motorhome Tips
Camping styles:
Adventurist / Glamperist / Extrovertist / Family First
Our top pick:
Wilderness Motorhome Rentals - The Suite
Review from experienced campers:
"It's cosy, comfortable, convenient and fun to drive. How awesome it is to wake up in a freedom or DOC campsite, look out of the window right by your comfy bed and see a wonderful view. Sometimes I don't want to do more than sip my coffee and gaze at the scenery." - Robin Mills - Google review
Top travel tip:
If you're a food and wine enthusiast, there are several vineyards, farms and olive growers that will let you park your motorhome on their property for free. Check out Okay2stay for more information on this great service.
Tepees (Teepees)
Want to go off grid, unwind and reconnect with nature whilst enjoying a comfortable bed? A tepee holiday is a superb choice for a getaway with your better half, or for getting away with mates.




Tepees are cone-shaped canvas structures wrapped around long poles — often located off-the-grid. You can find them in popular glamping sites dotted around New Zealand. A few advantages of camping in a tepee include:


Falling asleep while listening to the unbuffered sounds of nature
Throwing open the canvas door to star-gaze from a luxury linen bed
Enjoying outdoor cooking and bathroom facilities.
💡 Tepee (Teepee) Tips
Camping style:
Minimalist
Our top pick:
Tepee Glamping Matakana
Review from experienced campers:
"A wonderful space that's exceptionally comfortable while maintaining a camping feel in close proximity to great bars, beaches and entertainment." - Devon - Airbnb
Know before you go:
Tepees are often fitted out with quality beds, duvets and pillows. They have access to shared outdoor facilities. Pack a portable battery charger to recharge your devices.
Bubble Tents
For something truly special, book a night in a geodesic dome — also known as a bubble tent. A one-of-a-kind accommodation experience, you'll sleep underneath a partially transparent wall that connects you with your surroundings.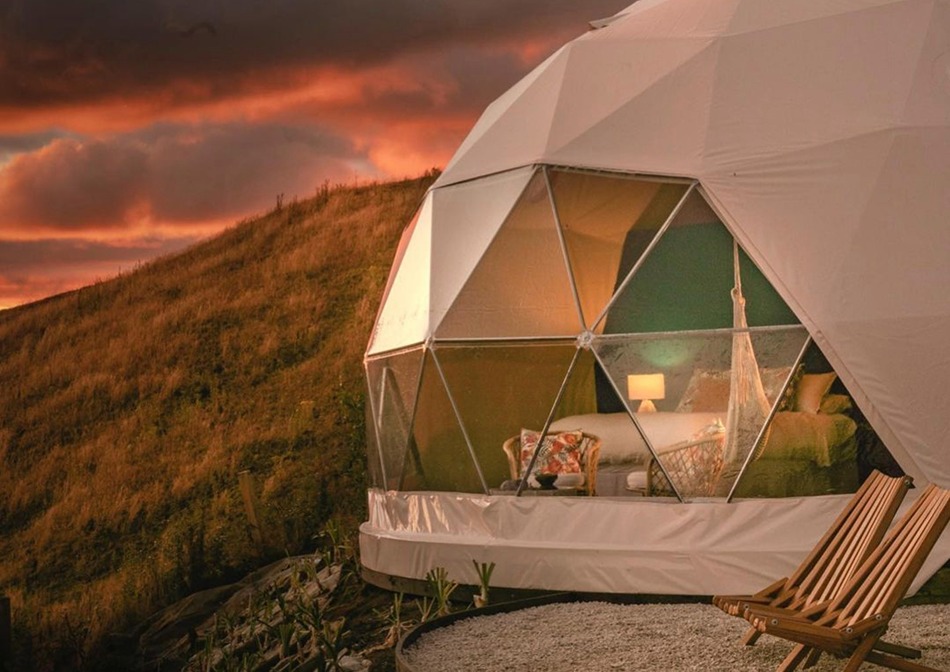 These futuristic-looking domes are usually set overlooking beautiful scenery. The transparent wall enables you to stargaze by night and watch clouds roll past by day — a totally immersive experience with nature.

Many domes offer luxurious interiors and are large enough to include an ensuite bathroom.
💡 Bubble Tent Tips
Camping style:
Adventurist / Glamperist
Our top pick:
Te Tuhi Dome - Taupo
Review from experienced campers:
"What an absolute incredible experience. Would do it all over again in a heartbeat.
We stayed in the dome and couldn't, and wouldn't, change a thing. The outdoor bath area was perfect. They have everything you could possibly need from a fireplace, hot water bottles, candles, outdoor blankets to keep you relaxed and cosy." - Abigail Clarke, Facebook
Know before you go:
Guests are welcome to bring their dog.
Caboose
All aboard! This camping style is ideal if you're a train lover or you simply desire a unique overnight experience.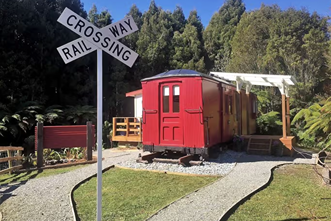 A caboose is a historical railway wagon once used as accommodation for train crew while also being a place where the conductor could work. It was typically attached to the end of the train.

After New Zealand stopped using cabooses in the 1980s, some were renovated and utilised as popular accommodation for guests.
💡 Caboose Tips
Camping style:
Adventurist / Minimalist
Our top pick:
Caboose glamping near Greymouth
Review from experienced campers:
"Totally unique place with welcoming hosts. Attention to detail in this converted carriage is great and a testament to the owners. Lovely landscaped gardens with a couple of inquisitive sheep beside. Outside bathtub for an extra off grid touch. Really added to our experience in New Zealand. Highly recommend to those that want something different but still have the comfort of all mod cons." - Neil McCormick - GlampingHub
Fun fact:
New Zealand rail hit a golden age in the early 20th century. By the 1920s, six million tons of freight and 28 million passengers were being transported each year — from a nation of just over a million people.
Yurts
There's something exciting about going camping in a yurt and spending time feeling cocooned in its circular space. Yurts are cosy, tent-like structures that typically consist of a:


Wooden platform
Latticed wooden frame
Canvas domed roof.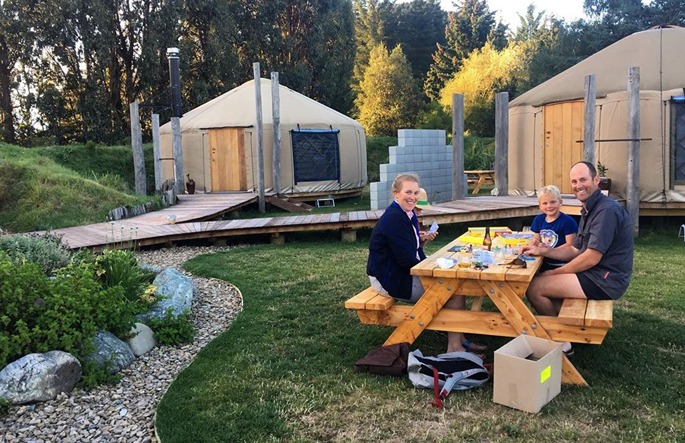 Many yurts have room for a double bed and space for indoor activities if the weather turns bad. Larger ones can have outdoor kitchens and bathrooms. They're a popular glamping choice for Kiwi families, and due to their insulating capabilities they'll keep you warm no matter the weather.
💡 Yurt Tips
Camping style:
Adventurist
Our top pick:
Oasis Yurt Lodge - Wanaka
Review from experienced campers:
"We had a spectacular weekend at Oasis Yurt Lodge. The rooms are sooooo comfy, the facilities far beyond expectation, the bathrooms are luxurious and the grounds are magical. A cocktail in a hammock, stargazing in a wood burning spa and biking down to the crystal clear lake and local breweries - what more can you want?!" - Christina, Google review
Fun fact:
The earliest evidence of yurts go all the way back to The Bronze Age in Siberia. They were originally designed as primary dwellings for ancient nomadic tribes.