The sun's setting and you've just pulled into a breathtakingly remote spot. Your bottle of wine is chilled and your well-equipped kitchen is ready. So how's this going to work? Is cooking in a motorhome kitchen similar to cooking in your kitchen at home? What about if you're freedom camping and not hooked up to mains power?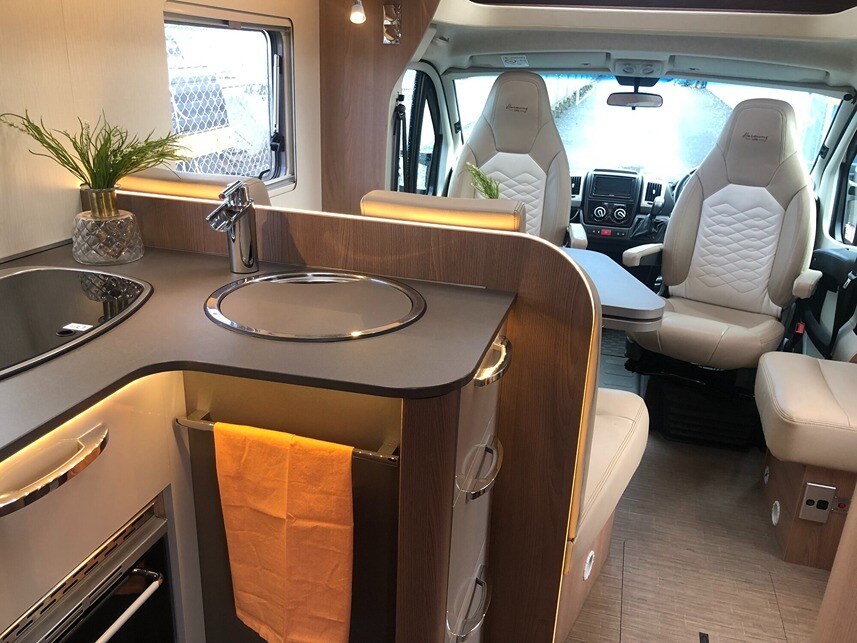 In this article, we answer all your burning questions about what to cook and how to cook in your motorhome.
What can I cook in a motorhome kitchen?
If you're heading off-the-beaten track on your New Zealand road trip, chances are you'll have to make your own meals some if not most of the time. Eating out in New Zealand is often not practical outside of the major centres as places to dine out are more difficult to find in remoter areas.

One of the big advantages of touring my motorhome is that you'll always have a fully functional kitchen with you – so whether you want to prepare a little snack, enjoy a hot cup of tea at a scenic lookout or create a three-course family dinner, all you need to do is park up and get cooking. However, don't expect a kitchen as big as what you have at home.

Motorhome kitchens are designed with adequate space for preparing a meal but they are small, especially in a premium motorhomes, where the top priority is the bed, which takes up more space than in a basic rental motorhome. With all this in mind, what can you expect from a motorhome kitchen and which items should be included in your rental?
Is cooking in a motorhome just like cooking at home?
Cooking in a motorhome kitchen is not quite the same as cooking in your kitchen at home. You will have a lot less space to prepare your meals, plus you'll have fewer utensils and different appliances. You will probably spend less time cooking than you would at home. After all, you're on holiday!

So how do you cook in a motorhome? You just need to make a few adjustments to how you cook to allow for the limited space plus fewer utensils and appliances. Think of meals that are simple and easy to prepare. While bench space will be limited, most motorhomes have a glass cover over the hobs, which allows you to use the hobs as additional space when you're not cooking. Premium motorhomes may have a cover over the sink or a foldable bench extension so you can utilise these as bench space to get all your ingredients ready.

Kitchen storage is mostly in overhead lockers. While these are usually sufficient, it's harder to see the contents, especially if you're a bit short! Get all your ingredients out before you start. Prepare your fresh ingredients and meats first before you start cooking.

Motorhome stove tops usually run on gas (LPG). Gas is very fast and efficient but you have to take care not to burn your food as it heats up much faster than an electric cooktop. When you're using gas hobs or a gas grill or oven, you need to make sure the motorhome is vented properly. Make sure that the window behind the cooktop is open as a minimum.

Motorhome rental companies provide a few select utensils so if you think you may need something less common, it's worth checking the standard kitchen inventory on the rental operator's website. It pays to have low expectations about the type and quality of the utensils in most rental motorhomes. The kitchen knives will not be sharp! In premium motorhomes, the quality is better and you will get two extra sets of cutlery and tableware. So, in a four-berth motorhome you can expect six table sets, while in a standard motorhome you usually get four.

Plates, bowls, cups, cutlery and cooking utensils, wine and drinking glasses are all included in a motorhome or campervan rental. You will usually also get a bottle/can opener, colander, saucepans, frying pan, and chopping board. Don't expect to find baking tins as most people don't bake on holiday. You won't find storage containers for left-over food, so you may consider bringing your own if your luggage allows, or invest in a couple of plastic containers from the supermarket if you are travelling for more than a few days. Small containers for healthy snacks on the go (carrot sticks, nuts and seeds) are handy if you're touring with kids.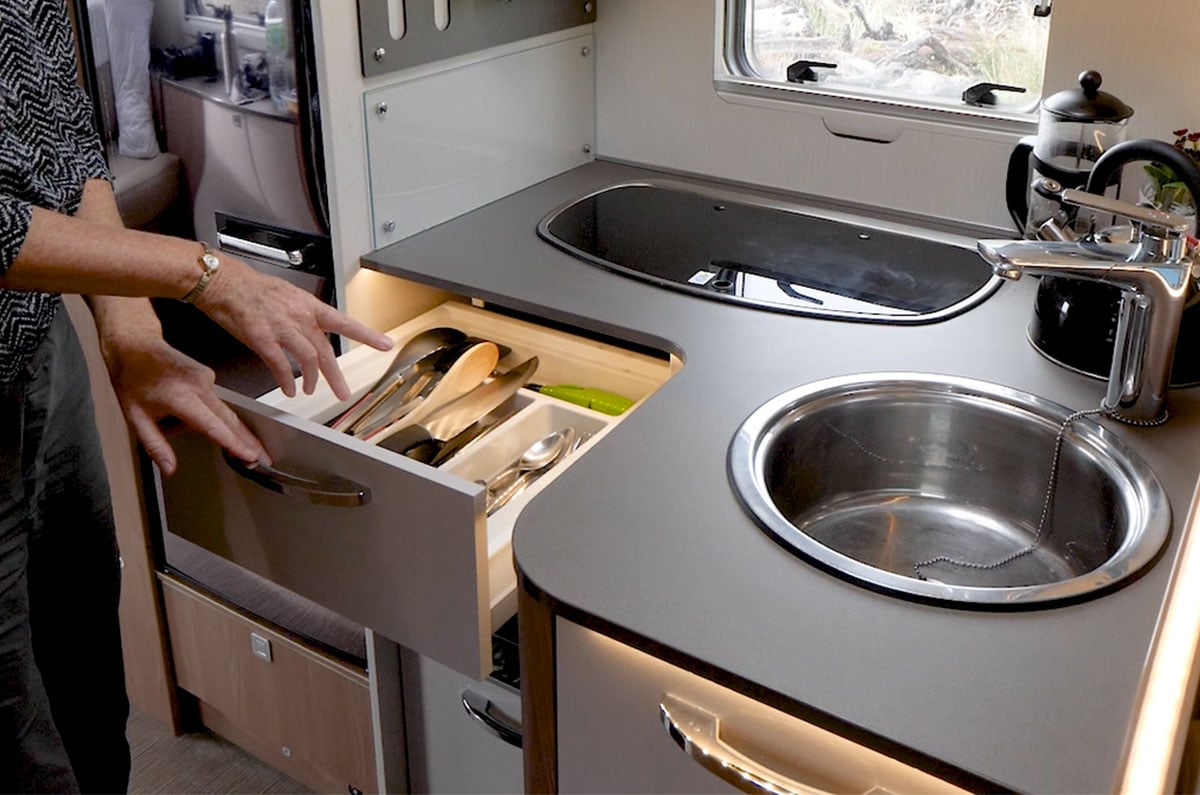 When it's time to wash up, expect to have a brush, cloth and kitchen towel on board. Dish washing liquid may not be included, so make sure to check before you get groceries. In a standard rental, you'll have a sink with a drain tray, much like at home. Because bench space is more limited in a premium motorhome, you won't find a drain tray, so use a tea towel to place your washed items on the bench. Anything that goes down the drain will sit in the waste water tank and decompose over time, creating an unpleasant smell, so make sure you put food scraps in the rubbish rather than in the drain.


💡 TIP
If you notice an unpleasant odour from the drain, you can tip a can of Coca Cola down the sink to neutralise the smell.





Unlike at home, the fresh water supply in a motorhome is very limited. It pays to be careful with how much water you are using when washing and rinsing dishes in order to make your water supply last a little longer. Check the freshwater and wastewater tank levels regularly so you can refill with fresh water before you run out.

Also check out our Guide to New Zealand cooking in your campervan here.


Which appliances are included in a motorhome kitchen?
The key appliances in your motorhome are the cooktop and grill, and the fridge. You can expect at least three gas hobs and a grill, which will give you plenty of cooking options, although some have an oven and four hobs (three gas and one electric hob, which only operates when connected to 240-volt mains power). Premium motorhomes designed for staying off-grid won't have an electric hob or a microwave oven since these can only be used at a powered campsite.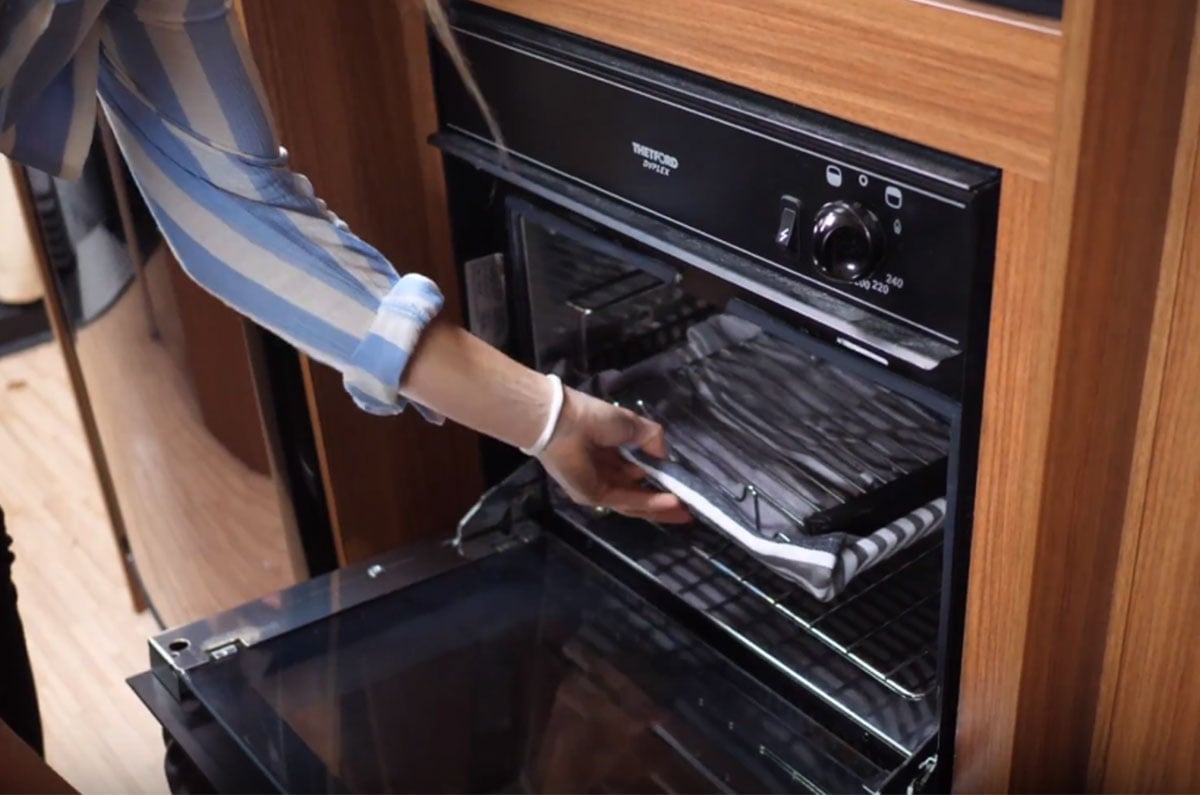 The kitchen is often the source of annoying rattles and other noise when driving as loose items move around. A few design features in premium motorhomes reduce the movement of crockery and glassware, such as cut out slots and non-slip mats. A useful hack to stop the rattles from the cooktop is to wrap a tea towel around the dish in the grill and place a little towel underneath the lid of the cooktop. Don't forget to remove the tea towel before using the grill!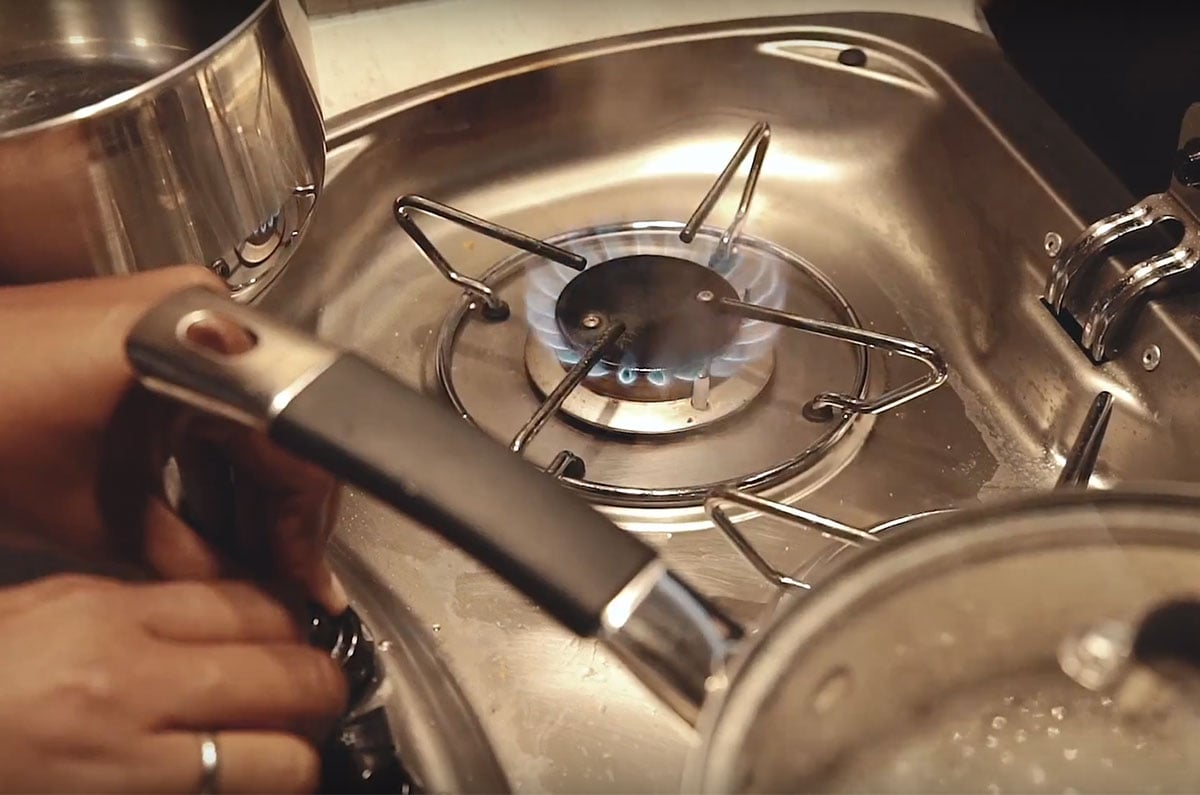 Many standard rental motorhomes have a small fridge that only holds a few items. You'll need to be careful when you're shopping to ensure all the chilled items can fit in the fridge. If you're planning to stay off-grid, look for a motorhome with three-way fridge. These are common in premium motorhomes. Three-way fridges operate on three different power sources, but it's the gas mode that allows to the fridge to work while freedom camping.

It's a good idea to not overload your fridge on the first day of your trip. On a hot day, a motorhome fridge will take a long time to cool, especially if it's loaded with items which are at room temperature or only partially chilled. While you're driving, the fridge runs on the 12-volt house battery, which only maintains a temperature. You'll need a full night on mains power or gas for the fridge to get cold, especially in summer. If you want to make sure your drinks are cold on the first night, put only pre-chilled food in your fridge and not too much. Do your big shop on day two, once the fridge is cold.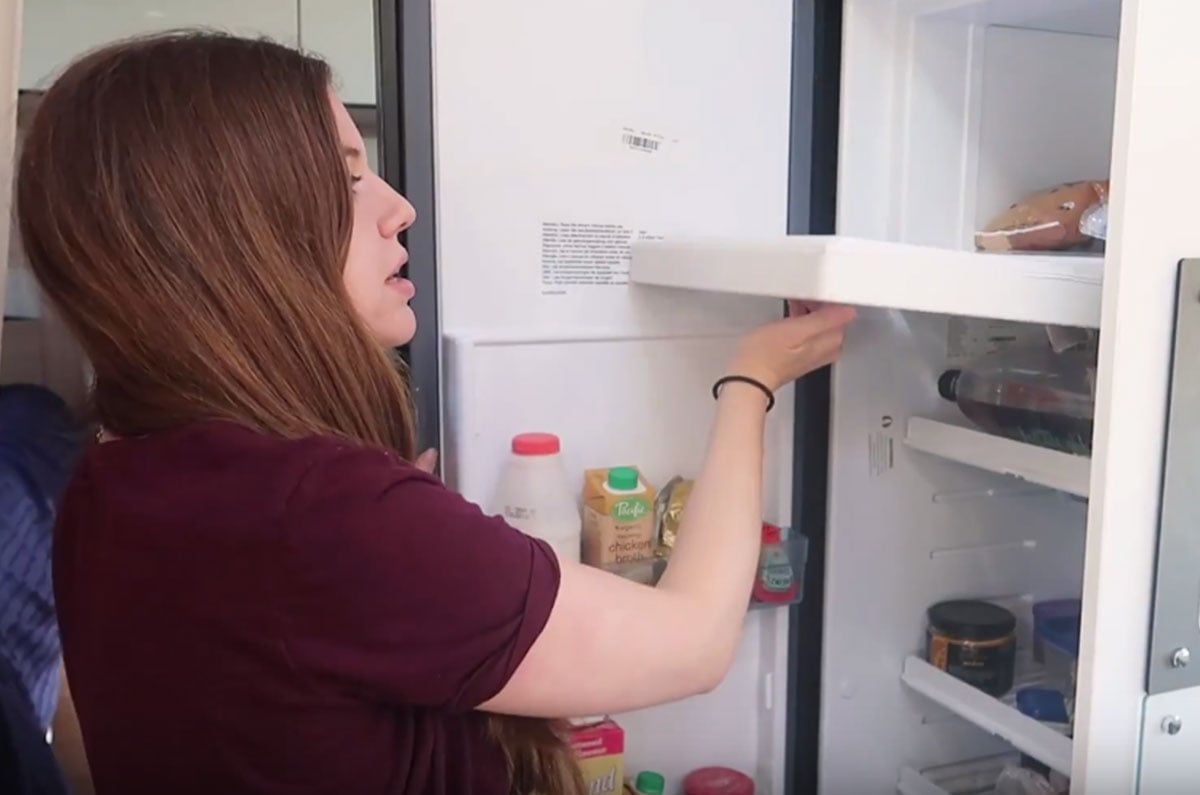 Some vehicles come with a BBQ on the outside of the vehicle, others have the option
of adding a portable BBQ or outdoor grill and small gas bottle as an optional extra. BBQs are a great way to cook up a family meal quickly while keeping all cooking smells outside. Steak, sausages, and burgers plus a salad and some fresh bread – and dinner is sorted. You'll need to give the BBQ a good clean before you take the motorhome back.

Like electric hobs on the stove top and a microwave oven, an electric jug and toaster can't be used unless you're hooked up to mains power. That's why these aren't normally included in a premium
motorhome rental. But you will get a kettle that can be used on the gas hob.


💡 TIP
It's easy to make toast in a dry frying pan. Just turn your pan to a medium heat, place your bread in the pan until it browns then turn over and repeat.


You may be used to a coffee machine on your kitchen bench at home, but in a motorhome it's back to basics. You will usually get a simple coffee plunger (French press) so bring ground coffee or use cappuccino sachets for a delicious hot treat. If you're serious about coffee, bring your stovetop espresso maker along!
What are the best meals for motorhome trips?
Since you have just basic appliances and a limited number of utensils to work with, meals on tour will be simpler than at home. You won't have mixers or blenders, so keep this in mind when dreaming up your menu for your holiday.

Take time before your trip to plan your meals and create a shopping list. Cereals are an easy option for breakfast. Add plain rolled oats to your cereal as a healthy filler or use it to make a creamy porridge on a cold morning. Sneak in an easy Sunday treat by bringing pre-made pancake mix along.

Sandwiches are a staple for lunch. Add lunch meats, different cheeses and some fresh veggies to dip in hummus. Wraps and pita pockets are also a great option as they are sealed and have a longer shelf life. For the colder months, soups are nice and warming. Dinner time is generally the busiest time in the motorhome kitchen. Simple meals and recipes like salads, stir-fries, pasta, sausages and steak on the BBQ, wraps, nachos, tacos or pizza are great options.

Unlike your kitchen at home, motorhome kitchens don't come with spices, condiments and other pantry staples. When you shop for things like salt and sugar, you'll have to buy a regular pack, so it can be worth bringing the basics in small containers or resealable plastic bags if this is practical. Some travellers buy drinking water from the supermarket, others are happy to drink the fresh water from the motorhome's tanks. Just remember to always use potable / drinking water when you refill the tanks which is suitable for cooking and drinking. Just look for the potable water sign at the dump station.

Shopping time. First of all, don't shop like you would at home. That's often easier said than done since there are so many yummy food choices waiting for you at the supermarket and you are on holiday after all. It's easy to over-shop, but there isn't endless storage and wasting food is expensive and not environmentally friendly. Shopping is a lot faster and more efficient when you have a list and stick to it.

Some grocery stores, like the Countdown supermarket at Christchurch airport, offer click and collect. Simply order everything online and pick it up when you're ready to hit the road. If you're a foodie, check out local farmers markets and look out for fresh produce for sale on the roadside. Buying local food fresh is one of many ways to help reduce waste while you're travelling. It's also important to recycle what you can.
💡 TIP
With less space and less gear available to you, meals in a motorhome are simpler than at home. To have a worry-free trip, it's a great idea to plan your meals ahead of time. Keep it simple. Add some local fruit and veg. And – because you'll probably be out and about a lot on hikes or other adventures – have plenty of healthy and easily portable snacks with you.

More top tips for cooking on road trips here.


Ready for cooking? Download our 23 Recipes for the Road where we share our absolute best motorhome recipes. Tried and tested by our team!