Wilderness recently hosted renown New Zealand chef and food writer Tina Duncan on a week long road trip. Tina and her daughter Maria found some of the best places to forage for New Zealand's freshest ingredients. She shares her favourite recipes for eating in style on the road.
When we think about taking a campervan around the beautiful New Zealand wilderness, especially if we choose to freedom camp, we often think we have to compromise or ration a few things: power, technology and food. This mother-daughter duo decided to debunk that myth and take on the challenge to eat delicious, fresh and seasonal food on a New Zealand road trip – read on for the results and recipes we want to share.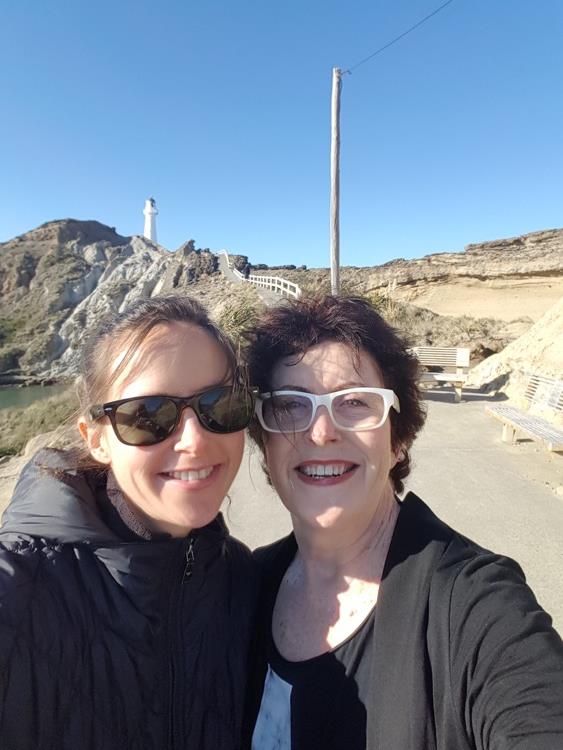 A few objectives guided us on our trip to make shopping and cooking easier:
1. Don't deny yourself a couple of herbs and spices. Decide what type of food you like and buy some flavourings to use across different recipes. We chose chilli and cumin.
2. Try and plan a few meals where the core ingredients cross over so your shopping list is streamlined (this is why we have a red theme - we love tomatoes).
3. Meals need to be able to be cooked on one or two pots/pans.
4. Eat roadside. Try and buy as much as possible from the farm fresh produce that is seasonal and local as you drive through all the regions of New Zealand.
Day 1
The first day was about setting ourselves up, and hopefully the only supermarket shop we'd need for the five days. We made sure we shopped smart with ingredients that would cover us for a couple of meals and spices we would use for every meal because there is no reason to go without. Knowing we were heading from Auckland to Mount Manganui meant we had fish in mind for our first campervan feast. The rain came down so heavily that we warmed up with our fresh turbot tagine after pulling up at Omanu Surf Cub for our first night. We threw together a batch of delicious chilli and cumin girdle scones to mop up the juices. We may not have got a view that night but what a stunner to wake up to the next morning!
300g white fish fillets
2 tablespoons olive oil
2 teaspoons ground cumin
1/2 teaspoon chilli flakes (or to taste)
1 small red onion, sliced
1 yellow capsicum, seeded & sliced
1 x 400g can chopped tomatoes
salt
pepper
handful coriander leaves (optional)
Cut the fish into bite sized pieces. In a pan with a lid, heat olive oil and sauté red onion and spices. Add capsicums and tomatoes and cover. Simmer gently for 3 - 4 minutes until the capsicum is tender. Bury the fish pieces into the vegetable mix, season with salt & pepper, cover and gently cook until fish is cooked through.
Sprinkle over coriander and serve.
CUMIN AND CHILLI GIRDLE SCONES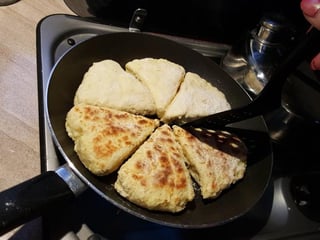 Makes 6
2 cups self-raising flour
1 teaspoon ground cumin
1/8 teaspoon chilli flakes
¼ teaspoon salt
25g butter
¾ cup milk
In a mixing bowl, combine the dry ingredients and rub in the butter to resemble fine breadcrumbs. Add milk and mix to a soft dough. Tip out onto a floured board and pat out into a 2cm thick round shape. Cut into 6 wedges and cook in a non-stick frying pan over medium heat for about 5 minutes each side until brown and cooked through.
Day 2
Day two took us from Mount Manganui to Napier via Taupo. Roadside stalls were plentiful, especially through avocado country. Fresh fruit ice cream was an essential stop and welcome on a hot afternoon. Stopping in at the spectacular Huka Falls, we saw signs to a prawn farm. That's dinner sorted. To make the most of the last of the season's cherry tomatoes, we conjured up a simple, spicy, coconut prawn curry. Ending up at Clifton Reserve in Te Awanga in the Hawke's Bay with the sun illuminating Cape Kidnappers, it seemed only fitting that we pop across to Clearview Winery to purchase one of our favourites – a bottle of Clearview 'Sea Red' to finish the day with a glass of 'roadside' dessert.
SPICED PRAWN & TOMATO CURRY

Serves 2
1 tablespoons olive oil
1 teaspoon ground cumin
2 large red chillies, seeded and finely chopped
250g cherry tomatoes
16 large raw prawn cutlets
125 mls coconut cream
Handful chopped parsley
Heat oil in a pan and add the cumin and chilli. Reduce heat and add tomatoes and cook 1 minute. Add prawns and cook until pink, 2 – 3 minutes. Add coconut cream, season with salt & pepper and serve over rice with fresh parsley.
Day 3
Destination Castlepoint. A compulsory detour if you travel through Masterton. Driving through the Hawke's Bay meant multiple opportunities for roadside purchases. It was clear that we could make tonight's meal almost entirely from what we picked up that day. Fresh free range eggs and local Kingsmeade cheese were the highlights, and strawberries for dessert lent themselves as the perfect accompaniment for the second half of that Clearview sticky. A spectacular walk around Castlepoint included some foraging when we found masses of wild fennel, which made our roadside one-pan eggs even more delicious.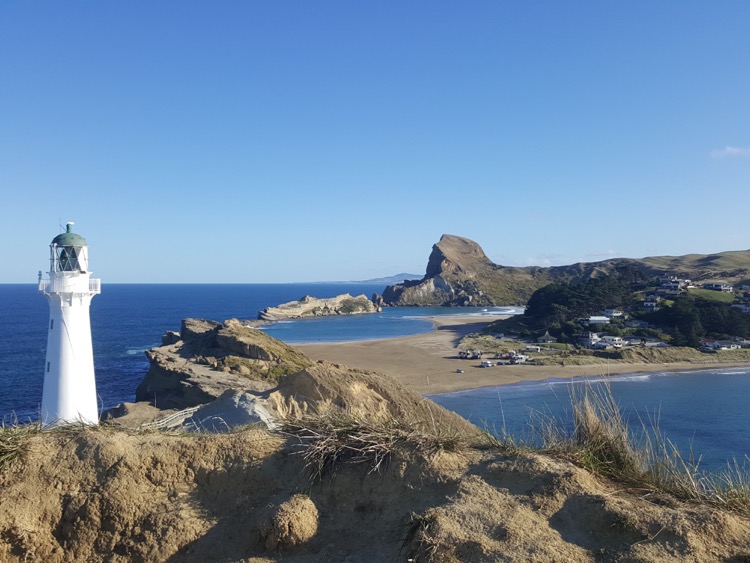 ROADSIDE EGGS
Serves 2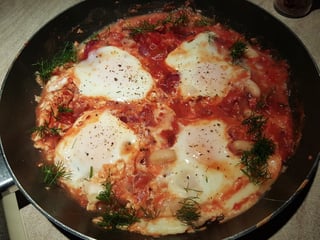 2 tablespoons oil
1 medium red onion, chopped
2 teaspoons ground cumin
½ teaspoon chilli flakes (or to taste)
1 x 400g can chopped tomatoes
½ can cannellini beans
Salt and pepper
4 eggs
Foraged herbs, chopped
In a non-stick pan, heat the oil and sauté the onion with the spices for a few minutes. Add the tomatoes and chilli beans and cook until onions are tender. Season with salt and pepper. Make 4 indentations in the mix with the back of a spoon and crack an egg into each one. Cover with a lid and continue cooking until the eggs are done to your likeness. Sprinkle with chopped herbs and serve immediately.
Day 4
Time to hop across the Strait via some of the country's best coffee destinations in the coolest little capital in the world: nothing-can-beat-it-on-a-good-day Wellington. A stop off at Petone for fantastic coffee and seaside donuts at Seashore Cabaret was the perfect farewell to the North Island. After a millpond crossing of Cook Strait, we pulled up for the night at Kekerengu on the Kaikoura Coast. Our last night's cook up was a cupboard cleanout. We combined the remaining cannellini beans, fresh veggies and some chicken and spices for a Mexican-inspired white one-pot wonder. No better way to use up those now-ripened gorgeous avocados. Leftover girdle scones fried in butter turned a good eat into something sensational.
WHITE CHICKEN CHILLI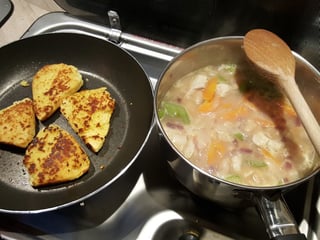 Serves 2
1 tablespoon oil
1 medium onion, diced
1 carrot, peeled and sliced
1 celery stalk, sliced
1 cups chicken stock
1 skinless chicken breast, diced
1/2 can cannellini beans, drained and rinsed
1 teaspoon ground cumin
¼ teaspoon chilli flakes
½ teaspoon salt
¼ teaspoon freshly ground black pepper
In a medium saucepan, heat oil and sauté vegetables for 2 or 3 minutes. Add cumin, chilli and chicken stock and cook a further few minutes until vegetables are nearly tender. Add diced chicken and cannellini beans and continue cooking until the chicken is cooked through. Season with salt and pepper.
Last Day
Our final leg coming down the inland Kaikoura road was a spectacular last day's drive; stopping off to graze on roadside blackberries and apples before reluctantly relinquishing our campervan in Christchurch. All we really wanted to do was carry on South – but maybe another time.
After initial hesitation and expectation that we would succumb to at least one night of takeaways, we realized the added fun and satisfaction of cooking each night, of staying away from the crowds and being completely self-sufficient. A few simplified recipes of your favourite meals and flavours married with the best of what New Zealand producers have to offer will make a fantastic holiday an even more special experience as you share and enjoy New Zealand through food.

Tina Duncan is a self-confessed foodie and award-winning caterer. Until recently, Tina was the owner and creative director of White Tie Catering in Christchurch, New Zealand which leads the market in contemporary, innovative cuisine. Helping to fulfill all her food-related passions, Tina is also owner of Christchurch's Deux Tartes cooking school, Food Editor of Simply You Living magazine and a regular contributor on Newstalk ZB's Kerre's Cafe with Kerre Woodham. Tina knows all too well New Zealand is a food paradise and love to inspire with stories of great food experiences; sharing wonderful recipes, new finds or just waxing lyrical about our love of food.